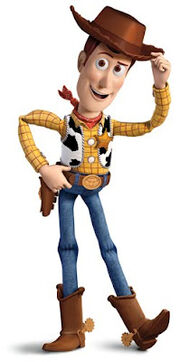 Woody
is the main protagonist of the
Toy Story
film series by Disney and Pixar.
Counterparts
Counterparts (Percy's Version)
Counterparts (Black Friday reel Version)
Devious Diesel, Diesel 10, George, Bulgy, The Diesel/D261/Class 40/Bowler, or The Spiteful Brake Van (Thomas the Tank Engine and Friends/The Railway Series)
Zorran, Johnny Cuba, or Smelter (TUGS)
Sea Rogue (Salty's Lighthouse)
Oliver, Cabot, Snorri, or Jasper the Junk Dock (Theodore Tugboat)
Buster King, Mr. Conductor's Evil Twin, Evil Mover #1, or Sledgebolt (Shining Time Station)
Bowser, Smithy, or King K. Rool (Super Mario Bros.)
Dr. Robotnik, Zavok, or Professor Gerald Robotnik (Sonic the Hedgehog)
Hopper (A Bug's Life)
Sid Phillips, Stinky Pete, or Lots-o'-Huggin' Bear (Toy Story)
Verminious Snaptrap (T.U.F.F. Puppy)
Makunga or Dr. Blowhole (Madagascar)
The Grinch or Vlad Vladikoff (Dr. Seuss/The Wubbulous World of Dr. Seuss)
Pete (Mickey Mouse)
Chick Hicks, Miles Axlerod, Professor Z, or Jackson Storm (Cars 1/2/3)
Scar (The Lion King)
Shredder or Lord Dregg (Teenage Mutant Ninja Turtles)
Walter John Wolf or King Salazar (Animaniacs)
Montana Max or Dr. Gene Splicer (Tiny Toon Adventures)
Yosemite Sam or Taz the Tasmanian Devil (Looney Tunes)
Timmy McNulty or Josh (Rugrats)
Russ Cargill or Sideshow Bob (The Simpsons)
Eddy's Brother (Ed, Edd n Eddy)
Dr. Heinz Doofenshmirtz or Dr. Doofenshmirtz (2nd Dimension) (Phineas and Ferb)
Hacker or Ledge (Cyberchase)
Dick Dastardly (Wacky Races/Dastardly and Muttley)
The Hooded Claw (The Perils of Penelope Pitstop)
Guaripole or Uncle Bald (31 Minutes)
Sigma or Lumine (Mega Man X)
Malvadu the Boss, Rock the Nanorobot, or Doctor Crimen Foregu (Harror the Robot)
Nose or Alex Grand (Nutri Ventures)
King Dedede or Nightmare (Kirby)
Ashtin Carnaby or Lyle T. Rourke (Atlantis: Milo's Return/The Lost Empire)
Ernie the Giant Chicken or Death (Family Guy)
Black Knight (Fire Emblem)
Meowth or Mewtwo (Pokemon)
Emperor Bulblax (Pikmin)
The Weasel, The Wolf, Robo-Pig, or Evil Clown (Garfield and Friends)
Momstabba or Clevetron (The Cleveland Show)
Mario (Racist Mario)
Barney (The Jihad to Destroy Barney/Day of the Barney)
Ren Hoek (Ren & Stimpy's Adult Party Cartoon)
Gallery
Community content is available under
CC-BY-SA
unless otherwise noted.