Wacky Races is a 1968 show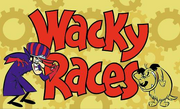 Characters and Vehicles
Main Article: Wacky Races/Characters/Gallery
Dick Dastardly and Muttley in the Mean Machine 00 (The double 'O'/ The Double Zero)
The antagonists of the series, in a purple, rocket-powered car with an abundance of concealed weapons and the ability to fly. Dastardly (voiced by Paul Winchell, in a manner that Winchell would use several years later to portray the Smurfs' nemesis Gargamel) is an archetypal mustache-twirling villain; Muttley (voiced by Don Messick) is his wheezily snickering, anthropomorphic dog henchman. Dastardly concocts plans and traps in order to maintain a lead, but most of his plans backfire, causing him to finish in last place. Because of this, Dastardly has never won a Wacky Race, or even placed in the top three, in fact he only crossed the line four times, twice in last place, once in second last place (beating the Surplus Special) and even once in first place (but was then disqualified). He is often foiled by the finishing line itself, where he makes a sprint at the end to gain the lead but whilst sneering and looking behind him at the other competitors fails to notice that parts protruding from the mean machine (often sails or rockets) are too big to get under the finish banner and he subsequently crashes into it. Dick Dastardly and Muttley would also appear in Fender Bender 500 racing against characters like Yogi Bear and Quick Draw McGraw. In this series they were actually able to pull off a win.
The Mean Machine appears to have been by far the fastest vehicle, providing Dastardly with a theoretically unbeatable advantage. But in every episode after blazing far ahead of the others Dastardly would stop to set up various booby traps for the other racers and this would eventually cost him the race. It never seems to occur to him to race fairly even though he would presumably triumph every time.
The Slag Brothers in the Bouldermobile 1
Rock and Gravel Slag (voiced by Daws Butler and Don Messick) are Cavemen driving a wheeled boulder. The Slag Brothers sometimes reconstruct their car from scratch just by using their clubs on any large boulder that is available. The Slag Brothers can summon up a Pteranodon to help them. They accelerate by hitting the car (or at times, each other) with their clubs. Often they directly attack other drivers with their clubs and various rock attacks. Note: If the whole Wacky Races series had been scored according to the Grand Prix point scoring of the period the Slag Brothers would have been champions. The Slag Brothers' character design was re-used for Captain Caveman.[citation needed]
The Gruesome Twosome in the Creepy Coupe 2
Big Gruesome (a lurching, huge humanoid character voiced by Daws Butler) and Little Gruesome (a purple-skinned vampire voiced by Don Messick) are monsters driving a hearse-like car with a belfry which houses a dragon, ghosts, serpents, and other horror-themed characters as well storm clouds. The Gruesomes can summon these creatures to either help them along in the race, or fend off other drivers. The Gruesome Twosome are often prone to foul play, often using their range of creatures to scare off or sabotage the other competitors. Little Gruesome acts as the brains of the duo while Big Gruesome acts as the muscle.
Professor Pat Pending in the Convert-a-Car 3
A scientist (voiced by Don Messick) in a boat-shaped car equipped with a multitude of gadgets, which can change into just about anything that moves, from mundane vehicles (such as a motorcycle) to outlandish ones (such as a giant bowling ball). He often uses his car's gadgets to help out the other drivers if they all get caught in the same trap. His alliterative name is a pun on the phrase "patent pending". Most of his gadgets seem to be defensive as opposed to Dastardly's offensive devices.
Red Max in the Crimson Haybailer 4
An air ace (voiced by Daws Butler) whose name is a combination of the Red Baron and the Blue Max, in a car/plane hybrid that is capable of limited flight, usually just enough to leapfrog over racers or obstacles in its path. The Haybailer also has a mounted machine gun, which is used sporadically. The machine gun can fire bullets, pepper, and other substances. The Haybailer's transformation from plane to car seems to have significantly weakened its flying ability, and Max often has to bail out when the Haybailer breaks down.
Penelope Pitstop in the Compact Pussycat 5
Penelope Pitstop (voiced by Janet Waldo) is a Southern belle who drives a pink car with personal grooming facilities. Penelope often takes time during the race to maintain her appearance, which causes the other racers to lose ground when her gadgets malfunction. The other male racers are very chivalrous towards her, and rarely attack her car, sometimes even allowing her to pass them up. Turbo Terrific driver Peter Perfect is particularly fond of her, frequently calling her "Pretty Penny." Penelope also had her own cartoon, The Perils of Penelope Pitstop, which also featured the Ant Hill Mob.
Sergeant Blast and Private Meekley in the Army Surplus Special 6
Two soldiers, one a sergeant (voiced by Daws Butler) and the other a private (voiced by Paul Winchell), racing in an army tank/jeep hybrid with a small steamroller's wheel attached to the front. The Army Surplus Special makes use of its tank facilities while racing, including its cannon, which can spin around to face forward or back, and the hatch, where Sergeant Blast rides. The Surplus Special is also equipped with a supply of land mines, which when driven over, propel the car into the air, and back-mounted thrusters. The Surplus Special also fires its gun backwards to propel itself forwards for extra speed. As their names suggest, Private Meekley is very meek and merely follows orders without question, while Sergeant Blast "blasts" orders in a stereotypical drill-sergeant voice. While racing the army surplus special made use of itself including its cannon.
The Ant Hill Mob in the Bulletproof Bomb 7
The Bulletproof Bomb is a 1920s sedan, driven by a group of 7 pint-sized gangsters (a play on the Seven Dwarfs): Clyde (voiced by Paul Winchell), Ring-A-Ding (voiced by Don Messick) and 5 others. Their usual method of improving the speed of their car is "Getaway Power", which is achieved by extending their feet through the floor of the car and running, in a reference to The Flintstones. On occasion the Ant Hill Mob would use their tommy guns against the other racers. The Ant Hill Mob re-appeared in the spin-off series The Perils of Penelope Pitstop, with Clyde in a silver outfit and his wingmen, with new names, wearing blue outfits and riding in a living car, Chugga-Boom. The Mob were the protagonists in this series, along with Penelope herself, and were constantly rushing to her rescue.
Luke and Blubber Bear in the Arkansas Chuggabug 8
Luke (voiced by John Stephenson) is a hillbilly who tends to drive while half-asleep; Blubber (also voiced by Stephenson) is his timid pet bear, clad in a scarf and early aviator's helmet with goggles. The Chuggabug is constructed of wood and is powered by a coal-fired pot-bellied stove in the rear of the vehicle. The stove can be prone to exploding, usually if another competitor blocks the exhaust. Luke tends to use low-tech means of improving the performance of his car. He could pour various liquors into the stove for a quick speed boost (but the stove would often explode afterward). He has also been shown using various balloons and gum type traps.
Peter Perfect in the Turbo Terrific 9
A gentleman driver (voiced by Daws Butler) driving a dragster. The Turbo Terrific, despite its name and Peter's adulation, is highly unreliable; it often falls to pieces in the middle of a race, usually after Peter praises it for how well its doing. Peter Perfect has a crush on Penelope "Pretty Penny" Pitstop, who often returns his affections. The Turbo Terrific seems to be able to sprout an additional 4 rear wheels giving 8 wheels in total for extra speed.
Rufus Ruffcut and Sawtooth in the Buzzwagon 10
Rufus Ruffcut (voiced by Daws Butler) is a tough, muscle-bound lumberjack, while Sawtooth (voiced by Don Messick) is his anthropomorphic pet beaver. The Buzzwagon is a wagon made of logs, with buzzsaws for wheels, hence its name. The buzzsaws gave the car the ability to cut through almost anything, destroying the object in the process.
The Narrator
Every episode is introduced and commented on by an unseen Narrator (Dave Willock), who often communicates with the racers as they drive. The racers respond by speaking to the audience, breaking the fourth wall. Dick Dastardly has oddly nicknamed the Narrator 'Boopsie.'
Interaction
The other characters seem to get on with each other, they are often seen (especially Pat Pending) helping each other out of traps set by Dastardly. They also at times use "dirty tricks" on each other (Army Surplus shooting other cars or Gruesome Twosome using their Dragon). Some of these tricks are as bad as Dastardly's, but they seem to get away with them.
Voice cast
Daws Butler – Rock Slag, Big Gruesome, Red Max, Sergeant Blast, Peter Perfect, Rufus Ruffcut
Don Messick – Muttley, Gravel Slag, Little Gruesome, Professor Pat Pending, Ring-a-Ding, Sawtooth
John Stephenson – Luke and Blubber Bear
Janet Waldo – Penelope Pitstop
Paul Winchell – Dick Dastardly, Private Meekly, Clyde
Dave Willock – Narrator
Episodes
WR-1. See Saw to Arkansas (35–1)/Creepy Trip to Lemon Twist (35–2) (9/14/1968)
WR-2. Why Oh Why Wyoming (35–3)/Beat the Clock to Yellow Rock (35–4) (9/21/1968)
WR-3. Mish-Mash Missouri Dash (35–6)/Idaho a Go-Go (35–5) (9/28/1968)
WR-4. Baja-Ha-Ha Race (35–11)/Real Gone Ape (35–8) (10/5/1968)
WR-5. Scout Scatter (35–7)/Free Wheeling to Wheeling (35–10) (10/12/1968)
WR-6. By Rollercoaster to Ups an' Downs (35–9)/The Speedy Arkansas Traveller (35–12) (10/19/1968)
WR-7. Zippy-Mississippi Race (35–15)/Traffic Jambalaya (35–17) (10/26/1968)
WR-8. Hot Race at Chillicothe (35–16)/The Wrong Lumber Race (35–18) (11/2/1968)
WR-9. Rhode Island Road Race (35–19)/The Great Cold Rush Race (35–13) (11/9/1968)
WR-10. Wacky Race to Rip Saw (35–20)/Oils Well That Ends Well (35–21) (11/16/1968)
WR-11. Whizzing to Washington (35–22)/The Dipsy-Doodle Desert Derby(35–24) (11/23/1968)
WR-12. Eeny, Miny Missouri Go! (35–14)/The Super Silly Swamp Sprint (35–23) (11/30/1968)
WR-13. The Dopey Dakota Derby (35–27)/Dash to Delaware (35–26) (12/7/1968)
WR-14. Speeding for Smogland (35–28)/Race Rally to Raleigh (35–25) (12/14/1968)
WR-15. Ballpoint, Penn, or Bust! (35–30)/Fast Track to Hackensack (35–29) (12/21/1968)
WR-16. The Ski Resort Road Race (35–33)/The Overseas Hi-Way Race (35–34) (12/28/1968)
WR-17. Race to Racine (35–31)/The Carlsbad or Bust Bash (35–32) (1/4/1969)
Spins-offs
Penelope Pitstop and the Ant Hill Mob were spun off into another cartoon series in 1969, The Perils of Penelope Pitstop. Also in 1969, Dick Dastardly and Muttley were given a spin-off, Dastardly and Muttley in Their Flying Machines. The series is sometimes mistakenly known as Stop The Pigeon, after the show's working title and theme song.
Parodies
Wacky Races/Pocoyo

Wacky Races/Harry Potter

Wacky Races/Hey Arnold

Wacky Races/Mr. Meaty

Wacky Races/Sleepless in Seattle (1993)

Wacky Races/Lazytown

Wacky Races/The Wind in The Willows

Wacky Races/The Mighty B!

Wacky Races/The Polar Express

Wacky Races/Cars 2

Wacky Races/Young Ones

Wacky Races/Planes

Wacky Races/Mater's Tall Tales

Wacky Races/Rosie & Jim

Wacky Races/Tots TV

Wacky Races/Robots

Wacky Races/Are You Being Served?

Wacky Races/Matilda

Wacky Races/Charlie Brown

Wacky Races/Batman

Wacky Races/The Angry Policeman

Wacky Races/Byron

Wacky Races/Henry

Wacky Races/Toby

Wacky Races/Harold

Wacky Races/Scruff

Wacky Races/Diesel 10

Wacky Races/Boulder

Wacky Races/Tiger Moth

Wacky Races/Trevor

Wacky Races/Gordon

Wacky Races/Bert

Wacky Races/Oakie Doke

Wacky Races/Teletubbies

Wacky Races/How the Grinch Stole Christmas

Wacky Races/The Animal Shelf

Wacky Races/Pingu

Wacky Races/Charlie Chalk

Wacky Races/In the Night Garden

Wacky Races/Pokemon

Wacky Races/Fraggle Rock

Wacky Races/Grease

Wacky Races/Muppets From Space

Wacky Races/Animaniacs

Wacky Races/Turbo (2013)

Wacky Races/Handy Manny

Wacky Races/The LEGO Movie

Wacky Races/The Angry Beavers

Wacky Races/Caillou

Wacky Races/Chalk Zone

Wacky Races/My LIfe as a Teenage Robot

Wacky Races/Catdog

Wacky Races/Rocket Power

Wacky Races/Beavis & Butthead

Wacky Races/Rescue Heroes

Wacky Races/Clifford the Big Red Dog

Wacky Races/Wild Kratts

Wacky Races/Evil Con Carne

Wacky Races/Time Squad

Wacky Races/Robot Chicken

Wacky Races/Aaahh!!! Real Monsters

Wacky Races/The Wild Thornberrys

Wacky Races/As Told By Ginger

Wacky Races/Courage the Cowardly Dog

Wacky Races/Squirrel Boy

Wacky Races/Recess

Wacky Races/Casper

Wacky Races/The Nightmare Before Christmas

Wacky Races/Who Framed Roger Rabbit

Wacky Races/Rayman

Wacky Races/Danger Mouse

Wacky Races/Count Duckula

Wacky Races/Bananaman

Wacky Races/Air bud

Wacky Races/The Thief & The Cobbler

Wacky Races/Paulie

Wacky Races/Willy Wonka and the Chocolate Factory

Wacky Races/Tarzan

Wacky Races/Mighty Joe Young

Wacky Races/Rugrats In Paris

Wacky Races/Baby Einstein

Wacky Races/Total Drama

Wacky Races/Brandy and Mr. Whiskers

Wacky Races/Ed, Edd & Eddy

Wacky Races/Father Ted

Wacky Races/Flubber

Wacky Races/The Wacky Adventures of Ronald Mcdonald

Wacky Races/Rolie Polie Olie

Wacky Races/South Park :Bigger Longer & Uncut

Wacky Races/The Nightmare Before Christmas

Wacky Races/Who Framed Roger Rabbit

Wacky Races/Uncle Grandpa

Wacky Races/Bee Movie

Wacky Races/Mumfie

Wacky Races/The Nightmare Before Christmas

Wacky Races/Who Framed Roger Rabbit

Wacky Races/Annoying Orange

Wacky Races/Darkwing Duck

Wacky Races/Crash Bandicoot

Wacky Races/The Thief and The Cobbler

Wacky Races/Paulie

Wacky Races/The Ant Bully

Wacky Races/South Park: Bigger Longer and Uncut

Wacky Races/Monster House

Wacky Races/The Cat in The Hat

Wacky Races/Maya & Miguel

Wacky Races/The Amazing World Of Gumball

Wacky Races/Regular Show

Wacky Races/Brandy and Mr. Whiskers

Wacky Races/Ed, Edd ,N, Eddy

Wacky Races/Mater's Tall Tales

Wacky Races/Paulie

Wacky Races/The Big Bang Thoery

Wacky Races/Breadwinners

Wacky Races/The Nut Job (2014)

Wacky Races/Rick & Morty

Wacky Races/How to Train Your Dragon 2 (2014)

Wacky Races/Muppets Most Wanted

Wacky Races/Mr. Peabody & Sherman (2014)

Wacky Races/Planes: Fire & Rescue (2014)

Wacky Races/Beethoven

Wacky Races/Animaniacs

Wacky Races/Bear in the Big Blue House

Wacky Races/My Gym Partner's a Monkey

Wacky Races/Veggietales

Wacky Races/Tekken

Wacky Races/Street Fighter

Wacky Races/The Legend Of Zelda

Wacky Races/Mater's Tall Tales

Wacky Races/The Berenstain Bears

Wacky Races/Sheep in the Big City

Wacky Races/Whatever Happened To Robot Jones?

Wacky Races/Mater's Tall Tales

Wacky Races/Fat Dog Mendoza

Wacky Races/Sanjay and Craig

Wacky Races/Harvey Beaks

Wacky Races/Doug

Wacky Races/Catscratch

Wacky Races/Captain Underpants

Wacky Races/F-Zero

Wacky Races/The Great Mouse Detective

Wacky Races/Epic (2013)

Wacky Races/Skunk Fu

Wacky Races/Osmosis Jones

Wacky Races/Hotel Transylvania

Wacky Races/Super Mario Bros. Z

Wacky Races/Angry Birds

Wacky Races/Fraggle Rock

Wacky Races/Kiki's Delivery Service

Wacky Races/Boohbah

Wacky Races/Underground Ernie

Wacky Races/Boohbah

Wacky Races/Mater's Tall Tales

Wacky Races/Mater's Tall Tales

Wacky Races/Big Hero 6 (2014)

Wacky Races/The Boxtrolls (2014)

Wacky Races/South Park: Bigger Longer and Uncut

Wacky Races/Bonkers

Wacky Races/Judge Judy

Wacky Races/The Secret of Nimh

Wacky Races/Jojo's Circus

Wacky Races/PAW Patrol

Wacky Races/Balamory

Wacky Races/Mister Maker

Wacky Races/Higglytown Heroes

Wacky Races/Razzledazzle

Wacky Races/Fimbles
See Also