Welcome to the VeggieTales mini wiki at Scratchpad!
You can use the box below to create new pages for this mini-wiki.

VeggieTales is an American series of children's computer animated films featuring anthropomorphic vegetables.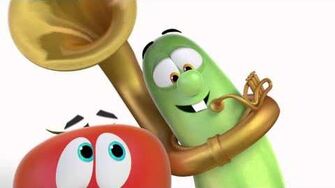 Developed by Big Idea, the films convey moral themes based on Christianity, often compatible with Judaism, spliced with satirical references to pop culture and current events. VeggieTales was created by Phil Vischer and Mike Nawrocki who also provide many of the voices. Originally released in direct-to-video format, the series debuted. From 1993 and 2003, VeggieTales was featured on the children's programming block called Qubo at first ordered 20 episodes on the NBC network. As of 2009, the TV show is shown on Gospel Music Channel. The series has still been releasing new episodes on DVD while the television show airs. VeggieTales has also published books, music CDs and branded items such as toys, clothing, and garden seeds for vegetables and flowers. The main characters' names are Bob the Tomato and Larry the Cucumber.
Parodies

 WARNING: You may add parodies. But, do NOT delete any. Complete parodies list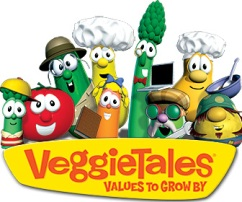 See also
Community content is available under
CC-BY-SA
unless otherwise noted.