Top-10 Lists Are Dead!!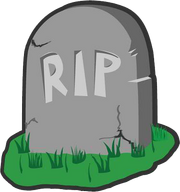 Effective February 14, 2017, Top 10 Lists at our parent, Wikia, are dead. This includes Top-10 lists here at Scratchpad as well. So, anyone planning the Top-10 ways for Batman to surprise Robin on Valentine's day had best publish it in a blog instead.
Going forward, anyone wanting to publish a Top-10, Top-5, or any other such list, should do so as a personal blog.
Need help writing a personal blog? Ask for help from the Scratchpad Community at Scratchpad:User help.
Want the Scratchpad Community to know when your blog is published and ready for everyone to read? Announce it at the Scratchpad:Noticeboard.
Need other help, but not sure where to go? Visit the Scratchpad Help Center at Scratchpad:Help Center.[1]
Any comments or questions? Speak up below in the Comments section.
Notes
See also