STOP RIGHT THERE!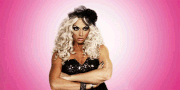 Alyssa Edwards 1980
is rightfully owned by Alyssa Edwards 1980.
Please DO NOT edit this page without his permission (unless you're a wiki admin or content moderator).
DON'T steal any information on this version/page.
If you fixed any mistake on this page, please describe what you fixed in the summary box so that way he know. If you disobey this rule, Alyssa Edwards will tell Akari and Arizona or another admin to block you!
Oh, hey. If I watch an episode of Glee and an episode of Gossip Girl, can I get a blowjob instead?
Blaine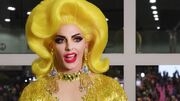 Hi, my name is Justin Lee Johnson, but my drag queen person is Alyssa Edwards. I am 40 years old and i starred in RuPaul's Drag Race! I love drag queens in general.
Wikipedia
Justin Dwayne Lee Johnson,[1] known by his stage name Alyssa Edwards (born January 16, 1980), is an American drag performer, choreographer, and businessperson. Johnson was known for competing in drag pageantry (notably Miss Gay America 2010) before rising to national prominence on the fifth season of RuPaul's Drag Race, becoming a fan favorite during and after his time on the show. In June 2019, New York magazine published the results from their panel of judges and writers which ranked in the top twenty Drag Race superstars.[2]
Favorite users
Favorite pages


Community content is available under
CC-BY-SA
unless otherwise noted.