This article is actively undergoing a major edit for a short while. To help avoid edit conflicts, please do not edit this page while this message is displayed.
This page was last revised at 16:07, 12 October 2019 (UTC) (2 years ago). Please remove this template if this page has not been edited in several hours. If you are the editor who added this template, please be sure to remove it or replace it with {{Under construction}} between editing sessions.


[

]
 This article is about the character. For the TV show the character appears in, see
Thomas & Friends
.
Thomas the Tank Engine is a small fictional steam locomotive in The Railway Series books by the Reverend Wilbert Awdry and his son, Christopher. He became the most popular character in the series, and is the title character in the accompanying television spin-off series, Thomas & Friends.
Thomas is a steam engine and has a number 1 painted on his side. All of the locomotives in The Railway Series were based on prototypical engines; Thomas has origins in the E2 Class designed by Lawson Billinton in 1913. Thomas first appeared in 1946 in the second book in the series, Thomas the Tank Engine, and was the focus of the four short stories contained within. Thomas' best friends are Percy and Toby.
In 1979, the British writer/producer Britt Allcroft came across the books,[1] and arranged a deal to bring the stories to life as the TV series Thomas the Tank Engine and Friends (later simplified to Thomas & Friends). The program became an award-winning hit around the world, with a vast range of spin-off commercial products.
Bio
Goal: To be a really useful engine
Appearance: Blue tank engine with 6 wheels, black smokebox, red chassis, black buffers, grey face, yellow portholes and lamp
Allies: Percy (best friend), Toby (best friend), James, Edward, Henry, Gordon, Donald, Douglas, Duck, Oliver, Toad, Stepney, Emily (good friend), Molly Belle, Flynn, Spencer Rosie (girlfriend), Murdoch, Salty, Harvey, Cranky, Dennis, Skarloey, Rheneas, Sir Handel, Peter Sam, Rusty, Duncan, Duke, Freddie, Mighty Mac, Daisy (best diesel friend), BoCo, Den, Dart, Norman, Paxton, Sidney, Mavis, Bill, Ben, Fergus, Merrick, Owen, Luke (good friend), Bash, Dash, Ferdinand, Stanley, Trevor, Captain, Hiro, Victor, Kevin, The Fat Controller (boss), Stephen, Millie, Connor, Caitlin, Harold, Terence, Bertie, Whiff, Scruff, Hector, Bulgy, Charlie, Sharki (Twin Friend), Charlot (Cute Friemd), Bruno (Older Friend), The 23 Lucky Engines, Mike, Rex, Bert, Jock, Frank, Ernest, Wilfred, Culdee, Shane Dooiney, Lord Harry, Alaric, Eric, Ryan, Skiff, Gator, Marion, Timothy, Reg, Samson, Porter,

Bradford

, Sailor John (formerly).
Fathers-in-Law: Zeakerp, Conrad and Garratt
Enemies: Diesel, Diesel 10 (Except in

Calling all Engines

), Iron Arry, Iron Bert, D261, D199, Old Stuck Up, Splatter, Dodge, Spencer (formerly), George, Dart (formerly), Den (formerly), Stanley (formerly), Norman (formerly), Paxton (formerly), Sidney (formerly), Daisy (formerly), Cranky (formerly), Bulgy (formerly), The Spiteful Break Van (Thomas passed the Spiteful Break Van, but he didn't meet him, because he's too busy working on his branch line), Smudger, Bulstrolde, The Horrid Lorries, Hector (formerly), Troublesome Trucks, Steam Engine, Stepney (formerly), Neville (formerly), Ryan (formerly), Sailor John.
Voice Actors
Eddie Glenn (Thomas and the Magic Railroad)
Hero of the Rails - Ben Small (UK)
Hero of the Rails - Martin  Sherman (US)
The Adventure Begins and Sodor's Legend of the Lost Treasure - John Hasler (UK) and Joseph May (US)
Thomas in toyboxes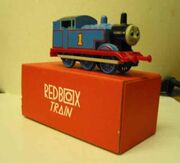 Main: Thomas the Tank Engine & Friends merchandise
With the popularity of the Thomas the Tank Engine & Friends TV series among children, 'Thomas'-based merchandise has proven very lucrative. At least five different categoriesof trains and tracks exist: "Take Along Thomas" with grey tracks; Tomy battery-operated engines with blue tracks; Brio-type wooden engines with wooden rails and roads (by ELC and others); electric model railway (produced in O gauge by Lionel , HO/OO gauge by Hornby Railways and Bachmann and N gauge by Tomix); and Lego engines and tracks; along with complementary videos, DVDs, books, games, puzzles, stationery, clothing and household items.
Thomas on real railways
Hit Entertainment licences several "Day Out With Thomas" events all over the world, in which visitors to heritage railways can meet and ride on a replica "Thomas".
An international tour featuring Thomas and his driver was completed in 2005 in honour of the 60th anniversary of the original stories. In America, Thomas the Tank Tank Engine is thought to be an excellent role model for children. The former President George H.W. Bush dedicated the Presidential Train during a ceremony in 2005.
A "real" Thomas was used in a special play staged to celebrate the 80th brithday of [[|wikipedia:Elizabeth II of the United Kingdom|Queen Elizabeth II]], starring well-loveed characters from children's literature. In the play, Thomas was used to convey Sophie Dahl to centre stage.
Early life
Thomas was built by Brighton Works in May 1913 and Thomas later came to Sodor aged 2 in May 1915, he was a station pilot from then until 1946
In 1946, Thomas teased Gordon and Henry the big engines until Gordon taught him a lesson, then Thomas stopped teasing the big engines.
In 1950, Thomas became best friends with Percy when Percy arrived on the Island of Sodor, in 1961, Thomas crashed into a Stationmaster's house after the careless cleaner came to the sheds, he medalled with Thomas's controls sending Thomas flying down the rails towards the Stationmaster's house.
The Rev. W. Awdry also had a model of Thomas.
Thomas and all the other characters were voiced by Ringo Starr from 1984-1986 and then Michael Angelis has narrated the series since 1991 as well as Michael Brandon in the USA from then since, in 2009, in Hero of the Rails, Thomas was voiced by Ben Small in the UK and Martin Sherman in the USA and has been voiced by those two actors since.
Theme
Thomas' theme is his Season 1 Branch Line theme.
Counterparts (male hero version)

 WARNING: You may add appropriate counterparts. But, do NOT delete any.
Mario, Luigi, Yoshi, or Toad (Super Mario Bros.)
Bozz (

Cubeez

)
Greg (The Wiggles)
Sonic the Hedgehog, Miles "Tails" Prower, Knuckles the Echidna, Rotor the Walrus, Lucas, or Griff (Sonic the Hedgehog; Thomas and Sonic are both blue)
Buster Bunny (Tiny Toon Adventures; both are blue)
The Brain (Pinky and the Brain)
Firey (Battle for Dream Island)
Doug Funnie (Doug)
Ato (Canimals)
Stanley (Pat & Stanley)
Tom (Talking Friends)
Meaty (Adventure for Queen Island)
Bernard Bear (Bernard Bear)
Rocky (Chicken Run)
Wallace (Wallace and Gromit)
Mike Wazowski (Monsters, Inc./Monsters University)
Diggs the Backhoe Loader (Construction Site)
Zorro (The Legend Of Zorro)
Lumiere (Beauty and the Beast, both cheerful and kind)
Tarzan (Tarzan)
Raoul (The Phantom Of The Opera)
Samson (Super Samson Herms)
Frankie Valli (The Jersey Boys)
Link Larden (Hairspray)
Danny (Grease)
Timothy Q. Mouse (Dumbo, both begin with the letter "T") 
Roland Rat (Roland Rat)
Sooty (The Sooty Show)
Zidgel (3-2-1 Penguins)
Adult Simba or Young Simba (The Lion King)
Baloo or Wildcat (Talespin)
Quasimodo (The Hunchback Of Notre Dame)
Kristoff (Frozen)
Austin Powers (Austin Powers)
Tishka (Train Tishka)
Sebastian or Prince Eric (The Little Mermaid)
Remy (Ratatouille)
Flik (A Bug's Life)
Lightning McQueen (Cars 1 & 2)
Matt (CyberChase)
Bobby Hill (King of the Hill)
Stan Smith (American Dad)
Mario Hugo, Johnin John Harry, Tulio Triviño, Policarp Avendañe or John Charles Bodoque (31 Minutes)
Sunil Nevla (Littlest Pet Shop (2012); both are blue)
Captain Crandell (Teamo Supremo)
Timmy Turner,

Cosmo

or Baby Poof (The Fairly Oddparents)
Danny Fenton (Danny Phantom)
Jimmy Neutron (Jimmy Neutron)
Darwin (The Wild Thornberrys)
Ron Stoppable (Kim Possible)
Boomer or Brick (The Powerpuff Girls)
Dexter (Dexter's Laboratory)
Raimundo Pedrosa (Xiaolin Showdown)
Meat Boy (Super Meat Boy)
Robin (Teen Titans)
Theodore Jasper "TJ" Detweiller (Recess)
Gordy Rhinehart (Angela Anaconda)
Gumball Watterson (The Amazing World of Gumball; both are blue)
Connor (Cubix: Robots For Everyone)
Marlin (Finding Nemo)
Stan Marsh (South Park)
P.J. Duncan (Good Luck Charlie)
Freddie Benson (iCarly)
Shawn (Coilbook)
Rocko (Rocko's Modern Life)
Doki (Doki)
Lazlo (Camp Lazlo)
Numbuh 1 (Codename: Kids Next Door)
Noddy (Noddy's Toyland Adventures)
Postman Pat (Postman Pat)
Fireman Sam (Fireman Sam)
Lofty (Bob the Builder, both are blue)
Kirby, Tuff or Knuckle Joe (Kirby)
Ax-Battler (Golden Axe)
Axel Stone (Streets of Rage)
Jin Kazama (Tekken)
Starfy (The Legendary Starfy)
Hobbes (Calvin & Hobbes)
Pinocchio (Pinocchio and the Emperor of the Night)
Stanley (A Troll in Central Park)
Pinocchio or Jiminy Cricket (Pinocchio/Fun and Fancy Free/Disney's Villains' Revenge)
Lowly Worm (The Busy World of Richard Scarry/Hurray for Huckle)
Fone Bone (Bone)
Mushu or Captain Shang (Mulan)
Pig (Pearls Before Swine)
Jay Jay (Jay Jay the Jet Plane, both are blue)
Satchel (Get Fuzzy)
Br'er Rabbit (Song of the South)
Charlie (Bedknobs & Broomsticks)
Pete (Pete's Dragon)
Toaster (The Brave Little Toaster)
Little Toot (Melody Time)
Pedro (Saludos Amigos)
Huw Finger (

Huw & Dirk

)
Roger Rabbit (Who Framed Roger Rabbit)
Peter or Willie the Whale (Make Mine Music)
Lucas (Earthbound/Mother)
Young Tod or Young Copper (The Fox & The Hound)
Young Bambi (Bambi)
Pedro (Saludos Amigos)
Big Bird, Ernie or Grover (Sesame Street)
Jowee (Drawn to Life)
Dorian (Eco Creatures: Save the Forest)
Kevin (Captain N: The Game Master)
Marty McFly (Back to the Future)
Kevin McCallister (Home Alone 1 & 2)
Stitch (Lilo & Stitch)
Takua (Mata Nui Online/Takua, Jaller & Hahli Productions)
Luke Skywalker (Star Wars)
RJ (Over the Hedge)
Skipper (Skipper & Skeeto)
Frank (3 Friends and Jerry)
Jack Frost (Rise of the Guardians)
Goku (Dragon Ball Z)
Finn (Adventure Time)
Bamm-Bamm Rubble, Fred Flintstone or Barney Rubble (The Flintstones)
Ord (Dragon Tales, both are blue)
Jason Lee Scott (Mighty Morphin Power Rangers, Thomas and Jason are both main protagonist)
Gnomeo (Gnomeo and Juliet)
Roddy (Flushed Away)
Turbo (Turbo (2013))
Rodney Copperbottom (Robots)
Casey Jr. (Casey Jr. and Friends)
Manwell (Fawlty Towers)
Rodney or Del Boy (Only Fools and Horses)
Toad (The Wind in the Willows)
Pom (Babar)
Rupert Bear (Rupert)
Little Bear (Little Bear)
Peter Rabbit (The Tale of Peter Rabbit/Peter Rabbit; both young and cheeky)
Emmet (The LEGO Movie)
Mr. Peabody (Mr. Peabody & Sherman (2014))
Niko Bellic (Grand Theft Auto IV)
Nigel Thornberry (The Wild Thornberrys)
Henry Hugglemonster (Henry Hugglemonster)
Franklin (Franklin the Turtle)
Derek (Bobby's World)
Surly (The Nut Job (2014))
Willy the Bee (Maya the Bee/Movie; both are cheeky and best friend to Rosie and Maya)
Allstar Seaworthy (The Snorks; both are friendly and girlfriend to Rosie and Casey Kelp)
Andy Barclay (Child's Play)
Toothless (How To Train Your Dragon 2)
Bowen Tyler (The Land That Time Forgot)
Shaun (Shaun the Sheep)
Joseph (Joseph: King of Dream (2000))
Barney (Barney and the Backyard Gang/Barney & Friends)
Counterparts (girl version)

 WARNING: You may add appropriate counterparts. But, do NOT delete any.
Emily or Rosie (Thomas the Tank Engine and Friends)
Lillie Lightship or Sally Seaplane (TUGS)
Sunshine (Salty's Lighthouse)
Emily (Theodore Tugboat)
Stacy Jones, Becky or Tanya Cupper (Shining Time Station)
Princess Peach (Super Mario Bros.)
Amy Rose or Sally Acorn (Sonic the Hedgehog)
Lanolin or Penelope (Garfield and Friends)
Penelope Pitstop (Wacky Races/The Perils of Penelope Pitstop)
Babs Bunny (Tiny Toon Adventures)
Sandy Cheeks (Spongebob Squarepants)
Marge Simpson or Lisa Simpson (The Simpsons)
Lois Griffin or Meg Griffin (Family Guy)
Wendy Testaburger (South Park)
Leafy (Battle for Dream Island)
Isabella Garcia Shapiro (Phineas and Ferb)
Yo (Fanboy and Chum Chum)
Numbuh 362 (Codename: Kids Next Door)
Tessie Bear (Noddy's Toyland Adventures)
Inez (Cyberchase, both main heroes)
Teddy Duncan or Charlie Duncan (Good Luck Charlie)
Twilight Sparkle, Rainbow Dash, Rarity or Pinkie Pie (My Little Pony: Friendship is Magic)
Princess Sherry or Princess Cherry (Rocket Knight Adventures)
Buneary (Pokemon)
Tiff (Kirby)
Princess Zelda (The Legend of Zelda)
Gwen or Sierra (Total Drama)
Daphne Blake (Scooby Doo)
Renamon (Digimon)
Blossom (Powerpuff Girls)
Margo or Edith (Despicable Me)
Ling Xiaoyu or Jun Kazama (Tekken)
Susanna (Kong: The Animated Series)
Flaky (Happy Tree Friends)
Emmy (Dragon Tales)
Counterparts (villian version)

 WARNING: You may add appropriate counterparts. But, do NOT delete any.
Diesel (Thomas the Tank Engine and Friends)
Zorran or Zip (TUGS)
Sea Rogue (Salty's Lighthouse)
Oliver (Theodore Tugboat)
Mr. Conductor's Evil Twin (Shining Time Station)
Bowser or Waluigi (Super Mario Bros.)
Fawful (Mario and Luigi series)
Scratch, Dr. Robotnik or Scourge (Sonic the Hedgehog)
Dick Dastardly (Wacky Races/Dastardly and Muttley)
Oscar the Grouch (Sesame Street)
Montana Max (Tiny Toon Adventures)
The Grinch (Dr. Seuss/The Wubbulous World of Dr. Seuss)
Horrid Henry (Horrid Henry)
Mr. Burns or Nelson Muntz (The Simpsons)
Stewie Griffin (Family Guy)
Admiral Razorbeard (Rayman)
Blocky (Battle for Dream Island)
Axel Gear (Rocket Knight Adventures)
King Sombra (My Little Pony Friendship is Magic)
King Dedede (Kirby)
Meowth or Mewtwo (Pokemon)
Andross or Wolf O'Donnell (Star Fox)
Dark Link or Ganondorf (The Legend of Zelda)
Counterparts (The Cleveland Show version)

 WARNING: You may add appropriate counterparts. But, do NOT delete any.
Skarloey (Thomas the Tank Engine and Friends)
Counterparts (Doki version)

 WARNING: You may add appropriate counterparts. But, do NOT delete any.
Counterparts (Anime and Final Fantasy version)

 WARNING: You may add appropriate counterparts. But, do NOT delete any.
Gallery

Main article:
Thomas the Tank Engine (character)/Gallery
Notes
See also