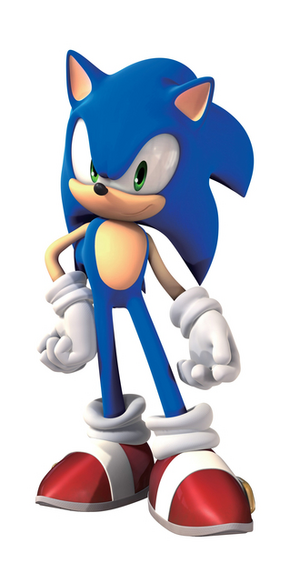 Sonic the Hedgehog
is the main protagonist of the
Sonic the Hedgehog
franchise. He is a 15 year old speedy blue hedgehog.
Sonic is Made in Year in 1991
Bio
Species: Anthropomorphic Hedgehog
Age: 15
Eye Color: Green (Post Sonic Adventure)
Fur Colors: Blue and Tan
Clothing: White gloves, Red sneakers with white straps and gold buckels
Allies: Tails (Best Friend; and Sometimes Close as Brothers), Knuckles (Best Friend), Amy (Girlfriend), Cream, Cheese, Blaze, Silver (friendly rival), Shadow (ally and arch-rival), Sally Acorn, Cosmo, Vector, Charmy, Espio, Mario, Donkey Kong, Link, Aiai, Amigo, Banjo-Kazooie, Toejam, Earl, Alex Kidd, Bayonetta
Rivals: Shadow (arch-rival), Silver, Jet, Knuckles (formerly), Mario (formerly), Pac-Man, Snake, Ryu & Mega Man, Cloud, Kirby
Enemies: Dr. Robotnik/Eggman (arch nemesis), Metal Sonic, Nack the Weasel, Scratch, Grounder, Coconuts, Grimer, the Drakon Empire,Fiona Fox, Scourge, Megatox, Zavok, Bowser,King K Rool, Ganondorf, King Dedede, Tabuu, Infinite
Voice actors
Television Series
Counterparts (Sonic Version) (Boy Version) (Heroes Version)
Thomas the Tank Engine or Gordon the Big Engine (Thomas the Tank Engine & Friends/The Railway Series; the two engines, Thomas & Gordon are both Blue like Sonic)
Wubbzy, Walden, Buggy, Chef Fritz, Earl, or The Kooky Kid (Wow wow wubbzy)
Mario, Luigi or Yoshi (Super Mario Bros.)
Yankee Doodle Pigeon, Sawtooth, Peter Perfect, Private Meekly, or Red Max (Dastardly and Muttley/Wacky Races)
Buster Bunny, Plucky Duck, Hamton J. Pig, Little Beeper or Furrball (Tiny Toon Adventures; Sonic and Buster are both blue, Sonic, Buster, and Little Beeper are all fast)
Bugs Bunny, Daffy Duck, Road Runner, or Speedy Gonzales (Looney Tunes, Sonic and Road Runner are both blue and fast)
Sportacus, Ziggy, Pixel, Mayor, or Stingy (Lazytown)
Aerobic Al (Horrid Henry)
SpongeBob SquarePants, Patrick Star, Squidward Tentacles, Mr. Krabs, or Gary the Snail (SpongeBob SquarePants)
Arnold (Hey Arnold)
Doug Funnie (Doug)
Pikachu, Ash Ketchum, or Piplup (Pokemon)
Kirby, Tuff, Meta Knight, Iroo, or Knuckle Joe (Kirby)
Chip (The Little Engine That Could)
Kermit the Frog or The Great Gonzo (The Muppet Show/Kermit's Swamp Years)
Sooty (The Sooty Show)
Littlefoot or Petrie (The Land Before Time)
Austin Powers (Austin Powers)
Stan Smith (American Dad)
Toaster, Lampy or Kirby (The Brave Little Toaster)
Captain Crandell (Teamo Supremo)
Timmy Turner, Cosmo, Chester, AJ, or Baby Poof (The Fairly Oddparents)
Danny Fenton (Danny Phantom)
Jimmy Neutron or Carl Wheezer (Jimmy Neutron)
George Beard (Captain Underpants)
George Jetson or Elroy Jetson (The Jetsons)
Darwin (The Wild Thornberrys)
Ron Stoppable (Kim Possible)
Boomer (The Powerpuff Girls)
Raimundo Pedrosa (Xiaolin Showdown)
TJ (Recess)
Woody or Buzz Lightyear (Toy Story)
Boomer, Butch, or Brick (The Powerpuff Girls)
Mowgli, Bagheera or Baloo (The Jungle Book)
Adult Simba, Young Simba, Adult Kovu, Young Kovu, Timon, or Zazu (The Lion King)
Baloo or Wildcat (Talespin)
Gordy Rhinehart (Angela Anaconda)
Gumball Watterson, Banana Joe, or Tobias (The Amazing World of Gumball, Sonic and Gumball are both blue)
Sid the Sloth, Manny, Diego, or Scrat (Ice Age)
Connor (Cubix: Robots For Everyone)
Marlin or Nemo (Finding Nemo)
Shaggy Rogers or Scooby Doo (Scooby Doo)
Stan Marsh, Kyle Broflovski, Eric Cartman, Kenny McCormick, or Butters Scotch (South Park)
Toad (SML)
Bambi (Bambi)
P.J. Duncan (Good Luck Charlie)
Chowder, Mung Daal, or Gorgonzola (Chowder)
Mac, Blooregard "Bloo" Q. Kazoo, or Wilt (Foster's Home for Imaginary Friends, Bloo and Sonic are both blue)
Starfy (The Legendary Starfy)
Fanboy (Fanboy & Chum Chum)
Numbuh 1 (Codename: Kids Next Door)
Noddy (Noddy's Toyland Adventures)
Postman Pat (Postman Pat)
Fireman Sam (Fireman Sam)
Ax-Battler (Golden Axe)
Axel Stone (Streets of Rage)
Spike or Shining Armor (My Little Pony: Friendship is Magic)
Pinocchio (Pinocchio and the Emperor of the Night)
Stanley (A Troll in Central Park)
Hobbes (Calvin & Hobbes)
Mickey Mouse, Goofy, or Donald Duck (Mickey Mouse)
Winnie the Pooh, Tigger, Piglet, Rabbit, Eeyore, or Roo (Winnie the Pooh)
Jiminy Cricket, Pinocchio or Geppetto (Pinocchio)
Alvin or Simon (Alvin & the Chipmunks)
Fone Bone (Bone)
Mushu or Captain Shang (Mulan)
Charlie Brown or Snoopy (Peanuts)
Pig (Pearls Before Swine)
Satchel (Get Fuzzy)
Jay Jay or Herky (Jay Jay the Jet Plane; both are Blue)
Zachary Swain (Zachary Swain)
Diggs the Backhoe Loader (Construction Site)
Ness or Lucas(Earthbound/Mother)
Young Tod or Young Copper (The Fox & The Hound)
Little Toot (Melody Time)
Pedro (Saludos Amigos)
Big Bird or Elmo (Sesame Street)
Pikachu (Super Smash Bros.)
Jowee (Drawn to Life)
Dorian (Eco Creatures: Save the Forest)
Marty McFly (Back to the Future)
Kevin McCallister (Home Alone)
Stitch, Pleakly, Jumba, Reuben, or David (Lilo & Stitch; Sonic and Stitch are both Blue)
Luke Skywalker (Star Wars)
Scarecrow (The Wizard of Oz)
Bob Parr or Dash Parr (The Incredibles)
Barry B. Benson (Bee Movie)
Goofy or Max (A Goofy Movie)
RJ, Verne, or Hammy (Over the Hedge)
Gru (Despicable Me)
Jack Frost (Rise of the Guardians)
Hocus or Frosty (Frosty the Snowman)
Drake or Josh (Drake and Josh)
Steve (Blue's Clues)
Jim Hawkins (Treasure Planet)
Mordecai, Rigby, or Benson (Regular Show)
Bamm-Bamm Rubble, Fred Flintstone, or Barney Rubble (The Flintstones)
Owen, Trent or Cody (Total Drama)
Pom (Babar)
Casey Jr. (Casey Jr. and Friends)
Goku (Dragon Ball Z)
Red (Pokemon Red & Blue)
Gold/Ethan (Pokemon Gold & Silver)
Brendan (Pokemon Ruby & Sapphire)
Lucas (Pokemon Diamond & Pearl)
Hilbert (Pokemon Black & White) 
Michael or Angry Grandpa (Angry Grandpa)
Carlos or Ralphie (Magic School Bus)
Bucky O'Hare (Bucky'OHare)
Miyamoto Usagi (Usagi Yojimbo)
Prof. Emelius Browne or Charlie (Bedknobs and Broomsticks)
Paul (Pete's Dragon)
Spyro or Tree Rex (Skylanders)
Bobby Generic (Bobby's World)
Marshal Moo Montana (Wild West C.O.W. Boys Of Moo Mesa)
Wes (Pokemon Colosseum)
Mumble (Happy Feet)
Optimus Prime (Transformers)
Duke (G.I. Joe)
Stu Miley (Monkeybone)
Peeta Mellark (The Hunger Games)
Iron Man or Captain America (The Super Hero Squad Show)
Willy the Bee (Maya the Bee/Movie, both are charming and someimes lazy)
Toad, Bowser Junior, Chef Pee Pee, Jeffy, Bowser, Joseph, Cody, Mario, The Pig, or Chompy (SuperMarioLogan)
Naruto Uzumaki (Naruto)
Monkey D. Luffy (One Piece)
Ichigo Kurosaki (Bleach)
Natsu (Fairy Tail)
Yusuke Urameshi (Yu Yu Hakusho)
Arizona (State Man)
Connor (Connor Barkley the Dinosaur and Teens)
Counterparts (Girl Version) (Do not delete, but you can add)
Emily, Rosie, Molly, Mavis, or Lady (Thomas the Tank Engine and Friends)
Amy Rose, Sally Acorn, Bunnie Rabbot, Cream the Rabbit, Rouge the Bat, Blaze the Cat or Cosmo the Seedrian (Sonic the Hedgehog)
Lillie Lightship or Sally Seaplane (TUGS)
Buttercup or Blossom (The Powerpuff Girls)
Katie Rose or Sheetal (Rebecca SuperStar)
Sunshine or Lillie Lightship (Salty's Lighthouse)
Princess Peach, Princess Daisy, or Birdo (Super Mario Bros.)
Buneary, Jigglypuff, Aipom, Eevee, or Glameow (Pokemon)
Tiff, Honey, Sirica, or Ribbon (Kirby)
Lanolin, Penilupe, or Chloe (Garfield and Friends)
Babs Bunny, Shirley the Loon, Fifi La Fume, or Sweetie Bird (Tiny Toon Adventures)
Sandy Cheeks, Pearl Krabs, Mrs. Puff, or Mindy (Spongebob Squarepants)
Sergeant or Vanellope (Wreck-It Ralph)
Isabella Garcia Shapiro (Phineas and Ferb)
Penny Fitzgerald, Anais Watterson, or Carrie (The Amazing World of Gumball)
Renamon, Gatomon, or Kazemon (Digimon)
Toula, Katrina or Pauly's Girlfriend (from Cult Pizza)
Miss Eglantine Price or Carrie (Bedknobs & Broomsticks)
Nora (Pete's Doragon)
Gloria or Gia (Madagascar)
Lily Stone (Thomas and the Magic Railroad)
Rainbow Dash, Pinkie Pie or Twilight Sparkle (My Little Pony: Friendship is Magic)
Toadette, Emily Colemaan, Stacy, Crystal/Britknee, Nancy, Feebee, or Samantha (SuperMarioLogan)
Counterparts (Wreck-it Ralph Version) (Do not delete, but you can add)
Counterparts (Mario Version)
Miyamoto Usagi (Teenage Mutant Ninja Turtles)
Counterparts (Mega Man Version)
COMING SOON
Counterparts (Super Smash Bros. Version)
Bertie (Thomas the Tank Engine and Friends)
Cudley the Cowlick (Teenage Mutant Ninja Turtles)
Eon (Skylanders)
Yankee Doodle Pigeon (Dick Dastardly & Muttley)
The Pig (SuperMarioLogan)
Counterparts (Bayonetta version)
Counterparts (Alex Kidd version)
Counterparts (Animaniacs Version)
Counterparts (Tiny Toon Adventures Verison)
Counterparts (Villain Version)
Peter Beaupre (Home Alone)
Gallery

Main article:
Sonic the Hedgehog (character)/Gallery
See Also
Community content is available under
CC-BY-SA
unless otherwise noted.