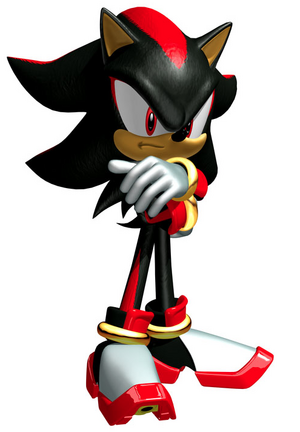 Shadow the Hedgehog
is a character from the
Sonic the Hedgehog
video game series. He was created over 50 years ago by
Professor Gerald Robotnik
 and
Black Doom
as the Ultimate Life Form. Shadow can be good or bad depending on his game appearances, most notably his own game,
Shadow the Hedgehog
, released in 2005, wherein the player can choose.
Video Game Appearances
Sonic Adventure 2 (Battle) (2001/2002)
Sonic Heroes (2004)
Shadow the Hedgehog (2005)
Mario and Sonic at the Olympic Games (2008)
Sonic Chronicles: The Dark Brotherhood (2008)
Mario and Sonic at the Olympic Winter Games (2009)
Sonic & Sega All-Stars Racing (2010)
Sonic Colors DS (2010)
Sonic Generations (2011)
Mario and Sonic at the London 2012 Olympic Games (2012)
Sonic and All-Stars Racing Transformed (2012)
MORE COMING SOON
Other Media Appearances
Archie Sonic Comics
Sonic X
Sonic X Comics
Dash and Spin: Super Fast Sonic
Sonic the Comic: Online
Bio
Species: Anthropomorphic Hedgehog
Age: Unknown, but at least over 50 years
Fur Colors: Black and Red
Eye Color: Red
Clothing: White Hover Shoes, White Gloves With Gold Rings
Friends/Allies: Sonic the Hedgehog (friendly rival), Maria Robotnik, Gerald Robotnik, Rouge the Bat (Close Friend) , E-123 Omega (Close Friend), Silver The Hedgehog, Miles Tails Prower, Knuckles The Echidna, Blaze The Cat, Metal Sonic, Zavok, Chaos, Infinite.
Rivals: Sonic the Hedgehog (outright enemy in some versions)
Counterparts (Sonic version)

 WARNING: You may add appropriate counterparts. But, do NOT delete any.
Spencer, Hector, Edward, James, Gordon, Diesel or Duncan (Thomas the Tank Engine and Friends/The Railway Series)
Mr. Conductor's Evil Twin or Sledgebolt (Shining Time Station, Sledgebolt is a deleted character)
Montana Max, Dr. Gene Splicer, Dizzy Devil, Calamity Coyote, Mr. Hitched, Roderick Rat, or Yosemite Sam (Tiny Toon Adventures)
Mr. Plotz, Dr. Otto Scratchansniff, Ralph, Walter Wolf, The Brain, Pesto or Bobby (Animaniacs)
The Yapper-Yap, The Grinch, the Vug, or Vlad Vladikoff (Dr. Seuss/The Wubbulous World of Dr. Seuss)
Squidward Tentacles, Squilliam Fancyson ,Sheldon J. Plankton, Flats the Flounder or Dennis (SpongeBob SquarePants/The SpongeBob SquarePants Movie)
Darkman, Admiral Razorbeard, or Raymesis (Rayman)
Meta Knight, Escargoon, Shadow Kirby, Tokkori, Lololo, or King Dedede (Kirby)
Moe Syzlak, Bart Simpson, Lenny Leonard, Barney Gumble, Mr. Burns, Snake Jailbird or Ned Flanders (The Simpsons)
Francis, Jorgen, Juandissimo, Anti-Cosmo, Dark Lazer, or Darkness (The Fairly OddParents)
Hodge (Chuggington)
Bender (Futurama)
General Hologram, Sonic the Hedgehog or King Candy/Turbo (Wreck-it Ralph)
Eric Cartman, Kenny McCormick, or Kyle Broflovski (South Park)
Banzai, Zazu, Mufasa, Adult Kovu, Young Kovu, Nuka, or Scar (The Lion King)
Ken, Mr. Potato Head, Wilfre, Sid Philips, Evil Emperor Zurg, or Buzz Lightyear (Toy Story)
Jackson Storm or Chick Hicks (Cars 1,2 & 3)
Harry Wormwood (Matilda)
Chad Dickson (Codename: Kids Next Door)
Vega, M.Bison, Akuma, or Evil Ryu (Street Fighter)
Dark Link, Vaati, Gannondorf, or Captain Linebeck (The Legend of Zelda)
Victor Quartermaine, Feathers McGraw or Preston(Wallace and Gromit)
BlackWarGreymon, Devimon, Myotismon, or Wizardmon (Digimon)
Vegeta (Dragon Ball Z)
Duncan, Alejandro or Chris (Total Drama)
Sleek the Elite, Junior, Chong Fat or Rocky (Fat Pizza)
Casey Jones, Leonardo, Shredder, Bishop, Slash, Metalhead, Graviturtle, Splinter, Berzerko or Raphael (Teenage Mutant Ninja Turtles)
Cowlorado Kid (Wild West C.O.W. Boys of Moo Mesa)
Silverbolt (Beast Wars)
Maximilian Pegasus (Yu-Gi-Oh)
Zhao or Zuko (Avatar: The Last Airbender)
Torgo (Manos: The Hands Of Fate)
King Randor or Beast-Man (He-man)
Captain Gantu (Lilo & Stitch)
Iori Yagami or Wolfgang Krauser (The King Of Fighters)
Belloq (Indiana Jones) 
Kevin or Eddy (Ed, Edd 'n' Eddy)
Portobello Road Workman (Bedknobs and Broomsticks)
Lord Zedd (Power Rangers)
Mr. Sandman (Punch Out)
Drobot, Bash, or Chop Chop (Skylanders)
Eldes (Pokemon Orre)
Godzilla, Angurius, Rodan, or King Shisa (Godzilla)
Hank the Hornet (Maya the Bee Movie)
Sasuke Uchiha (Naruto)
Mewtwo (Pokemon)
Counterparts (Shadow the Hedgehog version)

 WARNING: You may add appropriate counterparts. But, do NOT delete any.
Counterparts (Girl version)
Daisy, Mavis or Emily (Thomas the Tank Engine and Friends)
Breezie or Rouge the Bat (Sonic the Hedgehog)
Shelly Marsh (South Park)
The Great and Powerful Trixie, Sunset Shimmer or Pinkie Pie (My Little Pony)
Ryuuko matoi (Kill La Kill)
Kurome or Esdeath (Akame ga kill)
Raven (Teen Titans)
Gwen (Total Drama)
Taylor (Total Drama: The Ridonculous Race)
Parodies
Love Intrest
Gallery
See Also
Community content is available under
CC-BY-SA
unless otherwise noted.