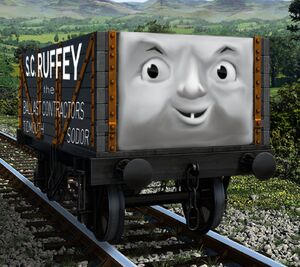 S.C. Ruffey
(pronounced Scruffey) is a freight car from Thomas & Friends. He and the other
trucks
sang a song about the time
Oliver
fell in the turntable well.
This is number 6
Date of Birth
Date of Death
Theme
S.C. Ruffey's theme is Pop Goes Old Ollie from the Season 4 episode, Toad Stands By.
Voiced By
Kerry Shale (UK/US)
Counterparts
Muttley (Wacky Races/Dastardly and Muttley)
M.A.D. Cat (Inspector Gadget)
Officer Krupkitty (Animaniacs)
Taz the Tasmanian Devil (Looney Tunes/Tiny Toon Adventures/Taz-Mania)
Hoagy (Pete's Dragon)
De' Sean (Zachary Swain)
Ninjaws the Ninja Henchman (Rayman)
Scud (Toy Story)
Alexander Hugo (Cars 2)
Alpha-1 (Teenage Mutant Ninja Turtles)
Baby Blue-Bird (Maya the Bee)
Hobgoblin (Marvel)
Joker Jr. (DC Comics)
Cave of Wonders (Aladdin)
Monstro the Whale (Pinocchio)
Monster House (South Park)
Angry Dad (The Simpsons)
Giant Magnet (The Brave Little Toaster)
Sharptooth (The Land Before Time)
Rhino (James and the Giant Peach)
Thud (A Bug's Life)
Arthur (Wreck it Ralph)
Auto (WALL-E)
Digger (Family Guy)
MC Skat Cat (American Dad)
Parodies
Gallery
Community content is available under
CC-BY-SA
unless otherwise noted.