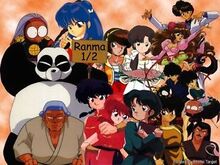 Ranma 1/2 is a Japanese Animated series that ran from from 1989-1992 in Japan and from 1993-2002 on MTV in America for 7 seasons and an OAV series on VHS and DVD. It follows the story of teenager Ranma Saotome, a martial artist who is engaged to the violent tomboy Akane Tendo in which they were set up by their parents to join their two schools together as one. To make matters even worse Ranma fell into a cursed spring and whenever he is splashed with cold water he turns into a girl while hot water turns him back. Ranma had two dubs during its run, the first was a VHS dub from Ocean Productions and Viz, the other dub (and most famous dub) is from MTV and Amblin Entertainment with Walter F Parkes, Laurie MacDonald and Steven Spielberg as executive producers. The show is based off of the manga by Rumiko Takahashi the creator of other works such as Urusei Yatsura, Maison Ikkoku, Rin-Ne and Inuyasha. Ranma 1/2 was pretty well known in Japan but in America its popularity doubled. It became one of MTV's highest rated shows among The Real World, Beavis and Butt-Head, Daria and Celebrity Deathmatch. It has been dubbed into 25 languages in over 75 countries making Ranma Saotome, Akane Tendo and Ryoga Hibiki household names and celebrities in their own right. Ranma's popularity earned the show 10 Emmy awards with 25 nominations, 7 Cable Ace awards with 10 nominations, 14 Annie awards with 21 nominations, 6 Kids Choice Awards with 12 nominations, video games, an attraction at Universal Studios Hollywood, Universal Studios Florida and Universal Studios Japan, 3 movies and an upcoming remake with Nickelodeon Animation Studios and Amblin created by Bryan Konietzko and Michael Dante DiMatino the creators of Avatar: The Last Airbender. But the biggest accomplishment that this show made on pop culture is that it was the very first Anime to be broadcast in America which would pave the way for shows like Sailor Moon, DragonBall Z, Cardcaptor Sakura and of course Pokemon and Digimon.
Parodies

 WARNING: You may add parodies. But, do NOT delete any. Complete parodies list
Community content is available under
CC-BY-SA
unless otherwise noted.