See also:
wikia:Pokémon Wiki
 and
wikipedia:Pokémon
Welcome to the Pokemon mini wiki at Scratchpad!
You can use the box below to create new pages for this mini-wiki.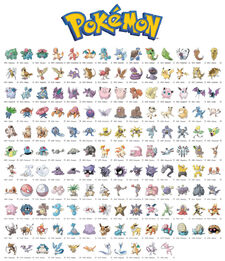 Template:Contains special characters
Template:Contains Japanese text
Template:IPA noticePokémon (ポケモン, Pokemon?, Script error or Script error - POH-kay-MON or POH-ki-MON)[1][2] is a media franchise managed by The Pokémon Company, a Japanese consortium between Nintendo, Game Freak, and Creatures.[3] While the franchise copyright is shared by all three companies, Nintendo is the sole owner of the trademark.[4] The franchise was created by Satoshi Tajiri in 1995,[5] and is centered on fictional creatures called "Pokémon", which humans, known as Pokémon Trainers, catch and train to battle each other for sport.
The franchise began as a pair of video games for the original Game Boy, developed by Game Freak and published by Nintendo. The franchise now spans video games, trading card games, animated television shows and movies, comic books, and toys. Pokémon is the second-most successful and lucrative video game-based media franchise in the world, behind only Nintendo's Mario franchise.[6]
Cumulative sales of the video games (including home console games, such as Hey You, Pikachu! for the Nintendo 64) have reached more than 279 million copies.[7] In November 2005, 4Kids Entertainment, which had managed the non-game related licensing of Pokémon, announced that it had agreed not to renew the Pokémon representation agreement. Pokémon USA Inc. (now The Pokémon Company International), a subsidiary of Japan's Pokémon Co., now oversees all Pokémon licensing outside of Asia.[8] As of May 2016, the Pokémon media franchise has grossed revenues of ¥4.8 trillion worldwide[9] (equivalent to 46.2 billion USD).
The franchise celebrated its tenth anniversary in 2006.[10] The twentieth anniversary was celebrated with a commercial at the 2016 Super Bowl[11] using the theme: "I can do that". 2016 marks the 20th anniversary of the release of the original games, with the company celebrating by airing an ad during Super Bowl 50, and issuing re-releases of Pokémon Red, Blue, and Yellow.[12][13] The mobile augmented reality game Pokémon Go was released in July 2016.[14] The next generation games Pokémon Sun and Moon are expected to be released on November 18, 2016 worldwide, except for Europe's release date being on November 23, 2016.[15] A live-action film adaptation based on Great Detective Pikachu is planned to start production in 2017.[16] The English slogan for the franchise is "Gotta Catch 'Em All".[17][18]

Parodies

 WARNING: You may add parodies. But, do NOT delete any. Complete parodies list