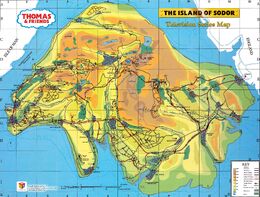 The North Western Railway is the main railway company featured in The Railway Series books by the Rev. W. Awdry and the TV series Thomas The Tank Engine & Friends. Although the company's name has never been specifically stated in either the books or on television it was mentioned as such in tie-in books such as "Island of Sodor, Its History, People and Railways" by the Rev. Awdry and also on some maps that were drawn to accompany the Railway Series.
The railway is situated on the fictional Island of Sodor and is usually referred to as the Fat Controller's Railway after the nickname of its chief executive or chairman Sir Topham Hatt.
The railway's motto is "Nil Unquam Simile", which is Latin for "There's nothing quite like it"!
For a list of engines that work on the NWR, see Railway Engines.
NWR railway lines
The Main Line
This runs from Barrow to Tidmouth. It is run by the Fat Controller's biggest engines. The most important train is the Express (called the Wild Nor' Wester), usually pulled by Gordon, Alice, Sodor Castle, Hiro, Patrick. and Daphne, all of whom pull the express as far as Barrow-in-Furness; Phillipa (Pip & Emma) run triweekly overnight express services to London St. Pancras. Henry, James, Peter, Bear, and Rebecca handle mixed-traffic, and Iris and Stafford handle the shunting work at Knapford and Tidmouth. Others like Murdoch and the NW Freight locomotives can be seen pulling long heavy goods trains. It connects with the Skarloey Railway at Crovan's Gate, where the Crovan's Gate Works are located.
Passenger services along the line are Express (only stops at Crovan's Gate and Barrow-in-Furness), Limited Stop (only stops at junctions) and Suburban (stops at all stations).
Traffic includes passengers, general goods, gold ore, anhydrite, cheese, butter, agriculture, plasterboard, limestone, granite, cattle, logs, lumber, coal, fish, and intermodal traffic.
Along the line, in addition to the passenger stations, there are also the limestone works between Knapford and Crosby, and the anhydrite mines near Kellsthorpe Road.
Normal weekday traffic patterns include four express roundtrips, sixteen Limited Stop roundtrips, 28 Suburban roundtrips, and anywhere from five to twenty goods trains. Weekend traffic patterns include two express roundtrips, no Limited Stop trains, 14 Suburban roundtrips, and up to four goods trains.
Notable locations on this line include the main engine sheds at Tidmouth, Gordon's Hill and the Ballahoo tunnel in which Henry was bricked up. The Ballahoo Ridge Cut-Off was closed in 1966 for use as a storage tunnel to test the feasibility of a strategic steam fleet for use in the event of a nuclear attack from the Soviet Union (in which case, EMP would knock out diesel and electric locomotives). After the sole locomotive in the tunnel, now NWR #15 Peter, was extracted and restored, the tunnel and its line were reopened as a through line for use by express passenger trains and through goods trains, so that express trains wouldn't have to slow for Norramby on the adjacent line.
Thomas' Branch Line
This runs from Knapford to Ffarquhar. It was originally part of the Tidmouth, Knapford & Elsbridge Railway. When the Fat Controller took over, the original locomotives were replaced and the line was extended to serve the quarry at Ffarqhuar and the town of Ulfstead in 1915. Thomas the Tank Engine was put in charge upon his arrival (contrary to what was said in the books and television series), with his coaches Annie and Clarabel (who were later joined by Becky, a third coach, and Drew, an ex-LBSCR luggage van, in 2009) and for many years ran the line single-handedly. Toby the Tram Engine was later brought to help on the quarry line after Thomas was ticketed by an overzealous police officer who was enforcing outdated Ministry of Transportation regulations, and after the rebuilding of Knapford Harbour Percy the Small Engine took charge of general goods traffic. A diesel railcar named Daisy assists with passenger services. The Ffarquhar Quarry Company owns a diesel shunter called Mavis, who sometimes comes down the branch line. Most passenger services run between Knapford and Ffarquhar but some commence and finish at Tidmouth. In 2003, a Stirling Single named Emily was built at Crovan's Gate Works and added to the Ffarquhar Branchline to further assist growing passenger traffic. Another locomotive named Brad was brought in in 1997 to help with increasing freight traffic, the expansion of Knapford Harbor and the Ulfstead extension. 2009 saw the addition of Lily, an ex-W&S tank engine recovered from a ship wreck off the coast of Kirk Ronan.
The main branchline passenger service, run by Thomas, was officially named the Ffarquhar Central in 2009 when a third coach named Becky and luggage van named Drew were added; as a result, the train became jokingly known as Thomas' ABC, The Alphabet Train, and the Sesame Street Express.
Traffic includes passengers, gold ore, general goods, milk, agriculture, and uranium. The line formerly carried stone and lead before the deposits were depleted. In the past, there may have also been slate operations according to a few employee's log entries from 1882, but there is no conclusive evidence aside from several remnants of old roadbeds, a few stretches of which still have ballast; the narrowness of the roadbed suggests this railway may have been narrow gauge, and a previously-unknown branchline of the Mid-Sodor Railway.
Normal weekday traffic patterns include eight roundtrips, four off-peak roundtrips, four quarryman's trains, a daily pickup goods, and up to twenty-five loaded gold ore trains, depending on a given day's ore output (trains for empties are run as extras). Weekend traffic patterns include six roundtrips, no off-peak trains, two quarryman's trains, and up to eight loaded gold ore trains, though more may be run depending on a day's ore output.
As well as the quarry at Anopha and the harbour at Knapford, notable locations on or near this line include the dairy at Toryeck, the bridge where Thomas went fishing near Elsbridge, Mrs Kyndley's house near Hackenbeck, Croarie Sidings (the exchange sidings for the Anopha Tramway), and the old lead mine (which has been reopened as a uranium mine) just off the goods line near the harbor.
Edward's Branch Line
This goes from Wellsworth to the harbour at Brendam. It also links the china clay pits at Brendam with the main line. Edward the Blue Engine is in charge here, assisted by BoCo the diesel and Jinty. Donald and Douglas help out. Sodor China Clay owns three small tank engines, Bill and Ben and Timothy, as well as a Marion steam shovel quite fittingly named Marion, who work at the clay pits and the docks; Timothy is unique in that he is one of only two oil-burning steam locomotives on the island, the other being Victor. At peak times passenger services also run along the main line to and from Tidmouth.
Traffic includes passengers, carfloat traffic from Misty Island, China Clay, agriculture, scrap metal, and other goods.
Normal weekday traffic patterns include twelve roundtrips, four commuter trains (two up in the morning, two back in the evening; trains only run with passengers in one direction, with the return trip run empty), and up to twenty-four goods trains. Weekend traffic patterns include eight roundtrips, no commuter trains, and up to ten goods trains.
Some locations on this line featured in the stories include the Vicarage (where Trevor the Traction Engine lives) and the scrap yard.
Misty Island
Misty Island is an island off the coast of Brendam, accessible by the NWR via carfloats. The main industry on Misty Island is timber, with an expansive logging operation. Misty Island also plays host to three company towns and a museum about logging railroads around the world, plus a tourist service. The Misty Island operation has three locomotives: a pair of L&YR Class 23s named Bash and Dash, and an LMS Fowler 4F named Ferdinand. All cars used on excursion trains are converted bogie flats.
In recent years, Misty Island has gained notoriety for its depiction in the television series. Whereas the real Misty Island has various stringent safety regulations, the Misty Island in the TV series has been described by NWR officials as a deathtrap with zero safety standards, no personnel, a wobbly trestle that should have collapsed years ago, and a crane that flings logs at will. It has also been criticized for using a fictional wood type (Jobi wood), when Misty Island actually has Redwood (not unlike in California). Not only that, but Bash, Dash, and Ferdinand are depicted in a very unflattering light: Bash and Dash are Gypsie-gear locomotives, while Ferdinand is a Class C Climax, and all three are depicted as offensive American redneck stereotypes who see themselves as above the law, do whatever they want, whenever they want, and see the island as a big playground. The railway as a whole decried these depictions of the island and its motive power, and accused HiT Entertainment of misrepresenting Misty Island and its residents for merchandising profits. Railway employees on Misty Island, their families, and the real Bash, Dash, and Ferdinand were so offended by the depiction, that when Andrew Brenner came onboard as head writer, he removed almost all references to Misty Island, aside from Ferdinand making a small cameo in the eighteenth season, and the Misty Island Tunnel (which does not exist in real-life and has also been scoffed at by NWR officials for being allowed to have steam locomotives inside without ample ventilation) was reportedly boarded up, but this rumor was debunked.
The Little Western
This is the newest branch line on the NWR, having been reopened to regular services again in 1967, and is also known as Duck's branch line. It runs along the coast from Tidmouth to Arlesburgh West, where it connects with the Arlesdale Railway. It is used for transporting ballast, and is also very popular with tourists. Duck and Oliver are in charge, and the whole line is decorated in the style of the Great Western Railway. When the line was first opened in 1916. it connected with the Mid Sodor Railway and intended to go further up the Sudrian western coast to Harwick but this extension was never built. This changed after gold ore was found in Harwick, and an extension to Harwick opened in September 2015. When the Mid Sodor closed in 1947 the Arlesburgh branch became used only very rarely. In 2014, slip coach service was inaugurated, the first use of slip coaches in the UK since 1936.
Passenger trains run hourly, with a twice-daily through service to Barrow-in-Furness run by Donald and Douglas using ex-GWR Clerestory coaches. A twice-daily commuter train, the Gold Digger Limited, is run for workers at the Harwick gold mines and is run by Ryan out of Tidmouth. Up to ten ballast and twenty gold ore trains run daily.
Traffic includes passengers, ballast, and gold ore. There are plans for a transload facility in the future.
Peel Godred Branch
This branch runs from Kildane to the aluminium works at Peel Godred connecting with the Culdee Fell Railway at Kirk Machan. Although the line has never featured prominently in the Railway Series books or the TV series, according to the Rev. Awdry, the line uses electric locomotives powered from the power station at Peel Godred. Christopher Awdry says in the book Sodor: Reading Between the Lines that goods traffic is hauled by Class 87 electric locomotives. Passenger trains consist of Class 313 EMUs, with occassional appearances by locomotive-hauled trains (mainly diesels due to the dangers of having steam locomotives under live catenary, though steam-powered trains travel to the Misty Valley Branch via the Peel Godred Branch).
The construction of this branch was largely responsible for the closure of the Mid Sodor Railway, and for years, MSR No. 6, Jim, held a grudge against the NWR.
The Peel Godred branch was seen in one illustration in the book Mountain Engines but without any indication that it was an electric railway. However in Henry and the Express an electrified line is visible.
Passenger trains run every 15 minutes due to the quick turnaround of the EMUs, and their starting and stopping power. Goods trains are run as needed.
Traffic includes passengers, grains, goods, coal, steel, and gold ore.
Kirk Ronan Branch
Part of the original Sodor & Mainland Railway, the Kirk Ronan Branch serves Rolf's Castle and Kirk Ronan. Popular with tourists, the line was closed under the Beeching Axe in 1964 and reopened in 1981 due to the tourism boom to the island in the 70s and the reopening of the Kirk Ronan Shipyards. The line is run by a single LNER V3 named Eric.
Traffic includes passengers, goods, fish, cement, and steel for the shipyards.
Norramby Branch
Nicknamed "The Surf Line", the Norramby Branch was built by the Sodor & Mainland Railway in 1891 to serve the fishing industry in Norramby. another casualty of the Beeching Axe in 1964, only to reopen in 1996 due to a tourism boom. The line was served by a joint suburban service with the LMS and later BR until its abandonment, and after its reopening, Arriva Trains Northern revived this service in 1997 until the deal expired in 2000, allowing the NWR to take full control. Operated by Eagle and Hunter, the branch is still very popular with tourists, and is now busier than ever thanks to the opening of the Norramby Mining Company's gold ore mine, part of the Sudrian Lode, as well as the popular Norramby Miniature Railway.
As a result of reopening in 1996, the branchline was never subject to Sectorisation.
Lesser-Known Lines
The map at the top of the page is the most up-to-date map of the North Western Railway, and features many lines undocumented by the Awdry family. These lines serve towns and goods clients that would otherwise have to rely on the roads.
Loop Line
The Loop Line was constructed by the North Western Railway in 1916 to serve the town of Callendale and several industries, including a coal dealership, as well as to provide an easier connection to the mainline for the Ffarquhar Branchline. A continuously-running commuter service called the Round Robin has been operated since the line's opening, serving Tidmouth, Knapford, Crosby, Elsbridge, Callendale, and Tidmouth Town Square. It was this loop line that Gordon was accidentily switched onto in James and the Express.
Ulfstead Branch
Another line constructed by the NWR, the Ulfstead Branch was built between 1916 and 1918. Unrelated to the Ffarquhar Branch, the Ulfstead Branch was built primarily as an agricultural branch serving the High Farm, but later became home to the summer house of the Duke and Duchess of Kent, Boulder Quarry (which was opened and then closed in 1997 after an incident with the eponymous boulder, only to reopen in 2017 when elementary school students on a field trip stumbled across a large source of anhydrite), and the estate of Sir Robert Norramby, Earl of Sodor. Hiro was also found along this line by hikers in 2009. It now plays host to a passenger train called the Picnic, which departs from Knapford and serves the Whistling Woods and the Norramby Estate, which includes a museum housed in Ulfstead Castle and train rides on a narrow-gauge line connected to the Skarloey Railway.
Coastal Track
The Coastal Track is a short line connecting the Brendam Branch to the Main Line Loop. Its claim to fame is its appearance in the fifth season episode Something in the Air, which was based on a real incident that occurred in 1992 (though the aftermath was quite different; in the episode, The Fat Controller unfairly blamed Henry for the accident, while in the real event, Sir Stephen Hatt properly blamed the incident on a failure in communication). Other than this, the Coastal Track has had an uneventful life, mainly used for trains travelling from Brendam to the mainland, so they don't have to turn around at Wellsworth.
Main Line Loop
A secondary line built between 1916 and 1920, the Main Line Loop serves the towns of Killaban and Cabalnoo. The major goods client on the line is Sodor Flour Mills, currently run by its eccentric owner "Dusty" Dave. The line splits off from the mainline at Maron, and rejoins it on the outskirts of Rolf's Castle between Kellaby and Kellsthorpe Road, at the Whispering Woods. In addition to the towns and Sodor Flour Mills, the line also plays host to Sodor Airport, the Sodor Search & Rescue Center, Jem Cole Yard (run by his grandson, the original Jem Cole having passed away in 1999), a Repair Yard specializing in goods stock repair, Sodor Grain Windmill (another major goods client), and the Maritime Museum. 10 of the 28 daily Suburban roundtrips serve the Main Line Loop, as do 5 of of the 14 weekend Suburban roundtrips. The line also hosts the Airport Shuttle, which is run by Evan and Edwin between the Sodor Airport and Knapford.
Kirk Ronan Branch Extension
Built in 1932 to create jobs during the Great Depression, on an alignment surveyed by the Sodor & Mainland Railway in 1879, this line is best-known for prominently appearing in the infamous Thomas and the Magic Railroad. As a result, the line is seasonal, used for tourist trains in the summer. It splits off from the Main Line Loop at the Maritime Museum, and joins the Kirk Ronan Branch near the cement works. Otherwise, it sees little traffic, only remaining in service because of the tourist trade and the presence of the Sodor Bakery, which Eric serves twice a week on Monday and Thursday. Other landmarks include the Sodor Wishing Well, Pirate Cove. D10 Mountain (named for being carved by Diesel 10 during his intrusion on the railway in 2000), and the Big Dipper Viaduct (where Diesel 10 was finally caught after a rather harsh winter had weakened it). The line had been threatened with closure under the Beeching Axe, but it remained open after an appeal by the Sodor Tourist Board.
Killdane Branch
Built in 1916 by the NWR, the Killdane Branch is among the shorter branchlines on the railway, but at the same time, also sees heavy traffic. A pure industrial branch, the line is staffed by Stanley and Charlie. All industries on the branch were built under the auspices of the Sodor Construction Scheme between 1916 and 1934, and include the Sodor Ironworks (where 'Arry and Bert formerly worked before being forcibly retired and converted into generators for multiple crimes up to and including the attempted murder of Stepney), the Brickworks, several Warehouses, and the Fuel Depot. The Arlesdale Ballast, Granite, and Gravel Company (the ABGG Company for short) opened here in 1967 shortly after the Arlesdale Railway began operation.
Shane Dooiney Mine Branch
Running along the north slope of Shane Dooiney, this line was opened in 1989 following the opening of the Blue Mountain Quarry five years prior. The line not only serves the BMQ, but also the Sodor Slate Quarry, which was opened by the Ffarquhar Quarry Company in 2008. The line lacks a permanent resident, with Sidney and Norman being the most frequent users of the line.
Misty Valley Branch
Opened in 1987, the Misty Island Branch facilitates the moving of tourists and supplies to and from Callan Castle. Misty Valley gets its name from the heavy fog that descends on the valley during the winter; engines are warned to slow down by fog detonators attached to the tracks (amusingly, an attempt to modernize the warning with a foghorn in 2002 failed when the horn caused a landslide and destroyed it, also derailing Zoey in the process when she collided with the landslide).
Ballahoo Cut-Off
The Ballahoo Cut-Off, built in 1918, is a secondary line between Crovan's Gate and Ballahoo Ridge. Along this line is Ballahoo, the junction to the Norramby Branch, with a spur line to the Wharf connecting to the Skarloey Railway. The line is used by suburban and limited stop trains, as well as stopping goods trains. As a result, while it is marked as a branchline on the map at the top, it is considered part of the mainline.
Great Waterton Spur
Constructed by the Sodor & Mainland in 1881 after the opening of the waterworks and the establishment of the company town of Great Waterton, the line was abandoned after Morgans Mine was flooded in 1932 due to poor upkeep, and groundwater from the flood contaminated the waterworks and saw Great Waterton also abandoned. In 2008, it was rediscovered by hikers and restored, now part of the NWR network once more. It is served by a train from Barrow-In-Furness, as well as a daily goods train originating at Vicarstown.
Bluebell Branch
Infamously depicted in the TV series as Stepney's Branch Line, the Bluebell Branch was built by the S&M in 1886 as the start of an ambitious project to build a line to Cregwir and Ballaswein after the closure of the Cronk & Harwick Railway; the project was later abandoned when it was determined that Northern Sodor's climate would make building and maintaining a rail line a veritable hell, which was a factor in the failure of the C&H. The line gets its name from Bluebell Valley. Aside from being a popular summertime tourist line, the branch also has several important connects with the Skarloey Railway, and serves the Hillside Mill. After passing through the Twin Tunnels (named for having tunnels for both the NWR and SKR), the branchline splits off. One line leads to the Rolling River Bridge, which is as far as the S&M managed to get during construction; the bridge remained standing, never used, until hikers discovered it had collapsed in 2008. The other line connects to the SKR once more at Greenhills Junction before connecting to the Great Waterton Spur.
Sodor Tramway
Built in 1902 by the town of Ulfstead, the Sodor Tramway's early history is shrouded in mystery. All that is known is that it was run by a GER Class G15 until the NWR was formed in 1914. After this, the C15 was sold and the line was connected to the NWR at Bluff's Cove on the Arlesburgh Branch. Meanwhile, the line from Ulfstead Village to Chibbyr Ulf is now considered an extension of the Ffarquhar Branch, connected to Ffarquhar in 1916. When Toby was acquired in 1951, he was given charge of the line, in addition to serving on the Ffarquhar Branch; in this respect, the entire tramway can be considered part of the Ffarquhar Branch.
History
According to "research" by the Rev. Awdry the railway company was formed in 1914 from a government-sponsored merger of the two standard gauge rail companies that existed on Sodor. These were:
The three railways were extended and brought into one system as a means of coastal defence against German forces during World War I, with alternate routes and branch lines built to better serve the islands interior. The railway was connected to the British mainland by a Shertzer Lift Rolling Bridge designed by Topham Hatt and built in 1917. The bridge runs from Vicarstown to Barrow-in-Furness.
When the 1923 Grouping occurred, the NWR was exempt from the grouping, as it was classified as a joint railway run by the S&M and TK&E, though a later Parliamentary hearing found that the NWR did not fitting any single criteria. The LMS would attempt to acquire the railway, though in 1925, an agreement was put into place ensuring the railway's independence.
The company first had its headquarters at Vicarstown but were moved along with the main engine sheds to Tidmouth in 1926. The original glass-roofed terminal in Vicarstown was destroyed in an accident involving a visiting Southern Railway engine named Sandra crashing into the station while hauling a train of explosives during World War II.
The main repair works for the railway are at Crovan's Gate close to the interchange station with the independently owned Skarloey Railway. Connections to Sodor's other railway companies are at Kirk Machan for the Culdee Fell Railway and Arlesburgh West for the Arlesdale or 'Small' Railway.
The North Western Railway has had running rights into Barrow Central since the agreement with the London, Midland and Scottish Railway in 1925. Until the construction of the Jubilee Road Bridge in 1977, the NWR had rights of car-ferry and worked an intensive and profitable service. British Rail had running powers over the Bridge to operate the joint NWR/BR suburban service from Barrow to Norramby.
On through or express trains engines from the NWR are detached at Barrow and "Other Railway" engines take over, due to NWR locomotives generally not meeting British railway regulations, as Sudrian railway regulations are very different, which is why obsolete classes of locomotives and carriages are so common. This practice has mostly been abandoned after the advent of diesel multiple units (DMUs), and now, all NWR mainline passenger trains turn around at Barrow. Only the Sudrian Flyer, a Tidmouth-London St. Pancras overnight train run by Pip and Emma, continues on from Barrow. Since 1925 the NWR has also had its own loco shed, turntable and servicing facility here. There is also a joint goods yard for exchange traffic.
When the railways in the United Kingdom were nationalised Sodor was affected too with the North Western Railway becoming the North Western Region of British Railways. However, the railway was allowed to keep a large degree of independence from the rest of the network. When the Beeching Report was released in 1962, the report saw the dreaded Beeching Axe fall on two branchlines: the Norramby Branch (which had not had much traffic since Norramby Harbor was bombed and abandoned during World War II), and the Kirk Ronan Branch (due to the shutdown of the shipyards); both closures were later reversed due to a boom in tourism to the island, with the Kirk Ronan Branch reopening in 1981, and the Norramby Branch in 1996. The Arlesburgh Branch was also slated for closure due to being deprived of traffic by the 1948 closure of the Mid-Sodor Railway, but the 1967 opening of the Arlesdale Railway gave the line a reprieve. All other branch lines on the island (the Ffarquhar, Brendam, Ulfstead, Peel Godred, and Killdane branches) were recommended for further development for various reasons (Ffarquhar due to the stone quarry and poor roads, Brendam due to the major port and china clay pits, Ulfstead for the tourist trade, Peel Godred due to the steel mill, hydroelectric plant, and electrification, and Killdane due to profitabilty) Indeed, the North Western Region was the most profitable on the BR network, primarily due to Sodor's marshy land making road construction and maintenance difficult. The other railways on the island were not affected by the nationalisation.
The railway was affected by Sectorisation in the 1980s. Passengers services were not classified under InterCity or Provincial (later Regional Railways), but rather, had their own, unique brand known simply as Sodor. This branding was not as pervasive as other sectors, as the North Western Region continued using its own color scheme (the 1922 stock had been repainted brown in 1982, 1977 stock was orange, all Mark 1/2 carriages used on intra-island trains tended to be painted maroon, and the GWR Autocoaches used on the Little Western were painted in traditional GWR Chocolate and Cream). The only other brand on the island was InterCity, which was used for the Wild Nor' Wester and Sudrian Sleeper services to St. Pancras in London.
Since privatisation the railway has again become the North Western Railway Company and unlike most post-privatisation train companies is responsible for the running of the freight and passenger operations and for the maintenance of the track and infrastructure of the railway. It is also the only railway in the UK that still has traditional goods trains, locomotive-hauled passenger trains, and of course steam traction, as well as the only railway that still runs both passenger and goods trains. The NWR is considered a traditional railway, rather than a train operating company, as all tracks are owned by the railway, rather than Network Rail (National Rail, though, still handles ticketing, though with a very different look than on the mainland featuring illustrations from The Railway Series). Many enthusiasts call the NWR a "railway frozen in time", due to its infrastructure mostly being 1950s vintage, with several pieces of infrastructure dating back to at least the 1880s.
Many infrastructure improvements have taken place over the years, including:
Replacement of all jointed rail with continuous-welded rail
Centralized Train Control on the entire system and Block Signals on the Peel Godred Branch
Installation of Wi-Fi on all passenger cars starting in 2009
Replacing Tidmouth Sheds with a roundhouse built in 1985; the old sheds are still maintained as a wagon repair shop
Construction of new distribution and transload facilities at Tidmouth, Elsbridge, Arlesburgh, and Barrow-in-Furness
Expansion of the Ffarquhar Branch to Ulfstead
In 2005, in order to more efficiently compete with road transport, especially the S1 motorway, the NWR established NW Freight, a freight distribution service very similar to Freightliner and EWS. The service operates on the mainland with a Class 37, three Class 60s, two Class 66s, and a Standard 9F (the 9F was later transferred to normal mainline services on Sodor during the Great Recession).
While at the forefront of railway pop culture for years, the NWR made international headlines when massive deposits of gold ore were discovered around the island in 2013, including:
Underneath all of the depleted stone deposits at Anopha Quarry
Toryeck Mines
North of Arlesburgh
Just west of the Peel Godred Steel Works
South of Norramby
In and around Harwick
The gold strike was called by many the "Sudrian Lode", while many in the United States called it the "Second Comstock Lode", due to how the mining resembled the Comstock Lode of Nevada in the 1870s, with the NWR filling the role of the Virginia & Truckee Railroad. The discovery of gold in Harwick spurred an extension that had been part of the origianl plans for the NWR. Geologists and metallurgists estimate there is much, much more gold than at the current mining sites, and hypothesize that the NWR may expand even more just to serve the sites. After the strike, Parliament put a ban on open-pit mining. The gold mined from Sodor is credited with bringing an end to the Great Recession, starting a new global economic boom and severely cutting down on the poverty rate and homeless population. To this day, new deposits are still being found, each one seemingly richer than the last.
In 1996, a massive deposit of oil initially estimated at 50 million barrels but found to be much bigger in 2004 was discovered off the coast of Brendam. A new company known as SodOil was founded shortly after the discovery of the oil, and a refinery was built along the Sodor China Clay Co.'s private line. A new train called the Oil Can was inaugurated in 1997 to haul the oil on a dedicated unit train.
In 2005, Sodor's first airport opened on the Main Line Loop. The NWR (especially the engines) were highly concerned that people would start travelling by air instead of the rails. It got to the point that construction efforts for the airport were obstructed by NWR personnel, helped along by an intense Modernisation-related fight between the steam and diesel locomotives. The airport was eventually completed, with a clause banning domestic flights. Trans-Atlantic and International flights were still allowed, bringing with them a boom in the tourist trade. The airport is served by the NWR, operating passenger shuttles (using a pair of ex-BR Class 142 DMUs named Evan and Edwin) and trains with goods and fuel refined at the SodOil refinery.
On some promotional items to tie-in with the Railway Series books dating from the 1970s the NWR is called Sodor Rail and uses a logo similar to the famous British Rail one now used by the organisation National Rail. This, of course, is viewed as a major embellishment by the NWR, as most merchandise usually is, though the name was used interchangeably with the Sodor sector branding used between 1983 and 1996.
Named Trains
The NWR is unique in that many of its trains still carry a variety of colorful monikers, in contrast to other TOCs, who are content to identify trains either by number, color, or simply the line they're running on.
Passenger
Wild Nor' Wester - One of the most recognizable trains on the NWR, it is often known as either "Gordon's Express", or simply "The Express". It is pulled by engines from the NWR Express Fleet (Gordon, Sodor Castle, Alice, Hiro, Patrick, and Daphne), and only stops at Crovan's Gate between Knapford and Barrow. From its inception in 1922, it travelled on to London St. Pancras behind a locomotive from the LMS, and later BR and First TransPennine, until this practice ended in 2011 with the acqusition of Pip and Emma. The name was retained for a new express train travelling as far as Barrow-in-Furness. Under Sectorisation, the train was an InterCity train, operated by the Midland division.
Ffarquhar Central - Perhaps the most famous train on the railway, and indeed, one of the most famous in the world, the Ffarquhar Central was unnamed from its inception in 1916 until 2009. This train is run by Thomas, with his coaches Annie, Becky, and Clarabel, and a luggage van named Drew, leading to the train receiving nicknames such as Thomas' ABC, The Alphabet Train, and The Sesame Street Express. When Thomas isn't available, Percy, Rosie, or Emily will take the train. Under Sectorisation, it was operated by Regional Railways.
Picnic - A seasonal tourist train run during the summer months. It starts at Knapford and travels along the mainline to Maron, before turning onto the Ulfstead Branch and continuing on to the Norramby Estate, stopping at the Whispering Woods along the way. It is usually powered by one of the utility engines. It was not subject to Sectorisation.
Sudrian Explorer - A boat train introduced in 1981 after the reopening of the Kirk Ronan Branch, this train serves ferries coming from Ireland and the Isle of Man. It has been predominantly run by Squaddie since 2008, and before that, by whichever utility engine was available.
Sudrian Flyer - Introduced in 2011 with the purchase of Pip and Emma, this train is a triweekly service from Knapford to St. Pancras International in London. It was created in response to First TransPennine Express refusing to continue maintaining a dedicated fleet of Class 57 locomotives leased from Direct Rail Services. Since Pip and Emma are power cars on an InterCity 125 set, they do not need to be taken off the train. It runs non-stop between Knapford and Barrow, and then calls at Preston, Crewe, Stafford, and Milton Keynes en route to St. Pancras.
Round Robin - Introduced in 1916 with the completion of the Loop Line, the Round Robin is a continuously-running service that originates at Tidmouth, with stops at Knapford, Crosby, Elsbridge, and Callendale, terminating at Tidmouth Town Square (as the main Tidmouth station is nearby). It is run by whichever utility engine is available, though in the 1970s and 80s, was run by a BR Class 101 set.
Airport Shuttle - Introduced in 2005 with the opening of Sodor Airport outside Maron, the shuttle is run by Evan and Edwin, though if one of them is unavailable, a utility engine will run the service with one of the reserve carriage sets. It runs from the airport to Knapford.
Sudrian Sleeper - An overnight version of the Sudrian Flyer, this sleeper train is run by either Daphne or Patrick (whoever is available), and then handed off to Northern at.
Freight
The Flying Kipper - also known as "The Kipper Express", is the railwaymen's nickname for a high-speed freight train that runs overnight, usually pulled by Henry, that transports fish from Tidmouth to the Mainland. The train is made up of different vans, utility vans and salt vans. On occasions, two trucks full of fish crates are added to the front of the train.
Locomotives
No.
North Western locomotive
Prototypes
Notes
Livery
1
Thomas the Tank Engine
LB&SCR E2 class 0-6-0 tank engine
Built by Brighton works in January 1914 as LBSCR No. 104, Thomas was sold to the North Western Railway as its first locomotive in 1915. Upon arrival, he was given extended side tanks to improve his range. Contrary to popular belief, Thomas has always worked the Ffarquhar Branchline with Annie and Clarabel; the story about him being Vicarstown Station Pilot and rescuing James were made up by Awdry because it was more compelling.
NWR Blue w/ Red Lining
2
Edward the Blue Engine
Furness Railway K2 4-4-0 tender engine
Built in 1896 by Sharp, Stewart and Co. for the Furness Railway, Edward was sold to the NWR in 1915 upon start-up. Initially used to finish construction of the NWR, Edward was eventually mothballed, but a sharp increase in traffic saw him put back into traffic in 1922. Today, he works the primary services of the Wellsworth Branch. Edward is among the oldest locomotives in regular service in the world.
NWR Blue w/ Red Lining
3
Henry the Green Engine
LMS Stanier Class 5 4-6-0 tender engine
Built using plans stolen from Sir Nigel Gresley, Henry was a hybrid of a GNR Ivatt C1 and a Gresley LNER A1/A3. He had many construction defects when he first arrived in 1922. In 1935, an incident with the Flying Kipper during the Freeze of '35 involving (and according to some accounts, set up by) a visiting C1 named Klondike saw Henry sent to Crewe to be rebuilt by Sir William Stanier into a Black 5. Today, Henry runs mixed-traffic services on the Main Line.

NWR Green w/ Red Lining (1920-1922; 1932-present)

NWR Blue w/ Red Lining (1922-1932)

4
Gordon the Big Engine
LNER Gresley Class A3 4-6-2 tender engine
Gordon was built as an experimental A0 by Sir Nigel Gresley in 1922, and was acquired from the LNER in 1923 for express service. However, when the need arises, Gordon has also been seen on Limited-Stop and Suburban trains. During motive power crises, he can even be found on goods trains, a job he bitterly complains about endlessly. In 1988, Gordon was rebuilt with a second-hand A3 boiler acquired from Woodham Brothers Scrap Yard in 1983.
NWR Blue w/ Red Lining
5
James the Red Engine
L&YR Class 28 2-6-0 tender engine
Built in 1912 or 1913 (builder's records have been lost since 1916) by Horwich Works for the Lancanshire and Yorkshire Railway, James was sold to the NWR in 1923. After an accident shortly after his arrival, James was given NWR Red (before then, Blue and Green had been the standard colors) and this made him vain and selfish, though it may be to hide his scared inner child who fears conformity. James can now be found in mixed traffic service on the Main Line, though he much prefers passengers over freight, and indeed, is found more and more on passenger trains, not due to the NWR bowing to pressure, but simply because the longer, heavier goods trains that became commonplace on the NWR in 2013 have taken their toll on his running gear.

NWR Red w/ Gold Lining (1923-1966)

NWR Red w/ Blue Lining (1966-present)

6
Percy the Small Engine
GWR No.1340 Trojan 0-4-0 saddle tank engine
It is unknown what year Percy was built, but he was likely built at Avonside Works. He was given to a used tank engine workshop where he was bought second-hand by the NWR in 1932 to act as the Station Pilot at Tidmouth after Gordon, Henry, and James went on strike due to their belief that "tender engines don't shunt". After Duck was acquired in 1955, Percy was transferred to the Ffarquhar Branchline to help with the Knapford Harbor Revitalization Project, before settling in to work the line's goods trains, as well as serve as backup power for the primary passenger services should Thomas be unable to do so. He also runs auxillery passenger services and works the Permanent-of-Way trains.
NWR Green w/ Red Lining
7
Toby the Tram Engine
GER Class C53 0-6-0 steam tram
Built in 1914 by Stratford Works for the Great Eastern Railway, Toby was eventually transferred to the East Anglia Tramway (which became part of BR upon Nationalization in 1948). The tramway was closed by BR in 1951. But luck was on Toby's side, and he was bought by the NWR in 1951 after Thomas was ticketed by an overzealous officer enforcing outdated Ministry of Transportation regulations. Today, Toby runs the Anopha Tramway, bringing workmen to and from Anopha Quarry and bringing trucks loaded with gold ore to Ffarquhar for Percy to take away. He also works the Sodor Tramway from Ulfstead to Bluff's Cove. Toby is the only steam tram left in regular service in the world.

LNER Brown (1951)

NWR Chocolate and Cream (1951-present)

8
Duck the Great Western Engine
GWR 5700 Class 0-6-0 pannier tank engine
Built in March 1929 by the North British Locomotive Company at Yorkshire Works (for many years he believed he was a Swindon product, and only found out in 2013) for the Great Western Railway as part of Lot No. 256, Duck was originally named "Montague" but was given the derogatory nickname "Duck" due to claims that he waddled due to a mishapen wheel assembly, but never actually waddled; it was uneven tracks. Duck worked for years as the Paddington station pilot before being sold to the NWR in 1955 to serve as Station Pilot of Tidmouth. Strangely, even after Nationalization in 1948, Duck was never repainted to BR Green or BR Black, retaining his GWR coloring and lettering. In 1968, Duck was transferred to the Arlesburgh Branchline, more commonly known as the Little Western Branchline. He runs passenger services alongside a pair of ex-GWR Autocoaches named Alice and Mirabel. Of the two, Mirabel has cab controls installed in 1984 to permit push-pull operations and eliminate runaround tracks at Arlesburgh. Around the same time, Duck was auto-fitted.
GWR Green
S1
Diesel
British Rail Class 08
It is not really known where or when Diesel was built, but it is known he came to the NWR on trial in June 1957. He was sent back to the NWR with prejudice a few weeks later after sowing dissent amongst the engines of the Main Line and causing them to turn on Duck, but was caught by Sir Topham Hatt before he could get Henry in trouble as well. Diesel returned in 1968, rather spooked after seeing one of his brothers scrapped and realizing that the Class 08 is not revolutionary anymore. He acquitted himself nicely and managed to get forgiveness from his former adversaries after withdrawals of the Class 08s picked up. He can now be found shunting all over the railway as a utility shunter, a wiser and kinder engine.
BR Black
9 and 10
Donald and Douglas
Caledonian Railway 812 Class 0-6-0 tender engines
Built in 1909 as Caledonia Railway Nos. 662 and 663, they made a daring plan to escape to the NWR in 1959 to escape their inevitable scrapping. Sir Charles Topham Hatt, in fact, had only requested ONE locomotive, but Douglas snuck away, and their equally cunning crews removed their numbers. After a series of mishaps and proving themselves capable performers, especially in snow, the twins were allowed to stay and were painted NWR Blue since it reminds them of their Caledonian colors. Today, they are considered "jack-of-all-trade" locomotives, working on all of the lines as needed, but are mainly found, and stationed on, the Little Western Branch.

BR Black (1959-1960)

NWR Blue W/ Red Lining (1960-present)

D1
Daisy the Diesel Railcar
British Rail Class 101
After Thomas had a mishap in 1961 in which a careless cleaner had meddled with his controls (to make it look like he had cleaned the cab) while he was under steam and crashed into the Ffarquhar stationamaster's house (according to the Awdry books, Thomas was blamed after he boasted about being able to operate under his own will, but the reality was that Thomas never boasted at all and was never blamed), Sir Charles Topham Hatt leased an experimental single-car BR Class 101 until Thomas was repaired (repairs that allowed issues with his front valence to be rectified). Unfortunately, Daisy proved to be rather problematic, refusing to sleep in the engine shed and also refusing to pull ANYTHING. She had a bad encounter with a bull, and was about to be sent back before helping Percy after he had a runaway on the hill down from Anopha Quarry (the book said Percy was blamed for not being careful with the trucks, but in reality, it was the workmen's fault for overloading the trucks). Daisy now works secondary passenger services on the Ffarquhar Branchline, operating during off-hours. She was overhauled in 2017 with a compartment to carry milk churns, bringing an end to the practice of coupling a milk van to Thomas' first train on weekdays.
BR Green
SCC1 and SCC2
Bill and Ben
Bagnall 0-4-0ST "Alfred" and "Judy"
Built in 1948 by W.F. Bagnall for the Sodor China Clay Works. Bill and Ben were not known to the general public until 1966, when Main Line Engines was released. Though they work and are lettered for the Sodor China Clay Works, they are still considered NWR locomotives. They mainly work at the China Clay Works in the hills above Brendam, but make regular trips to Brendam. Occasionally, they also make trips to Anopha Quarry and other gold ore mining sites.
SCC Yellow W/ Red Lining
D2
BoCo the Branchline Diesel
British Rail Class 28
Built in 1958 by Bowesfield Works, BoCo initially worked in the Western Region in 1966 in another attempt to force diesel traction on Sir Topham Hatt. Unlike Diesel and D261, BoCo was found to be rather friendly to all steam locomotives, and as such, was the first mainline diesel locomotive to be permanently added to the NWR roster. Today, BoCo works on the Brendam Branchline as the secondary passenger locomotive, as well as the primary goods locomotive.
BR Green
D3
Bear the Main Line Diesel
British Rail Class 35
Built in 1964 by Beyer Peacock for British Rail, Bear (originally 7101) was the last Class 35 built, and initially worked in the Western Region. In 1968, he was sent on trial to the North Western Region with a Class 46 numbered D199 and known as "Spamcan". While "Spamcan" was sent back in disgrace after failing, not to mention his strong pro-Beeching opinions inflaming the North Western steam fleet, D7101 was found to be like BoCo and was kept. The growling sounds made by his Maybach engine led engines to jokingly call him "Bear". The name eventually stuck. Today, Bear works the mainline on both passenger and goods trains. He is also light enough to work the branchlines as needed.
BR Green
11
Oliver the Western Engine
GWR 1400 Class 0-4-2 tank engine
Built at Swindon in 1939 for the Great Western Railway, Oliver mainly worked a branchline in the Western Region until 1968 when the news came that Oliver was due to be withdrawn and scrapped as per the Modernization Plan of 1955. Oliver, his crew, his autocoach Isabel, and his GWR 20t brakevan Toad made a daring escape. His crew had an arrest warrant put out, and all BR crews were given the order to "destroy on sight" should they ever see the fugitive train. Eventually, Oliver made it to Barrow-in-Furness, but ran out of coal. Fortunately, Douglas managed to bring Oliver the rest of the way, and Oliver, Isabel, and Toad were restored to their GWR liveries. BR dropped all charges after the clause regarding "minimal intervention in the North Western Region" was invoked. Oliver now works the Little Western Branchline alongside Duck, mainly on passenger services, but can occassionally be found on ballast trains.
GWR Green
FQC 1
Mavis the Quarry Diesel
British Rail Class 04
Built in 1957 by Drewry Car Co. for BR, Mavis was purchased by the Ffarquhar Quarry Company in 1962. Despite this, her existence was not made public until 1972 with the release of Tramway Engines. Mavis still works at Anopha Quarry, and also makes regular trips to Ffarquhar to the exchange sidings.
BR Black W/ Wasp Hazard Stripes
D4
Wendell
British Rail Class 47
Built by Brush Traction at Crewe. Wendell was brought to the North Western Region on trial in 1980, and by 1984, had been transferred full-time as the primary locomotive of Crovan's Gate Works. Following the purchase of Victor, Den, and Dart, Wendell was declared surplus and was reassigned as a utility engine. Wendell is sometimes mistakenly known as Geoff.
BR Blue
D7 and D8
Pip and Emma
British Rail Class 43 (HST) InterCity 125
An InterCity 125 trainset built in 1978 by BREL at Crewe and Derby Litchurch Lane, for the East Coast Main Line, Pip and Emma (or Philippa as they are collectively known as in official company records) were first leased in 1987, and then again in 1996. Following Privatization, Pip and Emma worked for InterCity East Coast. In 2011, they were sold to the NWR, still in the original BR InterCity 125 livery, for use on an overnight Tidmouth-London express service known as the Sudrian Flyer. They are the only power cars to still have the original Paxman Valenta engines.
BR Blue
D13
Derek
British Rail Class 17
Built in 1963 by Clayton Equipment Company and Beyer, Peacock & Co., Derek was still on the scrap lines in 1971 when he was acquired by the North Western Region. He was, like all of the other Class 17 locomotives, very prone to overheating, a problem that was miraculously rectified. By 1985, he was in regular service, powering the heavy goods trains on the Brendam Branch. In 2013, with the discovery of the gold ore deposits, Derek is now a utility engine.
BR Green
D6 and D9
'Arry and Bert
British Rail Class 08
Both built in 1954 at Derby, 'Arry and Bert developed highly pro-Modernisation opinions, which continued into their Sodor days when they were purchased by the North Western Railway to work the Sodor Ironworks on the Killdane Branch in 1960. As of 2016, they have been converted into generators used at the Dieselworks after they were convicted of numerous crimes, up to and including attempting to murder and scrap Stepney and later Thomas. Despite no longer being in service, they are still listed as active because they are still in operable condition, just not railworthy.
Sodor Ironworks Yellow and Black
2991
Salty the Dockyard Diesel
British Rail Class 07
Built in 1962 by Ruston and Hornsby for the Southampton Docks to replace the SR American tanks (of which Brad and Rosie are). Salty was put into long-term storage in 1977, until he was purchased by the NWR in 2002 to work as the main shunter at Brendam Docks (a major problem since the harbor's opening in 1936 was the lack of a permanent shunter). When he first arrived, Salty was mistakingly sent to Anopha Quarry, but was eventually transferred to Brendam Docks. Salty loves singing sea shanties and telling tall tales, and is also among the pro-steam diesels.
Red and Silver W/ Wasp Hazard Stripes
27
Harvey the Crane Engine
Shelton Iron & Steel Works No. 4101
Built in 1901 by Dubs & Co. for the Shelton Iron & Steel Works in Glasgow. Harvey was stored on the Steel Works' grounds and kept in working order in the event EMP from a nuclear attack knocked out diesels from 1968 until 2002 when he was purchased by the NWR for the Works Department.
LMS Burgundy
12
Emily the Beautiful Engine
GNR Stirling 4-2-2 tender engine
Built in 1895 by Doncaster Works, Emily was the last Stirling Single to be built. She didn't have a very long career on the GNR before she was acquired by the Sodor & Mainland Railway in 1899 as their express locomotive. Emily came under NWR ownership, and remained part of the railway until she was sold for scrap in 1934...without Sir Topham Hatt's permission. By the time the individuals who made the unauthorized transaction were caught, Emily had been shipped to Japan to be melted down. However, several Japanese steam locomotives rebelled against their nationalism-blinded coworkers and managed to smuggle her aboard a ship bound for the British Isles. Upon arriving at Southampton Docks, she was hidden by friendly workmen in a shed until her Japanese owners realized she was never delivered for scrapping, but by then, it was 1942, and they had no way of shipping her due to the war. She remained in the shed until 1994, when she was rediscovered by one of the workmen who had hidden her there, now retired. Contacting the NWR, she was immediately extricated and found to be in great condition due to her well-kept storage conditions. Her return marked the end of a harrowing sixty year homeward journey, and she returned to steam in 2003, coinciding with her debut in the TV series. Emily now works on the Ffarquhar Branch Line as a primary passenger locomotive with a pair of ex-LNER six-wheel coaches named Martha and Jennifer, and the only tender engine on the line, often closely with Thomas, just as they had in the early years.
Emerald W/ Gold Lining
None
Fergus the Railway Traction Engine
Aveling & Porter 2-2-0WT "Blue Circle"
Built in 1926 by Aveling & Porter. Fergus was purchased in 2003 to work at the China Clay Works. He was damaged in an avalanche and is still sitting on the hold track at Crovan's Gate Works, awaiting resources for repairs. Due to the amount of time that has passed between the avalanche and today, it is doubtful Fergus will be repaired at all, especially after Timothy's acquisition made him surplus. Rumors have circulated that he will be sold to the Vicarstown Railway Museum.
Royal Blue W/ Red Lining
25
Arthur the Big Tank Engine
LMS Ivatt Class 2 2-6-2T
Built at Crewe in the early 1930s for the LMS. Arthur was at the Severne Valley Railway awaiting overhaul until 2003 when he was purchased by the NWR as a utility engine.
BR Black W/ Red Lining
45
Murdoch the Mighty Engine
BR Standard Class 9F
Built in 1960 at Crewe, Murdoch was the second-to-last steam locomotive built for British Railways (the last being his brother Evening Star). As such, his chances for preservation were pretty good, and indeed, he was preserved by the Bluebell Railway. He was purchased by the NWR in 2003 in response to rapidly-increasing goods traffic generated by the Port of Tidmouth Revitalization Project, Stephen Hatt having specifically chosen him due to the success of another 9F owned by the NWR named Samarkand. Murdoch mostly works heavy goods trains, though he performs equally well on passenger workings, a testament to his class's versatility and rugged design.
BR Black
2509
Spencer the Streamliner
LNER Class A4
Built in 1936 at Doncaster for the LNER. Spencer is not actually a member of the NWR, being owned by the Duke and Duchess of Kent, yet he visits the NWR frequently enough to warrant showing up in NWR roster since 2004. It is unknown why the Duke and Duchess use him. He was built as Silver Fox and was purchased by the British government in 1963 as an emergency locomotive to ferry members of the Royal Family in the event of a nuclear attack.
LNER Grey
D10
Vincent (AKA Diesel 10)
British Rail Class 42
A rogue diesel who escaped scrapping, was given an illegal claw modification by his controller, and began a crusade to carry out Dr. Richard Beeching's will (completely unaware that Beeching's plans never got anywhere and were abandoned). When he arrived on Sodor in 2000, he was finally apprehended and stripped of his claw. It was only then that the truth came out: he endured cruel and unusual torture at the hands of his controller, eventually turning him into a murderous psychopath. After finding out that his controller had been arrested shortly after his crusade began, he allowed himself to show his true self. Nowadays, it is said that there isn't an engine nicer than him
BR Green
None
Lady the Magical Engine
LOTR Lively Polly
An industrial shunter acquired by the Tidmouth, Knapford, and Elsbridge Light Railway in 1902, Lady (whose real name was actually Kate) was primarily a goods engine, rather powerful for her size. She was withdrawn in 1964 after BR red-tagged her for various defects she didn't have, in reality doing so because she was considered too old. Sir Charles Topham Hatt, though, smuggled Lady to a hidden shed in the Culdee Fell foothills. Lady/Kate stayed there until 1996, when she was found by hikers, extracted, and restored at Crovan's Gate Works. She is now used as a utility engine, being a go anywhere, do anything locomotive whose abnormal strength still amazes everyone. She entered the public eye in 2000 with the release of Thomas and the Magic Railroad, which grossly embellished her as a magic engine that the plot revolved around. Needless to say, NWR officials weren't amused.
TK&E Red
23
Molly the Yellow Engine
GER 'Claud Hamilton'
Built in 1904 at Stratford Works for the Great Eastern Railway. Molly was transferred to the North Western Region in 1955. Her existence was not widely known until 2005 when she was featured in the TV series. Molly works the mainline on stopping passenger trains, though she also occassionally pulls the express.
NWR Yellow W/ Red Lining
33010
Neville the Black Engine
SR Q1 class
Built in the late 1920s at Brighton Works for the Southern Railway, Neville was built based on one of Oliver Bulleid's experimantal designs. He was purchased by the NWR in 1949 as part of a pilot program to test Bulleid designs. Neville was the most successful of the designs tested, and was retained as a mainline mixed-traffic locomotive, but also works on the branchlines thanks to his light weight.
BR Black
11001
Dennis the Lazy Diesel
British Rail 11001
Built in 1949 at Ashford Works, Dennis was another Bulleid design. Initially lazy and rude, Dennis changed under threat of being sent away. He now works on the mainline on the lighter goods trains.
Grey W/ Red Lining
37
Rosie the Dock Tank Engine
SR USA Class
Built in 1942 by H.K. Porter in Pittsburgh, Pennsylvania for the war effort. Rosie was among the SR USA tanks that replaced the LB&SCR E2s (Thomas' brothers and sisters). It was because of this fact that, when Rosie was transferred to the North Western Region in 1964, Thomas held great resentment towards her, but eventually, they became friends when Rosie confessed that her class was being replaced at Southampton by the Class 07 diesels. This cycle of hatred continued in 2002 when Rosie showed resentment towards Salty. Rosie is a utility engine. She did not appear in the TV series until 2006, where she was depicted as stalker towards Thomas, and was notably depicted wearing the lavender undercoat she arrived on Sodor with (in an attempt to appeal to girls) until 2017, when she was repainted in the series to better resemble her real-life counterpart.

Lavender and White (1964-1965)

NWR Red W/ Gold Lining (1965-present)

66
Whiff the Garbage Engine
NER 66 Aerolite

Built in 1869 by Wilson Worsdell for the North Eastern Railway. Whiff was retired in 1934 alongside his sister Aerolite, and eventually found his way to the East Somerset Railway in 1981. He was purchased by the NWR in 2007 to serve as a utility engine. That same year, he debuted in the TV series, depicted as a waste collection engine; unlike most HiT Entertainment embellishments, there is actually real-life precedent, as the NWR does indeed run a waste collection train, but it isn't run exclusively by Whiff, being run by all of the utility engines in rotation.

NER Green
24
Billy
Manning Wardle L Class 0-6-0ST

It is not known when Billy was built, but he was built by Manning Wardle. Billy was acquired in 2007 as a utiliy engine. Just three weeks after being put into service, though, his axles failed, and resources were short to repair them. He is currently on loan to the Vicarstown Railway Museum, though NWR management has stated that Billy will re-enter traffic in the near future as a utility engine once his axles can be repaired.

Orange
29
Zoey
LB&SCR E4 class 0-6-2 tank engine
Built in 1914 at Brighton Works as an extra for the London, Brighton, and South Coast Railway. Zoey met Belle before the latter was sent to the NWR to fill in on Express trains while Gordon was at an exhibition in London with the other locomotives. Eventually, Zoey was transferred to the North Western Region full-time, and reunited with her "brother" Thomas. Zoey is now a utility engine that can work anywhere on the network.
BR Black
28
Stanley
Hudswell Clarke 0-6-0ST
Built in 1924 by Hudswell Clarke, Stanley was acquired in 2008 for the Killdane Branch.
NWR Silver W/ Red Lining
19
Flora
Moseley Road Tramway steam tram
Built in 1904 by Falcon Railway Plant Works for the Mosley Road Tramway in Ireland. Built to a narrower gauge, Flora was eventually converted to standard gauge. She was purchased by the NWR in 2008 as a locomotive to be used during special events. Otherwise, she is on display at the Vicarstown Railway Museum.
Yellow and Green
51
Hiro the Japanese Engine
JNR Class D51 steam locomotive
Built in 1936 by Kawasaki Heavy Industries Rolling Stock Company for Japanese National Railways, Hiro was shipped to the North Western Railway in 1945 as war reparation, where he was converted to standard gauge at Crovan's Gate Works. Without a stable supply of parts owing to Japan's postwar situation, Hiro quickly fell into disrepair and was put on a siding near Maron. He was rediscovered in 2009 and restored to working order. He now works passenger and goods trains on the mainline, making frequent appearances on the express. The TV series, upon his debut, proclaimed he was the oldest engine on Sodor, a statement that HiT was forced to retract after the NWR threatened to revoke the licensing for Hiro over such a bold-faced lie, especially when even Thomas is older than Hiro.
JNR Black W/ White Lining
None
Victor
Baldwin No. 1173
Built in 1915 by Baldwin Locomotive Works. Victor spent many years working on sugar plantations in Cuba. He arrived in 1957 while the NWR engines were away at an exhibition in London, and was converted to standard gauge. He works as the shop switcher of Crovan's Gate Works
NWR Red W/ Yellow Lining
14
Charlie
Manning Wardle L Class 0-6-0ST
A locomotive that arrived at the same time as Billy (and thus was built at the same time as Billy), Charlie was found to be much more reliable. He works on the Killdane Branch with Stanley. During his off-time, Charlie likes to tell jokes, which tends to get on everyone's nerves, even Sir Topham Hatt's.
Purple
None
Bash and Dash
L&YR Class 23 0-6-0ST
Built in 1876 as L&YR Class 25s, they were converted into Class 23s in 1886 at Horwich Works by John Aspinall. Surviving through the LMS days, they were sent to the North Western Region in 1964, and were assigned to the Misty Island operation. Both are old and well-respected, and have a kinship with James and Eagle. Sadly, they are often misunderstood, primarily due to their depiction in the television series. When they debuted in the 2010 special Misty Island Rescue, they were instead based on Bear Harbor Lumber Company #1, due to HiT Entertainment deeming the L&YR Class 23 to be too boring for merchandising. The series also depicts them in the most annoying way possible, turning them from respected members of the railway community into unintelligent rednecks who finish each other's sentences and speak half of their sentences in rhyme. Needless to say, the NWR rejects this depiction, and refuses to endorse any merchandising depicting them in this manner, in spite of HiT Entertainment attempting to sue them for breach of contract.
BR Black
None
Ferdinand
LMS Fowler Class 4F 0-6-0
Built in 1928 by Crewe, Ferdinand had an uneventful career prior to coming to Sodor. His entire pre-Sodor career was spent on the famed Settle & Carlisle Line. In 1964, he was sent to Sodor along with Bash and Dash to work the Misty Island operation. Like the twins, his depiction upon his debut in the television series was unflattering, as HiT deemed the Fowler 4F too boring for merchandising. As a result, Ferdinand was depicted as a Climax Class C geared locomotive who is just as unintelligent as Bash and Dash, and constantly says "That's right!" non-stop. The NWR also refuse to endorse any merchandising using the TV series depiction, and sadly, younger fans are confused and angry upon seeing the real Logging Locos. It eventually got to the point that, when Andrew Brenner became head writer for the television series in 2013, the television series depiction of Misty Island and its residents was all but forgotten about, only being brought up as the butt of a joke, not to mention the Logging Locos all but disappearing. It even got to the point that a Mr. Perkins' Railways segment in Season 18 went to the real Misty Island to set the record straight on the Logging Locos, with Ben Forrester ad-libbing several light jabs at HiT.
BR Black
None
Scruff the Scruncher
Sentinel 100 HP 'Be Type'
Built in 1946 by Sentinel Waggon Works. Scruff works as a utility shunter.
Lime Green W/ Dark Green Lining
6120
Belle
BR 4MT Class 2-6-4T
One of the locomotives who came to the North Western Region in 1957 while the main eight locomotives went to an exhibition in London, Belle was named after her original driver's wife. Belle works on the main line exclusively on passenger trains. She was the first locomotive built specifically for the North Western Region, rather than being acquired secondhand or via mergers. Her existence was not common knowledge until she was featured in th TV series in 2011, in which she was exaggerated into a firefighting locomotive with water cannons. NWR officials do not endorse the TV series' depiction, and Bell is unamused.
BR Black
None
Flynn the Fire Engine
1964 Osh-Kosh W800 4X4 aircraft rescue fire engine
Not a member of the NWR, but frequently uses NWR trackage enough to be on the roster.
Red
None
Den
Rolls Royce Sentinel Diesel-Hydraulic 0-4-0
Built by Rolls Royce Sentinel in 1964. Den was acquired by the NWR in 2011 to be used as a shop switcher at the Vicarstown Dieselworks.
Slate Grey and Orange W/ Green Lining
None
Dart
Bagnall Diesel-Hydraulic 0-4-0
It is unknown when Dart was built. Dart was acquired in 2011 for use as a shop switcher at Vicarstown Dieselworks.
Yellow and Red W/ White Lining
11002
Norman
British Rail 11001
Built using Bulleid's original blueprints in 2011, Norman is a utility engine.
Orange-Red W/ Yellow Lining
None
Paxton the Young Diesel
British Rail Class 08
A replica built by Crovan's Gate Works in 1996 for the Ffarquhar Branchline.
NWR Green W/ Yellow Lining
None
Sidney the Forgetful Diesel
British Rail Class 08
Also a replica built at Crovan's Gate Works in 1996, Sidney is a utility shunter.
BR Blue
1917
Stafford the Electric Engine
NSR battery-electric No. 1
A battery-electric shunting engine who works in Knapford Yard acquired in 2012.
Veneered Wood W/ Yellow Lining
None
Winston the Inspection Car
Wickham Type 4B Trolley
Sir Stephen Hatts track inspection vehicle acquired in 2012.
Red
None
Porter
H.K Porter 0-6-0ST
Built in 1928 by H.K Porter in Pittsburgh. Porter was acquired in 2013 to work at Brendam Docks in response to rapidly increasing goods traffic.
Viridian W/ Yellow Lining
56
Brad the American Engine
SR USA Class
Built around the same time as Rosie for the war effort. Brad was purchased from the Longmoor Military Railway by Sir Charles Topham Hatt in 1965 and was sent to the Bluebell Railway. After 30 years, Brad was considered surplus and was brought to the NWR in 1997 to work on the Ffarquhar Branchline. Brad works on heavy freights and secondary passenger services on the Ffarquhar Branchline.
NWR Green
55
Jinty
LMS Jinty 3F
Built in 1927 for the LMS. Jinty is no stranger to the NWR, having first come in 1957 as one of the eight locomotives that filled in for the North Western Region locomotives while they went to an exhibition in London. Jinty was well-acquainted with Percy, as they were both in the used tank engine workshop that Percy was bought from. After many years of being on a heritage railway, Jinty found himself back on Sodor in 1995 and became Tidmouth Station Pilot in 1997. In 2009, a Class 14 named Iris was transferred from Anopha Quarry to the Station Pilot position, and Jinty was transferred to the Brendam Branchline powering commuter trains.
BR Black
D14
Iris
BR Class 14
Built in 1964 at Swindon, Iris was sold to the National Coal Board in 1968. She was acquired by the NWR in 1997 to work at Anopha Quarry. With the Great Recession being felt by Sodor, the demand for stone died down and eventually, the stone deposits were depleted (what was found underneath, though, was unbelievable). As a result, Iris was shifted to Tidmouth as Station Pilot.
NWR Green W/ Yellow Lining
15
Peter
LMS Stanier Class 8F
Built in 1940 at Crewe for the LMS. Peter was brought to Sodor in 1968 as part of a pilot program to test the feasibility of a steam reserve fleet to be used in the event of a nuclear attack (in which event EMP would knock out diesels and electrics), using the recently abandoned Ballahoo Tunnel. It was eventually determined that the fleet would put a massive strain on resources to maintain it. Peter was rediscovered in 1996 by Sir Stephen Hatt's children Emily and Charlie. He was extracted and put back into service as a mixed-traffic engine on the mainline.
BR Black
14
Sheffield
Hunslet Austerity 0-6-0ST
Built 1943 by Hunslet for the War Department. Sheffield was once known as "Sixteen", who, while working at a steel mill in Sheffield, went "cab over wheels", and was sold off to a heritage railway. The North Western Region acquired him in 1994, following Wilbert's visit and officials being satisfied with his performance enough to want an Austerity of their own, and after a rough adjustment period, proved himself to be a reliable worker. Sheffield is a utility engine alongside Brian, a former Wellsworth & Suddery Railway brakevan discovered in a shed at Kirk Ronan Harbor in 1996.
NWR Green W/ Red Lining
D15
Patrick
BR Class 40
Built in 1961 by English Electric at Vulcan Foundry. Patrick frequently met the North Western Region locomotives at Barrow-in-Furness before being transferred to the region in 1985. He is now part of the Express Fleet, mainly working trains using stock that still uses steam-heating.
BR Green
4004
Sodor Castle
GWR Castle Class
Built in 1948 as the last GWR Castle Class locomotive to exit Swindon. First visiting Sodor in the late 1950's, after a troubled time with BR, Sodor Castle was sold to a museum. In 1996, he was sold to the newly-privatized North Western Railway and placed on express duties while Gordon was down for overhaul until 1998. Sodor Castle is still in express service, and remains a favorite among passengers.
GWR Green
73
Squaddie
BR Battle of Britain Class
Originally built in 1948 using Bulleid designs. The locomotive was among the hundreds of locomotives found at Woodham Brothers Scrapyard in Barry. After being stored at the Mid-Hants Railway for over a decade, the locomotive was purchased as a kit of parts and put back into service on Armistice Day 2005, given the name 679 Squadron, often shortened to Squaddie. After a rough test-and-adjust period involving drivers inexperienced with working with Bulleid Southerns, a new class of drivers was trained and hired. Squaddie fprmerly worked The Sodor Explorer, a Kirk Ronan-Tidmouth boat train. As of 2018, he has been reallocated to the Express Fleet.
NWR Blue W/ Red Lining
D16
Daphne
BR Class 55 Deltic
Built in 1962 by English Electric at Vulcan Foundry. Daphne worked express services on the East Coast Main Line from her inception until the introduction of the InterCity 125 in 1978. Daphne was then put on secondary passenger duties until she was withdrawn in 1981. After a topsy-turvy period, she was purchased by the Earl of Sodor, who died in 2006. In his will, he bequeathed the locomotive to the NWR, who restored her and put her into express service, where she has earned her keep and the admiration of Deltic enthusiasts. She was named after the Earl's widow.
BR Green
D6
Winston
BR Class 52 Western
Built by Swindon Works in 1961, Winston was originally named Western Minister, in-line with the other Class 52s. He is notable for clocking over a million miles during his BR career, the most of his class. Withdrawn in November 1976 after a dynostarter fire while pulling a farewell special for the Westerns, Western Minister was acquired by V-Trust, spearheaded by Charles Topham Hatt II, from the scraplines. After a turbulent period that saw him relocated to different heritage railways twice, Winston (as he came to be nicknamed after assisting Winston Churchill's funeral train) finally came to Sodor in 2001 and entered traffic with the number D23. In 2008, he became the spearhead of the Diesel-Hydraulic Advance Project (DHAP), which saw him rebuilt with a pair of MD870 engines and an improved hydraulic transmission. Following 'Arry and Bert's withdrawal from service in 2010, he was renumbered D6. Consideration was given to transferring him to NW Freight in 2012, before it was decided he was doing fine serving as a passenger locomotive.
BR Blue
18
Eric
LNER V3 Class
Built in 1939 at Doncaster for the LNER. Eric was acquired by the North Western Region from Woodham Brothers in 1984 for the Kirk Ronan Branchline. He works both passenger and freight services. Eric is the only surviving LNER V3.
NWR Green W/ Red Lining
30
Eagle
L&YR Class 28
Built at the same time as James, Eagle arrived on Sodor first in 1912, purchased by the Sodor & Mainland alongside eight other Class 28 locomotives that had been modified with a lead pony truck; upon the formation of the North Western Railway, they were considered different enough from the Class 28 to be reclassified as the NWR G4 Class, James being a later modification into this class. Eagle, along with James, are the only surviving G4 Class locomotives. He is not very well-known, only appearing twice in the Awdry books. He does, however, maintain a devoted internet and local following. Eagle works on the Norramby Branchline services between Barrow-in-Furness and Norramby via Ballahoo.
NWR Red W/ Gold Lining
67
Hunter
GWR Class 51xx Large Prairie
Built in 1933 at Swindon for the GWR. Withdrawn from BR service in 1965, Hunter was acquired by a consortium that loaned him out to various heritage railways. By 2000, he found himself on Sodor, working on the Norramby Branchline.
BR Green
E1-4
Andy, Jeffery, Sean, and Steve
BR Class 87
Built in 1976 at Crewe. These four locomotives were built specifically for the North Western Region's Peel Godred Branchline to replace the aging Edwardian Electric Motors that were on their way to the Vicarstown Railway Museum. All four work goods trains. They are four of the five remaining 87s left in operation, and the only ones still used in regular service.
NWR Green
E5-6
Jarvis and Paul
BR Class 308/2
Built in 1960 at York. These two sets were transferred to the North Western Region in 1987 when growing traffic from the Peel Godred Steel Mill necessitated locomotives E1-4 being put on goods full-time. The two sets are the only operating 308s left in service.
BR Blue
65
Samarkand
BR Standard Class 9F
Built in 1958 at Crewe, she is notable for being the last Crewe-built steam locomotive. In 1966, she was transferred to the North Western Region at Sir Charles Topham Hatt's request. Samarkand, or Sammie as she is better known, has settled in nicely on Sodor, and reunited with her brother Murdoch in 2003. She became part of NW Freight, the NWR's freight distribution service, upon its startup, but in 2012, she was taken off freightlink duties and demoted to utility engine, working passenger and goods workings on Sodor. Sammie is the only 9F that still has a Giesl ejector.
BR Black
D17 & D18
Dick and Dilworth
BR Class 66
Built by the Electro-Motive Division of General Motors (EMD, now Electro-Motive Diesel) in London, Ontario in 1998 for the England, Wales, and Scotland Railway. The two were purchased by the NWR in 2007 for NW Freight. They often work on the Mainland, but make frequent trips to the Tidmouth Distribution Center.
EWS Red W/ Gold Lining
D19, D20, and D21
Procor, Spartan, and Wakefield
BR Class 60
Built by Brush Traction in 1991. They were originally bought to trial the use of the Class 60 on Sodor and the Mainland. After a rough period that saw Procor withdrawn from service with serious damage in a bid to outdo his brothers and the other engines, all three are now part of NW Freight.
BR Railfreight Grey
D22
Growler
BR Class 37
Built by English Electric at Vulcan Foundry in 1961, Growler is considered the leader of the North Western diesel fleet. Originally purchased as part of the NW Freight fleet, he has since been transferred to Sodor full-time as a utility engine due to the versatile nature of the Class 37.
BR Green
62
Robert
SR Maunsell S15 4-6-0 Class
Built by the Southern Railway at Eastleigh Works in 1936 as No. 842. Both he and his mentor, an older member of the S15 class No. 505, were withdrawn by BR in 1966 and sent to Barry Scrapyard, a place several other NWR steam locomotives such as Eric and Squaddie went before arriving on Sodor. Both were bought by the Eastleigh Railway Preservation Society sometime in the 1970s and moved to Eastleigh Works itself. Both 842 and 505 constantly had their restorations deferred in favor of other S15, 828. Another long delay came when the National Railway Museum wanted 850 "Lord Nelson" restored. Neglected while Lord Nelson got all the attention, they were feared beyond repair, and the tough decision was made to take the best of both locomotives and "kitbash" a single S15, and to that end, both were sent to Crovan's Gate Works on Sodor 2006. Ultimately, 505s frame was beyond repair, and 842 inherited the formers unofficial name. The resulting engine was bought outright by the NWR, and entered revenue service on suburban trains as NWR No. 62, Robert.
80
Pegasus
LNER V4
Built by Crovan's Gate Works between 2005 and 2010, Pegasus was the first steam locomotive built by the NWR for their own purposes (they had previously built a replica of Henry named Arturo). An error in a CAD program caused a construction defect that left Pegasus unable to speak, instead communicating using a series of horse-like grunts and whinnies. Pegasus is currently touring the mainland.
288
Alice
GNR C1 Class (large boiler)/LNER Class C1
Built in 1910 at Docaster for the Great Northern Railway. After being withdrawn in 1950, Alice was in the possession of the struggling Great Northern Railway Preservation Society, which was within days of shutting down and being forced to sell Alice (potentially for scrap). A rescue mission carried out by Gordon brought Alice to Sudrian metals in 1983. Since then, Alice has been a valuable member of the NWR's Express Fleet.
GNR Green
16
Lily
LSWR O2 class 0-4-4T
Built in 1893 at the LSWR Nine Elm Works, Lily arrived on Sodor in 1901 as Wellsworth & Suddery #2. She worked on the Arlesburgh Branch (now Little Western) and mentored Thomas on running a branchline shortly before the latter took charge of what was then the Elsbridge Branch. She was sold for scrap in 1932 due to the Great Depression, but records at the Wellsworth Scrapyard state she was never delivered for scrapping. Investigations in 2009 revealed she was sent by ship to the Isle of Man, but the ship (the SS Errant Venture) sank in a storm, and Lily was presumed lost. Several months later, an expedition led by none other than Robert Ballard (who found the RMS Titanic in 1985) revealed that Lily was still with the wreck in a crate above the waterline, and still in surprisingly good condition. She was recovered, brought back to Crovan's Gate Works, and restored, meeting up with Thomas after the latter went in for repairs following a level crossing accident. She now works on the Ffarquhar Branchline in mixed traffic service.
W&S Maroon
M1 & M2
Evan and Edwin
BR Class 142 Pacer
Built in 1985 by BREL Derby and Leyland Bus, the twins operated in Regional Railways service on the Cotswold Line. They remained in service through Privatization, when they were sold to the North Western Railway. Initially used on the through service from Barrow Central to Norramby, they were transferred to the Airport Shuttle service between Sodor Airport and Knapford in 2005, where they have remained since.
NWR Green
1040
Ryan
GNR Class N2 0-6-2T
Built in 1921 at Doncaster Works for the Great Northern Railway, Ryan went on to serve the LNER and BR, until being withdrawn in 1964. He was purchased by the Nene Valley Railway, where he remained stored until being acquired in 2008. He entered traffic on the NWR in 2015, coinciding with the opening of the Harwick Extension of the Little Western branchline. Ryan is used solely for passenger work, running the Gold Digger Limited, a twice-daily commuter train from Harwick to Tidmouth catering to workers of the gold mines in Harwick; between those times, he runs suburban trains on the mainline.
GNR Green
68
Philip
PRR Class A6
Built in 1930 by Altoona Works, Philip is an enigma. No record of his shipment from America to the UK exist, just like Hank. Nevertheless, Philip was acquired in 2016 by the NWR due to his compliance with the British loading gauge for use on short-distance mine runs in and around Harwick. 
Dark Green and Yellow
18
Nia
KUR ED1/EAR 11 class
Built in 1928 by Vulcan Foundry for Kenya-Uganda Railway. Nia was acquired by the NWR in 2018 as a utility engine after being regauged from meter gauge.
Orange
22
Rebecca
SR West Country Class
Built in January 1947 by the SR Brighton Works as 21C153 Sir Keith Park, she preferred the name "Rebecca" instead. This became her official name in 2018 when the NWR acquired her from the Swanage Railway. Like her brother Squaddie, Rebecca is part of the NWR Express Fleet.
NWR Yellow
71
Josh
LNER Class Y8
NWR Green W/ Red Lining
19
Ruby
L&YR Class 2
Built by Beyer, Peacock, and Co. in 1888, Ruby was the first of the Aspinall Class 2 locomotives to be built. She was acquired by the Sodor & Mainland Railway in 1901 for mixed-traffic service, and given the number 5. At the merger, she was renumbered 19, and remained in mixed-traffic mainline service. 131 years later, Ruby is still in service on the NWR, continuing in her original S&M role.
L&YR Black W/ Red Lining
20
Yang
LB&SCR H2 class
Built in 1911 at Brighton Works, Yang, much like Ruby, was the first H2 to be built. She spent all of three days working on her original railway before being sold to the Tidmouth, Knapford, and Elsbridge Railway in 1911 after it was physically connected to the Wellsworth & Suddery Railway that same year. Despite being designed for express passenger workings, she is instead used as a mixed-traffic engine, a duty she doesn't mind at all. Yang is still in service, often working alongside her surrogate sister Ruby.
LBSCR Improved Green
Retired/Former Locomotives
Not all of the locomotives who have been in service on the NWR have stuck around. In the early days, until 1922, seven locomotives were leased from the Midland Railway. Several other locomotives have either been destroyed (whether by accident, enemy action, or their own hubris) or sent back to the mainland in disgrace.
No.
North Western locomotive
Prototypes
Notes
Livery
98462
Alfred
GER Class S69/LNER Class B12
Built in 1917 at Stratford Works for the Great Eastern Railway, Alfred arrived on Sodor at the same time as Henry and Cecil. Initially numbered 3, he was stripped of his name and painted NWR Blue after multiple incidents of misbehavior. After Gordon arrived, his behavior deteriorated until Sir Topham Hatt realized his mistake in buying him, and planned to send him back. Slipping into insanity, he took leave of senses and, under his own control (to this day, it remains unknown how he was able to drive himself, but extreme willpower is suspected; some superstitous NWR officials, though, are convinced he was possessed by Satan, and Alfred was heard by residents and station staff saying that "Lucifer" was an important passenger), tried to kill Gordon and Henry at Wellsworth with a line of loaded fuel tankers with vans to act as a buffer against the explosion. Unfortunately, a signalman diverted him into the yard, sending him crashing into a siding and flying into the fuel tankers, which detonated, killing him (fortunately, no human lives were lost). To this day, it is said the ghost of Alfred still haunts the NWR, seeking to destroy Gordon for "replacing him". This ghost was the subject of a documentarymade in 2016 detailing a mysterious crash outside Wellsworth involving Gordon and Henry alleged to have been caused by Alfred (the found footage, though, was confirmed fake, as the guard stated he was never jumpscared).

GNR Green (1920-1922)

NWR Blue W/ Red Lining (1922-1925)

87546
Cecil
NER Class S3/LNER Class B16
Built in 1920 at Darington for the Great Eastern Railway. Cecil was sent back after going off without a crew to prove that the bridge over River Hoo. The fireman, guard, and three passengers were killed, and Cecil was sent back in disgrace. After returning to the GER, Cecil was scrapped as punishment.
GNR Green
Unknown
Kirk
GER Class S69/LNER Class B12
Built around the same time as Alfred. Kirk was destroyed along with an LMS 4F Fowler named Harriett at Vicarstown Sheds in 1945 when a German bomber crashed into the shed while on a bombing mission to Crovan's Gate. Kirk was unsalvageable, and considered dead since his face had become a smokebox door. The tenders of both locomotives became stationary coal bunkers at Crovan's Gate. Kirk's tender was eventually made railworthy again and sent to the North Norfolk Railway for their B12, the only one preserved.
NWR Red W/ Gold Lining
W&S 1
Colin
Avonside 0-4-0ST
Not many records exist of Colin, other than that he was #1 of the Wellsworth & Suddery. He was one of the locomotives carried over post-merger, but was never repainted. He was sold for scrap in 1932 due to the Great Depression, but ended up as the scrapyard's generator instead, eventually being sold to a private owner. Colin is now at the Didcot Railway Center.
W&S Maroon
W&S 3
Adam
LSWR 415 class "Adams Radial Tank"
Adams was built on March 31, 1885 by Robert Stephenson & Co. for the London & South Western Railway. Adam's history is much clearer than the other Wellsworth & Suddery locomotives. After being sold for scrap in 1932 during the Great Depression, Adam was purchased by the Southern Railway. He eventualy found himself withdrawn by British Railways on July 31st, 1961, only to be bought be the Bluebell Railway since he was the last Adams Radial Tank who still had the original boiler pattern. He now goes by the name Adams and is awaiting a new boiler barrel, but it is comforting to the North Western engines who knew Adam that he is preserved, after hearing about it from Stepney. Recent rumors state that he will be sent to Crovan's Gate Steamworks for an overhaul.
W&S Maroon
Unknown
Klondike
GNR Class C1 (small boiler)/LNER Class C2
Built in 1900 at Doncaster for the Great Eastern Railway. Klondike was sent the North Western Railway in 1934 in the event all hope on Henry was given up. Klondike was sent back to the LNER in disgrace after it was discovered he had orchestrated Henry's now-famous wreck with the Flying Kipper that resulted in his rebuild in a nefarious scheme to replace him. Klondike was withdrawn and scrapped by the LNER in 1940.
LNER Apple Green
251
Lucas
GNR Class C1 (large boiler)/LNER Class C1
Built in 1902 at Doncaster, Lucas was the first C1 built. He was leased by the NWR in 1936 while Gordon was undergoing an overhaul, and was subject to initial scrutiny after Percy came under the false impression that Sir Topham Hatt was planning to scrap Gordon (as it turns out, Percy hadn't heard the whole conversation), not to mention previous bad experiences with Klondike. After everything was cleared up, Lucas was sent back after Gordon's rebuild at Crewe. Lucas is one of the only two preserved C1 locomotives (the other being the NWR's own #288 Alice), and is part of the National Collection. He is currently at Barrow Hill Engine Sheds, and is kept in operable condition to alleviate motive power shortages on the NWR at a moment's notice.
BR Black
36
William
SR Leader class
Built in 1949 at Brighton Works. 36 was one of several experimental designs made by Oliver Bulleid. 36 was prone to failure and extremely fuel-inefficient, but was, for a time, the most powerful locomotive on Sudrian metals. After his brief trial period, he was withdrawn, and the incomplete Leader locomotives were scrapped. 36, however, was sold to the upstart Vicarstown Railway Museum. He is still a part of the collection, on static display in the rebuilt Vicarstown Sheds. He was recently given a cosmetic restoration in 2013.
BR Green
57606
Zombie
BR Class 57 "Thunderbird"
Built in 1965 at Crewe by Brush Traction for BR. Named so for her shell being stripped, rewired, and re-engined. Zombie was an extremely anti-steam diesel, especially when she was spot-hired from Direct Rail Services by the North Western Railway in 1998. After a brakes failure outside Tidmouth, Zombie plowed into the Tidmouth signal box. Leaking hydrochloric acid caused the death of the signalman, and Zombie was sent back a broken engine. Shortly after returning, she was scrapped as punishment, with parts sold to the North Western Railway as consolation.
DRS Compass Blue
None
Hank the American Engine
PRR K4
Built in 1930 by the legendary Baldwin Locomotive Works for the Pennsylvania Railroad. It is quite a mystery as to how Hank found his way across the Atlantic, but he did. Hank was put into service in 2008, but was pulled from service several minutes later when he was found to be too tall for the British loading gauge, in an incident that sheared off his smokestack and nearly tore his boiler apart. He was officially retired and has been shipped back to the Railroad Museum of Pennsylvania in Strasburg, PA for operation on the nearby Strasburg Rail Road.
Black
None
Preston
LB&SCR D1
Built in 1877 at Brighton for the London, Brighton, and South Coast Railway. Preston was originally bought be the TK&E in 1900 when traffic became heavy enough to warrant the purchase of a larger tank engine, making it to the NWR merger in 1914 before being sold back to the Southern Railway in 1932 during the Great Depression. Preston returned to Sodor following his withdrawal by BR in 1950 as one of the early additions to the Vicarstown Railway Museum, and is in operating condition along with the LBSCR Autotrain coaches he arrived on Sodor with in 1900. He and these coaches are often spot-hired by the North Western Railway for use on the mainline during heavy periods of traffic, meaning Preston is still technically a member of the NWR roster.
LBSCR Improved Green
S&M 8
Johnson
L&SWR T9
Built in 1900 at Nine Elms Works for the London & South Western Railway. Johnson was rude and impatient, traits that led to his downfall in 1915, a year after the merger of Sodor's railways. The accident involved Johnson starting on his own and colliding with another locomotive, Heather. Fires caused by gas lamps inside the wooden coaches killed twelve people, most of whom burned to death. Johnson was scrapped at Crovan's Gate shortly after the wreck.
S&M Green
1621
Heather
NER Class M1
Built in 1892 at Gateshead for the North Eastern Railway. She was acquired by the Sodor & Mainland in 1901, and made it to the merger, tentatively renumbered 4. She was involved in a collison with a runaway Johnson in 1915. Unlike Johnson, Heather was repaired and put back into service, before being sold back to the NER in 1919. Today, Heather is part of the National Collection as the last preserved M1.
S&M Green
TK&E 1-5
Tex, Avery, Chuck, Jones, and Glynn
None (original design)
Built in 1897 by a young Sir Topham Hatt when he was an engineer for the Tidmouth, Knapford, and Elsbridge Railway. The first four locomotives were always ill-behaved, and were allowed to wear out to justify withdrawal. Rather than being scrapped, though, they were used as spare parts donors for Glynn, the only well-behaved "Coffee Pot". Glynn remained in service on the NWR until he and his brothers were sold for scrap during the Great Depression in 1932. While Tex, Avery, Chuck, and Jones were unceremoniously scrapped, Glynn instead became a heater for the yard office, before disappearing without a trace in 1951. He was rediscovered along the Main Line Loop in 2016 (quite by accident), and thereafter was taken to the Vicarstown Railway Museum to be restored to operation. He returned to steam on Armistice Day 2018.
TK&E Red
TK&E 6
Wallace
Unknown
Wallace's history is rather hard to track. He was built in 1900 by the Tidmouth, Knapford, and Elsbridge Railway at the Tidmouth Shops (demolished in 1925) as a heavy tank engine. Photographs of him were found in the collection of a Tidmouth resident in 2018, confirming that he greatly resembled Percy. By the time of the merger with the W&S in 1910, Wallace was outmoded, but remained in service for light goods services and shunting duties. He was mothballed in 1926 and scrapped in 1931.
NWR Green W/ Red Lining
S&M 1-3
Clive, Neil, and Matthew
Neilson 0-4-0T box tanks

These three locomotives were the first standard gauge locomotives on the island, built in 1856. For many years, Neil was the only widely-known of the trio, having appeared in the Railway Series and having toys of him in the Wooden Railway and Ertl ranges. Three more tanks, meanwhile, were built in 1861, named Sampson, Mary, and Miller, and are rather obscure, only being mentioned in a few books. The second three had short working lives, as Sampson exploded in 1866, an explosion that also crippled S&M owner Richard Silas Canterbury, as well as killing Mary and 19 workmen. Miller, meanwhile, was involved in a crash with S&M #7, and was scrapped. The three remaining box tanks remained in service after the NWR merger, not leaving service until 1932 during the Great Depression. Clive and Matthew were sent for scrap alongside Colin, Lily, and Adam. Neil, meanwhile, was sold to a steel mill in Glasgow, and eventually ended up in the hands of the Vicarstown Railway Museum in 1985. His arrival was highly anticipated, and he was given an overhaul in 1994 to working condition. Neil remains in operation at the Vicarstown Railway Museum, and often ventures onto the NWR during special events. Clive and Matthew, meanwhile, are also still survive: Clive was sold to a steam locomotive connoisseur, whose great-grandson still owns him as part of a small but robust collection at Harwick that is now connected to the NWR after the extension, and Matthew, after serving as a stationary boiler at the scrapyard, was acquired by the Kirk Ronan Historical Railway Society and is housed in a small museum at the harbor in operable condition. All three S&M Neilson tanks reunited at a gala in 2015, and pulled a triple-header from Vicarstown to Kirk Ronan.

S&M Green
Current Motive Power Allocations as of August 9, 2018
Mainline
Henry
James
Bear
Murdoch
Molly
Belle
Iris
Peter
Samarkand
Diesel 10
NWR Express Fleet
A subset of the Mainline fleet, these locomotives are assigned to express duties, mainly the Wild Nor' Wester. Note that they are not exclusively used for express workings, and can be found on suburban workings or even goods trains.
Gordon
Hiro
Sodor Castle
Squaddie
Rebecca
Alice
Daphne
Patrick
Pip & Emma
Ffarquhar Branch Line
Thomas
Percy
Toby
Mavis
Daisy
Emily
Paxton
Brad
Lily
Brendam Branch Line
Edward
BoCo
Bill & Ben
Zoey
Jinty
Salty
Porter
The Little Western
Montague/Duck
Oliver
Ryan
Philip
Peel Godred Branch Line
Andy
Jeffery
Sean
Steve
Jarvis
Paul
Kirk Ronan Branch Line
Norramby Branch Line
Killdane Branch Line
Utility Engines
The utility engines are not assigned to any line, instead being go-anywhere, do-anything engines.
Donald & Douglas
Derek
Arthur
Kate/Lady
Neville
Rosie
Norman
Sheffield
Nia
Whiff
Dennis
Growler
Utility Shunter
These are similar to the utility engines, except that they perform shunting duties around the railway.
Permanent Way Department
Misty Island Logging Operation
NW Freight
Dick
Dilworth
Procor
Spartan
Wakefield
Out-Of-Service
These are engines owned by the NWR who are not in service, either due to overhaul, accidents or felonies.
Fergus - Accident at China Clay Pits in 2003; currently awaiting resources for repair
'Arry & Bert - Attempted murder of Stepney; converted into generators
Billy - Axle failure; on loan to Vicarstown Railway Museum
Rolling stock
Carriage Stock
When the NWR was first formed in 1914, the coaching stock comprised of stock from the Tidmouth, Wellsworth & Suddery Railway and Sodor & Mainland Railway. The S&M owned a fleet of bogie coaches, while the TW&S owned six-wheel carriages from the W&S, plus a fleet of four-wheel carriages built by the London, Brighton, and South Coast Railway, as well as LBSCR Autocoaches that came to Sodor with Preston. By 1922, new bogie stock had replaced the S&M carriages, three of which were set aside for preservation. Two of the S&M bogie stock, though, remain in revenue service, these being Annie & Clarabel. Another batch of coaches with a more modernized design was built in 1977-78, and are used exclusively on Sodor due to being incompatible with BR coaching stock. The TW&S four-wheel stock remained in service until 1986, when the final three were withdrawn from service and set aside for use on the Vintage Train during galas. A bogie coach built to S&M specifications was built in 2009 for the Ffarquhar Branchline and named "Becky" after the daughter of Percy's fireman. The 1922 and 1977 bogie stock remain in service alongside ex-British Railways Mark 1/2/3 coaches.
Interesting to note is that the Mark 1 stock was modified to meet safety standards. This included a stronger frame to be able to withstand crashes, and a central door-locking mechanism so a steward doesn't have to be stationed in each car. This means that Mark 1 stock can operate without being bracketed by Mark 2 stock. The Mark 2 and 3 stock are all equipped with sliding doors, while all other carriages have slam doors. All Mark 1 stock on the NWR is painted Maroon, while Mark 2 and 3 stock are painted Rail Blue; the 1922 stock is painted brown, while the 1977 stock is painted orange. The NWR also owns three sets of non-corridor Mark 1 carriages used on commuter services, with two assigned to the mainline and one assigned to the Brendam Branch.
In addition, the railway owns an ex-Wisbech & Upwell 4-wheel carriage (Henrietta), an ex-Furness Railway 4-wheel carriage (Victoria), a luggage van of unknown origin (Elsie), a pair of ex-LNER 6-wheel carriages (Martha and Jennifer), an ex-LBSC 8t luggage van (Drew), four ex-GWR Autocoaches (Isabel, Dulcie, Alice, and Mirabel), and three ex-GWR Slip Coaches (affectionately known by Duck and railfans as "Slippies").
In the early years, the NWR also owned or leased GWR Clerestory Coaches, LBSCR Bogie Coaches, GNR Gresley Coaches, and SR Maunsell Coaches. Two sets of Clerestories in GWR colors, and one set of Maunsells painted green and cream, remain in reserve for use on relief trains.
Goods Stock
The railway owns very little in the way of goods stock. Most goods wagons (the Troublesome Trucks) are owned by the Sodor Goods Commission, and are strictly used only on Sodor due to the smaller two-axle wagons being eliminated by British Rail in the 1980s. Larger, more modern goods stock, mainly owned by DB Cargo Rail and Freightliner (with occassional appearances by stock from Mainland Europe by way of the Channel Tunnel), is interchanged with the national network. All publicly-owned wagons are brought to transfer facilities at TIdmouth to be transferred over to the larger equipment. The only equipment not brought to Tidmouth are container trains, as these run from Brendam to the mainland on express freights.
What goods stock is owned by the NWR includes brakevans (of LB&SCR, SR, and BR vintage, with a single GWR 20t "Toad" brakevan, appropriately named Toad, and an ex-Wellsworth & Suddery brakevan found in 1996 by Sheffield named Brian), mail vans (formerly vans built at Crovan's Gate Works, but later replaced by ex-BR GUV vans in 1994; two of the original mail vans are at the Vicarstown Railway Museum, while the remainder were sold to the SGC as normal CCT vans and remain in service), and over 80 goods wagons used on demonstration trains for galas.
Works Department
The Works Department owns many pieces of rolling stock, including a pair of cranes named Jerome and Judy and accompanying flatbeds, three work coaches from the TW&S, a steam crane named Rocky, several ballast hoppers, and utility vans repurposed from BR 12t Fitted Vans.
People
Sir Topham Hatt I
Great-grandfather of Sir Richard Topham Hatt, grandfather of Sir Stephen Topham Hatt and father of Sir Charles Topham Hatt who was born in 1880 and died in 1956 at the age of 76. His position from NWR was from 1923 to 1954.
Sir Charles Topham Hatt II
Grandfather of Sir Richard Topham Hatt, father of Sir Stephen Topham Hatt and son of Sir Topham Hatt I who was born in 1914 and died in 1997 at the age of 83. His position from NWR was from 1954 to 1983 or 1984.
Sir Stephen Topham Hatt III
Father of Sir Richard Topham Hatt, son of Sir Charles Topham Hatt and grandson of Sir Topham Hatt I who was born in 1941 and died in 2018 at the age of 77. His position from NWR was from 1983 or 1984 to 2013.
Sir Richard Topham Hatt IV
Son of Sir Stephen Topham Hatt, grandson of Sir Charles Topham Hatt and great-grandson of Sir Topham Hatt I who was born in 1972 age 46. His position from NWR was from 2013 to present.
Community content is available under
CC-BY-SA
unless otherwise noted.