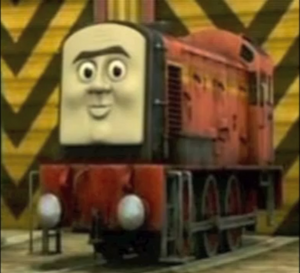 Norman
, nicknamed
Norm
, is a Diesel who officially appeared in Day of the Diesels.
Date of Birth
Date of Death
October 30, 2011 (aged 16)
Persona
Norman is a Diesel engine who often breaks down. He is rather aggressive and rough, but deep down is like a big brother to Paxton. If he were fixed properly, he would show what a Really Useful Engine he is. He is very witty and well-spoken, takes these warnings to heart and embarks on a sinister path.
He is also Dennis' twin and share the same dilemma.
Basis
Norman is based on a type of Bulleid Diesel, "No. 11001". Dennis is an other member of this class.
Livery
Norman is painted red with yellow lining and a grey roof. He also has a prominent unibrow.
Bio
This is number 87
Voice Actors
Appearances
Major Appearances
Television series
Season 15
Season 17
Frozen Turntable
The Missing Christmas Decorations
Specials
Day of the Diesels (not named)
Cameos
Season 16
Theme
Norman's theme is the Roll Call from the Day of the Diesels theme song, which he shares with Den, Dart, Paxton, and Sidney.
Counterparts
Gallery
Parodies