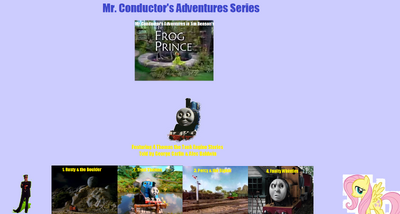 Mr. Conductor's Adventures in Jim Henson's Frog Prince is the 148th crossover movie in Jim Henson's 1971 movie The Frog Prince featuring one season 2 story & one season 3 story told by George Carlin & one season 5 story & one season 6 story told by Alec Baldwin
Notes:
Thomas Stories told by George Carlin and Alec Baldwin.
From Britt Allcroft Studios & Jim Henson Productions
Thomas Stories:
Rusty & The Boulder (Alec Baldwin)
Trust Thomas (George Carlin)
Percy & The Signal (George Carlin)
Faulty Whistles (Alec Baldwin)
Guest Stars:
Quotes:
Quote 1:
Fluttershy: What can I do, Sir Robin?
Sir Robin: Fluttershy, you go with Kermit to get the frogs. We may need your help, and Mr. Conductor's, too, because with Taminella as queen, she might have some evil plans for you.
Fluttershy: Why that...big...dumb...MEANIE! Count me in, Sir Robin!
Quote 2:
Mr. Conductor: When Sir Topham Hatt inspected the damage, he decided to close the mine. Then he looked at Boulder.
Sir Topham Hatt: We should have left this part of the island alone.
Mr. Conductor: They moved Boulder to a hill close by the yards. Rusty is sure that on a clear night, it is gazing up at the mountain, and that its sighs are being carried by the wind, to where it once used to stand proud and silent. I wonder if Rusty is right. Don't you?
[Just then, the screen fills up with steam again as we return to the pond.]
Trivia:
Mr. Conductor seems to have known Taminella Grinderfall back when he was in Magic School.
Even though Alec Baldwin tells the stories Rusty & the Boulder & Faulty Whistles, George Carlin blows his whistle to start the stories.
Rusty & the Boulder has the title card from the Thomas & Friends Video Spills & Chills.
Trust Thomas is taken from the Shining Time Station Season 2 episode, Achoo.
Percy & the Signal has the title card from the Thomas & Friends Video Thomas & His Friends Get Along.
Faulty Whistles has the title card from the Thomas & Friends Video Percy's Chocolate Crunch.
The remake version is dedicated to Muppeteer Jerry Nelson.
Due to this coming from a recording the Disney Channel logo is seen all throughout the movie
Gallery:
Movie: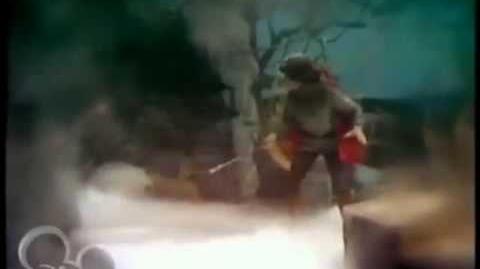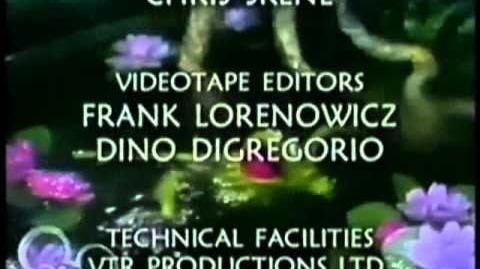 Community content is available under
CC-BY-SA
unless otherwise noted.