Marcie Emily Taylor Sweet
Characteristics
Species
human female, from Earth
Team
affiliations
The Sweet family
Partnerships
DeWayne "Scragg" Scraggins, boyfriend
Abilities
none
Marcie Sweet
is a fictional woman in the
Belch Dimension
universe. She is the eldest of the Sweet family, and sister to
Jonathan
,
Benjamin
, and
Timmy
Sweet. She is most readily identifiable by her distinctive upswooped bangs and violet eyes.
Marcie is the only immediate member of the Sweet family lacking a real-life counterpart. She was created to be a "bridge" between the child/teen characters and the parents, who seldom appear and whose faces are unseen when they do. In an early story she was discovered, along with her sister Hazel, on a deserted island during one of the gang's adventures, and adopted into the family. This origin was retconned away before the series even officially began, making her a full-blooded sibling to Jon.
Fictional character biography
Her name was actually supposed to be "Emily Marie", but a tyopographical error on her birth certificate transposed her first and middle names, plus the loop in the i was poorly defined, looking like a lowercase c.
Marcie, 25, attended Jigaboo Junction County Community College for one semester.[1] Her dream is to one day sing professionally. She once tried out for a spot with The Replacements, mistakenly thinking it was the similarly-named alternative rock group.
She has been kidnapped three times in the series. Following the first incident, she sought psychotherapy. [2] Hiss Hole was responsible for the first two abductions, and the third was by aliens. That incident, however, has been written out of the time stream, and she seems to have no memories of it.
She has her own apartment a few miles from her parents' house, but frequently visits home. Often she spends the night in her old room, in the ground-floor bedroom facing the carport.
"Sometimes I find things in the upstairs toilet I had no idea could come from a human butt."
                                 --Marcie on her brothers' bathroom habits

She and Jon are close, as siblings go. Although she frequently takes him up on his poor personal habits and his unhygenic, ill-behaved dog, the two are fiercely loyal and protective of each other. It was Marcie who recommended her doctor when Jon was tormented with guilt over killing Hiss Hole; the Teen of Titanium had not been unaware his sister had been to see psychiatric help. Marcie has a boyfriend named Scragg, whom she seems to be exclusive with, though possibly not serious.
She takes a ladies' self-defense class, likely as precaution against her many abductions.[3]
Trivia
Marcie's birthday may be in April, as she was given a diamond pin for her high-school graduation ("Zapped!") This would make her either an Ares or a Taurus.
Marcie requires glasses to read. ("Mystic Pizza")
Like her brother, she frequently wears the color yellow. This is partly an homage to her inspiration, April O'Neill of the 1987 Teenage Mutant Ninja Turtles, who wore a form-fitting yellow jumpsuit.
Marcie used to be an irresponsible, hard-drinking party girl in college ("Mr. and Mrs. Sweet"), which may explain why she lasted there less than a year.
Appearances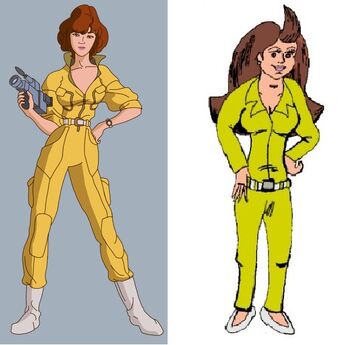 Community content is available under
CC-BY-SA
unless otherwise noted.