Lucas is a character from Earthbound.
Bio
Lucas is a shy mild mannered little boy from Nintendo's EarthBound/Mother video games. He has psychokinetic abilities like Ness and his friends. He is younger than Ness, Paula, Jeff, and Poo. He has a twin brother named Claus. He is the younger half of the duo but he is more famous.
Homeland: Nowhere Islands (Raised in Australia)
Gender: Male
Species: Human
Age: 9
Hair Color: Yellow
Eye Color: Black
Height: 3'02"
Weight: 57 lb
Birthday: 03-13-98
Abilities: PSI, Stickball, Rodeo
Clothing: Red and yellow striped t-shirt, blue shorts, white socks, orange shoes
Equipment: Wooden Stick, Rope Snake, Walking Board
Allies: Hiwana (Mother), Flint (Father), Claus (Brother), Kumatora (Girlfriend), Duster, Boney (Pet), Ness (Mentor), Paula Polestar, Jeff Andonuts, Poo, Mr. Saturn, Mario, Luigi (Role Model), Peach, Dr. Mario, Rosalina, Ice Climbers, Link, Zelda, Young Link, Toon Link, Pit, Palutena, Marth, Roy, Ike, Robin, Lucina, Captain Falcon, Fox McCloud, Falco Lombardi, Pikachu, Jigglypuff, Pichu, Pokemon Trainer (Assisted In Brawl), Lucario, Olimar
Rivals: Little Mac, Villager, Shulk, Solid Snake, Sonic, Pac-Man, Ryu, Mega Man, Cloud Strife, Bayonetta
Minions: Rope Snakes
Enemies: Porky Minch, Pigmasks, Jealous Bass, Ultimate Chimera, Masked Man, Giygas, Starman, Nightmare, Aliens, Bowser, Ganondorf, Wolf O'Donnel, Mewtwo
Persona
Lucas is shy and timid compared to Ness.
His personality is the opposite of Claus.
Quotes
Why did Mom have to die?
Excuse me madam, are you Ness's wife?
That's Mama Lucas to you Claus!
Are you magical?
We both have ice powers!
You look big and strong. I'm small and weak.
You are a princess too right?
You're just like that big swordsman only younger.
You're also like that big swordsman only cuter.
Are you a divine being?
You also look big and aggressive.
Are you Ness's friend?
Let's go through space!
Are you friends with that fox?
You are a cute cuddly thing!
Do me and Mario/Wario make you?
Excuse me, are you related to Mr. Saturn?
PK Freeze/Fire/Thunder/Starstorm.
I cant fight the Pigmasks without my friends.
Where are you Ness?
Appearances
Mother 3/EarthBound 2 (2006)
Super Smash Bros. Brawl (2008)
EarthBound Beginnings (2012)
Super Smash Bros. For Wii U/3DS (2014)
Mother 4 (2015)
Super Smash Bros. Ultimate (2018)
Television
The Epic Adventures Of Ness (1997-present)
Super Smash Bros. Adventures (1999-present)
Trivia
Lucas is the youngest main character in the EarthBound series.
In the EarthBound animated series it is stated that Ness and Lucas are lifelong friends. But in the games Ness met Lucas for the first time in the EarthBound sequel.
Counterparts (Earthbound version) (Boy version)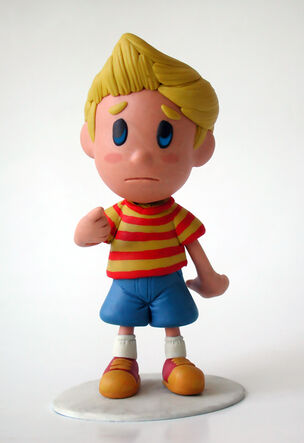 Thomas or Percy (Thomas the Tank Engine and Friends/The Railway Series)
Ten Cents or Sunshine (TUGS/Salty's Lighthouse)
Theodore (Theodore Tugboat)
Mario, Luigi, or Yoshi (Super Mario Bros./Yoshi's Island)
Sonic the Hedgehog or Miles "Tails" Prower (Sonic the Hedgehog)
Pikachu or Cubone (Pokemon)
Roy (Fire Emblem)
Kirby (Kirby)
Buster Bunny (Tiny Toon Adventures)
Orson Pig (Garfield and Friends)
Chuckie Finster or Phil DeVille (Rugrats/All Grown Up!)
Heffer or Filburt (Rocko's Modern Life)
Spongebob Squarepants or Patrick Star (Spongebob Squarepants)
Homer Simpson or Bart Simpson (The Simpsons)
Stan Marsh, Kenny McCormick, or Kyle Broflovski (South Park)
Mickey Mouse, Donald Duck, Goofy, or Pluto (Mickey Mouse)
Phinias Flynn or Ferb Fletcher (Phineas And Ferb)
Jimmy Neutron or Carl Wheezer (Jimmy Neutron)
Timmy Turner, Chester, or Baby Poof (The Fairly OddParents)
Gumball Watterson or Darwin Watterson (The Amazing World of Gumball)
Counterparts (Girl version)
Daisy or Rosie (Thomas & Friends)
Peach, Daisy, or Birdo (Super Mario/Yoshi's Island)
Amy Rose or Cream The Rabbit (Sonic The Hedgehog)
Kumatora (Earthbound/Mother)
Jigglypuff or Riolu (Pokemon)
Ribbon (Kirby)
Babs Bunny (Tiny Toon Adventures)
Kimi or Lil DeVille (Rugrats/All Grown Up!)
Elkie or Dr. Hutchison (Rocko's Modern Life)
Sandy Cheeks or Pearl (SpongeBob SquarePants)
Marge or Lisa Simpson (The Simpsons)
Minnie Mouse, Daisy Duck, Clarabel Cow, or Dolores (Disney)
Isabella Garcia Shapiro or Vanessa Doofenshmirtz (Phineas And Ferb)
Cindy Vortex or Libby Folfax (Jimmy Neutron/Planet Sheen)
Anais Watterson or Penny (The Amazing World Of Gumball)
Counterparts (Racist Earthbound version)
Bowser (Mario)
Ice Climbers (Ice Climber)
ROB (ROB)
Ridley (Metroid)
Dark Pit (Kid Icarus)
Porky (EarthBound)
Roy (Fire Emblem)
Black Shadow (F-Zero)
King Dedede (Kirby)
Wolf O'Donnel (Star Fox)
Wario (WarioWare)
Chuckie Finster (Rugrats/All Grown Up!)
Counterparts (Super Smash Bros. version)
Jock (Thomas The Tank Engine And Friends/The Railway Series)
Luigi (Super Mario Bros.)
Diddy Kong (Donkey Kong Country)
Young Link (The Legend Of Zelda)
Roy (Fire Emblem)
Kirby (Kirby)
Cubone (Pokemon) both are orphans
Plucky Duck (Tiny Toon Adventures)
Orson Pig (Garfield)
Chuckie Finster (Rugrats/All Grown Up!)
Heffer (Rocko's Modern Life)
Patrick Star (SpongeBob SquarePants)
Bart Simpson (The Simpsons)
Donald Duck (Disney)
Ferb Fletcher (Phineas And Ferb)
Carl Wheezer (Jimmy Neutron/Planet Sheen)
Edward (Camp Lazlo)
Miles Tails Prower (Sonic The Hedgehog)
Counterparts (Lucas version)
Percy (Thomas & Friends)
Sunshine (Tugs)
Theodore (Theodore Tugboat)
Buster Bunny (Tiny Toon Adventures)
Luigi (Super Mario)
Diddy Kong (Donkey Kong Country)
Young Link (The Legend Of Zelda)
Ness (EarthBound/Mother)
Roy (Fire Emblem)
Pokemon Trainer (Pokemon)
Garfield (Garfield)
Filburt (Rocko's Modern Life)
Patrick Star (SpongeBob SquarePants)
Carl Wheezer (Jimmy Neutron/Planet Sheen)
Donald Duck (Disney)
Ferb Fletcher (Phineas And Ferb)
Raj or Clam (Camp Lazlo)
Darwin (The Amazing World Of Gumball)
Miles Tails Prower (Sonic The Hedgehog)
Counterparts (SuperLucasLogan version)
Pit (Kid Icarus)
Yoshi (Yoshi's Island)
Fox McCloud (Star Fox)
Villager (Animal Crossing)
Phil DeVille (Rugrats/All Grown Up!)
Counterparts (Ness & Lucas Version)
Diddy Kong (Donkey Kong)
Young Link (The Legend Of Zelda)
Pichu (Pokemon)
Alph (Pikmin)
Counterparts (Mario version)
Miles Tails Prower (Sonic The Hedgehog)
Lil DeVille (Rugrats/All Grown Up!)
Leon (Rocko's Modern Life)
Donald Duck (Disney)
Diddy Kong (Donkey Kong Country)
Skip (Camp Lazlo)
Peter Sam (Thomas & Friends)
Counterparts (F-Zero version)
Counterparts (Animal Crossing version)
Counterparts (Captain N version)
Douglas (Thomas & Friends)
Sunshine (Tugs)
Theodore (Theodore Tugboat)
Luigi (Super Mario)
Young Link (The Legend Of Zelda)
Ness (EarthBound/Mother)
Buster Bunny (Tiny Toon Adventures)
Orson Pig (Garfield)
Patrick Star (SpongeBob SquarePants)
Carl Wheezer (Jimmy Neutron/Planet Sheen)
Raj (Camp Lazlo)
Darwin (The Amazing World Of Gumball)
Miles Tails Prower (Sonic The Hedgehog)
Ferb Fletcher (Phineas And Ferb)
Counterparts (Pokemon version)
Counterparts (Bayonetta version)
Counterparts (Final Fantasy version)
Counterparts (TJ&H version)
Mr. Game & Watch (Game & Watch)
Young Link (The Legend Of Zelda)
Samus Aran (Metroid)
Ness (EarthBound/Mother)
Falco Lombardi (Star Fox)
Yoshi (Yoshi's Island)

Lucas in Super Smash Bros. Brawl
v

•

e

New Happiest Pavilion and Healing Universe
Amazing/Talented Users
1chi • AddictStudios • African Vulture • Ahmed Baeza • Akuma * • Alan Ranks • Alayna Telep • Alessandro Muto • Allison Gatewood • Almir Velovic • AlondraTheHispanicGirl2006 • ALP4HA • Alvee • Amanda Andrea Rose • Amethyst The Making Fiends Girl • Andres290 • Andrew Orozco • Andrewteel213 • Andrey • AngryBirdsFTW PigsFTL • Antony Luo • Aquatic Føxy 2008 • Art1stg1rl • ArtisterMan • Ashens • AshKetchumInitialDHero • Asif • Aurora Pemberon • Azariah Damole • BabyDolly • Bailey Farnsworth • BEC Enterprises • Bell Luna • BeneaSelena • BerryGarenaTheGalaxyGirl2009 • BiggestThomasFan • Blaze-On-Fire • Blue Marker Productions • BlueKai2020 ac5656 • Bongo's dad • Bowser Junior Rocks EST. 2008 • BrattenA • Brendan Barney • BrownFamily1108 • bubblegumlover6020 ! • CaillouAndersonYesKenAndBongoNo • CakuPop • Canadian Scout • Carla Young • Carma • Carriejokerbates • Catboi - Studios • CatDefender • Cesar Cervera • ChaoChao0071 • Charlotte • CheckerCabAnimate • Chelsea Todd • CherryBlossom490 • Christian Cardenas • ChristianTheSonicFan978 • Chuck Bird 36 • Cierra Lyle • Clara Malanaphy • Cody McCone • cookieiscute 2010 :3 • Cory TheTaurusTuber Est. 2000 • Courtney Springer • CrazyRussianHacker • Cream "Prower" the Rabbit • Crydiaa • Crystal Davidson • Crystal-Sushi • CrystalDarkPinkie • Ctrb 144 • D.E.R.P • Daniel the animator • DanTDM • darknessawakens13 • DatGlitchyLightRedRuby Est. 2007 • DatPerfectWhitestoneGuy Est. 2005 • Dayana The Queen Of Demonic Angels • DiamondAnimate 3DS • Diana Garcia • Dianecat98 • Diego Fuenzalida • DiegoIsHere • DisneyNickFan2007 • Domtendo • Douglas Tiunardo • DualCabbage 2005 • DuaneCarter2004 • Dude Perfect • Dylan Darr • Dylan Huff • E-Aria/Eia • Eduardo Ivan Garcia • Edward Odinokov • Electromaniatic • Elena Nitu • Elias D • Elisa Predut • Elwoodjayson • Emiko • Emily The Kid Shinigami Kid • EndCreditsYesClydeNo • Epic Diamond Great • Epic Tourmaline • Eric Medina • ernestomoises65 • Ethan Nestor • Eva (Sweet Princess Gaming) • Eva Vazquez • Evan Bertrand • Ezz Eldine • Fierce Deity Link * • FinnSpin • Fion Lim • FireTrainThomas01 • Flower Girl • Friendly Girl • Fusion • Gabe The Sesame Street Fan • Gabrielle Foster • Gacha cookie World • Galaxy Alice • GalaxyCode2100 • GalaxyKelly • GamingMaster • generated friends • GenesisEvo • Gerard Scheer • Ginette Sosa • GoBigPlanetMate3854 • GorillaGaming • GoTest334 • Grand ol' Robopoof • HanifImranAnimator • HayleyAnimate2004 • Higabuto • HopkinsTheMovie • HyperMan53 • Illaris Abdeel Romani Changa • Isaac's dad • Itz_crystal wolf • ItzAdrian_XCatLife • ItzKaren • Ivan the Brony Kaiju • Jackberrygacha Bxryy gacha • Jake Khmer • James Farrimond • James Johnston • James Reyes • JapexJared • Jasmine The Inkling • Jason AnimatorAndGaming124 • JD Childs Playz Gamez • JeagerEX • Jeff 171 • JessicaFin23 • Jewel's Network • JJSponge120 • JoGames • Johel.padilla.1 • Jon Tinoco • Jonathan Amaya • Jonathan The Disney Fan • Jordan Lau • Jorden the Galaxy Girl • Jose Erick Garcia • Jose Ruiz • Josephlu2021 • Josuke Higashikata (user) • Journei Bensonadams • JT The Foxes Spy Sailor Moon Fan Romantic Loved • Juliana Andrea • Julie the cutie girl • JulioRocks 2003 • Jun The Anime Lover Est. 1997 • JWBerkley007 James • Kat (Nyankatx3) • Katherine the Blue Girl • KatieTheGummyAngelGirl2006 • Kelly the little f*cker • Kelvin Muñoz • Ken's dad • Kenzie Backlin • Kids Learning Tube • Kinenz • Kira Mcguinness • KiraKiraPopPrincess26Alt • Kiri-dream-city • Klasky Opusc Error Animations Returns • Konnichiku • Kyle Rangel • Kätë Kïttêñ • Lander_Blazer • LandonTheEASGuy2005 • LegalizeAnythingMuppets • Level Posey • Lia the Bow Fanatic 2003 • Lilianna Andrews • liz genie • LizaTheScratchTuber • LooneyTraceYT • Lowry Flaschar • Lucky Penny Shop • Luigi Comedian 2020 • LukeAnimate754 • Luni • LW97 • LøvelyStårlightVietGacha • Madeline Baeza • Madisonpherman • Malachi Johnson • Manamilin • Marcus (Chelsea Todd's boyfriend) • Margra Batto • Markiplier • Marlena Degaldo • Mast3r-Rainb0w • MasterBlaze • Matthew Bossert • MaximoAnimateYT • MegaToon1234 • Michael Laffey • Michael Rizzo • MichTop • MicMic Animate16 • Mike Wolf • Miranda Todd • Miss Marma Degaldo • MobileLegendsGamerFans 2007X3 • Monet Lilli • Mort (true_mort) • MotiejusGamer • Mr. Crabmeat • MrBeast • MrEmperorCJ • NaharArkwing • Nakashima Yuki • Nathan Aponte • Nathaniel Bandy • Nekomuu • NeoNimbus526 • Ngb96 • Nikita Khazov • Nikki Sparkles • Ninja (user) • Nintendo&SSBUFanatic2008 • NLTheRealGuy642003 • NoreenCreatesStuff • Omar Ockleberry • Optimus Prime1984 • OriginalWolf99 • Ozzy's dad • Patty Benitez • Paula712 • Payne Rogers • Peanut and Scraps • Pedro Valdez Chevy 7000 • PewDiePie • Phantom • PikachuFan2012 • Pikachufreak • Plainrock124 • PokemonComedian2004 • Prentis-65 • Princess Irene • Princess Precurefan9000 • Princess-Josie-Riki • PrincessAshley • PureEunoia • Purorange • Qaiser • Ra1nb0wK1tty101 • Raccoon-P • Rack Animate • Radd • Radio The Video Maker • RamboNyanKitty • Rami Gacha • Ramunade • Randy Ruiz • Ransom Guy • RebeccaTheSorceress • RedDasherCAS • RedSpider • Renata • RetroGameFan9000 • Richsmond Huynh • RobotstarPlayz • Rosalina's Awesome • Runner97 • Rylan The gacha club hedgehog • ryna_kat • Sabrina (Yusuf's girlfriend) • Samster5677 • Saulius Mrozinskas • Scarlet Lovelock • Scott The Woz • SebasHero899 • Senpaibuns • Seth Mealy • Shachimu • Shadow Boi • Shawn Brunner • Shellbie May UwU • Shining Hatsya • Shizu • Shooting Stephen 677 • Shrek Loves Onions • Skiylarns Shinny • Skyrim & UltimateTagFan2006 • SMG4 • Snap shotFTW KaosFTL • Snookie & Snowy • Snowy_JerryTheFoxAnimate 9019 • Sophie the Otter • Spears20500 • SpongebobRocks2001 • St. BronzestoneBoy • St. LoserBoy2007 • Star Allison And Polly Yes Mesa No 2020 • Star love fnaf Garden wall • StarDarkSaladBowserFTW DarkWineBowserJrFTL • StarNightCityTehVideoMaker958 SHDP • StarWendyThePrincessFairy-Chan 2003 • Stary_ Fall • StefieB • Steven Nguyen • Strawberry Nicholas • Sufferst • Sultan 2K1 Enterprises • SunsetStainedWings2 • Super Mario And Sonic The Hedgehog Fan 2006 • Super Sayin Gacha Boy est. 2002 • Super stars2014 • SuperSmashBros. Fanatic 2005 • Swirly - DonutEditz • TailsougeForever • TASF05 The Friendly Fox • Tatiyana The Goddess Of Darkness • Teacaku • Tesserator Odinokov • The 8-Bit Guy • The Abdullah Siblings • The Cute Master :3 • The Garfield Show Fangirl 2005 • The Inkling & Octoling Crews • The Lim Siblings • The Lovelock Oldest • The Lovelock Youngest • The Telep Siblings • The Thomas Lab • The Vultran Person • TheColumbiaMovieFan2004 Productions • TheFunEditor4 • TheJoJuan4444 • TheSimpsons&MegamanFan2005 • TheViperGaming • Tiffy33 • Timothy William Bor • TitaniumStar537 • Towers-of-Obscure • Trainfan J.T • Trinity Hayes • Trisha611 • Turbo Emedot • Ufulli • UltimateMakerDude30 • UltraStar981 • VeggieFan2000 • Victor Salazar • Victoria Telep • ViktorAnimate2004 • Vincent Stark • Vinhchaule • Vittorio • Vivilda the chimera • Wakko 336 Test Tube 909 • wanna one and weatherstar4000videoYesyoshino • Warrior echo Fighter777 • Weatherstar4000video • White Animations • why is everything cake • Windows 8.1 • Windows Devin • Windows Reguner Skyller 2297 • WindowsRedBoySWK • Wolfychu • XavierAnimate • xXBri-The-DemonXx • YazToonz2020 • YoshiAnimate • YoshiFan GamerStudioFun • Yusuf Abdullah • ZackAquamarine6XZ • ZaydG • Zion Mathis • Zoey Degaldo • Àngel Llàdser
Favorite Characters
$teezy (L.O.L. Surprise!) • 'Olu Mel • 18-Volt (WarioWare, Inc.) • 24K D.J. • 5-Volt (WarioWare, Inc.) • 80's B.B. • 80's Hog • 80s Bunny • 9-Volt (WarioWare, Inc.) • A.L.O.E. Drone • Aang (Avatar: The Last Airbender) • Aaron Davis • Abbey Bominable • Abby (Cubix: Robots For Everyone) • Abby Cadabby • Abu (Aladdin) • Accord (Puyo Puyo) • Ace Fender Bender • Adam Apple • Adeleine (Kirby) • Adora/She-Ra • Adorabat (Mao Mao: Heroes of Pure Heart) • Adorbs (L.O.L. Surprise!) • Adrianne Apple • Adrien Agreste/Cat Noir • Adventurer Cookie • Aeon/Uncanny Valley • Agatha (Dark Deception) • Agatha Jones • Agent 00L • Agent Baby • Agent Blue • Agent D the Duck (Phineas and Ferb) • Agent F the Frog (Phineas and Ferb) • Agent Kitty • Agent Olympia • Agent Oona • Agent Otis • Agent Purr • Agent Red • Agent Xero • Agent Yellow • Aggretsuko (Sanrio) • Agnes Gru • Agnes Johnson (The Loud House) • Aguri Madoka/Cure Ace • Ahri (League of Legends) • Ai (DokiDoki! PreCure) • Ai (Puyo Puyo) • Ai Hidaka • Ai Miyashita • Aiko Senoo • Aiko Takamori • Aine Yūki • Aira Harune • Aira Nanahoshi • Airi Amemiya • Airi Kirara • Airi Sonoda • Airi Totoki • Aisha (Winx Club) • Ajimi Kiki • Akali (League of Legends) • Akane Hino (The Idolmaster) • Akane Hino/Cure Sunny • Akane Mimori • Akane Nonohara • Akari (Papa Louie) • Akari Mizunashi • Akari Sakura • Akari Shiratori • Akari Taiyou • Akari Ōzora • Akarun (Fresh Pretty Cure!) • Aki Momoi • Aki Tachiishi • Aki Yamato • Akiza Izinski • Ako Saotome • Ako Shirabe/Cure Muse • Ako Udagawa • Akubī (Yes! PreCure 5) • Al Foil • Alan Powers • Alana Alarm Clock • Alastor (Hazbin Hotel) • Albert (The Loud House) • Alberto (Papa Louie) • Alex (Puyo Puyo) • Alex (Totally Spies!) • Alex Heart • Alex Tiger • Alexandra Kurisu • Alexandra Ornament • Alfred Jones • Ali Apple Pie • Alice (Alice in Wonderland) • Alice (Pop'n Music) • Alice Carol • Alice Fruit Salad • Alice in Lalaloopsyland • Alice Peperoncino • Alice Yotsuba/Cure Rosetta • Alicia Charlotte • Aliens/Little Green Men • Alina Gray • Alix Kubdel/Bunnyx • Allegra Leaps 'N' Bounds • Alley Cat • Allie (Where's My Water?) • Allira Amethyst • Allister (Pokemon) • Ally (Puyo Puyo) • Alm (Miracle Tunes!) • Almond Cookie • Aloalo (HappinessCharge PreCure!) • Aloe Cookie • Aloe Tail • Alpha Soup • ALT (Pop'n Music) • Alt Grrrl • Alto (L.O.L. Surprise!) • Alvin Seville • Alya Césaire/Rena Rouge • Alyssa (Webkinz) • Ama Ebi • Amalthea/The Last Unicorn • Amana Osaki • Amanda Grape Jelly • Amanda O'Neill • Amanda Panda • Amane Nishiki • Amaya Raine • Amaya/Owlette • Ambear Bow • Amber Apple • Amehiko Kuzunoha • Amethyst (Steven Universe) • Ami (True Tail) • Ami Avocado • Ami Futami • Ami Gido/Blue Princess • Ami Mizuno/Sailor Mercury • Ami Onuki • Amigo Burrito • Amigo/Phantomi Queen • Amitie (Puyo Puyo) • Amity Blight • Amu Hinamori • Amy Rose • Amy Wong • An Yu • Ana (WarioWare, Inc.) • Anabella (Doki) • Anais Watterson • Ananas Dragon Cookie • Anastasia (The Idolmaster) • Ancient Meow • Andre Avalanche • Andrew Hanbridge • Android 18 • Andy Baker/Fury • Andy Bandy • Andy Candy • Andy Davis • Angel (L.O.L. Surprise!) • Angel Bubble • Angel Cake (Num Noms) • Angel Cake (Shopkins) • Angel Cookie • Angel Dust • Angel Foodie • Angel Lightstick • Angel Wings • Angela (Jewelpet) • Angela (Oh Yeah! Cartoons) • Angelique Star • Anger (Inside Out) • Angie Ankle Boot • Angie Apple • Angie Yonaga • Angles (L.O.L. Surprise!) • Angry Onion • Anji Mito • Anju Shiratori • Anju Yuki • Anko (Sanrio) • Ann Fukuhara • Ann Kurimu/Ann • Anna (Frozen) • Anna (Yogurting) • Anna Akagi • Anna Canada Heels • Anna Double Scoops • Anna Mel Cookies • Anna Mochizuki • Anna Pajamas • AnnaBelle Moooshe • AnnaBelle Mooshe • Anne Action • Anne Boonchuy • Annie Apple • Annie Hamilton • Annie Orange • Annie Ornament • Annie Ringtail • Anthony Wiggle • Antique Bookmark • Anzu Futaba • Ao Kasane • Aoi Arisugawa • Aoi Asahina • Aoi Kiriya • Aoi Tategami/Cure Gelato • Aomimiusa (Sugarbunnies) • Aousa (Sugarbunnies) • Aphrodite (Suite PreCure) • Apple Blossom • Apple Cookie • Apple Icy • Apple Jack • Apple Pie • Apple Pie Alice • Apple Pie Ride • Apple Pop • Apple Rabbit • Apple Rock Light-Up • Apple Tart Jelly • Apple White • Applejack (My Little Pony) • Applemobile (Shopkins) • April (Donald Duck) • April Apricot • April Sunsplash • Aqua (Kingdom Hearts) • Aqua (L.O.L. Surprise!) • Aquarius (Star Twinkle PreCure) • Arabella (Shimmer and Shine) • Arakune/Lotte Carmine • Archan (Puyo Puyo) • Ari Hauntington • Ari Jin • Aria Futaba • Ariel (The Little Mermaid) • Ariel Valtiel Westcott • Aries (Star Twinkle PreCure) • Arisa Ichigaya • Arisa Matsuda • Arisa Mizukoshi • Arisa Narumi • Arisa Sakamoto • Arisu Hanazono • Arisu Tachibana • Arizona (Azur Lane) • Arizona (Them's Fightin' Herds) • Arizona Goof • Arizona Robbins • Arle Nadja • Armadylan (PJ Masks) • Arnold Perlstein • Aroma (Go! Princess PreCure) • Aroma Flutters • Aroma Kurosu • Arte Fact • Artemis (Sailor Moon) • Arthur Asparagus • Arthur Curry/Aquaman • Arthur Read • Artichoke Cookie • Artie Choke • Arturo Sombrero • Arty Party Hat • As If Baby • Asahi Kasumi • Asahi Minamikawa • Asahi Mitaka • Asahi Miura • Asahi Serizawa • Asami Himuro • Asbury Raspberry • Ash (Sing) • Ash Ketchum • Asher (Hairdorables) • Ashley (WarioWare, Inc.) • Ashlynn Ella • Aspara-Gus (Shopkins) • Aspen Fluff • Asriel Dreemurr • Asselin BB II • Assistant (Tetris Plus) • Asuka Ninomiya • Asuka Takizawa/Cure Flamingo • Asumi Fuurin/Cure Earth • AT&T • Atsuko Kagari • Atsumi Munakata • Aubrey Heart • Audrey (The Lorax) • Audrey Smith • Audrey Strawberry Milk • Auggie Matthews • Augustus Gloop • Aunt Arctic • Aunt Blush • Aunt Ester Egg • Aunt Wihelmina Wafer • Aunt'e Claire • Auntie Corn • Auntie Septic • Auriana (LoliRock) • Aurora (Sleeping Beauty) • Autumn Cream • Autumn Spice (Lalaloopsy) • Autumn Spice (Num Noms) • Ava Apple • Avery Styles • Aviva Corcovado • Avocado Cookie • Avocatapult (Cookie Run) • AWOL Cracker • Axl Low • Aya Hoshino • Aya Maruyama • Ayame Hamaguchi • Ayame Kajou • Ayami Ooruri • Ayano Kannagi • Aye Aye • Ayumi Naruse • Ayumi Sakagami/Cure Echo • Ayumi Tsukishiro/Q-pit • Ayumu Maihama • Ayumu Uehara • Azarashin (Yes! PreCure 5) • Azrael (BlazBlue) • Azuki (Sanrio) • Azukina (Fresh Pretty Cure!) • Azusa Miura • Azusa Nakano • B (Total Drama) • B'Anchor (Shopkins) • B-Day Bean • B-Day Bites • B-Day Candle • B-Day Dip • B-Day Gummy Stamp-It • B-Day Jelly • B-Day Layers • B-Day Meringue Gloss-Up • B-Day Naner • B-Day Polish-It • B-day Sprinkled • B-Day Sprinkles • B-Day Twins • B-Day Waffle • B-Gurl (L.O.L. Surprise!) • B-Raz Cloud • B-Raz Square • B. Berry Clover • B. Berry Flakey • B. Berry Jelly • B. Berry Mallow • B. Berry Polish-It • B. Berry Poof • B. Berry Swirls • B. Gum Pop • B. Mine Valentine • B. Nana Split • B. Razz Bear • B. Razz Sweets • B. Razz-O • B. Razzy Gloss-Up • B. Razzy Polish-It • B. Razzy Rounds • B.B. Baby • B.B. Bake • B.B. Bear • B.B. Bop • B.B. Bunny • B.B. Cream • B.B. Knots • B.B. Pup • B.B. Scoops • B.B. Shreds • B.B. Stick • B.B. Surprise • B.B. Trio • B.B. Wheat • B.B.O. (Num Noms) • B.L.T. (Num Noms) • B3-4R (Cookie Run) • Ba-Dum Ray • Babe in the Woods • Babette Baguette • Babo (Uglydolls) • Babs Bunny • Baby 'Mato • Baby Bear • Baby Blueberry • Baby Bow Clip • Baby Browns • Baby Brussel • Baby Buggy • Baby Bulb • Baby Cabbage • Baby Carrot • Baby Cotton Ball • Baby Daisy • Baby Dots • Baby Dough Bro • Baby Grand • Baby Gummy • Baby Lemon Drop • Baby Luigi • Baby Maple • Baby Mario • Baby Next Door • Baby Peach • Baby Pin Flynn • Baby Pod • Baby Pranksta • Baby Puff • Baby Rosalina • Baby Sparkle Drop • Baby Spots • Baby Sugar Drop • Baby Swipes • Baby Syrup • Baby Tooth • Babydoll (L.O.L. Surprise!) • Baci Gelati • Backpacky (Cookie Run) • Bacon Cookie • Bactery (Cookie Run) • Bad Dog • Bad Pepper • Badgerclops (Mao Mao: Heroes of Pure Heart) • Badtz-Maru (Sanrio) • Bae Wheels • Bagel Beeper • Bagel Billy • Bah-nilla Curl • Baiken (Guilty Gear) • Bailey Baseball Glove • Bailey Biscotti • Bailey Bubblegum • Baldi (Baldi's Basics in Education and Learning) • Baley Sticks N. Straws • Ballet Coupe • Balletta Slippers • Balletusa (Sugarbunnies) • Ballinda (Shopkins) • Ballora (Five Nights at Freddy's) • Balthazar Cavendish • Banana Boo • Banana Bumper • Banana Cookie • Banana Crumbles • Banana Go-Go • Banana Split Trip • Banana Splitty • Bang Shishigami • Bangle B.B. • Banjo (Banjo-Kazooie) • Bantamweight (Dragon Quest) • Barb B Que • Barbara Keynes/Knightowl • Barbie Breakfast Muffin • Barbie Roberts • Barkk (Miraculous: Tales of Ladybug & Cat Noir) • Barley Lightfoot • Barney Bun • Barry (Num Noms) • Barry Allen/The Flash • Barry Donut • Barry Slush • Bart Beans • Bart Simpson • Bashful (Snow White and the Seven Dwarfs) • Bashful Q.T. • Basil of Baker Street • Bat-Cat • Baymax (Big Hero 6) • Bayonetta (Bayonetta) • BB Battery • BBCute Pringle • Bea (Pokemon) • Bea Spells-a-Lot • Beach Boi • Beachly Basket • Bean Drop Duo • Beanie Machine • Bear-Nana (Num Noms) • Beary Biscuits • Beary Bowtie • Beary Choco • Beary Fluffy • Beary Honey • Beary Lou • Beary Mint Twins • Beast Boy • Beatnik Babe • Beats (L.O.L. Surprise!) • Beauty Blossom • Beauty Fairest • Beauty Van • Bebe Groovy • Bebe Pepperoni • Bebé Bonita • Becca Bacon • Becca Bunny • Becky (T.U.F.F. Puppy) • Becky Backpack • Becky Balloon • Becky Banana • Becky Beauty Basket • Becky Birthday Cake • Becky Botsford/WordGirl • Becky Buckaneer • Beefy Frank • Beepy Birthday • Beet Cookie • Beetster (Cookie Run) • Bek Backpack • Bel (DokiDoki! PreCure) • Belinda Blender • Bell Pepper Cookie • Bell Renjoji • Bella (Hairdorables) • Bella Basil • Bella Basket • Bella Bliss • Bella Bow • Bella Bubblegum • Bella La Ball • Bella Mozzarella • Bella Parker • Bellafly (Shopkins) • Belldandy (Oh My Goddess!) • Belle (Beauty and the Beast) • Bellinda (Shopkins) • Bellinda Sweater • Bello (Jelly Jamm) • Belly Curly Tail • Ben Hanscom • Ben Higgenbottom • Bender Bending Rodriguez • Bendy (Bendy and the Ink Machine) • Bengal Tiger (Webkinz) • Benson (Regular Show) • Bentley Raccoon • Berecca (Ninjala) • Beriberin (Yes! PreCure 5) • Berlioz (The Aristocats) • Bernard (The Rescuers) • Bernice Berry • Berremy (Shopkins) • Berri Cakes • Berri D'lish • Berribelle (Shopkins) • BerriBlu (Shopkins) • Berries N Creme • Berry (Cinnamoroll) • Berry Bake • Berry Bella • Berry Berry Swirl • Berry Big Sister • Berry Blizzard • Berry Blue • Berry Bread • Berry Breyers • Berry Bunny Snap • Berry Cake Roll • Berry Cakes • Berry Cane • Berry Cheesecake • Berry Churro • Berry Cookie Gloss-Up • Berry Créme Gloss-Up • Berry Cub • Berry Cute Snacks • Berry Delightful • Berry Drop • Berry Fast Croissant • Berry French Toast • Berry Froyo • Berry Glazed • Berry Gloss-Up • Berry Gum Gum • Berry Gummy Stamp-It • Berry Jars 'N' Jam • Berry Jelly Roll • Berry Lea Louis • Berry Light-Up • Berry Meringue Gloss-Up • Berry Nice Pancakes • Berry O'Twins • Berry Polish-It • Berry Pop • Berry Pop Tart • Berry Puffs • Berry Pup • Berry Rounds • Berry Scoop • Berry Sherbet • Berry Shirayuki/Mew Berry • Berry Shiver • Berry Shortcake Shake • Berry Slushie • Berry Smooth • Berry Smoothie • Berry Squares • Berry Stamp-It • Berry Sun • Berry Sweet Lolly • Berry Sweet Pancakes • Berry Swirls • Berry Triplets • Berry Tubs • Berry Twins • Berry Twirl • Berry Vanilla Gloss-Up • Berry Waffles • Berry-O Cat • Berrylicious Gloss-Up • Bert (Mary Poppins) • Bert (Sesame Street) • Bert Raccoon • Bertha Bath • Bessie Bowl • Bessie Brush • Bessie Higgenbottom • Bessy Baseball • Beth Bunches • Bethany Blue • Bethany Broccoli • Betsy Bubblegum • Betsy Butter • Betsy Buttercup • Bettina Bag • Betty B-Day • Betty Baguette • Betty Bear • Betty Berry • Betty Blowout • Betty Boot • Betty Bouquet • Betty Bubbles • Betty Cassette • Bev Gilturtle • Beverley Heels • Beverly Marsh • Bhad Gurl • Bhaddie (L.O.L. Surprise!) • Bhaddie Bro/Chaos • Bhaddie Monkey • Bia (Sea Princesses) • Bianca Banana • Bianca Bengal • Bianca Berry • Bianca Boater Hat • Big Bird • Big City B.B. • Big Daddy Loo • Big Pauly • Big Sis Sammyl • Big Topping • Big Wig • Big-mouthed Avocado • Bijou Treasure Trove • Bill Cipher • Bill Denbrough • Billy Banana • Billy Bandage • Billy Bell • Bing Bong • Binky Bumper • Bird Brain • Birdo (Mario) • Birdy Blossom Cake • Birthday Bernadette • Birthday Betty • Birthday Blizz • Birthday Bunny • Birthday Cake Cookie • Birthday Cakey • Birthday Polish-It • Birthday Shake • Bitsy (L.O.L. Surprise!) • Bitty Pop • Bitzy Biscuit • Black Bean Patty • Black Cat (Webkinz) • Black Raisin Cookie • Black Raspberry Breyers • Black Stripe • Black Tie • Blackarachnia (Beast Wars: Transformers) • Blackbelt (L.O.L. Surprise!) • Blackberry Cookie • Blades (Transformers: Rescue Bots) • Blaire Éclair • Blake Belladonna • Blake Forest Cake • Blanket Featherbed • Blanky (The Brave Little Toaster) • Blast (Club Penguin) • Blaze the Cat • Bling Queen • Bling Unicorn Ring • Blingy (L.O.L. Surprise!) • Blizzard Berry • Block Party B.B. • Block Party Bro • Block Party K.T. • Blockey (Shopkins) • Blocky (Shopkins) • Blocky Ice Cube • Blondie Chip • Blondie Lockes • Bloomicorn (Shopkins) • Blossom (Powerpuff Girls) • Blossom Apples • Blossom Bear • Blossom Berry • Blossom Buggy • Blossom Flowerpot • Blow-Anne (Shopkins) • Blu (Rio) • Blu Razzy • Blue (HappinessCharge PreCure!) • Blue Barry • Blue C.C. Shreds • Blue Cure (Bomber Girls Pretty Cure) • Blue Drop • Blue Knight Ozaki/Blue Knight Blue • Blue Lip Gloss Nom • Blue Razz Gloss-Up • Blue Razz Polish-It • Blue Razz Pop • Blue Razz Rock Light-Up • Blue Razzbunny • Blue Razzy Gum Drop • Blue-Beary Rainbow • Bluebell Dewdrop • Blueberry Becca Crepe • Blueberry Carrie • Blueberry Freeze • Blueberry Gem Light-Up • Blueberry Gloss-Up • Blueberry Jelly • Blueberry Light-Up • Blueberry Mint Smoothie • Blueberry Oats • Blueberry Pie • Blueberry Pie Cookie • Blueberry Polish-It • Blueberry Pop • Blueberry Rock Light-Up • Blueberry Square • Blueberry Stamp-It • Blueberry Star • Blueberry Swirl Gloss-Up • Blueberry Waffle • Bluegrass Queen • Bluey Rounds • Blufadoodle (Webkinz) • Blush Pink Pastry • Blushing Baby • Blushy Brush • Bo Monkey • Bo Peep • Boatswain Anchor • Bob Parr/Mr. Incredible • Bob Stone • Bob the Minion • Bobby (Animaniacs) • Bobby Bubble Gum • Bobby Goggles • Bobby Santiago • Bobby Sock • Bodi (Rock Dog) • Boho Feathers • Bold B.B. • Bolly Bangles • Bomb (Angry Birds) • Bon Bon • Bon Bon Ham • Bon Bon Meow • Bonbonribbon (Sanrio) • Bondi Bathing Box • Bone-adette (Shopkins) • Bonetta Cupcake • Boni Bonsai • Bonita Basket • Bonita Burrito • Bonnie (Five Nights at Freddy's) • Bonnie (Toy Story) • Bonnie Banana • Bonnie Beret • Bonnie Blueberry • Bonnie Boom Box • Bonnie Bun • Boo Hoo Bandage • Boo Scaredy Cat • Boo-Hoo Onion • Booger (Webkinz) • Boogie Babe • Boogie Kitty • Boomer (Papa Louie) • Boomerang Bro • Boost Mobile • Booster Munchapper • Boot Scootin' Smoothie • Bop Top • Boss Baby • Boss Pooch • Boss Queen • Boston Market • Botley (JumpStart) • Bottle Pop • Bouncer (Club Penguin) • Bouncer Fluffy Tail • Bow (She-Ra and the Princesses of Power) • Bow Bah Peep • Bow Tie Bottle • Bow Wow Q.T. • Bowdie Bear • Bowl O' Bananas • Bowl-inda Popcorn • Bowla Fruits • Bowser (Mario) • Bowser Jr. • Boy Next Door • Boyfriend (Friday Night Funkin') • Brad Carbunkle • Brain (Inspector Gadget) • Branch (Trolls) • Brandy Berry • Brass Kitty • Braven (Futari wa Pretty Cure Max Heart) • Bread Crumbs • Bread Head • Breaky Crunch • Breaky Heart • Bree Birthday Cake • Bree Freshner • Breeze E. Sky • Brenda Banana • Brenda Blender • Brenda Brooch • Brenda Brush • Brian Griffin • Briana Banana Smoothie • Briana Biscuit • Briar Beauty • Brick (Total Drama) • Bridget (Guilty Gear) • Bridget Banana • Bridgette Bagdot • Bridie (Shopkins) • Bridie Basil • Brief (Panty & Stocking with Garterbelt) • Brimmy (Shopkins) • Brit (Hairdorables) • British Ben • Britney (Totally Spies!) • Britney Bag • Britney Sparkles • Brittany (Gnome Alone) • Brittany Seville • Brittlestar (Lalaloopsy) • Brittney Brownie • Bro Cheer • Bro Chip • Brock (Pokemon) • Broo (The Raccoons) • Brooke Bubbles • Brooklyn Blue • Brown Balloon • Bruce Banner/Hulk • Bruce Wayne/Batman • Brutus Ironclaw • Bryce (Shopkins) • Bryce Cookie Slice • Bryce Diced Tomato • Bryony Brush • Bu-Ling Huang/Mew Pudding • Bub-Lea (Shopkins) • Bubba Bathbomb • Bubba Bubbles • Bubba Bun • Bubble Clover • Bubble Crunch • Bubble Cupcake • Bubble Duchess • Bubble Gem Light-Up • Bubble Gum Blanche • Bubble Gum Sweetheart • Bubble Gumdrop Twins • Bubble Gummy • Bubble Polish-It • Bubble Tubs • Bubble Unis • Bubblegum Slushy • Bubbleisha (Shopkins) • Bubbles (Angry Birds) • Bubbles (Powerpuff Girls) • Bubbles (Shopkins) • Bubbles Smack 'N' Pop • Bubbles Twist • Bubblicious (Shopkins) • Bubbly Bridgette • Bubbly Drop Gloss-Up • Bubbly Foam • Bubbly Gloss-Up • Bubbly Go-Go • Bubbly Jelly • Bubbly Light-Up • Bubbly Merinque • Bubbly Pop • Bubbly Pop (Num Noms: Mystery Sweet Treats) • Bubbly Puffs • Bubbly Snow Cone Light-Up • Bubbly Swirl Gloss-Up • Bubbly Unicorn • Bubby Beeps • Buchiusa (Sugarbunnies) • Buck Dollar • Bucket O'Bill • Buddy (The Secret Life of Pets) • Buddy Bone • Bugs Bunny • Buhdeuce (Breadwinners) • Bullet (BlazBlue) • Bullseye (Toy Story) • Bumblebee (Transformers) • Bumper Balloons • Bumper Piñata • Bumpy Burger • Bun Bun Slipper • Bun Bun Sticky Icing • Bun E.D.M. • Bun-fetti (Num Noms) • Buncho Bananas • Bundles Snuggle Stuff • Bunilla Wafer • Bunny 'Za • Bunny (Kirakira Pretty Cure a la Mode) • Bunny (Toy Story) • Bunny Biscuit • Bunny Bow • Bunny Bun • Bunny Carrot • Bunny Champ • Bunny Children • Bunny Hun • Bunny Hun (L.O.L. Surprise! Pets) • Bunny in the Woods • Bunny Sammich • Bunny Tart • Bunny Wishes • Burner Man • Burr (L.O.L. Surprise!) • Burt House • Burton (Ninjala) • Buruberiusa (Sugarbunnies) • Burun (Fresh Pretty Cure!) • Buster Baxter • Buster Bunny • Buster Moon • Busy B.B. • Busy Blender • Butter Bob • Butter Hotcake • Butter Pretzel Cookie • Buttercream Choco Cookie • Buttercup (Powerpuff Girls) • Buttercup (Shopkins) • Buttercup Pancakes • Butterscotch Bridget • Butterscotch Buddies • Butterscotch Go-Go • Buttershell Fox Cookie • Buttery Go-Go • Button Mushroom • Buttons (Animaniacs) • Buzz Lightyear • Buzz-Saw Louie • Byakuya Togami • Bye Bye Boi • Byleth (Fire Emblem) • Bēreon (Yes! PreCure 5) • C.C Candy • C.C Sugar Gummy • C.C. (Code Geass) • C.C. Bon Bon Gloss-Up • C.C. Crunch • C.C. Flanders • C.C. Fluff • C.C. Gloss-Up • C.C. Marble • C.C. Naner • C.C. Polish-It • C.C. Puffs • C.C. Rainbow • C.C. Slurp • C.C. Spirals • C.C. Splits • C.C. Stacks • C.C. Star • C.C. Sugar • C.C. Treat • C.H.Z. (Num Noms) • C.Salt (Shopkins) • Caddy Cutie • Cadence (Club Penguin) • Cadet (L.O.L. Surprise!) • Cady Heron • Café Cruz • Caitlyn Ketchup • Cake Bear • Cake Dunk 'N' Crumble • Cake Pop • Caketrina (Shopkins) • Calamity Coyote • Calamity Luxe • Caleb Crust • Caleb Lightpaw • Cali (PAW Patrol) • Cali Roll • Caline Bustier • Calista Cake • Callie (Splatoon) • Callie Torres • Calvin Cupcake • Calvin Joyner • Calvin the Cat • Cam Camera • Cam Corder • Cameron (Total Drama) • Camila Corn Chip • Camile Cream Cookie • Camilla Cat Stand • Camilla Hombee/Victory • Camp Cutie • Campfire Crunch • Can Do Baby • Can Do Kitty • Can-Can Croissant • Cancer (Star Twinkle PreCure) • Cancún Cupcake • Candace Flynn • Candi Coconut • Candi Combi • Candi Cotton • Candicake (Shopkins) • Candice Candle • Candie Cloud • Candie Puffs • Candle Slice O' Cake • Candles a la Crème • Candy Apple • Candy Blue • Candy Bowl • Candy Broomsticks • Candy C. Horn • Candy Cakes • Candy Cane Swirl Gloss-Up • Candy Cat • Candy Clops • Candy Cookie • Candy Corn Smoothie • Candy Créme Gloss-Up • Candy Drop Gloss-Up • Candy Gummy Stamp-It • Candy Heart Car • Candy Hearts • Candy Karma • Candy Kisses • Candy O'Cotton • Candy Shreds • Candy Sparkle Snow • Candy Squares • Candy Stripe Pop • Candy Sweets • Candy Waffle Twins • Candy Wrapper • Candy/Royale Candy • Candylicious (L.O.L. Surprise!) • Canuck Cocoa • Cape Riding Hood • Cappella Cupcake • Cappy (Mario) • Capricorn (Star Twinkle PreCure) • Captain B.B. • Captain Cori • Captain Falcon • Captain Feathersword • Captain Ice Cookie • Captain Kitty • Captain Q.B. • Captain Zoom • Cara Caramel • Cara Carrot Cake • Cara Cookie • Cara Crunch • Cara Crystal Pendant • Cara Mellie • Cara-O-Mel (Num Noms) • Cara-Sparkles Toasty • Caramel Cream • Caramel Croissant • Caramel Lion • Caramel Shreds • Caramel Square • Caramel Stamp-It • Caramelly Go-Go • Caramelly Shine • Carat Cake • Carats (L.O.L. Surprise!) • Carbuncle (Puyo Puyo) • Carissa (LoliRock) • Carl Clover • Carl Johnson • Carl Karl • Carl the Minion • Carla Cone • Carla Crimson • Carlo Coffee Pot • Carlos Ramon • Carly Cake • Carly Cupcake • Carmapple Bear • Carmel Sauce • Carmel Topping • Carmen Le Crème • Carmen Linda • Carmen Sandiego • Carol Candy Cane • Carol Cookie • Carol Cracker • Carol Kernels • Carol Pingrey • Carole Cake • Carriage Cruiser • Carrie Backpack • Carrie Bag • Carrie Carrot Cake • Carrie Case • Carrie Clutch • Carrie Corn • Carrie Oki • Carrie White • Carrot Cake Rabbit • Carrot Cookie • Carrot Long Ears • Carrotta Cake • Casper Cap • Cassandra (Tangled) • Cassidy Camera • Cassie Caster Sugar • Cassie Cola • Cassie Lassi • Castanets (Cookie Run) • Castaspella (She-Ra and the Princesses of Power) • Cat (Kirakira Pretty Cure a la Mode) • Cat Crunch • Caterina (Shopkins) • Caterina Hat • Caterina the Kitty • Caterpea (Cookie Run) • Caterpillar (Webkinz) • Catra (She-Ra and the Princesses of Power) • Cedric Sidney Sneer • CeeCee (Hairdorables) • Celeste Rainbow Dress • Celeste Zest Cake • Celestia Ludenberg • Celestial Star • Celia Strawberry Spread • Celica Ayatsuki Mercury • Celina Crepe • Celine Cupcake Shoe • Center Stage • CereCere/Sailor Ceres • Chae Kyoung • Chai (Sanrio) • Chai (Shopkins) • Chandelia (Shopkins) • Chandler (Shopkins) • Chanko Nabeshima • Chantel Shoe • Chap-Elli (Shopkins) • Charizard (Pokemon) • Charles Cornflake • Charli Chocblock • Charlie (Hairdorables) • Charlie Charred • Charlie Cheese • Charlie Choc • Charlie Creamies • Charlie Hot Choc • Charlotte Charades • Charlotte Choco • Charlotte Heart Cake • Charlotte Magne • Charlotte Shades • Charmin' Chocolates • Charmmy Kitty • Charms Seven Carat • Charmy Bee • Charon (Jewelpet) • Charotte (Jewelpet) • Chase (PAW Patrol) • Chase Cookie • Chatter (Shopkins) • Chaz (The Loud House) • Checkers (Lalaloopsy) • Cheddar (Shopkins) • Cheddar Pringle • Chee Zee • Cheeky Babe • Cheeky Cherries • Cheeky Chirpy • Cheeky Chocolate • Cheeky Hedgehog • Cheer Captain • Cheer-Rara (L.O.L. Surprise!) • Cheerleader Cookie • Cheery Cherie • Cheery Churro • Cheese (L.O.L. Surprise!) • Cheese E. Chip • Cheese Grater Gabriella • Cheese Kate • Cheese Louise • Cheeseburger Chaser • Cheesecake Cookie • Cheesey Mac • Cheesy Bub • Cheesy Burrito • Cheesy Chomp • Cheesy Christy • Cheesy Go-Go • Cheesy Rider • Cheesy Twinzies • Cheesy Twirl • Cheesy Twist • Cheetor (Beast Wars: Transformers) • Cheez It • Cheezey B • Chef Gazpacho • Chef Hatchet • Cheffie Bun • Chelsea Charm • Chelsea Cheeseburger • Chelsea Cheez • Chelsea Choco • Chelsea Roberts • Cher Candied • Cheretzle (Num Noms) • Cheri Choc Chip Bread • Cheri Chocolate • Cheri Crisp • Cheri Grape Juice • Cherie Candy • Cherie Gummy • Cherie Prim 'N' Proper • Cherie Tomatoe • Cherry (Cinnamoroll) • Cherry (L.O.L. Surprise!) • Cherry Ann • Cherry Berry • Cherry Cake • Cherry Cheesecake • Cherry Chill • Cherry Chip • Cherry Choco • Cherry Clover • Cherry Cookie • Cherry Crisp Crust • Cherry Freezie • Cherry Gem Light-Up • Cherry Gloss-Up • Cherry Go-Go • Cherry Gummy Light-Up • Cherry Gummy Stamp-It • Cherry Ham • Cherry Heart • Cherry Jelly Go-Go • Cherry Light-Up • Cherry Nice Cupcake • Cherry Polish-It • Cherry Pop Tart • Cherry Ride • Cherry Rounds • Cherry Scoop • Cherry Slushy • Cherry Tart • Cherry Triplets • Cherry Vanilla Breyers • Cherry Vanilla Gloss-Up • Cherry-Anne (Shopkins) • Cherry-Pie Chaser • Chester Cheddar • Chester Cheesecake • Chestnut Cookie • Chet (Total Drama) • Chewy Choco • Chiari Tsukikage • Chibi Chibi/Sailor Chibi Chibi Moon/Sailor Cosmos • Chibimaru (Sanrio) • Chibiusa Tsukino/Sailor Chibi Moon • Chica (Five Nights at Freddy's) • Chica Chica • Chick-A-Dee (L.O.L. Surprise!) • Chicken Boo • Chico (Puyo Puyo) • Chico Amigo • Chico Chilli • Chico Pyramid • Chidi-Maru (Sanrio) • Chido Chills • Chie Sasaki • Chief O'Hara • Chief Quimby • Chieri Ogata • Chieri/Past Cure Flora • Chiffon (Fresh Pretty Cure!) • Chiffon (Sanrio) • Chifi-Maru (Sanrio) • Chihana Masumi • Chiharu Hiroe • Chihaya Kisaragi • Chihiro Fujisaki • Chika Takami • Chikurun (Witchy PreCure!) • Chili Go-Go • Chili Peppa • Chili Pepper Cookie • Chill (Club Penguin) • Chillax (L.O.L. Surprise!) • Chilli Momma • Chilli-anne Ice Cream • Chilly (Doc McStuffins) • Chilly (Shopkins) • Chilly Choco • Chilly Shades • Chilly The Kid • Chino (Shopkins) • Chip (Beauty and the Beast) • Chip (Chip 'n' Dale) • Chip (Sanrio) • Chip Choc • Chip Gloss-Up • Chip/Light Gaia • Chipp Zanuff • Chipper ChocChip • Chippi (Sanrio) • Chiri Tsukikawa • Chirp (Club Penguin) • Chisato Arashi • Chisato Shion • Chisato Shirasagi • Chitose Kurosaki • Chiyo Shirayuki • Chiyoko Sonoda • Chiyu Sawaizumi/Cure Fontaine • Chiyu Tamade • Chiyuki Kuwayama • Chizuru Nikaido • Chloe (The Secret Life of Pets) • Chloe Clown Shoe • Chloe Cola • Chloe Comb • Chloe Cupcake Bag • Chloe Curd • Chloe Flower • Chloé Bourgeois/Queen Bee • Choc Buds • Choc Chad • Choc Chip Racer • Choc Chips • Choc E. Tubs • Choc Frost • Choc Kiss • Choc Mint Breyers • Choc Mint Charlie • Choc N' Chip • Choc Pie • Choc Top • Choc-Cherry Wheels • Choc-Kate Sundae • Choc-O Twins • Chocky Box • Chocky Croissant • Choco A La Mode • Choco Banana Cookie • Choco Berry • Choco Chip • Choco Chip Waffle • Choco Cookie Gloss-Up • Choco Cream • Choco Crepe • Choco Croissant • Choco Cup Cookie • Choco Drop • Choco Dunk • Choco Fortune • Choco Glaze • Choco Go-Go • Choco Heart • Choco Lava • Choco le Choux • Choco Mushroom • Choco Nana • Choco Nilla • Choco Ring Lion Cookie • Choco S'Mores Gloss-Up • Choco Sprinkles • Choco Square • Choco Swirl • Choco Swirl Crepe • Choco Taco • Choco Waffle • Choco Wheat • Choco Whirl Swirl • Choco-Mint Froyo • Choco-Razz Gloss-Up • Chocoberry Pie • Chococat (Sanrio) • Chocolate Cake Jake • Chocolate Ma • Chocolate Roxy • Chocolate Twins • Chocolatey Cocoa • Chopped Corn • Choppy (Futari wa Pretty Cure Splash Star) • Choromatsu (Mr. Osomatsu) • Chourou (Kirakira Pretty Cure a la Mode) • Chris (Oh Yeah! Cartoons) • Chris Corny • Chris Koron • Chris P Crackers • Chrissie Carol Dress • Chrissy Cream • Chrissy Present • Chrissy Puffs • Christina Candy • Christopher Robin • Christy Candy • Chrom (Fire Emblem) • Chubby Tomato • Chucho Chilli Sauce • Chuchu (Show by Rock!!) • Chuck (Angry Birds) • Chuck (Papa Louie) • Chucky Chip • Chucky Chunk • Chun-Li (Street Fighter) • Chunky Choco • Chunpī (Yes! PreCure 5) • Churaffle (Num Noms) • Churro Cookie • Churro Sparkle • Churro Stump • Chypre (HeartCatch PreCure!) • Ciara Creamy • Cici Science • Ciel (Puyo Puyo) • Ciel Kirahoshi/Kirarin/Cure Parfait • Cinder Slippers • Cinderella (Cinderella) • Cindy Bon • Cindy Centerpiece • Cindy Cereal • Cindy Cinnamon • Cindy Citrus • Cindy Glow • Cindy Pops • Cindy Sweets • Cinna Churro • Cinna Cream • Cinna Snap • Cinna Toasties • Cinnamon Bunny • Cinnamon Cindi • Cinnamon Cookie • Cinnamon Sally • Cinnamoroll (Sanrio) • Cir-CUT (L.O.L. Surprise!) • Citrus Bean Twins • Citrus Berry • Citrus Blizzard • Citrus Glazed • Citrus Pop • City Boi • City Slicker • CJ (JumpStart) • CJ Cuddles • Claire Chair • Claire Cherry • Claire Straightener • Claire Éclair • Clanosuke (Miracle Tunes!) • Clara a la Crème • Clara Candy • Clara Cluck • Clara Coco • Clarabelle Cow • Clarice (Chip 'n' Dale) • Clarity Glitter Gazer • Clark Kent/Superman • Classic Klondike • Claudia Cake • Clawdeen Wolf • Claws (L.O.L. Surprise!) • Cleats (L.O.L. Surprise!) • Cleo Cookie Cake • Cleo de Nile • Clicky Mouse • Clint Barton/Hawkeye • Cloe (Bratz) • Cloud Cookie • Cloud E. Sky • Cloud Pelican • Cloud Strife • Clover (Papa Louie) • Clover (Totally Spies!) • Clover Cupcake • Clown Fish (Webkinz) • Clutch (Shopkins) • Clyde McBride • Cobalt (She-Ra and the Princesses of Power) • Coby Comb • Cocker Spaniel (Webkinz) • Coco (Mermaid Melody) • Coco Anna • Coco Bear • Coco Bun Bun • Coco Cali • Coco Cookie • Coco Cupcake • Coco Custard • Coco Ganache • Coco Glaze • Coco Hammy • CoCo Knot Twins • Coco Le Sips • Coco Mint • Coco Nutty • Coco Pup • Coco Sammich • Coco Swirl • Coco Toasty Twins • Coco Von Sparkle • Coco/Koji Kokoda • Cocoa (Sugarbunnies) • Cocoa Cookie • Cocoa Mallow • Cocoa Roll • Cocolette (Shopkins) • Coconut Car • Coconut Cream Cookie • Coconut Q.T. • Coconutta Donut • Cody Coco • Coffee Berry Cookie • Coffee Cookie • Coffee Drip • Coffret (HeartCatch PreCure!) • Cogsworth (Beauty and the Beast) • Coin Scale • Cola Gloss-Up • Cola Walrus • Colleen Curly • Cologne (HeartCatch PreCure!) • Color Cake • Colorful Clutch • Colorissa (Shopkins) • Comet (Hairdorables) • Comfy Chair • Comfy Cushion • Commissioner Goldstar • Coned Vine • Coney (Shopkins) • Confetti Carnivale • Confetti Cookie • Confetti Jelly • Confetti Kitty • Connie Cash • Connie Coin Bag • Connie Confetti • Connie Console • Connor (Cubix: Robots For Everyone) • Connor (Papa Louie) • Connor/Catboy • Constance Hatchaway • Constanze Amalie von Braunschbank-Albrechtsberger • Cony Balloon • Coo (Kirby) • Coo Bird • Cookie Cake Roll • Cookie Cream Breyers • Cookie Dough Breyers • Cookie Glaze • Cookie Monster • Cookie Nut • Cookie S'mores • Cookie Sue Flay • CookieAnn (Duffy and Friends) • Cookiedroid (Cookie Run) • Cookies 'n' Cream • Cool Cube • Cool Mint Polish-It • Cool Scribbler • Coolie Cucumber • Coolio (Shopkins) • Copper (The Fox and the Hound) • Cora Cotton • Coral Cupcake • Coral Sea Shells • Coralee (Shopkins) • Coreen Croissant • Corey Compact • Corey Cookie Bag • Corey Cupcake • Corinne Crackers • Cornelia Ice Cream • Cornelia Popcorn • Cornell Mustard • Cornie Checkers • Corniella (Shopkins) • Corny Bunny • Corny Cob • Corny Shreds • Corocorokuririn (Sanrio) • Corrin (Fire Emblem) • Cory Custard • Cory Matthews • Cosmic Nova • Cosmic Queen • Cosmic Rider • Cosmo (Sonic) • Cosmo (The Fairly OddParents) • Cosmo Hojo • Cosmos Gear • Cotton Candice Dress • Cotton Candied • Cotton Candy Bird • Cotton Candy Cookie • Cotton Candy Donut • Cotton Candy Eraser • Cotton Candy Gem Light-Up • Cotton Candy Gloss-Up • Cotton Candy Jelly • Cotton Candy Polish-It • Cotton Candy Shake • Cotton Cloud • Cotton Créme Gloss-Up • Cotton Hoppalong • Cotton Jelly • Cotton Kitty • Cotton Kitty Bean • Cotton Knots • Cotton Rock Light-Up • Cotton Squares • Cotton Top Cake • Cottontail Q.T. • Cottony Cakes • Cottony Creamy • Count von Count • Countess (L.O.L. Surprise!) • Countess Keyia • Country Cow • Country Critter • Coupe/Mysterious Guy • Courage (Courage the Cowardly Dog) • Court Champ • Courtney Cake • Courtney Candy • Courtney Carrot • Cousin Cool • Cowabelle Cowoline • Cowardly Kitty • Cozy Babe • Cozy Bunny • Cozy Kitty • Cozy Yarn • Cranky (Where's My Water?) • Crash Bandicoot • Cream Berry Jelly • Cream Cookie • Cream E Cookie • Cream E. Custard • Cream Puff Cookie • Cream the Rabbit • Cream Unicorn Cookie • Creamy Biscuit • Creamy Bun-Bun • Creamy Classic • Creamy Cookie Cupcake • Creamy Cutie • Creamy Naners • Creamy Pop • Crepe Suzzane • Crescendo (Suite PreCure) • Crescent Crown • Crimson (Shopkins) • Crispy Chip • Crocodile Ashley • Crocoplier (Cookie Run) • Croissant d'Or • Croissant/Timekeeper Cookie • Cronella Donut • Crong (Pororo the Little Penguin) • Crown Jules • Cruella de Vil • Cruisey Cap • Cruisy Croissant • Crumbs Sugar Cookie • Crunch (L.O.L. Surprise!) • Crunch Bandicoot • Crunchy Coco • Crunchy Corn • Crunchy Munch • Crying Saucer • Crystal Blue (Crystal Wishes Journey) • Crystal Bunny • Crystal Drop • Crystal Green (Crystal Wishes Journey) • Crystal Liza • Crystal Quartz • Crystal Queen • Crystal Red (Crystal Wishes Journey) • Crystal Snow • Crystal Snowflake • Crystal Star • Crystal W. Berry • Crystal Wings • Cuatro (Ferdinand) • Cucumber Gloss-Up • Cucumber Melon Gloss-Up • Cuddle Cake • Cuddles Snow Boot • Cuervo Bonito • Cumquat (Shopkins) • Cupcake Bub • Cupcake Chic • Cupcake Cruiser • Cupcake Crumbles • Cupcake Fashionista • Cupcake Mallow • Cupcake Petal • Cupcake Princess • Cupcake Queen • Cupcake Queenie • Cuphead (Cuphead) • Cupicorn (Shopkins) • Cuppa Cocoa • Cuppa Cocoa Carl • Cure Ange (HeartCatch PreCure!) • Cure Continental • Cure Earl • Cure Echo-lookalike • Cure Empress • Cure Gonna • Cure Jungle • Cure Katyusha • Cure Magician • Cure Matador • Cure Nile • Cure Pantaloni • Cure Priestess • Cure Shelly • Cure Southern Cross • Curious Hammy • Curious Q.T. • Curls 'N' Locks • Curly (Shopkins) • Curly Fries • Custard Cookie III • Cute Boot • Cute Fruit Jello • Cutecumber Sandwich • Cutie Carrot • Cutie Clutch • Cutie Compact • Cutie Cotton • Cutie Cream • Cutie Crush Cookie • Cutie Crust • Cutie O's • Cutie Poop • Cutiecorn (Shopkins) • Cyan Hijirikawa • Cyborg (Teen Titans) • Cyborg Cookie • Cygnus Hyoga • Cynthia Celery • Cyrus Citrus • D'lish Delivery • D'lish Donut • D.J. (L.O.L. Surprise!) • D.J. Bounce • D.J. Hammy • D.J. K9 • D.J.K.T. (L.O.L. Surprise!) • D.W. Read • Da Boss • Da Fresh • Dabyi (DokiDoki! PreCure) • Dachōn (Yes! PreCure 5) • Dad-tan (Flint the Time Detective) • Dadda Dairy • Daddy Cakes • Daddy Candy • Daddy Choc Block • Daddy O'Pop • Daddy Sweets • Daffy Duck • Dahlia (Angry Birds Stella) • Daigo Kabuto • Dainty Dough • Daisy (Aikatsu Stars!) • Daisy (Hairdorables) • Daisy (T.U.F.F. Puppy) • Daisy (The Secret Life of Pets) • Daisy Doe • Daisy Donut • Daisy Duck • Daisy Petals • Daisy the Bunny • Daizzi (Miraculous: Tales of Ladybug & Cat Noir) • Dakota (Total Drama) • Dale (Chip 'n' Dale) • Damian (Mean Girls) • Dan Pancake • Dana Barrett • Dana Dance Trophy • Dana Donut • Dancebot (L.O.L. Surprise!) • Danger Mouse • Danica Dress • Daniella Dress • Danni Danish • Danny Phantom • Daphne Blake • Dapper (Shopkins) • Darby (My Friends Tigger & Pooh) • Darci Diary • Daria Duckie • Daring Diva • Daring Doggie • Dark Cacao Cookie • Dark Choco Cookie • Dark Spirit Helmet • Darkwing Duck/Drake Mallard • Darling (L.O.L. Surprise!) • Darling Brightside • Darling Drop • Daroach (Kirby) • Darwin (Club Penguin) • Darwin Watterson • Dash Parr • Dave the Minion • David Read • Dawn (L.O.L. Surprise!) • Dawn (Pokemon) • Dawn (Total Drama) • Dawn Pooch • Dazzle 'N' Gleam • Dazzle (L.O.L. Surprise!) • Dean Gate/Doorman • Dear Daniel • Death (Final Destination) • Death (Tarot card) • Debbie Dragon • Decaf (Shopkins) • Dee Dee • Dee Lightful • Deery-Lou (Sanrio) • Deidre (Shopkins) • Deimos (Sailor Moon) • Delish Destiny • Della Duck • Den Den • Dennis Ball • Dennis Bat • Denzel Crocker • Derek Blunt • Devil Cookie • Deviled Egg • Dewey Duck • Dex Dangerous • DHX Media • Di Mond Ring • Di Monte • Dia (Shugo Chara!) • Dia Kurosawa • Dia Nijinosaki • Diamantè Drive • Diamond Donuts • Diamond Tiara • Diamonty (Shopkins) • Diana (Sailor Moon) • Diana Cavendish • Diana Diamond • Diana Dress • Diana Prince/Wonder Woman • Dib Membrane • Diced Dixie • Diddy Kong • DiDi Diamond • Digit (Cyberchase) • Dillon (Hairdorables) • Dinah the Dachshund • Dinky Drink • Dino Egg • Dino-Sour Cookie • Dio Brando • Dip N Dunk • Dip Shoestrings • Dippy Avocado • Dippy Donut • Dippy Donut (Shopkins Family Mini Packs) • Dipsy Razz • Disco Doggie • Disco Queen • Discord (My Little Pony) • Discordeon (Cookie Run) • Discovery Family • Disgust (Inside Out) • Dishy Liquid • Diva (L.O.L. Surprise!) • Diva Designer Bag • Diva Stripes • Dixie Kong • Dizzy (Guilty Gear) • Dizzy Devil • DJ (Total Drama) • DJ Beats • DJ Cookie • Do-Si-Dude (L.O.L. Surprise!) • Doc (Snow White and the Seven Dwarfs) • Doc Greene • Doc Hudson • Dodger (Oliver & Company) • Dodory (Suite PreCure) • Doggie Stardust • Doggy Bowl • Doh-Li Ling • Doki (character) • Doll-Hammy (L.O.L. Surprise!) • Doll-Kitten (L.O.L. Surprise!) • Dollface (L.O.L. Surprise!) • Dollie (L.O.L. Surprise!) • Dollmatian (L.O.L. Surprise!) • Dollop Cottonwich • Dollop Light 'N' Fluffy • Dollops (Shopkins) • Dolly Donut • Dolly Donut (Shopkins Season 5) • Dolores Dress • Donald (Thomas & Friends) • Donald Duck • Donatina (Shopkins) • Donguri Gaeru • Donkey (Shrek) • Donkey Kong • Donna Donut • Donnie Donut • Donut D'luxe • Donut Dadda • Donut Express • Donut Stamp-It • Donutella Tree • Dopey (Snow White and the Seven Dwarfs) • Doraemon (Doraemon) • Doremi Harukaze • Dorothy Ann • Dorothy the Dinosaur • Dorothy West • Dory (Suite PreCure) • Dos (Ferdinand) • Dot (Club Penguin) • Dot (Scribble Hero) • Dot Polka • Dot Starlight • Dot Warner • Dottie Cakes • Dottie DeMil • Dottie McStuffins • Dotty Gale Winds • Dottyback (Lalaloopsy) • Double Bubble • Double Cone • Double Trouble • Doug the Dog • Douglas (Thomas & Friends) • Downtown B.B. • Downtown Doll • Downtown Hop • Dr. Crygor • Dr. Daniel Caine/The Ooze • Dr. Fox • Dr. Hachisuka • Dr. Heinz Doofenshmirtz • Dr. Nefario • Dr. Quack • Dr. Reginald Bushroot • Dr. Sara Bellum • Dr. Wasabi Cookie • Draco Centauros • Draculaura (Monster High) • Drag Racer • Dragon (Puyo Puyo) • Dragon Dragster • Dragon Fruitling • Dragon Shiryu • Dragon's Tail • Dream E. Wishes • Dream Ghost • Dreamcatcher (Cookie Run) • Dreamer (L.O.L. Surprise!) • Dreamin' B.B. • Dreamy Dude • Dreamy Hops • Dressica (Shopkins) • Dribble (WarioWare, Inc.) • Dribbles (L.O.L. Surprise!) • Dribbles (Shopkins) • Drifter Gift • Drip Drop • Drips (Shopkins) • Dru Gru • Dry Bones • Dry-anne (Shopkins) • Duchess (The Aristocats) • Duck Hunt • Duck the Great Western Engine • Duck Valentina • Duck/Princess Tutu • Ducky (Toy Story) • Ducky (Where's My Water?) • Dudley Puppy • Duffa (Shopkins) • Duffy the Disney Bear • Duke (The Secret Life of Pets) • Duke Caboom • Duleena Duneeda • Dum Mee Mee • Dumbbell Twins • Dumbo (Dumbo) • Duncan (Shopkins) • Duncan (Total Drama) • Dunk Shoestrings • Durian I • Dusk (L.O.L. Surprise!) • Dusk (Scooby-Doo) • Dusk Raven • Dust Unicorn • Dustin Henderson • Dusty Cocoa • Dusty Pan • Dwayne (Total Drama) • Dylan Horn • Dyna Might • E.D.M. Scratch • E.D.M.B.B. (L.O.L. Surprise!) • Earl Grey Cookie • Earring Twins • Eartha (Mysticons) • Earthy B.B. • Eau De Splatters • Eclipsa Butterfly • Ed (Ed, Edd n Eddy) • Eda Mama • Edd (Ed, Edd n Eddy) • Edd (Eddsworld) • Eddie Kaspbrak • Eddy (Ed, Edd n Eddy) • Eddy (Pororo the Little Penguin) • Edgar Eggcup • Edie Von Keet • Edith Gru • Edward Elric • Edward Nigma/The Riddler • Edward the Blue Engine • Eerie Anglerfish • Eevee (Pokemon) • Eeyore (Winnie the Pooh) • Egg Cart • Eggbert Tamago • Eggchic (Shopkins) • Eggie Ed • Eggo Waffle • Eggspress Van • Egon Spengler • Eijiro Kirishima • Einhart Stratos • El (Shugo Chara!) • Elain-Bow Shoe • Elder Bamboo • Eleanor (JumpStart) • Eleanor Seville • Electric Beat • Electric Critter • Electro Lemon • Elena (Jewelpet) • Elena Amamiya/Cure Soleil • Elena Shimabara • Eli Ayase • Elias (Panel de Pon) • Elisa Celjska • Elizabeth Earring • Ella Eggo • Ella Powder Puff • Ella Rain • Ella Sparkle • Ella Tower Cake • Ella Ween • Elle (Puyo Puyo) • Elle Cake • Ellen Melon • Ellerina Slippers • Ellody (Total Drama) • Elly Album • Elmer Fudd • Elmo (Sesame Street) • Elphelt Valentine • Elsa (Frozen) • Elza Forte • Ema Hinata • Ema Shinjo • Ember Flicker Flame • Ember McLain • Emerald Babe • Emerald Goldenbraid • Emerald Golem • Emi Namba • Emily (Arthur) • Emily (Hairdorables) • Emily (She-Ra and the Princesses of Power) • Emily Stewart • Emily the Emerald Engine • Emiru Aisaki/Cure Macherie • Emma (Hairdorables) • Emma (Ninjala) • Emma (Total Drama) • Emma Eggplant • Emma Emerald • Emma Ross • Emma Verde • Emma Wiggle • Emmet Brickowski • Emo Moegi • EnEn (Pretty Cure All Stars) • Energy Drink Cookie • Energy Scale • English Rose • Entrapta (She-Ra and the Princesses of Power) • Erena Todo • Eri Aizawa • Eri Mizutani • Erica Eraser • Erica Sinclair • Erika J.J. • Erin Earring • Eris (The Grim Adventures of Billy & Mandy) • Ernest Penfold • Ernie (Sesame Street) • Es (BlazBlue) • Espeon (Pokemon) • Espio the Chameleon • Espresso Cookie • Ess (Puyo Puyo) • Eternalun (Futari wa Pretty Cure Max Heart) • Etia Visconti • Eungsim (Banzi's Secret Diary) • Eunice Unicorn Dress • Eve Kagayaki • Eve Wakamiya • Evelynn (League of Legends) • Everest (Abominable) • Ex (Puyo Puyo) • Ezreal (League of Legends) • Fab Fungi • Fabulous Frank • Fagin (Oliver & Company) • Fairy Cone Cruiser • Fairy Crumbs • Fairy Daffodil • Fairy Fern • Fairy Godmother (Cinderella) • Fairy Lilac • Fairy Tulip • Fairycake Racer • Faith Feathers • Faith Frosting • Falala•A•Larm (PriPara) • Falco (Power Instinct) • Falco Lombardi • Falkner (Pokemon) • Fame Queen • Fami (Ojamajo Doremi) • Fan Boy/Atomic • Fancy (L.O.L. Surprise!) • Fancy C.C. • Fancy Fascinator • Fancy Feather • Fancy Frost 'N' Glaze • Fancy Haute Dog • Fancy Peep • Fanime (L.O.L. Surprise!) • Far Out • Farkle Minkus • Faruru (PriPara) • Fary (Suite PreCure) • Fast Flakes • Fast Fries • Fasta Pasta • Fate Testarossa • Fauna (Sleeping Beauty) • Faust/Dr. Baldhead • Fear (Inside Out) • Feather Tell-a-Tale • Feathers (L.O.L. Surprise!) • Fei Fei • Fei Wu/Ladydragon • Feli (Puyo Puyo) • Felicia (Darkstalkers) • Felicia Fondue • Felicia Mitsuki • Felicity Fieldmouse • Felonious Gru • Ferb Fletcher • Ferdie Fieldmouse • Fern Walters • Ferocious (L.O.L. Surprise!) • Festive B.B. • Fi Fi Flour • Fico (Doki) • Fiddler Pig • Fierce (L.O.L. Surprise!) • Fierce Meow • Fiesta Flan • Fievel Mousekewitz • Fifer Pig • Fifi (Beauty and The Beast) • Fifi Fruit Tart • Fifi La Fume • Fifi Le'Fluff • Fifi the Peke • Fig Cookie • Figaro (Pinocchio) • Figure 8 • Finn (Adventure Time) • Fiona Fairy Skirt • Fiona Feathers • Fiona Flipover • Fiona Frenchy • Fiona Fries • Fire Spirit Cookie • Firecracker Cookie • Firecracker Popsicle • Firestarter (Cookie Run) • Fish Flake Jake • Fish Zoey • Fishtix (Shopkins) • Fishurī (Yes! PreCure 5) • Fix-it Felix Jr. • Fizzy Fireworks • Fizzy Soda • Fizzy Soda (Shopkins World Vacation) • Flakey Frances • Flakey Frida • Flamberge (Kirby) • Flame Bat • Flame Princess • Flantasy Berry • Flap Jackie • Flap Jacques • Flappy (Futari wa Pretty Cure Splash Star) • Flappy Cap • Flare (Club Penguin) • Flare (Panel de Pon) • Flareon (Pokemon) • Flash Camera • Flash Sentry • Flashy Fashionsta • Flat (Sanrio) • Flava Ava • Fleur Flour • Fleur Mingo • Flicker (Shopkins) • Flicker Candle • Flicky (Flicky) • Flip (Little Nemo) • Flip Fairy Slipper • Flippa Flops • Flipper Bean • Flippy (Shopkins) • Flipside (L.O.L. Surprise!) • Flit (Club Penguin) • Flitter Purse • Floppy (Shopkins) • Floppy Hat • Floppy Sandal • Flora (Sleeping Beauty) • Flora (Winx Club) • Flora (Yes! PreCure 5 GoGo!) • Flora Floral Bouquet • Flora Honey • Flora Kiwi • Flossy Donut • Flounder (The Little Mermaid) • Flower Child • Flower Doodle • Flower Kid • Flower Tortilla • Flowercopter (Cookie Run) • Flubby (Ghostforce) • Fluff (L.O.L. Surprise!) • Fluff (Miraculous: Tales of Ladybug & Cat Noir) • Fluff Knots • Fluffington St. Bernard • Fluffy Bread • Fluffy Brushy • Fluffy Buffy Shoes • Fluffy Buffy Sneaker • Fluffy Cheese Cat • Fluffy Pouncy Paws • Fluffy Slipper • Fluffy Snow Ball • Fluffy Souffle • Flushes (Shopkins) • Flutter Cake • Flutter Frosting • Fluttershy (My Little Pony) • Flutterwings (Lalaloopsy) • Foghorn Leghorn • Foodini (Papa Louie) • Foop (Futari wa Pretty Cure Splash Star) • Ford Pines • Forest Evergreen • Forest Ranger Dan • Forgotten Stocking • Forky (Toy Story) • Forrest Black • Forte (True Tail) • Fortune Stella • Four (Battle for Dream Island) • Fox Bead • Fox McCloud • Foxie (Shopkins) • Foxy (Five Nights at Freddy's) • Foxy (L.O.L. Surprise!) • Foxy Flyer • Foxy Lemons • Fran Fruit Hat • Fran Pancake • Frances Fluff • Francine Frensky • Francis "Major" Monogram • Francis Franc • Francisca (Kirby) • Francisca Fan • Francisco (T.U.F.F. Puppy) • Frank Furter • Frank G. Castle/Punisher • Frank Givings • Frankie (JumpStart) • Frankie Greene • Frankie Stein • Franky (Club Penguin) • Frappe (Sanrio) • Freakazoid (Freakazoid!) • Fred (Big Hero 6) • Fred Jones • Fred Rover • Freda Fern • Freda Frosting • Freddy Fazbear • Freddy Fish 'n' Chips • Freddy Fried Chicken • Freddy Fried Rice • Freddy Krueger • Frederica Miyamoto • Freestyle (L.O.L. Surprise!) • Freezy Bites • Freezy Peazy • French Toast Coaster • Frenchie Curls • Frenchie Fries • Frenchy Perfume • Frenchy Tower • Fresh (L.O.L. Surprise!) • Fresh Feline • Fria Froyo • Frieda Fry • Fries Curls 'N' Crinkles • Frilly Kitty • Frilly Tutu • Frogurt (Shopkins) • Fronk (WarioWare, Inc.) • Frost I.C. Cone • Frost T Fridge • Frosta (She-Ra and the Princesses of Power) • Frosted Caramel • Frosted Flakes • Frosted Flakey • Frosted Pink-Ade • Frosty Choco • Frosty S. Berry • Frosty Shaved Ice • Frosty Unicorn • Frozen Fran Banana • Frozen Yocart • Fruit Doe • Fruit Loopsy • Fruity Slice • Fruity Strip • Fruity Zoomer • Frusha Salad • Frying Van • Fudgey (Shopkins) • Fudgey Stripes • Fudgy Square • Fuka Reventon • Fuka Tachibana • Fuka Toyokawa • Fumika Mori • Fumika Sagisawa • Fun Drum • Funk Bunny • Funky Kat • Funky Kong • Funky Q.T. • Furball Pup • Furrball (Tiny Toon Adventures) • Furry Grrs-a-Lot • Furry Treasure • Fuwa (Star Twinkle PreCure) • Fuwari Midorikaze • Fuwatorin (Yes! PreCure 5) • Fuyuko Mayuzumi • Fuzzy Fan • Fyre (L.O.L. Surprise!) • G (Kuu Kuu Harajuku) • G Billy • Ga Ga Gourmet • Gaaruru (PriPara) • Gabby Gamer • Gabby Grape • Gabi (Doki) • Gabriel (Gabriel DropOut) • Gabriella Grape • Gaby Goody • Gadget Hackwrench • Gail Garlic • Gala Q.T. • Galala•S•Leep (PriPara) • Galaxy Pop • Gale Scales • Ganta (Sanrio) • Gapugapū (Yes! PreCure 5) • Garlic Rose • Garnet (Jewelpet) • Garnet (Steven Universe) • Garth Bravebark • Gary Gumdrop • Gary the Gadget Guy • Gaz Membrane • Gear Guy/Titanium • Gelatoni (Duffy and Friends) • Gelton John • Gemicorn (Shopkins) • Gemini (Star Twinkle PreCure) • Gemma (Hairdorables) • Gemma Bottle • Gemma Stone • Gemma Stone (Shopkins) • Genbu Kurono • Gene Le'Cream • General Alissa Cyan • General Jujube Cookie • General Warthog • Genie (Aladdin) • Genie (L.O.L. Surprise!) • Genie Machine • Genshi (Flint the Time Detective) • Geoff (Total Drama) • George Beard • Georgia Peach • Georgie Denbrough • Georgito (Papa Louie) • Gerry (Total Drama) • Gertie Raccoon • Gerty Waffle Cup • Ghost Butler • Ghurty (Shopkins) • Gi-chan (Six Hearts Princess) • Giant Neo • Gidget (The Secret Life of Pets) • Giffany (Gravity Falls) • Giggle McDimples • Giggly Fruit Drops • Gigi Gelato • Gigi Gift • Gilberto Guitar • Ginger Claus • Ginger Fred • Ginger-Bear (Num Noms) • GingerBrave (Cookie Run) • Gingerbread Go-Go • Ginka Shirokane • Gino Gelati • Giovanna (Guilty Gear) • GIR (Invader Zim) • Giraffe Josie • Girlfriend (Friday Night Funkin') • Giselle (Enchanted) • Gizmoduck/Fenton Crackshell • Glaceon (Pokemon) • Gladstone Gander • Glama Llama • Glamour Queen • Glamstronaut (L.O.L. Surprise!) • Glasan (HappinessCharge PreCure!) • Glaze (Num Noms) • Glazed Cone • Glenn Grape Juice • Glimmer (She-Ra and the Princesses of Power) • Glimmer (Shopkins) • Glitch (L.O.L. Surprise!) • Glitter (Num Noms) • Glitter Ball • Glitter Berry • Glitter Grams • Glitter Poodle • Glitter Queen • Glitter Surprise Gloss-Up • Glittery Berry Go-Go • Gloria (Pokemon) • Gloria Grams • Glossie (Shopkins Happy Places) • Glossie (Shopkins) • Glow (L.O.L. Surprise!) • Glow Grrrl • Go Go Tomago • Go-Go Birdie • Go-Go Donut • Go-Go Gurl • Gobble Gobblin' Chest • Goblin Cookie • Godzilla (Godzilla) • Gogo Dodo • Gold Drop • Golden B.B. • Golden Cheese Cookie • Golden Gleam • Golden Harp • Golden Ox • Golden Raisin • Golden Retriever (Webkinz) • Goldie Bow • Goldie Cake • Goldie Fishbowl • Goldie Luxe • Goldie Syrup • Goldie Wedding Band • Goo Goo Egg • Goo-Goo Mew-Mew • Goo-Goo Queen • Goober (Webkinz) • Good Night Gown • Goodie (L.O.L. Surprise!) • Goodie Luck • Gooey (Kirby) • Goofy (Mickey Mouse) • Googy (Shopkins) • Goomo (Jelly Jamm) • Goose (Captain Marvel) • Gopher (Winnie the Pooh) • Gordon (Sesame Street) • Gordon the Big Engine • Gorilla Kylie • Goro (Badtz-Maru) • Gosalyn Mallard • Grace Baseball Bat • Grace Grams • Grace Grape Popsicle • Gracie Birthday Cake • Gracie Feathers • Gracie Gifts • Gracie Grape • Gracie Grape (Num Noms: Series 3 Lights) • Graham Gals • Gran Grapefruit • Gran Jam • Grandma Duck • Grape Freezie • Grape Gem Light-Up • Grape Gloss-Up • Grape Goody • Grape Gummy • Grape Jelly • Grape Jelly Go-Go • Grape Light-Up • Grape Polish-It • Grape Rocks • Grape Soda Pop • Grape-O-Licious Slushie • Grapefruit Cookie • Grapevine Stripes • Grapey Juicy • Grapple Gloss-Up • Grapy Gretchen • Grassy (Cookie Run) • Green Army Men • Green Cure (Wonderful Net Pretty Cure) • Greg (Hairdorables) • Greg (Papa Louie) • Greg Wiggle • Greg/Gekko • Gremmie (Papa Louie) • Grenade Man • Greninja (Pokemon) • Greta Sweater • Gretta Gum • Gretti Spaghetti • Grey Arabian (Webkinz) • Grey O' Brien • Grey Owl (Webkinz) • Grift (Shopkins) • Grim (The Grim Adventures of Billy & Mandy) • Grim Gloom • Grizz (L.O.L. Surprise!) • Grizzly (We Bare Bears) • Grizzly Grape • Groovy Babe • Groovy Glasses • Grover (Sesame Street) • Grr Majesty • Grumpy (Snow White and the Seven Dwarfs) • Grunge Grrrl • Grunge Skunnnk • Gudetama (Sanrio) • Gumball Gabby • Gumball Go-Cart • Gumball Watterson • Gumby (Gumby) • Gumi (Vocaloid) • Gummy Drop Twins • Gunter (Sing) • Guppy (Aikatsu!) • Gureru (Pretty Cure All Stars) • Gus (Cinderella) • Gus Goose • Gus Mustard • Guttobatton (Yes! PreCure 5) • Gwen (Total Drama) • Gwen Stacy/Spider-Woman • Gyoniku (Sanrio) • Gyro Gearloose • Gōremun (Yes! PreCure 5) • Ha-chan/Kotoha Hanami/Cure Felice • Hachette Book Group • Hades: Izanami • Hagumi Kitazawa • Hagumi Nono/Hugtan/Cure Tomorrow • Hagumu Azumi • Hai Lantern • Hajime Fujiwara • Hajime Hinata • Hakase (Nichijou) • Hakumen (BlazBlue) • Hal (Angry Birds) • Hal Jordan/Green Lantern • Hal the Dog • Haley Galaxy • Haley Hot Dog • Haley Sweet Heart • Hamm (Toy Story) • Hammer Bro • Hammy Burger • Hammy Tide • Hamton J. Pig • Hana Makihatayama • Hana Nono/Cure Yell • Hana-Maru (Sanrio) • Hanamaru Kunikida • Hanausa (Sugarbunnies) • Hanayo Koizumi • Hanazuki (Hanazuki: Full of Treasures) • Hand of Liker • Handbag Harriet • Hangyodon (Sanrio) • Hank (Papa Louie) • Hannah Flana • Hannah Hash Brown • Hannah Hibiscus • Hanon Hosho • Hans Accordion • Hanta Sero • Hapinen (Futari wa Pretty Cure Max Heart) • Happy (Snow White and the Seven Dwarfs) • Happy B. SUV • Happy Daisy Crown • Hariham Harry • Harleen Quinzel/Harley Quinn • Harlequin Girl • Harley Headphones • Harlow (Hairdorables) • Harmonin (Futari wa Pretty Cure Max Heart) • Harmony (Hairdorables) • Harmony (Shopkins) • Harmony B. Sharp • Harold McBride • Harold the Helicopter • Harper Finch • Harriet Hairdryer • Harry (Pororo the Little Penguin) • Harry Hamsterball • Harry Hotdog • Harry Warden/The Miner • Hartmann (Puyo Puyo) • Haru Yuuki • Haruhito Sugiyama • Haruka Amami • Haruka Hani/Pink Princess • Haruka Haruno/Cure Flora • Haruka Kanade • Haruka Tenou/Sailor Uranus • Haruka☆Ruka (Aikatsu Stars!) • Haruna (Pretty Cure All Stars) • Haruna Kamijo • Haruna Wakazato • Harvey Honeycomb • Hat of Santa • Hatrod (Shopkins) • Hatsune Miku • Hattie Hat • Havana Blue Cupcake • Hayate Hisakawa • Hayate Yagami • Hayato Akiyama • Hayley Hops • Hazama (BlazBlue) • Hazelnut (Lalaloopsy) • Hazuki Aranada • Hazuki Fujiwara • HBO • Headphone Sloane • Heart (Futari wa Pretty Cure Max Heart) • Heart Barker • Heart Berry • Heart Braker • Heart Candy Monkey • Heart Lights • Heart-Berry Checkers • Heartbreaker (L.O.L. Surprise!) • Heartly (Shopkins) • Hearts Cookie • Hearty Spaghetti • Heather Hearts • Heather's father • Heatwave (Transformers: Rescue Bots) • Heavenly Froyo • Heavy (Team Fortress 2) • Hed (Puyo Puyo) • Hedgehug (Shopkins) • Heel (Shopkins) • Heelina Frosting • Heels (Shopkins) • Heely (Shopkins) • Heidi Handbag • Heidi Handbag (Shopkins World Vacation) • Heidi Hibiscus • Heimdall (Thor) • Helen Helmet • Helen Hugs • Helen Melon • Helen Parr/Elastigirl • Hello Kitty • Helmsman Will • Help-R (L.O.L. Surprise!) • Henri de la Possum • Henri Wakamiya/Cure Infini • Henry the Green Engine • Henry the Octopus • Her Lil Majesty • Her Majesty • Herappun (Yes! PreCure 5) • Herb Cookie • Herb L. Teabag • Herb Powell • Herb Teapot • Herbert (Shopkins) • Herman Zechariah Stroll • Hermes Conrad • Hermione Granger • Hero (Dragon Quest) • Hero Cookie • Hi (Shopkins) • Hibiki Ganaha • Hibiki Kohaku • Hibiki Shikyoin • Hibiki Tenshō • Hibiki Toudou • Hidarin (Yes! PreCure 5) • Hidden Hermit • Hideo Akuno • High Tea Helen • Highness Heels • Hikari Kujou/Shiny Luminous • Hikari Minowa • Hikari Shiratori • Hikaru Hoshina/Cure Star • Hikaru Kirari • Hikaru Nanjo • Hilary Higgenbottom • Hildy Gloom • Hillary Harp • Himalayan Cat (Webkinz) • Himari Arisugawa/Cure Custard • Himari Uehara • Himawari (Rilu Rilu Fairilu) • Hime Shiratori • Hime Shirayuki/Cure Princess • Himena Aika • Himiko Yumeno • Hina Araki • Hina Hikawa • Hinaki Shinjō • Hinako Kita • Hinako Nijikki • Hinana Ichikawa • Hinata (Futari wa Pretty Cure Max Heart) • Hinata Asaka • Hinata Hiramitsu/Cure Sparkle • Hinata Kinoshita • Hiori Kazano • Hip Hip Hamster • Hiro Hamada • Hiro Hayami • Hiromi Seki • His Royal High-Ney • Hitagi Senjougahara • Hokuto Ijuuin • Holidaze (L.O.L. Surprise!) • Hollie Wood • Holly Brolly Cupcake • Holly Cupcake Ornament • Holly Heart • Holly Sleighbells • Holly Wreath • Hollyberry Cookie • Homare Kagayaki/Cure Etoile • Homer Simpson • Homura Akemi • Honeeey (Shopkins) • Honey Boi • Honey Bun • Honey Hearts • Honey Kisaragi/Cutie Honey • Honey Lemon • Honey Pot Top • Honey Pots • Honey Slice • Honeycomb (Lalaloopsy) • Honeylicious (L.O.L. Surprise!) • Honker Muddlefoot • Honoka Kosaka • Honoka Yukishiro/Cure White • Hoops D.O.G.G. • Hoops MVP • Hop Heart • Hop Hop • Hop Hop Sprints • Hop Pop Plantar • Hoppy Slice • Hops (L.O.L. Surprise!) • Hops Kit-Tea • Hopsalot (JumpStart) • Horace Horsecollar • Hordak (She-Ra and the Princesses of Power) • Horned Conch • Horpun (Futari wa Pretty Cure Max Heart) • Horse Chloe • Hoshikawa Seira • Hoshirabon (Yes! PreCure 5) • Hot Apple Pie • Hot Choc • Hot Chocco • Hot Dog Roller • Hot Doggie • Hot Pot Buckler • Hot Tot • Hotaru Shiragiku • Hotaru Tomoe/Sailor Saturn • Hotdog Hotrod • Hottie Chocolate • Hours (Futari wa Pretty Cure Splash Star) • Howard McBride • Howard Powerboard • Howla (L.O.L. Surprise!) • Howleen Wolf • Howler (PJ Masks) • Hsien-Ko (Darkstalkers) • Huey Duck • Hug 'n' Snug Mittens • Huggy Face • Hula Hips • Hummingmint (Sanrio) • Hummy (Suite PreCure) • Humphrey the Bear • Humpty Dumpling • Huntara (She-Ra and the Princesses of Power) • Hurricane (Miraculous: Tales of Ladybug & Cat Noir) • Hye In • I-No (Guilty Gear) • Ian Lightfoot • IC Sandwich • Ice (L.O.L. Surprise!) • Ice (Shopkins) • Ice Barker • Ice Bear • Ice Bird • Ice Candy Cookie • Ice Cream Cup • Ice Cream Dream • Ice Cream Dream Car • Ice Cream Kate • Ice Cream Machine • Ice Cream Queen • Ice Cream Sammy • Ice Ice B.B. • Ice Ice Boi Boi • Ice Ice Husky • Ice Juggler Cookie • Ice Pop Peewee • Ice Rider • Ice Sk8er • Ice-cream Dream • Iceman (Webkinz) • Ichigo Hoshimiya • Ichigo Momomiya/Mew Ichigo • Ichika Ichihara • Ichika Usami/Cure Whip • Ichimatsu (Mr. Osomatsu) • Icy Berry Go-Go • Icy Cool Kids • Icy Peach Go-Go • Icy Piña Go-Go • Icy Roller • Icy-Bowl (Shopkins) • Ida Icing Bag • Iddybiddy Donut • Iggy Koopa • Igor (Count Duckula) • Ika Musume • Ike (Fire Emblem) • Ikkakun (Yes! PreCure 5) • Iku Nakatani • Ikuto Tsukiyomi • Il (Shugo Chara!) • In Sync • Ina Ree • Incineroar (Pokemon) • Independent Dude • Independent Meow • Independent Queen • Indie Ice Cream • Inez (Cyberchase) • Infinity Queen/Starling • Infinity Silhouette • Ingrid Iron • Inkling (Splatoon) • Inktopus (Cookie Run) • Inori Yamabuki/Cure Pine • Inspector Gadget • Instabunny (L.O.L. Surprise!) • Instagold (L.O.L. Surprise!) • Inteligen (Futari wa Pretty Cure Max Heart) • Inuyasha (Inuyasha) • Ion Cookie Robot • Iori Minase • Iris (LoliRock) • Iris Eyeshadow • Iris Icing Sugar • Irma Ice Cream Cake • Iroha Tamaki • Isabell (Shopkins) • Isabella Garcia Shapiro • Isabella Ice Cream • Isabelle (Animal Crossing) • Isadora Ice Cream • Isla Hibiscus • Isuzu Bando/Bebel • iSweep (L.O.L. Surprise!) • It/Pennywise the Dancing Clown • Ito Suzuno • Itsuki Harune • Itsuki Myoudouin/Cure Sunshine • Itsuki Tendo • Itty Bitty Candy • Ivan Bruel • Ivory Ice Crystals • Ivy (Papa Louie) • Ivysaur (Pokemon) • Izayoi (BlazBlue) • Izuku Midoriya • Izzy (Total Drama) • Izzy Invite • Izzy Island • J. Audubon Woodlore • Jacinda Juice • Jack Russell Terrier (Webkinz) • Jack-Jack Parr • Jack-O' Valentine • Jackie (Cyberchase) • Jackie (The Loud House) • Jade (Bratz) • Jade Catkin • Jade Hunter • Jade Spade • Jae Eun • Jake (Adventure Time) • Jake (Angry Birds) • Jake Long • Jam Kuradoberi • Jamberry (Lalaloopsy) • James (Papa Louie) • James P. Sullivan • James the Red Engine • Jammin' (L.O.L. Surprise!) • Jammin' Berry Go-Go • Jammin' Razzy Go-Go • Jammy Jam • Jan Jam-Filled • Jan Pancake • Jan-illa Creme • Jana Yarn Ball • Jane (Ninjala) • Jane Foster • Jane Frame • Jane Porter • Jane Read • Janice (PriPara) • Janine Melnitz • Janis Ian • Janna (League of Legends) • Jaq (Cinderella) • Jascenta (Shopkins) • Jasmine (Aladdin) • Jasmine (Total Drama) • Jasmine Rice • Jasmine T • Jasminka Antonenko • Jason Voorhees • Jasper (Jewelpet) • Jax (Mortal Kombat) • Jay (Angry Birds • Jay (Puyo Puyo) • Jay (Total Drama) • Jazzy Jam • Jazzy Razzwich • Jazzy Razzy • JC Juicy Pop • Jeanette Seville • Jeanie Beanie • Jeannie (I Dream of Jeannie) • Jeff the Killer • Jeff Wiggle • Jefferson Davis • Jellica (Shopkins) • Jellie Bean • Jelly B • Jelly Bean Machine • Jelly Bun • Jelly Jam • Jelly Jellyfish • Jelly Joyride • Jelly Scale • Jelly Snake • Jelly Wiggle Jiggle • Jelly-A-Gogo (Shopkins) • Jellybean Buggy • Jellyco Cube • Jemima Cake Timer • Jemma Jules • Jen (Total Drama) • Jen Jug • Jen Yen • Jennel Jaguar • Jenni Jelly Slice • Jenni Lantern • Jennifer Rayne • Jennifer Susan Walters/She-Hulk • Jenny Foxworth • Jenny Penny • Jenny Wakeman • Jeremy Hops • Jerry Cherry • Jerry Strawberry • Jerry the Minion • Jersey Jug • Jess Jet • Jess Jet Stamp • Jessica Jelly-Filled • Jessica Keynes/Sparrow/Eagle • Jessica Rabbit • Jessicake (Shopkins) • Jessie (Toy Story) • Jessie Dressing Gown • Jessie Prescott • Jet Set Hop Hop • Jet Setter • Jet-Set Q.T. • JetBlue • Jett Dawson • Jewel (Rio) • Jewel E. Crown • Jewel Sparkles • Jewelia Gem • Jeweliana (Shopkins) • Jewlie/Jewlulu • Jiggly Jelly • Jigglypuff (Pokemon) • Jilly Jam • Jilly Jam Roll • Jilly Jelly • Jim (Angry Birds) • Jimmy (Ape Escape) • Jimmy Falcone • Jimmy T • Jimmy Z • Jin Kisaragi • Jingle (L.O.L. Surprise!) • Jingle Deer • Jingle Purse • Jingles Gift Bag • Jinx (League of Legends) • Jiro Yamashita • Jitter Critter • Jitterbug (L.O.L. Surprise!) • Jivin' Kat • Jo (Total Drama) • Jo Mitchell • Joanie Donut • Jodie Glow Sticks • Jodie Juice Box • Joe Okada • Johnny (Guilty Gear) • Johnny (Papa Louie) • Johnny (Sing) • Joker (DC Comics) • Joker (Persona) • Jolteon (Pokemon) • Jonathan Byers • Jonathan Joestar • Joni Savage • Jose Carioca • Journey (Hairdorables) • Joy (Inside Out) • JP Pop Tart • Jr Prom Princess • Jubilee (L.O.L. Surprise!) • Judge Dredd • Judgement (Tarot card) • Judy Fruit Cake • Judy Jug • Judy Jumper • Juice Tumbler • Juicy Driver • Juicy Gummy • Juicy Orange • Jukebot (L.O.L. Surprise!) • Juleka Couffaine • Jules (Shopkins Happy Places) • Jules (Shopkins) • Juli Joyful • Juli Liszt • Julia (Sesame Street) • Julia (The Idolmaster) • Julie (The Raccoons) • Julie Hinikawa • Julius the Cat • Jun Fuyumi • Jun Hiiragi • June (Donald Duck) • June Balloon • June Seashore • Junior (Total Drama) • Junior Sleuth Ted • JunJun/Sailor Juno • Junko Konno • Junna Tokura • Junon (PriPara) • Juné Amou • Jupiter (Milky Way and the Galaxy Girls) • Juri Kurebayashi • Juri Oba • Juri Saijo • Justice (Helltaker) • Justice (Tarot card) • Jyushimatsu (Mr. Osomatsu) • K.L. Cake • K1-B0 (Danganronpa) • Kaalki (Miraculous: Tales of Ladybug & Cat Noir) • Kaede Akamatsu • Kaede Akino • Kaede Ichinose • Kaede Takagaki • Kagami Hiiragi • Kagami Tsurugi/Ryuko • Kagamine Len • Kagamine Rin • Kagari Hinata • Kagome Higurashi • Kagome Satori • Kagura Mutsuki • Kaguya Shirayuri • Kaho Komiya • Kahuna (Papa Louie) • Kai'Sa (League of Legends) • Kaila Keyboard • Kairi (Kingdom Hearts) • Kaito (Vocaloid) • Kakeru Kogure • Kakeru Ozora • Kako Takafuji • Kali (Hairdorables) • Kalimba Tiki • Kamaitan (Yes! PreCure 5) • Kana Yabuki • Kanade Chidori/Purple Princess • Kanade Hayami • Kanade Minamino/Cure Rhythm • Kanagi Izumi • Kanako Mimura • Kaname Amamiya • Kanan Matsuura • Kanata Kira • Kanata Konoe • Kandy Apple • Kane Sugar • Kanga (Winnie the Pooh) • Kanikama (Sanrio) • Kanikus (True Tail) • Kanon (PriPara) • Kanon Himeno • Kanon Ichinose • Kanon Matsubara • Kanon Mizushiro • Kanon Nakagawa • Kanon Shibuya • Kanon Toudou • Kansas K9 • Kansas Q.T. • Kaori Sakuramori • Kaoru (Fresh Pretty Cure!) • Kaoru Kiryuu • Kaoru Maki • Kaoru Ryuzaki • Kaoru Sakuraba • Kaoru Seta • Kaoruko Hanasaki/Cure Flower • Kappa Rumba • Kappei (Ninjala) • Kapuchinousa (Sugarbunnies) • Karamatsu (Mr. Osomatsu) • Karbunkle (Biker Mice from Mars) • Karen (Mermaid Melody) • Karen (Time Bokan) • Karen Araragi • Karen Beecher-Duncan/Bumbleebee • Karen Beverly • Karen Carrot • Karen Hanamura • Karen Hojo • Karen Kamishiro • Karen Minazuki/Cure Aqua • Karen Shinomiya • Karin Asaka • Karin Domyoji • Karin Misono • Karin Shijimi • Karl (Where's My Water?) • Karl Kiwi • Karlee Candy Jar • Karma Nichols • Kasey Cuisine • Kasha (Mysticons) • Kashimochī (Yes! PreCure 5) • Kasumi Nakasu • Kasumi Toyama • Kat (Gravity Rush) • Kat (Hairdorables) • Kat (WarioWare, Inc.) • Kat Jungle Roar • Katara (Avatar: The Last Airbender) • Kate (Kit and Kate) • Kate Read • Katherine Whiskers • Katie (The Secret Life of Pets) • Katie (Total Drama) • Katie Clasp • Katie Ka-Boom • Katie Pops • Katie Skateboard • Katrina Ketchup • Katty Katswell • Katy Kicks • Katy Petals • Kawaii Guy • Kay Cupcake • Kaz (Shimmer and Shine) • Kazooie (Banjo-Kazooie) • Kazuki Nishina • Kazuki Tsukumo • Kazuma Yagami • Kazumi Subaru • Keen Bunnies • Keesha Franklin • Kei (Ape Escape) • Kei Tsuzuki • Keiichi Hiiragi • Keiko Cupcake • Keith Wayne • Keke Tang • Kelly (Star vs. the Forces of Evil) • Kelly (Total Drama) • Kelly Calculator • Kelly Jelly • Kelly Kernels • Kelsey Compact • Ken (Street Fighter) • Ken Carson • Kendra Kiwi • Kenji Ban • Kermit the Frog • Kerobah (Sanrio) • Kerojee (Sanrio) • Keroleen (Sanrio) • Keroma (Sanrio) • Keroppa (Sanrio) • Keroppe (Sanrio) • Keroppi (Sanrio) • Keroro (Keroro Gunso) • Keswick (T.U.F.F. Puppy) • Ketchup Crinkles • Ketchup Go-Go • Ketchup To Me • Ketchup Tot • Kevin (PJ Masks) • Kevin the Minion • Key Lime Icy • Key Lime Jelly • Key Lime Roll • Keys Sharps 'N' Flats • Khia Board • Kia Hart • Kiawe (Pokemon) • Kicks (L.O.L. Surprise!) • Kid (Kid Chameleon) • Kid Kandy • Kida Nedakh • Kiddie Cracker • Kiichi Furano/Slow Life Yellow • Kiki (Fresh Beat Band of Spies) • Kiki (Little Twin Stars) • Kiki Coconut • Kiki Crème • Kiki Kiwi • Kiki Lime Pie • Kikimora (Puyo Puyo) • Kimberly Cap • Kimmy Camera • Kine (Kirby) • King Boo • King Choco Drop • King Cone • King Dedede • King Doughnuts • King K. Rool • King Montblanc • King Triton • Kingsley (Papa Louie) • Kingsley Crown • Kipper Flippa • KiracCHU (Kiratto Pri☆Chan) • Kirara Amanogawa/Cure Twinkle • Kirara Apricot • Kirara Hanazono • Kirara Hoshizuki • Kirari Mori • Kirari Moroboshi • Kirari Tsukishima • Kirby (Kirby) • Kirby (The Brave Little Toaster) • Kirika Kure • Kiriko Yukoku • Kirimichan. (Sanrio) • Kirio Nekoyanagi • Kirstea (Shopkins) • Kirun (Fresh Pretty Cure!) • Kiseki (Shugo Chara!) • Kisha (JumpStart) • Kissandra Cap • Kisstina Polish • Kissy Boo • Kissy Cab • Kissy Kicks • Kit (Kit and Kate) • Kit Sprinkles • Kit Strawbz • Kitty (Uglydolls) • Kitty 500 • Kitty B. Brave • Kitty Catbed • Kitty Crisp • Kitty Crumbles • Kitty Flats • Kitty K • Kitty Katswell • Kitty Kitty • Kitty Pops • Kitty Queen • Kitty S'Mores • Kitty Slice • Kitty Wedge • Kittydoll (L.O.L. Surprise!) • Kiwi Bird • Kiwi Cookie • Kiwi Cutie • Kiwi Freezie • Kiwi Gloss-Up • Kiwi Jelly • Kiwi Light-Up • Kiwi Tiki Wiki • Klondike Mini's • Knight Cookie • Knuckles the Echidna • Koala (Webkinz) • Kogane Tsukioka • Kohana Aose/Lovepat Blue • Koharu Nanakura • Koito Fukumaru • Kokekkon (Yes! PreCure 5) • Koki (Wild Kratts) • Kokichi Ouma • Kokomi Sakurai/Phantomi Heart • Kokone Kurisu • Kokonoe Mercury • Kokonut (Shopkins) • Kokoro Momoi • Kokoro Tsurumaki • Komachi Akimoto/Cure Mint • Komaki Asako • Komugiusa (Sugarbunnies) • Konata Izumi • Konigirin (Yes! PreCure 5) • Konoe Ayatsuki Mercury • Konomi Baba • Kooky Cookie • Koopa Troopa • Kora Kiwi • Koropan (Yes! PreCure 5) • Koroppi (Sanrio) • Koshino Natsuko • Kota Hasegawa • Kotaro (The Loud House) • Kotaro Tatsumi • Kotoha Tanaka • Kotoko Imai • Kotomi Cups • Kotori Minami • Kotori Nono • Kotori Otonashi • Kouji Mihama • Koume Shirasaka • Koyoi Takase • Koyomi Araragi • Kozue Yusa • Kris P Lettuce • Krisp P Sprinkles • Krispy Kaitlyn • Krispy Treat Twins • Kristina Apples • Kristoff (Frozen) • Kristy Krispie • Krunch Klondike • Krysta Splash • Krystal Bailey • Krystella Sparkle • Kuchipatchi (Tamagotchi) • Kumachii (Phantomirage!) • Kumiho Cookie • Kurara Hananokoji • Kuriakuman (Yes! PreCure 5) • Kurionen (Yes! PreCure 5) • Kuro Kiyosumi • Kuromi (Sanrio) • Kuroro (Go! Princess PreCure) • Kurousa (Sugarbunnies) • Kurujakun (Yes! PreCure 5) • Kurumi Mimino/Milk/Milky Rose • Kururun (Tropical-Rouge! Pretty Cure) • Kurāgen (Yes! PreCure 5) • Ky Kiske • Kyappī (Yes! PreCure 5) • Kyla Blow Dryer • Kyla Crepe • Kyle (LoliRock) • Kyle (She-Ra and the Princesses of Power) • Kylie Cone • Kyoichiro Narugami • Kyoji Takajo • Kyoka Jiro • Kyoko Igarashi • Kyoko Kirigiri • Kyoko Sakura • Kyorosuke (Sanrio) • Kyosuke Aoi • Kyubey (Puella Magi Madoka Magica) • Kyurukon (Yes! PreCure 5) • Kyōko Umekōji/Beat • Kī Saegusa • L.U.N.A. (L.O.L. Surprise!) • La La Cupcake • La'Lotion (Shopkins) • Laala Manaka • Labra (Jewelpet) • Lace (L.O.L. Surprise!) • Lachy Wiggle • Lacy Cake • Lacy Lemon • Lady (Lady and the Tramp) • Lady Butterfly • Lady Diva • Lady Lemonade • Lady Stillwaiting • Lady Sugarette • LadyLion (Miraculous: Tales of Ladybug & Cat Noir) • Lakitu (Mario) • Lala (Little Twin Stars) • Lala Hagoromo/Cure Milky • Lala Lipstick • Lalanyan (Magimajo Pures!) • Lamb Dancer • Lambda-11 (BlazBlue) • Lambie (Doc McStuffins) • Lammy Lamington • Lampy (The Brave Little Toaster) • Lana Banana Bread • Lana Lamp • Lana Lantern • Lana Loud • Lana Luggage • Lana/Juice DrinKyun • Lance (DokiDoki! PreCure) • Lance Sterling • Landry (Sanrio) • Lantern Jellyfish • Lapis Lazuli • Laptop Limo • LapTrap (The ClueFinders) • Lara Candelabra • Larimar (Jewelpet) • Larry (T.U.F.F. Puppy) • Larry Cherry • Larry Daley • Larry Koopa • Larry Loaf • Lars Lederhosen • Lary (Suite PreCure) • Laser (L.O.L. Surprise!) • Latte (Healin' Good Pretty Cure) • Latte (Sanrio) • Latte Cookie • Latte Crisp • Launa Mower • Launchpad McQuack • Laundry-Matt (Shopkins) • Laura/Cure La Mer • Laura Fukuouji • Laura Lashes • Laura Sakuraba • Laurie (Total Drama) • Lavender (Shopkins) • Lawrence Limburger • Le Skunk Bebé • Le' Monade Jelly Roll • Le'Quorice (Shopkins) • Leading Baby • Leading Chimp • Leafeon (Pokemon) • Leafwich (Cookie Run) • Leafy (Shopkins) • Leafy Cuddle 'N' Shy • Leafy Lulu • Leah (Shimmer and Shine) • Leah Kazuno • Leah Lime Cupcake • Leather (L.O.L. Surprise!) • Leather Teddy • Lee Tea • Leek Cookie • Lelouch vi Britannia • Lemmy Koopa • Lemmy Slice • Lemon (Hairdorables) • Lemon Cookie • Lemon Creme Polish-It • Lemon Drop Gloss-Up • Lemon Gummy Stamp-It • Lemon Limo • Lemon Pop • Lemon Pop Drop • Lemon Poppy • Lemon Slice • Lemon Zest • Lemona (Shopkins) • Lemonade Frost • Lemonade Icy • Lemons Pink Fill • Lemony Bear • Lemony Burst • Lemony Cola • Lemony Cream • Lemony Dots • Lemony Glaze • Lemony Go-Go • Lemony Limes • Lemony Polish-It • Lemony Pop • Lemres (Puyo Puyo) • Lena Sabrewing • Lena Tower • Leni Loud • Lenny Lime • Leo (Star Twinkle PreCure) • Leo Whitefang • Leon (The Idolmaster) • Leona Lemon Tree • Leona West • Leonie Froyo • Leopard (Webkinz) • Leshawna (Total Drama) • Lesley Lettuce • Leslie Clark • Li Li Bubble Tea • Li Shang • Liam (The Secret Life of Pets) • Libby Lolly Jar • Libra (Star Twinkle PreCure) • Licorice Cookie • Lidelle (Puyo Puyo) • Lidia Lounge • Lifesaver (Cookie Run) • Light Bros • Light Hope • Light Yagami • Lightning McQueen • Liiri (Miraculous: Tales of Ladybug & Cat Noir) • Lil 80s B.B. • Lil Agent 00L • Lil Agent Baby • Lil Angel • Lil As If Baby • Lil B.B. Bop • Lil Babe in the Woods • Lil Baby Goo-Goo • Lil Baby Next Door • Lil Babydoll • Lil Beatnik Babe • Lil Beats • Lil Bebé Bonito • Lil Bhaddie • Lil Big City B.B. • Lil Black Tie • Lil Bling Queen • Lil Bon Bon • Lil Boogie Babe • Lil Boss Queen • Lil Boy Next Door • Lil Bro Cheer • Lil Caddy Boi • Lil Can Do Baby • Lil Captain Boi • Lil Center Stage • Lil Cheeky Babe • Lil Cheer Captain • Lil Cherry • Lil Coconut Q.T. • Lil Cosmic Queen • Lil Countess • Lil Court Champ • Lil Cozy Babe • Lil Crystal Queen • Lil Curious Q.T. • Lil D.J. • Lil Daring Diva • Lil Dawn • Lil Diva • Lil Dollface • Lil Downtown Doll • Lil Drag Racer • Lil Dusk • Lil Fancy • Lil Fanime • Lil Fierce • Lil Flossy • Lil Flower Child • Lil Foxy • Lil Fresh • Lil Funky Q.T. • Lil Genie • Lil Glamour Queen • Lil Glamstronaut • Lil Glitter Queen • Lil Go-Go Gurl • Lil Goo-Goo Queen • Lil Goodie • Lil Grunge Grrrl • Lil Heartbreaker • Lil Honey Bun • Lil Hoops MVP • Lil Hops • Lil Ice Sk8er • Lil Independent Queen • Lil Instagold • Lil Jet Set Q.T. • Lil Jitterbug • Lil Jonny Rotten • Lil Kansas Q.T. • Lil Kicks • Lil Kitty Queen • Lil Lamp Milkshake • Lil Leading Baby • Lil Lenny Loaf • Lil Lily Lime • Lil Line Dancer • Lil Luxe • Lil M.C. Swag • Lil Madame Queen • Lil Majorette • Lil Midnight • Lil Miss Jive • Lil Miss Punk • Lil Neon Q.T. • Lil Oops Baby • Lil P.H.D.B.B. • Lil Pharaoh Babe • Lil Pins • Lil Pop Heart • Lil Posh • Lil Pranksta • Lil Precious • Lil Prim • Lil Punk Boi • Lil Punk Grrrl • Lil Purple Queen • Lil Racer Boi • Lil Rainbow Raver • Lil Red • Lil Rip Tide • Lil Rocker • Lil Roller Sk8er • Lil Royal High-Ney • Lil Sailor Q.T. • Lil Scribbles • Lil Shapes • Lil Shimone Queen • Lil Short Stop • Lil Shorty • Lil Showbaby • Lil Sis Swing • Lil Sk8er Boi • Lil Sk8er Grrrl • Lil Sleeping B.B. • Lil Sleepy Bones • Lil Snow Angel • Lil Snow Bunny • Lil Snuggle Babe • Lil Softie • Lil Soul Babe • Lil SPF Q.T. • Lil Spice • Lil Spike • Lil Splash Queen • Lil Splatters • Lil Sprints • Lil Stardust Queen • Lil Sugar Queen • Lil Suite Princess • Lil Super B.B. • Lil Surfer Babe • Lil Swag Boi • Lil Thrilla • Lil Tinz • Lil Touchdown • Lil Treasure • Lil Troublemaker • Lil Twang Dude • Lil Unicorn • Lil Vacay Babay • Lil Waves • Lil Wings • Lil Witchay Babay • Lil Yang Q.T. • Lil Yin B.B. • Lil' Berry Tart • Lil' Blaze • Lil' Bliss Ring • Lil' Boogy Board • Lil' Chip Cookie Sandwich • Lil' Donut Hole • Lil' Globe • Lil' Italia • Lil' Kyubey • Lil' Leaf • Lil' Nutty • Lil' Pinch • Lil' Suds • Lil' Ukulele • Lil' Wedding Dress • Lil'Smores (Shopkins) • Lilie Shirogane • Lilith Henderson • Lillian (Jewelpet) • Lillie/Soda DrinKyun • Lilly Lipstick • Lily (Shopkins) • Lily Lemony • Lily Lettuce • Lily Loud • Lily Vanilla • Lily-Strosek (Magical Girl Lyrical Nanoha) • Lima (Shopkins) • Lime Cookie • Lime Custard • Lime Polish-It • Limo-Queen (Shopkins) • Lina (Yin Yang Yo!) • Lina Hitomi • Lina Loaf • Lincoln Loud • Linda Layered Cake • Linda Lime • Linda Lipstick • Lindy Lip Balm • Line Dancer • Ling Lantern • Link (The Legend of Zelda) • Lion (Kirakira Pretty Cure a la Mode) • Lion (Webkinz) • Lionsgate • Lip (Panel de Pon) • Lip (Rilu Rilu Fairilu) • Lippie (Shopkins) • Lippo (Shopkins) • Lippy (Shopkins) • Lippy Lips • Lippy Lulu • Lippy Zips • Lipstick Mamma • Lisa (Papa Louie) • Lisa Imai • Lisa Lemon • Lisa Litter • Lisa Loud • Lisa Raccoon • Lisa Shirakaba • Lisia (Pokemon) • Litchi Faye Ling • Little Bah Peep • Little Beeper • Little Bow Bella • Little Choc Bottle • Little Ghost • Little Mac • Little Pet Collar • Little Sipper • Little Teapot • Littleforestfellow (Sanrio) • Liv/Myst • Livia Medeiros • Liz (The Magic School Bus) • Lizzie Lasagna • Lizzy Lace-up • Lizzy Laptop • Lobster Cookie • Loch Ness Monster • Log Stub • Logan (Hairdorables) • Loki Laufeyson • Lola Bunny • Lola Gondola • Lola Lollipop • Lola Loud • Lola Roller Blade • Lolita Pops • Lolli Poppins • Lollipop Soft Top • Lolly Mommy • Lolz (Club Penguin) • LoneStar (L.O.L. Surprise!) • Longg (Miraculous: Tales of Ladybug & Cat Noir) • Loni Loafer • Loni Locket • Lonnie (She-Ra and the Princesses of Power) • Loop (Club Penguin) • Loopy (Pororo the Little Penguin) • Lord Starchbottom • Lorelai Lattice • Lorenzo (Total Drama) • Lori Loud • Loser (Battle for Dream Island) • Lotta Balloons • Lotta Bottle • Lotta Plump • Lotte Jansson • Lotti (Shopkins) • Lottie Lolly Jar • Louie Duck • Louis Tully • Love (Kuu Kuu Harajuku) • Love Momozono/Cure Peach • Love-Lee Handbag • Lovelitchi (Tamagotchi) • Lovelun (Futari wa Pretty Cure Max Heart) • Lovely Hearts Teapot • Lovely Sweets • Lovely Wings Lipstick • Lovepyoko (Lovepatrina!) • Luan Loud • Luau (L.O.L. Surprise!) • Luca (Angry Birds Stella) • Lucario (Pokemon) • Lucas (EarthBound) • Lucas Friar • Lucas Sinclair • Lucia Nanami • Lucina (Fire Emblem) • Luck-o'-Lantern (Cookie Run) • Lucky Bat • Lucky Choco • Lucky Fortune Cookie • Lucky Lil' Bug • Lucky Lucy Horseshoe • Lucky Luxe • Lucky Mallow • Lucy (Ninjala) • Lucy Heartfilia • Lucy Juice Box • Lucy Loud • Lucy Smoothie • Lucy Wilde • Ludo Avarius • Ludwig Von Drake • Ludwig Von Koopa • Luea (Jewelpet) • Luigi (Mario) • Luigi Lasagna • Luka Couffaine/Viperion • Lulu (League of Legends) • Lulu (WarioWare, Inc.) • Lulu Bamboo Macaron • Lulu Licorice • Lulun (Futari wa Pretty Cure Max Heart) • Luluna (Kiratto Pri☆Chan) • Lum Invader • Luma (Mario) • Lumiere (Beauty and the Beast) • Lumiere/Cure Lumiere • Lumpy (Happy Tree Friends) • Luna (Jewelpet) • Luna (Sailor Moon) • Luna (Scooby-Doo) • Luna Girl • Luna Loud • Luna Tsukuyomi • Lux (League of Legends) • Lux (Shopkins) • Luxe (L.O.L. Surprise!) • Luz Noceda • Lydia (Uglydolls) • Lyn Gweeni • Lyna (LoliRock) • Lynn Flight Meal • Lynn Lamp • Lynn Loud Sr. • Lynne Spring • Lê Chiến Kim/King Monkey • M. Mallow • M.C. Hammy • M.C. Hippity Hop • M.C. Meow • M.C. N.Y.C. • M.C. Pose • M.C. Swag • M.C.D.O.G.G. (L.O.L. Surprise!) • Ma Crumbs • Ma Flushy Brush • Ma Kettle • Ma Pepper • Maamu (Pretty Cure All Stars) • Mabel Syrup • Mable Marble • Mac A Roni • Mac Minty • Macadamia (Lalaloopsy) • Macameow (Num Noms) • Macaron Cookie • MacArthur (Total Drama) • Macayla Sailor Cake • Macca Roon • Macchiato (Sanrio) • Mackenzie Maple Donut • Macy Macaron • Macy Macaroni • Madam Rosa • Madame Baguette • Madame Pup • Madame Queen • Madame Razz • Maddie Mask • Maddy W. Melon • Madeleine Cookie • Madeline Muffin • Madelyn Macaron • Madelyn Mango • Madoka Amahane • Madoka Higuchi • Madoka Kaguya/Cure Selene • Madoka Kaname • Maggie (Making Fiends) • Maggie (The Loud House) • Maggie Magical • Maggie Mallow • Maggie Pesky • Maggie Simpson • Maggie Waggs • Magic Lamp • Magic Squish • Magma Stone • Magmabird (Cookie Run) • Magolor (Kirby) • Maguro Sasaki • Mahiru Kasumi • Mai Akane • Mai Hazuki • Mai Hitomi/Ai • Mai Kanzaki • Mai Minakami • Mai Mishou/Cure Egret/Cure Windy • Mai Su • Maika Chōno • Mailpo (Yes! PreCure 5 GoGo!) • Maira Tsukishima • Maisy Daisy • Maisy Moo • Maizey Meal • Majestic Heels • Major Lady • Major Squirrel • Majorette (L.O.L. Surprise!) • Maka Albarn • Makaella Wish • Makeover Babe • Maki Harukawa • Maki Nishikino • Maki Oze • Makio Uzuki • Makoto Kenzaki/Cure Sword • Makoto Kikuchi • Makoto Kino/Sailor Jupiter • Makoto Naegi • Makoto Nanaya • Makoto Yoshichu/Green Princess • Mala Sauce Cookie • Maleficent (Sleeping Beauty) • Mallory (Mysticons) • Mallory Watermelon Punch • Mallow Bean • Mallow Drop • Mallow Erase-It • Mallow Flip • Mallow Heart • Mallow Jelly • Mallow Kitty • Mallow Mini Cake • Mallow Sweet Fluff • Mallow Twirl • Mallow/Tea DrinKyun • Mama (Hello Kitty) • Mama Milkshake • Mama Mousse • Mama Pod • Mama Washalot • Mametchi (Tamagotchi) • Mami Futami • Mami Tomoe • Mamimi Tanaka • Mamma Jelly • Mamoru Chiba/Tuxedo Mask • Mana Aida/Cure Heart • Mana Fujisaki • Manatsu Natsuumi/Cure Summer • Mandee (The Loud House) • Mandy (Uglydolls) • Mandy Candy • Mandy Candy Corn • Mandy Mandarine • Mandy Mousse • Mandy O'Mango • Mango Cookie • Mango Cream • Mango Gloss-Up • Mango Gummy Light-Up • Mango Jelly Go-Go • Mango Jiggle • Mango Macaron • Mango Madison • Mango Mandy • Mango Marble • Mango Melody • Mango Milly • Mango Polish-It • Mango Sherbet • Mango Sparkle • Mango Tiki Wiki • Mango Toucan • Mango Triples • Mango-a-Rainbow (Num Noms) • Manny Mango • Mano Sakuragi • Mao Mao • Mao Otoha/Hana • Maple (Sanrio) • Maple Cakes • Maple Panda Cookie • Maple Sugars • Mara Cherry • Mara Schino • Marabel Music Player • Marble Motor • Marc Anciel • Marcee Makeup Bag • Marceline (Adventure Time) • Marci Mask • Marcia Heart Mug • Marco Diaz • Marcy Wu • Margaret White • Margarina (Shopkins) • Margo Gru • Margo Macaron • Margo Rita • Mari Golden Petals • Mari Ohara • Maria Hikawa/Cure Tender • Maria Himesato • Maria Kanamori • Maria Maracas • Maria Moped • Marianna Melon Donut • Marie (Aikatsu!) • Marie (Splatoon) • Marie (The Aristocats) • Marie Degree • Marie M • Marie Macaronette • Marin Manami • Marina (Fresh Beat Band of Spies) • Marina Anchors • Marina Jewels • Marine Q.T. • Marine the Raccoon • Marinette Dupain-Cheng/Ladybug • Mario (Mario) • Mario Meatball • Marisa Kirisame • Marisol (Hairdorables) • Mark Hoffman • Marlo the Bunny • Marquis (Futari wa Pretty Cure Max Heart) • Marrisa Maraca • Mars (Milky Way and the Galaxy Girls) • Marsha Mello • Marsha Mellow • Marsha Violet • Marshall (PAW Patrol) • Marshall (Shopkins) • Marshmallow Cookie • Marshmallow Hamster • Marshmallow Twirl • Marth (Fire Emblem) • Martha Choc Chip Muffin • Marty (Papa Louie) • Marty Party Hat • Marx (Kirby) • Mary (Total Drama) • Mary Belle • Mary Cranberry • Mary Fairy Floss • Mary Lou Blue • Mary Meringue • Mary Mint Sundae • Mary Muffin • Mary Mulberry • Mary Poppins • Mary Wishes • Mary-kin Cap • Masato Aisaki • Mashiro Kurata • Masquerade (L.O.L. Surprise!) • Master Mantis • Master Prune • Masukappū (Yes! PreCure 5) • Masuki Satou • Masyumaro (Sanrio) • Mate (Shopkins) • Mater (Cars) • Matey Anchors • Matilda (Angry Birds) • Matsuri Hasegawa • Matsuri Hinata • Matsuri Tokugawa • Matt 'n' Cheese • Matt (Cyberchase) • Matt (Eddsworld) • Matt (LoliRock) • Mavis Maple Syrup • Max (Hairdorables) • Max (Sam & Max) • Max (The Secret Life of Pets) • Max Goof • Max Headroom • Max Kanté/Pegasus • Max Mayfield • Max Saxophone • Maxie (Shopkins) • May (Donald Duck) • May (Guilty Gear) • May (Pokemon) • May Little Spring • Maya (Hairdorables) • Maya Hart • Maya Mallow • Maya Yamato • Mayoi Hachikuji • Mayor Humdinger • Mayu Kawabata • Mayu Sakuma • Meat King • Meatball Kitty • Meena (Sing) • Meg Boiled Egg • Meg Griffin • Mega Man • Megan Mallow Roll • Meganee Akai • Meganii Akai • Megara (Hercules) • Megavolt/Elmo Sputterspark • Megumi Taishin/Gold Princess • Megumi Tokoro • Megurine Luka • Meguru Hachimiya • Mei Izumi • Mei Kashiwazaki • Mei Sundae • Meiko (Vocaloid) • Meisa Hinata/Rose • Mel Shido • Mel T Moment • Mel the Minion • Mel Umbrella • Melan (DokiDoki! PreCure) • Melanie Melon • Melanie Mod • Melba Milkshake • Melina Smoothie • Melissa de Vignolles • Melissa Mango • Melissa Marble • Melissa Melty • Melissa Milk • Melissa Raccoon • Melissa Shield • Melissa Sips • Melissa Thorn • Mellie Pop • Mello Lamb • Mellow (Num Noms) • Melodine (Shopkins) • Melody (Hairdorables) • Melody (Shopkins) • Melody Briar • Melody Mallow • Melody Moover • Melody Mouse • Melody Music Note • Melon Beans • Melon Berry • Melon Bun Cookie • Melon Freeze • Melon Gummy Stamp-It • Melon Ma • Melon Minutes • Melon Pop (Num Noms) • Melon Pop (Shopkins) • Melon Twin Tots • Melona (Shopkins) • Melonette Popsicle • Melonie Hops • Melonie Pips • Melony Seeds • Melpan (Kiratto Pri☆Chan) • Meltin Muffin • Meltina Melvis • Melty Burger • Melty Macaron • Memetchi (Tamagotchi) • Menchie (Num Noms) • Meow Q.T. • Meowberry (Num Noms) • Mepple (Futari wa Pretty Cure) • Mercury (Milky Way and the Galaxy Girls) • Mercury (Miraculous: Tales of Ladybug & Cat Noir) • Merida (Brave) • Meringue Horn • Mermaid Anemone • Mermaid Fin • Mermaid Gilly • Mermaid Kelp • Mermaid Opal • Mermaid Tadpole • Mermaid Treasure • Mermaid Water Lily • Mermista (She-Ra and the Princesses of Power) • Merri Cherry Slushie • Merri Mouse • Merry Macaron • Merry Walrus • Merryweather (Sleeping Beauty) • Meta Knight • Metal Babe • Metal Chick • Metal Claws • Metal Cube • Metal K.T. • Mew (Mewkledreamy) • Mewtwo (Pokemon) • Mia Ageha • Mia Hanazono • Mia Mango • Mia Meows • Mia Milk • Mia Mirror • Mia Mirror Ball • Mia Mystery • Micaela Mallow • Micah (She-Ra and the Princesses of Power) • Michael Manchester • Michelle Fairchild • Michelle Tachibana • Michio Hazama • Michiru Enjoji • Michiru Kagemori • Michiru Kaiou/Sailor Neptune • Michiru Kiryuu • Michiru Kouda • Michiru Kurosawa • Mickey (Total Drama) • Mickey Mouse • Micky Microphone • Midnight (L.O.L. Surprise!) • Midnight Kid • Midnight Pup • Midori Akagi/Smart Green • Mifuyu Azusa • Mighty Eagle • Migirin (Yes! PreCure 5) • Miho Kohinata • Mii Brawler • Mii Gunner • Mii Swordfighter • Mika Jougasaki • Mikage Yakumo • Mikan Shiratama • Mikan Tsumiki • Mike (WarioWare, Inc.) • Mike Hanlon • Mike Rophone • Mike Wazowski • Mike Wheeler • Mike/Krush • Miki (Shugo Chara!) • Miki Aono/Cure Berry • Miki Hoshii • Miki Katsura • Miki Milkshake • Miki Sakurazuka • Miko (Glitch Techs) • Miku Maekawa • Mikuru Asahina • Mikuru Natsuki • Miles (Total Drama) • Miles Morales • Miley Mallow • Milk Bud • Milk Ma • Milk Moover • Milki Ray • Milky Mel • Milky Sheep • Milky Way • Millennial Tree Cookie • Millia Rage • Millie Mouse • Millie Shake • Milly (Shopkins Family Mini Packs) • Milly Cake Pop • Milly Mellow Swirl • Milly Moose Beanie • Milly Mops • Milly Mushroom • Milly Shake • Milo Murphy • Milo Thatch • Mimi (Pop'n Music) • Mimi La Sweet • Mimi Macaroni • Mimi Mango • Mimi Waffle • Mimi Watanuki • Mimiko Jigoku • Mimmy White • Min Min • Min Sunwoo • Mina (Jelly Jamm) • Mina (Pokemon) • Mina Ashido • Minako Aino/Sailor Venus • Minako Satake • Minami Asaoka • Minami Hateruma • Minami Iwasaki • Minami Kaido/Cure Mermaid • Minami Nitta • Mindy (Animaniacs) • Mindy (Papa Louie) • Mindy Macaron • Mindy Mango • Mindy Milk • Mindy Mirror • Minerva Mink • Mini Cindi • Mini Cotton Candy Shopkins • Mini Cupcake Shopkins • Mini Donut Shopkins • Mini Egg • Mini Gelati Shopkins • Mini Hotdog Shopkins • Mini Ice Cube Shopkins • Mini Lipstick Shopkins • Mini Lock Shopkins • Mini Mato • Mini Milk • Mini Montreal • Mini Muffin • Mini Mushy • Mini Orange Mouse • Minna Moody • Minna no Tabo • Minnie Mintie • Minnie Mouse • Minori Ichinose/Cure Papaya • Minori Watanabe • Minotauros (Puyo Puyo) • Mint Berry • Mint Choco Cookie • Mint Créme Gloss-Up • Mint E. Jiggle • Mint E. Stripes • Mint Gem Light-Up • Mint Gummy Stamp-It • Mint Shake • Mint Sprinter • Mint Swirl Gloss-Up • Mint T Cake • Mint T. Cream • Mint Twirl • Mint Unis • Mintberry Gloss-Up • Mintee (Shopkins) • Mintee Chip • Mintee Gloss-Up • Mintee Go-Go • Mintee Light-Up • Minto Aizawa/Mew Mint • Mintousa (Sugarbunnies) • Minty Bunny • Minty Chill • Minty Chip • Minty Crisp • Minty Hops • Minty Kitty • Minty Mallow • Minty Marble • Minty Mouth Wash • Minty Paws • Minty Polish-It • Minty Rabbit • Minty Snow Cone Light-Up • Minty Stick • Minty Sundae • Minty Swirl (Num Noms) • Minty Swirl (Shopkins) • Minun (Pokemon) • Minutes (Futari wa Pretty Cure Splash Star) • Mio (Puella Magi Oriko Magica) • Mio Akiyama • Mio Honda • Mio Minato • Mio Naganohara • Mion Takamine • Mipple (Futari wa Pretty Cure) • Mira Nova • Miracle Peace • Mirai Asahina/Cure Miracle • Mirai Asuka • Mirai Kasuga • Mirai Momoyama • Mirai Wakaba • Miranda Mirror • Mirei Hayasaka • Mirei Minami • Miria Akagi • Miria Marigold Mackenzie • Miry (Suite PreCure) • Misaki Okusawa/Michelle • Misha Mouse • Miss Bianca • Miss Candy • Miss Collins • Miss Fizzy • Miss Fortune • Miss Garnet • Miss Independent • Miss Jive • Miss Jones • Miss L Toes • Miss Maple Syrup • Miss Mushy-Moo • Miss Partay • Miss Pressy • Miss Primrose • Miss Punk • Miss Royale • Miss Shamour • Miss Skunk • Miss Snow • Miss Sprinkles • Miss Swiss • Miss Twist • Missy Makeup Case • Misty (Pokemon) • Misty Mysterious • Mitama Yakumo • Mitsuki Hanamori • Mitsuyoshi (BlazBlue) • Mittens Fluff 'N' Stuff • Mitzy Oven Mitt • Miu Iruma • Mix Boi • Mixed Berry Smoothie • Mixie (Shopkins) • Miya Miyao • Miyabi Fujiwara • Miyako Saki • Miyo Masuko • Miyu Mifune • Miyu Yamazaki • Miyuki Hoshizora/Cure Happy • Miyuki Takara • Mizuki (Jewelpet) • Mizuki Kanzaki • Mizuki Kawashima • Mizuki Makabe • MKOVR (L.O.L. Surprise!) • Moa (Show by Rock!!) • Moana (Moana) • Mobile Mary • Moca Aoba • Mocha (Sanrio) • Mocha Delight • Mocha Frappe • Mocha Ray Cookie • Mofurun/Cure Mofurun • Moira Mallow • Mokonyan (Magimajo Pures!) • Molly Cake Pop • Molly Lolly • Molly Mango (Num Noms) • Molly Mango (Shopkins) • Molly Mello Lollipop • Molly Melty • Molly Mitten • Molly Moccasin • Molly Mops • Molly Pig • Momma Corn • Momma E'Claire • Mommy Cakes • Momo Yaoyorozu • Momoka Aino • Momoka Sakurai • Momoko Asuka • Momoko Suou • Momoko Togame • Momona (Jewelpet) • Momousa (Sugarbunnies) • Mona (WarioWare, Inc.) • Mona Arch Wings • Monaca Towa • Monica Kiki • Monica Maracas • Monica Merinque • Monica Music Box • Monique Macaron Cake • Monkichi (Sanrio) • Monomi (Danganronpa) • Monsanto's Dad • Monsanto's Mom • Monsieur Butter • Montana Jones • Monterey Jack • Moo Shake • Moon Mortar • Moon Rabbit Cookie • Moonbun (Shopkins) • Moonlight B.B. • Moonlight Cookie • Moop (Futari wa Pretty Cure Splash Star) • Mop (Sanrio) • Mop Top Mom • Mordecai (Regular Show) • Morgana Macawber • Mori Kyoko • Morrigan Aensland • Morton Koopa, Jr. • Morty Fieldmouse • Morty Smith • Mother Heart • Mother RaPaPa • Mothman • Moto Gelato • Motor Melon • Motor Mermaid • Moxy (Uglydolls) • Mozza Rella • Mr. Bones • Mr. Damocles • Mr. Fa-Sol-La-Si • Mr. Game & Watch • Mr. Limeguard • Mr. Lunt • Mr. Moo • Mr. Muffin • Mr. O'Mango • Mr. Potato Head • Mr. Starr • Mrs Poppy Bagel • Mrs. Cavanaugh • Mrs. Icing • Mrs. O'Mango • Mrs. Potato Head • Mrs. Potts • Mrs. Starr • Ms. Birdy • Ms. Cheese • Ms. Cowoline • Ms. Do-Re-Mi • Ms. Valerie Frizzle • Mu-12 (BlazBlue) • Muffin (Sanrio) • Muffy Crosswire • Mulan (Mulan) • Mullo (Miraculous: Tales of Ladybug & Cat Noir) • Mumma Parmesan • Mumma Spagettina • Mumma Sundae • Mummy Fizz • Mummy Melts • Mundi (Doki) • Murray Monster • Murray Wiggle • Musa (Winx Club) • Muscle Cookie • Muscle Man • Mushu (Mulan) • Music Box • Mustard Cookie • Muta (Futari wa Pretty Cure Max Heart) • Mutsumi Tendo • My Melody • My Sweet Piano • Mylène Haprèle/Multimouse • Myron Van Buren • Mystabella (Shopkins) • Mystery Duck • Mystery Monica • Mystic Wishes • Mythra/Pyra • N.Y. Cheesecake Breyers • N.Y.C. Doggie • N.Y.E.Q.T. (L.O.L. Surprise!) • Nacho Nacho Van • Nadeko Sengoku • Nadja Applefield • Nae Nae • Nagi Hisakawa • Nagisa Misumi/Cure Black • Nagito Komaeda • Nagoriyuki (Guilty Gear) • Nahal (Shimmer and Shine) • Naho Aoyama • Nami (One Piece) • Nana (Ice Climbers) • Nana Abe • Nana Berry • Nana Bread • Nana Cream • Nana Creme Pie • Nana Créme Gloss-Up • Nana Erase-It • Nana Flake • Nana Flower • Nana Frosting • Nana Gloss-Up • Nana Gum Drop • Nana Hanahata • Nana Hearts • Nana Polish-It • Nana Pop • Nana Puffs • Nana Scoops • Nana Shimura • Nana Splits • Nana Sprinkle Treat • Nana Swirl • Nana Swirl Gloss-Up • Nanami Hiromachi • Nanana Wanibe • Nanase Tendo • Nancy Flancy • Nancy Nail Polish • Nancy Neapolitan • Nancy Wheeler • Naner Cakes • Nanna Bandage Box • Nanners Drizzle • Nanners Kitty • Nanners Swirl • Nano Shinonome • Nanoha Takamachi • Nao Ehime • Nao Kamiya • Nao Midorikawa/Cure March • Nao Okamura • Nao Yokoyama • Naoki Sugami • Naoto Kurogane • Nappy Dee • Narelle Nail Polish • Naru Ayase • Naru Osaka • Naru Shiawase • Nashville (L.O.L. Surprise!) • Nasu Grave • Natalia (The Idolmaster) • Natalie Nail Polish • Natalie Naners • Natalie Nilla • Natalie Noodles • Natasha Nacho • Natasha Necklace • Natasha Romanoff/Black Widow • Nathan Drake • Nathaniel (LoliRock) • Nathaniel Kurtzberg • Natsuha Arisugawa • Natsuki Kimura • Natsuki Sakaki • Natsuki Umino • Natsumi Hinata • Natts/Natsu • Nature Cat • Nayuta Satomi • Nazboo (Shimmer and Shine) • Nea Pop • Nea Snow • Neapolitan Shake • Neeko (League of Legends) • Neigh Majesty • Neighjorette (L.O.L. Surprise!) • Neila (Hairdorables) • Nellie Nutri Grain • Nelly Polish • Nemu Hiiragi • Nemuri Kayama • Nene (Mewkledreamy) • Nene Konoe • Neo Trio • Neon Bunny • Neon Guy • Neon Hammy • Neon Kitty • Neon Puppy • Neon Q.T. • Neonlicious (L.O.L. Surprise!) • Neptune (Milky Way and the Galaxy Girls) • Neptunia (Darkwing Duck) • Nerdy Berry • Neris (Panel de Pon) • Nero Wolfe • Ness (EarthBound) • Nessa (Pokemon) • Nessie (The Ballad of Nessie) • Netossa (She-Ra and the Princesses of Power) • Netta Knit • Netti Spaghetti • Nezuko Kamado • Nibbler (Futurama) • Nibbles (L.O.L. Surprise!) • Nibbles Hippo • Nice-Cream Sandwich • Nick (Papa Louie) • Nick (The Cat in the Hat) • Nick Fruit Stick • Nick Wilde • Nico Yazawa • Nicole Naners • Nicole Parasol • Nigel Ratburn • Nightfall (L.O.L. Surprise!) • Nikki Mixie Desk • Niko Kanna • Nilla Berry Gloss-Up • Nilla Checkers • Nilla Clover • Nilla Cookie Gloss-Up • Nilla Cream • Nilla Creme • Nilla Créme Gloss-Up • Nilla Dough • Nilla Drip • Nilla Froyo • Nilla Gloss-Up • Nilla Go-Go • Nilla Heart • Nilla Meringue Gloss-Up • Nilla Polish-It • Nilla Poof • Nilla Shake • Nilla Slice • Nilla Square • Nilla Swirl • Nilla Twirl • Nilla Wheat • Nilla Whip • Nillia Toasty • Nina Dōjima • Nina Ichihara • Nina Nanners • Nina Noodles • Ninja Cookie • Ninjoy (Papa Louie) • Nino Lahiffe/Carapace • Nino Nijiiro • Nino Nishijima • Noah (Hairdorables) • Noberun (Sanrio) • Nobita Nobi • Nodoka Hanadera/Cure Grace • Noel (Mermaid Melody) • Noel Vermillion • Noelle Northpole • Noeru Otoshiro • Nola Noodles • Non Manaka • Noni Notebook • Nono Daichi • Nono Morikubo • Noob's Dad • Noob's Mom • Noriko Fukuda • Noriko Shiina • Norman (The Secret Life of Pets) • Norval the Fish • Nougat Knight • Nozomi Tojo • Nozomi Yumehara/Cure Dream • Nozomu Hanamura • Nozomu Igarashi • Nu-13 (BlazBlue) • Numbuh 1 • Numbuh 2 • Numbuh 3 • Numbuh 362 • Numbuh 4 • Numbuh 5 • Numbuh 86 • Nutty Bears • Nutty Butter • Nyami (Pop'n Music) • Nyan Butter • Nyankyū (Yes! PreCure 5) • Nyatoran (Healin' Good Pretty Cure) • O'Bubble Twins • O'Grapple (Num Noms) • O.J Kay • O.J. Bear • O.J. Bun Bun • O.J. Gum Drop • O.J. Icing • O.J. Juicy • O.J. Kitty • Oak Barrel • Ocean Dragon • Ocean Prince • Ocean Seabreeze • Ochaco Uraraka • Octavia (She-Ra and the Princesses of Power) • Octavia Orange • Octo Sausage • Octo Wasabi • Odin Borson • Offbeat (L.O.L. Surprise!) • Oh Bandit, Bandit • Oh Là Panda • Ohana/Cure Sunset • OJ Pop • Olaf (Frozen) • Old Lemon Larry • Olimar (Pikmin) • Olina/Cure Wave • Olive (Odd Squad) • Olive Oil • Olive Overnight Bag • Oliver (Oliver & Company) • Oliver Orange • Olivia Flaversham • Olivia Oil • Olivia Olive • Ollie (T.U.F.F. Puppy) • Ollie Lolly • Ollie Onesie • Ollie Orange Cake • Olympia Hill/Majestia • On Pointe • Once-ler (The Lorax) • Ongo (Jelly Jamm) • Oni Giri • Onion Cookie • Onion Fish • Onion Ring • Onpu Segawa • Oops Baby • Oops Ham • Opa-Opa (Fantasy Zone) • Opal Q.T. • Opaletta (Shopkins) • Operetta (Monster High) • Oprah (Odd Squad) • Optical (L.O.L. Surprise!) • Optimus Prime • Orange Cookie • Orange Cream • Orange Crunch • Orange Cure (Wonderful Net Pretty Cure) • Orange Drop Gloss-Up • Orange Freezie • Orange Glaze • Orange Gloss-Up • Orange Jelly • Orange Light-Up • Orange Pear • Orange Piña Gloss-Up • Orange Polish-It • Orange Pop • Orange Rock Light-Up • Orange Rush • Orange Sherbet • Orange Sugar Gummy • Orange Sweets • Orange Swirl • Orange Swirl Gloss-Up • Orange Twirl • Orangie Jelly Roll • Orb.I.T. (L.O.L. Surprise!) • Orbulon (WarioWare, Inc.) • Orie Kusaka • Orikko (Miraculous: Tales of Ladybug & Cat Noir) • Oriko Mikuni • Ortensia (Mickey Mouse) • Oscar Orange • Osomatsu (Mr. Osomatsu) • Oswald the Lucky Rabbit • Otane Goketsuji • Oto (Doki) • Otoha Takanashi • Otome Arisugawa • Otto (Odd Squad) • Ougi Oshino • Oume Goketsuji • Oval (Futari wa Pretty Cure Max Heart) • Owen Lam • Owl (Winnie the Pooh) • Owlcorn (Cookie Run) • Ox (Uglydolls) • Ozzie Cents • P. Apple Twins • P. Lemon Heart • P. Nut Butter • P.B. Meow • P.B.N.J. (Num Noms) • P3P-PO • Pa Cracker • Pa'Pizza (Shopkins) • Pac-Man (Pac-Man) • Paco Taco • Paddy Pool • Pafu (Go! Princess PreCure) • Paige Pencil • Paige Purse • Paisley Peach • Pakista (Puyo Puyo) • Pal (Arthur) • PallaPalla/Sailor Pallas • Palmela Tree • Palutena (Kid Icarus) • Pam Cake • Pamala Palm Tree • Pamela Camera • Pamela Lillian Isley/Poison Ivy • Pamela Pancake • Pamela Parfait • Pammee (YooHoo & Friends) • Pammy Passport • Pammy Pom Pom • Pancake Cookie • Pancake Cruiser • Pancake Frisbee • Pancake Jake • Panchito Pistoles • Panda (We Bare Bears) • Panda Dumpling • Pandaba (Sanrio) • Pandapple (Sanrio) • Pandausa (Sugarbunnies) • Pandy Chomps-a-Lot • Pannapitta (Sanrio) • Panotty (Puyo Puyo) • Panther Maya • Panty Anarchy • Papa (Hello Kitty) • Papa Corn • Papa Louie • Papa Ravioli • Papa Tomato • Papa Toothpaste • Paper Boat Sailor • Pappa Pizza Base • Paprika Punching Bag • Papyrus (Undertale) • Parappa the Rapper • Paris Purse • Parisa (Shimmer and Shine) • Parker Peach • Parmesan Pete • Parrrty Candy • Partay Puppay • Party Balloon • Party Piña • Party Plate • Party Popper • Party Starter • Pasta Cookie • Pastry Cookie • Pastry Pup • PataPataPeppy (Sanrio) • Patch Treasurechest • Pation (Futari wa Pretty Cure Max Heart) • Patricia Parfait Glass • Patrick Star • Patsy Pasta • Patti Polish • Patty Burgers 'N' Buns • Patty Cake • Patty Case • Patty Pam • Patty Pastry • Patty Peach • Patty Peach (Num Noms: Party Hair) • Patty Pineapple Lamp • Patty Pinkie • Paula Pod • Paula Pumpkin • Paula Purrfect • Paula Puzzle • Paulina Pop • Pauline (Mario) • Pauline Palette • Pawfect 10 • Pawket (Gacha Life) • Pawn Black Cookie • Pawn White Cookie • Paws If • Pea (Sanrio) • Pea Erase-It • Pea Moth • Peach Cookie • Peach Drizzle • Peach Frosty • Peach Polish-It • Peachy (Shopkins) • Peachy Bunnies • Peachy Bunny • Peachy Cream • Peachy Gloss-Up • Peachy Icy • Peachy Kim • Peachy Light-Up • Peachy Meringue Gloss-Up • Peachy Piña Gloss-Up • Peachy Polish-It • Peachy Pop • Peachy Puff • Peachy Ring • Peachy Slice • Peachy Stamp-It • Peacock Victoria • Peanut Big Top • Peanut Buttah • Peanut Butter Pickup • Peanut Go-Go • Peanut Poppa • Pear (Futari wa Pretty Cure Max Heart) • Pearl (Shopkins) • Pearl (Steven Universe) • Pearl Perfume • Pearl Q.T. • Pearl Serpentine • Pearlina (Shopkins) • Pearly Purse • Pearly Seafoam • Pearly Whirly • Peater Pod • Pecanna Pie • Pedro Peso • Pee Wee Kiwi • Peebee (Shopkins) • Peely Apple Wheels • Peely Potato • Pegasus (Kirakira Pretty Cure a la Mode) • Pegasus/Helios • Peggy (Papa Louie) • Peggy Paper • Peggy Peels • Peggy Pigtails • Peggy Puffs • Peggy Seven Seas • Peggy Sushi • Pegitan (Healin' Good Pretty Cure) • Pekkle (Sanrio) • Peko (Mewkledreamy) • Pekorin/Cure Pekorin • Pelican (Webkinz) • Penelope Perfume • Penelope Pleats • Penelope Present • Penelope Puff • Penelope Pumpkin • Penglai (Puyo Puyo) • Penguin Emily • Penguin in the City • Peni Parker • Penny (Inspector Gadget) • Penny (Papa Louie) • Penny Crygor • Penny Fitzgerald • Penny Lefkowitz • Penny Pencil • Penny Pin • Penny Purse • Penny Wishing Well • Peony (Shopkins) • Peony Perfume • Pepi-Corn (Shopkins) • Peppa Ronnie Pizza • Peppa-Mint (Shopkins) • Peppe Pepper • Pepper Minty Shine • Pepper Poppin' • Pepper Pots 'N' Pans • Pepper Taiyou • Pepper Unis • Peppermint Cane • Peppermint Cookie • Peppermint Mallow • Peppy Pom Poms • Peppy Roni • Peppy Roni (Num Noms: Snackables) • Pepé Le Pew • Peralino (Time Bokan) • Percy PC • Percy the Small Engine • Perfuma (She-Ra and the Princesses of Power) • Perfume Le Zoom • Perfumicorn (Shopkins) • Peri Serpentine • Peridot (Jewelpet) • Perle (Sailor Moon) • Perry Pasta Sauce • Perry the Platypus • Persephone (Webkinz) • Persian Cat (Webkinz) • Pesto (Animaniacs) • Peta Plant • Peta Planter • Peta Plunger • Peta Pot Pie • Peta Sneaker • Petal Flowerpot • Petal Pup • Pete (Total Drama) • Pete Junior • Pete R. Canfly • Peter (Shopkins) • Peter Pan • Peter Parker/Spider-Man • Peter Pig • Peter Porker/Spider-Ham • Peter the Panda • Peter Venkman • Petey K • Petit Conté • Petit la Chick • Petite Paris • Petite Perfume • Petite Petals • Petite Tart • Peyton Peppermint • Peyton Perfume • Peyton Purr • PhanPhan/Phantom • Pharaoh Babe • Pharaoh Bro • Phenom B.B. • Pheobe Fork • Phili Roll • Philip J. Fry • Philippa Flowers • Phillip Wiggle • Phineas Flynn • Phobos (Sailor Moon) • Phoebe (Hairdorables) • Phoebe Fairy Top • Phoebe Terese • Photon Shine • Pia Pineapple • Pia Puzzle • Pia Undo • Piano King • Piano Man • Picasso (Hairdorables) • Picc (Gacha Life) • Pichu (Pokemon) • Pick Up Pup • Pickles B.L.T • Pickly Go-Go • Pickup Pumpkin • Picky Tomato • Picnikki Basket • Pierre (JumpStart) • Pierre (The Idolmaster) • Pierre Aronnax • Pierre Éclair • Pig (Webkinz) • Piggy (Roblox) • Piggy Blankets • Piggy Ham • Piglet (Winnie the Pooh) • Pikachu (Pokemon) • Pikki (Sanrio) • Pikobo (Time Bokan) • Pile' la Chick • Pillow Featherbed • Pilot Cookie • Pina Bear • Pina Juicy • Pina Pin • Pina Pineapple Drink • Pina Rock Light-Up • Pina-Apple Donut • Pinch Hitwell • Pineapple Crush • Pineapple Gem Light-Up • Pineapple Gloss-Up • Pineapple Jelly • Pineapple Lily • Pineapple Polish-It • Pineapple Polly Cake • Pineapple Pop • Pineapple Ring • Pineapple Sips • Pineapple Ukulele • Pineapplemur (Cookie Run) • Pinelope Krush • Piney Apple • Piney Patty • Pink Candy • Pink Choco Cookie • Pink Coral • Pink Cure (Bomber Girls Pretty Cure) • Pink Googles (Webkinz) • Pink Lip Gloss Nom • Pink Meringue • Pink no Corisu • Pink Oomiya/Shiny Pink • Pink Petal • Pink Pony (Webkinz) • Pink Poodle (Webkinz) • Pink-Ade Macaron • Pinkie Cola • Pinkie Lemonade • Pinkie Pie • Pinky (Animaniacs) • Pinky Biscuits • Pinky Bundt • Pinky Bunny • Pinky Dough • Pinky Fluff • Pinky Frosting • Pinky Jelly • Pinky Mallow • Pinky Penguin • Pinky Puffs • Pinky Square • Pinky Squish • Pinky the Chihuahua • Pinocchio (Pinocchio) • Pinon (PriPara) • Pins (L.O.L. Surprise!) • Pip Corn Eraser • Piper (Hairdorables) • Piper Prim • Piper Puppy • Piper Willowbrook • Pippa Lemon • Pippa Melon • Pippa Popcorn • Pippa-Mint Cookie Gloss-Up • Pippo (Sanrio) • Pippy Pin • Piranha Plant • Pirouetta (Shopkins) • Pirun (Fresh Pretty Cure!) • Pisces (Star Twinkle PreCure) • Pistachio Cookie • Pistachio Firefly • Pit (Kid Icarus) • Pita Mirage • Pitaya Dragon Cookie • Pix E. Flutters • Pixie Cakes • Pixie Girl • Pixie Mix Candy • Pizza Bagel Bro • Pizza Cutie Pie • Pizza Piranha • Pizza Roller • Pizza Will • Piña Aloha • Piña Gloss-Up • Piña Gummy • Piña Jelly • Piña Tropi-Callie • Piña Wedge • Piñata Cookie • Piñata Cupcake • PJ Collie • PJ Robot • Plagg (Miraculous: Tales of Ladybug & Cat Noir) • Planky Plank • Platinum the Trinity/Luna and Sena • Play Block • Plucky Duck • Plucky Guitar • Plum Cookie • Plum Flitter Flutter • Plum Pudding • Plumpy Hippo • Plusle (Pokemon) • Pluto (Mickey Mouse) • Poby (Pororo the Little Penguin) • Pocahontas (Pocahontas) • Pochacco (Sanrio) • Pochi (Sanrio) • Pocket Strawberry • Pocket Watch Referee • Pod Erase-It • Pointe Shoe Sue • Poison Mushroom Cookie • Pokepen (Yes! PreCure 5) • Polish Performer • Pollen (Miraculous: Tales of Ladybug & Cat Noir) • Polli Polish • Pollun (Futari wa Pretty Cure) • Polly Cake Pop • Polly Parsley • Polly Peppermint • Polly Perfume • Polly Petal Cake • Polly Piano • Polly Plantar • Polly Pointes • Polly Polish • Polly Pool Ring • Polly Popcorn • Polly Pound • Polly Pucker-Up • Polly Teapot • Pomegranate Cookie • Pommie (Shopkins) • Pompompurin (Sanrio) • Poni Crumbles • Ponicakes (Shopkins) • Pony Dancer • Poofy Purrs • Poop Coupe • Pop (Club Penguin) • Pop (Smile PreCure!) • Pop B.B. • Pop Corn Eraser • Pop Daddy • Pop Harukaze • Pop Heart • Pop Rod • Pop Tot • Pop Unis • Pop-Up Truck • Popcorn Cookie • Popcorn King • Popcorn Moviegoer • Popcorn Puffs • Popette (Shopkins) • Popo (Ice Climbers) • Poppa Pete Za • Poppa Pretzel • Poppa Swiss • Popping Candy Cookie • Poppino (Shopkins) • Poppun (Miracle Tunes) • Poppy (Angry Birds Stella) • Poppy (League of Legends) • Poppy Corn • Poppy Penguin • Poppy Pop • Poppy Rowan • Poppy Sock • Poppy Top • PopRock (Shopkins) • Pops (Regular Show) • Pops (The Secret Life of Pets) • Pops Bubble Blower • Popsi Blue • Popsi Cool • Popsicle (Shopkins) • Popsicorn (Shopkins) • Popsy Pals • Popura Hananokoji • Porky Pig • Pororo (Pororo the Little Penguin) • Portia Passionfruit • Portia Puff • Posey Princess Hat • Posh (L.O.L. Surprise!) • Posh Pear • Posh Pigeon • Posh Pup • Posy Golden Petals • Pot Pie Pete • Potato Bud • Potemkin (Guilty Gear) • Potpourri (HeartCatch PreCure!) • Potty Teapot • Pour The T • Pouty Pullover • Powder (L.O.L. Surprise!) • Powder Up • Powdered Sugars • Power Candy Tin • Practical Pig • Prairie Dawn • Prairie Dusty Trails • Pranksta (L.O.L. Surprise!) • Precious (L.O.L. Surprise!) • Precious Meow • Precious Sweets • Preppy (L.O.L. Surprise!) • Prescious Peach • Pretti Paws • Pretti Pressie • Pretty Bow Kay • Pretty Cake Stand • Pretty Petal Purse • Pretty Pink Grapefruit • Pretty Puff • Pretz-elle (Shopkins) • Pretzel Express • Prezzie (L.O.L. Surprise!) • Prickles (Shopkins) • Prickly Par • Priestesses of the Stars • Prim (L.O.L. Surprise!) • Primausa (Sugarbunnies) • Primrose Pancakes • Primrose Petal Cake • Prince Charming (Cinderella) • Prince Dazzle • Prince Eric • Prince Gembone • Prince Glimmer • Prince Handsome • Prince Kanata • Prince Phillip • Princess Amber • Princess Anise • Princess Arkayna Goodfey • Princess Armanda • Princess B-Day Jelly Roll • Princess B.G. Jelly Roll • Princess Beryl • Princess Bubblegum • Princess Buttercream • Princess C.C. • Princess C.C. Jelly Roll • Princess Cookie • Princess Crepe • Princess Cutie Crown • Princess Daisy • Princess Filia • Princess Fiona • Princess Glam • Princess Glitz • Princess Juniper • Princess Kakyuu/Sailor Kakyuu • Princess Karat • Princess Lavender • Princess Malice • Princess Mana • Princess Marie Ange • Princess Moondream • Princess Nella • Princess Nutmeg • Princess Peach • Princess Purse • Princess Rosalina • Princess Saffron • Princess Samira • Princess Scent • Princess Sesame • Princess Silver • Princess Sissy • Princess Sweets • Princess Whiskers • Princess Zange • Princess's Locket • Principal of the Thing • Pringles (Shopkins) • Priscilla Peach • Priscilla Twilight • Producer Mic • Professor (Tetris Plus) • Professor Farnsworth • Professor Fitz • Professor Smedley-Smythe • Professor Squawkencluck • Professor Yamato • Prom Bunny • Prom Princess • Prommy (Shopkins) • Prop Top • Proper (L.O.L. Surprise!) • Prophet Cookie • Prosen (Futari wa Pretty Cure Max Heart) • Prospector Moley • Prudence (Papa Louie) • Prunce (Star Twinkle PreCure) • Prunella Deegan • Pucker Mint • Puddin' Pie • Pudding Cookie • Pudding Cookie Siblings • Puff Pop • Puff Rusher • Puffle Handler • Puffy Mallow • Pug (Webkinz) • Pumbaa (The Lion King) • Pumpkin Candle Light • Pumpkin Cookie • Pumpkin Pound • Pumpkin Spice (L.O.L. Surprise!) • Pumpkin Spice (Num Noms) • Pumpkinella (Shopkins) • Punk Bandit • Punk Boi • Punk Grrrl • Punk H.O.G. • Pup Cheer • Pup Corn Eraser • Pup E Brush • Pup in the Woods • Pup Pup • Pup Swing • Pup-E-House (Shopkins) • Pupberry (Shopkins) • Pupkin Cake • Pupkin the Puppy • Pupper Mint • Puppy Next Door • Pupsta (L.O.L. Surprise!) • Pupstagram (L.O.L. Surprise!) • Pure Cream • Pure Vanilla Cookie • Purple Candle • Purple Dove • Purple Lip Gloss Nom • Purple Puff • Purple Queen • Purple Reign • Purple Stone • Purple Yam Cookie • Purrfect Bling • Purrfect Shapes • Purrfect Spike • Purrs (L.O.L. Surprise!) • Purrty Kitten Paws • Purse Gear • Pushy (Where's My Water?) • Putera (Flint the Time Detective) • Pyuan (Futari wa Pretty Cure Max Heart) • Pyukkin (Yes! PreCure 5) • Pūgorun (Yes! PreCure 5) • Quackerjack (Darkwing Duck) • Queen (Futari wa Pretty Cure) • Queen Angella • Queen Bavarois • Queen Beehave • Queen C.C. • Queen Cake • Queen Candi • Queen Delightful • Queen Nehelenia • Queen of Tarts • Queen Pearl • Queen Poppy • Queen Razz Bear • Queen Serenity • Queen Teatinu • Queen/Cure Mirage • Queenie Cake • Queenie Compact • Queenie Hearts • Queenie Lou • Queenie Red Heart • Quetzalcoatl (Miss Kobayashi's Dragon Maid) • Quick Straw • Quilty Boot • Quincy Goatee • Quinn (Hairdorables) • Quinn Grape Juice • Quinn Nash • Quizzy Bear • R.B. Flakey • R.O.B. (R.O.B.) • R.R.R. 3000 • Ra-Ra Skunk • Rabbily (Kiratto Pri☆Chan) • Rabbit (Winnie the Pooh) • Rabi Himuro • Rabirin (Healin' Good Pretty Cure) • Rachel Alucard • Rachel Bighead • Rachel Raspberry • Racoon-Stronaut (L.O.L. Surprise!) • Rad Roma • Radiant Ring Rue • Radical Q.T. • Radio (The Brave Little Toaster) • Radio Queen • Radio Sue • Radlynn (Papa Louie) • Raffina (Puyo Puyo) • Ragna the Bloodedge • Rain Q.T. • Rain-Go Cake • Raina Bowloon • Rainbow Bite • Rainbow Crumb • Rainbow Dash • Rainbow Dreamer • Rainbow Glow • Rainbow Kate • Rainbow Pop • Rainbow Raver • Rainbow Rider • Rainbow Scent • Rainbow Slushie • Rainbow Sparkle • Rainbow Swirls • Rainbow Uni-Bagel • Rainbow Wings • Rainbow Wishes • Raisin Roll • Rald (Jewelpet) • Ralph Raccoon • Ralphie Tennelli • Rambi the Rhinoceros • Ramlethal Valentine • Ramona Ramen • Ran (Shugo Chara!) • Ran Kotobuki • Ran Mitake • Ran Shibuki • Ranko Kanzaki • Rantaro Amami • Raphiel (Gabriel DropOut) • Rappakeet (L.O.L. Surprise!) • Rappān (Yes! PreCure 5) • Rapunzel (Tangled) • Raquel (DokiDoki! PreCure) • Raquel Murillo • Rare Garlic • Rasp Rasp • Raspberry Cream • Raspberry Jelly • Raspberry Light-Up • Raspberry Polish-It • Raspberry Roadster • Rateusa (Sugarbunnies) • Rave Machine • Raven (Teen Titans) • Raven Queen • Rawr (L.O.L. Surprise!) • Rawr Babe • Rawr Tide • Ray Stantz • Raylene Rainbow • Rayne (Hairdorables) • Rayne-Bow (Shopkins) • Raz Froyo • Raz Sugar • Raz-Beary Waffle • Raziel (Webkinz) • Razz Bear E. • Razz Blue Meringue Gloss-Up • Razz Cookie Gloss-Up • Razz Rock • Razz Rock Light-Up • Razzberry Go-Go • Razzi Berry • Razzy Bun Bun • Razzy Bunny • Razzy Cream • Razzy Diamond • Razzy Dip Treat • Razzy Drop Gloss-Up • Razzy Froyo • Razzy Loaf • Razzy O'Bear • Razzy Polish-It • Razzy Pop • Razzy Rabbit • Razzy Rita • Razzy Rounds • Razzy Shreds • Razzy Spiral • Razzy Teddy • RC (Toy Story) • Reagan Raspberry • Rebecca Bag • Rebel (L.O.L. Surprise!) • Rebel Cookie • Rebel Dare • Red (Angry Birds) • Red (WarioWare, Inc.) • Red Apple • Red Bean Cookie • Red Cheerleader Cookie • Red Fiery Flame • Red Pepper Cookie • Red Velvet Cupcake • Red Velvety • Red-orange Cure (Episode 43; HappinessCharge PreCure!) • Red Velvet Cookie • Reece Cheese Cracker • Reed (Fresh Beat Band of Spies) • Reggie Veggie Burger • Reggie Veggie Dog • Regina (DokiDoki! PreCure) • Rei (Mewkledreamy) • Rei (Puyo Puyo) • Rei Hino/Sailor Mars • Rei Jinguji • Rei Kagura • Rei Kizaki • Rei Wakana • Reika Aoki/Cure Beauty • Reika Kirishima/Time Gal • Reika Kitakami • Reika Yūki • Reimu Hakurei • Reina Koseki • Reina Miyama • Reindeer (Webkinz) • Relius Clover • Remi Otogiri • Ren Hazuki • Ren Hoek • Ren Kizaki • Rena Minami • Renatta Ravioli • Reona Nyubara • Reptar (Rugrats) • Rery (Suite PreCure) • Retasu Midorikawa/Mew Lettuce • Retoree (Show by Rock!!) • Retsu Akagi/Burning Red • Revue (L.O.L. Surprise!) • Rex (Toy Story) • Rex Dangervest • Rhonda Ring • Rhonda Ruffle Shorts • Rhymes (L.O.L. Surprise!) • Rhythm Empress • Ria Ribbons • Riamu Yumemi • Riana Radio • Ribbon (HappinessCharge PreCure!) • Ribbon (Kirby) • Ribbon Lolly • Ribbon Slippers • Ribbonna (Shopkins) • Rich Roll • Richie 'n' Smoothie Pudding • Richie Rainbow • Richie Ring Box • Richie Tozier • Richter (Castlevania) •