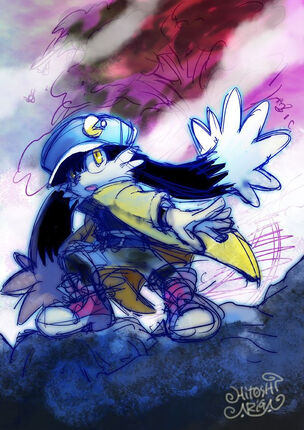 Klonoa is the cabbit hero with the Wind Ring and is known to be the "Hero Dream Traveler" by many who know him. Klonoa is also married to the beautiful High Priestess Lolo and is the father of Kuronoa and grandfather of his daughter's daughter Haru. Klonoa is the bearer of the famous elemental ring the Wind Ring that shoots his favorite projectile attack the Wind Bullet. Klonoa is known to be a big fan of Pac-Man since he considered Pac-Man as his idol. Klonoa then became the new mascot of Namco after Pac-Man said that he is going to retire being Namco's mascot. Klonoa's also smart. Klonoa believes that him being married to Lolo is the best part of his life he ever. Klonoa knows all of the elemental rings are powerful enough to make the strongest elemental ring the Dream Ring and they can use it's power as well wheter if it's active or not. Klonoa truly believes that being a hero involves protecting the innocent and having friends. Klonoa is truly kind and cares about his friends and family so he will risk his life to keep his family and friends safe. Klonoa wears a yellow jacket like his friend Jubilee.
Appearance
Klonoa is known to be a cabbit which is half cat and half rabbit and he has yellow eyes. Klonoa wears a blue hat with Pac-Man, a yellow jacket with a red shirt and gray pants.
Personality
Cowardly (Formerly), Fearless (Currently), Absent-minded (Formerly), Smart (Currently), Kind, Heroic, Optimistic, Naive & Strong willed.
Age
18 years old (Physically), 264 years old (Mentally)
Family
Sachi (Father)
Mamoru (Mother)
Grandpa (Grandfather)
Ao (Grandma)
Tim (Grandfather)
Kira (Sister)
Lolo (Wife)
Kuronoa (Daughter)
Gantz (Son-in-law)
Haru Stone (Granddaughter)
Marcus Stone (Grandson-in-law)
Haruka Stone (Great Granddaughter)
Friends/Allies
Guntz
Leorina
Mario
Luigi
Sonic
Tails
Cosmo
Zooey
Ash Ketchum
May Ketchum
William X
Anime Circus Baby-X
Elisa Caneli-X
Bowser
Matthew X
Theodore Funtime-X
Clawdia Koopa
Huepow (Best friend)
Thomas Pirate
Bonbon Pirate
Yoshi
Bowser Junior
Champ Bear
Cheer Bear
Austin Night
Donkey Kong
Tunu Hyenak
Alicia Hyenak
Espio
Vector
Double Dark William X
Silvia X
Charmy Bee
Saffron Bee
Kion
Makini
Crash Bandicoot
Coco Bandicoot-Prower
Alternate William X
Circus Baby-X
Circus Baby
Ballora
Funtime Mangle
Funtime Freddy
Stuart Funtime
Balleta Funtime
Optimus Prime
Wolverine
Diddy Kong
Tiny Kong
Mega Man Volnutt
Roll Caskett-Volnutt
Enemies/Rivals
Wario (Rival)
Janga
Evil Maverick Leader Virage
Evil Freddy Krueger
Evil Jason Voorhees
Garfield (Rival)
DJ Octavio
Evil Michael Myers
Evil Leatherface
Evil Ghostface
Evil Pinhead
Evil Chucky
Evil Jigsaw
Evil Hannibal Lector
Evil Norman Bates
Evil Pennywise
Evil Cujo
Evil Sweeney Todd
Heihachi Mishima
Waluigi (Rival)
Evil Ash Williams
Donald Duck
Squidward
Ennard
Evil Freddy Fazbear
Evil Bonnie the Bunnie
Evil Chica the Chicken
Evil Foxy the Pirate
Evil Golden Freddy
Evil Bowser
Evil Predator
Likes
Lolo
Kuronoa
Gantz
Kissing Lolo
Hamburgers
Helping his friends
Shaymin
Pikachu
Sylveon
Blastoise
Pop music
Rock music
Cream Soda
Haru Stone
Singing
Dislikes
Raw carrots
Wario's attitude
His granddaughter Haru getting bullied
Squidward's attitude
Abusiveness
Seeing Lolo cry
Seeing Kuronoa cry
Being left out
Jazz
Marionette being mean to Lolo
Killing
Seeing Haru Stone sobbing