Welcome to the Ice Age mini wiki at Scratchpad!
You can use the box below to create new pages for this mini-wiki.
<createbox>
  preload=Ice Age/preload
  editintro=
  width=25
  
  

</createbox>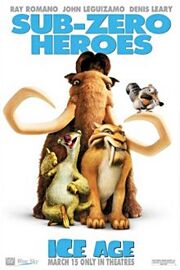 Ice Age is a 2002 American computer-animated buddy comedy road film directed by Chris Wedge and co-directed by Carlos Saldanha from a story by Michael J. Wilson. Produced by Blue Sky Studios as its first feature film, it was released by 20th Century Fox on March 15, 2002. The film features the voices of Ray Romano, John Leguizamo, Denis Leary and Chris Wedge.
The film is set during the days of the ice age; animals begin migrating south to escape the winters. Once Manny, a no-nonsense mammoth meets Sid, a loudmouthed ground sloth and the two find a human baby, they set out to return the baby. Joining them is a saber-tooth tiger named Diego, who is commanded by his pack leader to bring the baby to him to enact revenge against the humans. The film's plot was compared to that of 3 Godfathers when it came out.[2]
This film was met with mostly positive reviews and was nominated at the 75th Academy Awards for Best Animated Feature. It was a box office success by grossing over $383 million, starting the Ice Age franchise. It was followed by four sequels, Ice Age: The Meltdown in 2006, Ice Age: Dawn of the Dinosaurs in 2009, Ice Age: Continental Drift in 2012, and Ice Age: Collision Course in 2016.
Parodies

 WARNING: You may add parodies. But, do NOT delete any.
Community content is available under
CC-BY-SA
unless otherwise noted.