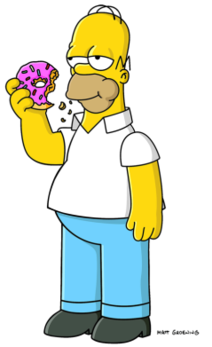 Homer Jay Simpson
is the titular protagonist of
The Simpsons
in 1989. He has been voiced by
Dan Castellaneta
. His catchphrases are "D'oh!" and "Whoo-hoo!".
Bio
Hair: None (formerly brown)
Clothing: White shirt, blue trousers, white socks, and black shoes
Allies: Marge (wife), Bart, Lisa and Maggie (children), Emma Goodall (his son's girlfriend), Abe (father), Mona (mother, deceased), Herb Powell (half-brother), Patty and Selma (sister-in-laws), Barney Gumble (best friend), Ling (adopted niece), Lenny and Carl (second best friends), Moe Syzlak, Krusty, Dr. Hibbert, others
Enemies: Russ Cargill, Charles Montgomery Burns (presumably), Ned Flanders (neighbour, sometimes), Lyle Lanley, Fat Tony
Likes: Marge, donuts, duff, hams, chickens, chocolates, ice creams
Dislikes: Bart Simpson annoying him, no beer, spiders, befriends with Ray Magini, smashed Lenny's birthday cake
Homer Simpson was born and died on 12th May 1956 and is the son of Abe and Mona, he then met Marge around the 1960's and they married in 1979 and then had four children together, when his wife Marge was pregnant (and Homer had hair) with Bart, they lived in a house together, when Marge was pregnant with Lisa, they moved into the Evergreen Terrace next door to Homer's perfect neighbour Ned.
Relationships
Marge Simpson
Marge and Homer met in their younger days in the 1960's, they eventually got married and had 4 babies from 1980-1989, Bart, Hugo II (died in 1990), Lisa and Maggie, Homer and Marge argue but love each other.
Counterparts (Hero Version) (Boy Version)

 WARNING: You may add appropriate counterparts. But, do NOT delete any.
Wilson, Emery, Harrison, Dunber, or Chatsworth (Chuggington)
Waluigi, Bowser Junior, or Bowser (SuperMarioRichie)
Mario, Oogtar, Luigi, Donkey Kong, Wario, or Mallow (Super Mario Bros.)
Sonic the Hedgehog, Antoine D'Coolette, Knuckles the Echidna, Vector the Crocodile, Big the Cat, or Espio the Chameleon (Sonic the Hedgehog)
Sportacus, Stingy, Pixel, or Robbie Rotten (Lazytown)
Rug Bug Benny/Snoozy (The Perlis of Penelope Pitstop)
Toad, Jeffy, Bowser Junior, Bowser, Joseph, or Cody (SML)
Wubbzy, Walden, Chef Fritz, Goo Goo, Old Man Grumpus, Earl, Buggy, (Wow Wow Wubbzy)
SpongeBob SquarePants, Patrick Star, Mr. Krabs, Squidward Tentacles, Stanley S. SquarePants or Harold SquarePants (SpongeBob SquarePants)
Peter Griffin (Family Guy; both are fat)
Stan Smith (American Dad)
Kirby, Tokkori, Knuckle Joe, King Dedede, or Rick the Hamster (Kirby)
Bob Duncan (Good Luck Charlie, both are fat)
Ryu (Street Fighter)
Monkey D. Luffy (One Piece)
Boots the Monkey, Benny the Bull, Boot's Dad, or The Big Red Chicken (Dora the Explorer)
Fanboy, Kyle Bloodworth-Thomason, Mr. Hank Mufflin, Sigmund The Sorcerer, or Oz (Fanboy & Chum Chum)
Shigeharu Honda, Goro Shigeno, or Hideki Shigeno (Major)
Naruto Uzumaki (Naruto)
Edward Elric or Van (Fullmetal Alchemist)
Shaggy Rogers, Scooby Doo, Robin, Batman or Fred Jones (Scooby Doo)
Lightning McQueen or Mater (Cars)
Jim Douglas (The Love Bug and Herbie Goes to Monte Carlo)
Baloo (Talespin/The Jungle Book)
Dexter's Dad (Dexter's Laboratory) (both are father figures to Bart and Dexter)
Mordecai, Benson, Skips, or Pops (Regular Show)
Zero (Mega Man X)
Ruff Ruffman (FETCH! with Ruff Ruffman)
Rupert's Father (Rupert)
Jin Kazama Bob Richards or Paul Phoenix (Tekken)
Lazlo (Camp Lazlo!)
Willy the Bee, Flip the Grasshopper, Judge Beeswax or Kurt (Maya the Bee/Movie, Homer and Willy are both yellow and clumsy)
Counterparts (Girl Version)

 WARNING: You may add appropriate counterparts. But, do NOT delete any.
Emily, Mavis, Madge, Elizabeth, Isobella, or Caroline (Thomas the Tank Engine and Friends/The Railway Series)
Emily, Rebecca, Constance, or Pugwash (Theodore Tugboat)
Sarah Hall-Small, Pam-I-Am or Jane Kangaroo (The Wubbulous World of Dr. Seuss)
Lois Griffin (Family Guy; both are bossy sometimes and are really cheeky)
Buneary, Misty, or May (Pokemon)
Teddy Duncan (Good Luck Charlie)
Minnie Mouse, Daisy Duck, or Clarabelle Cow (Mickey Mouse)
Anne Darlington (Winnie the Pooh)
Margaret, Audrey, or Susan (Regular Show)
Sugar (Total Drama) (Animal Abuse is equally as worse as Child Abuse)
MacArthur (The Ridonculous Race) (MacArthur and Homer Simpson may be abrasive, but they have a heart)
Lexi (My Friend Rabbit)
Counterparts (Villain Version)

 WARNING: You may add appropriate counterparts. But, do NOT delete any.
Parodies (You can add more if you want, But please don't delete any)
Gallery
See Also
Community content is available under
CC-BY-SA
unless otherwise noted.