See also:
Felidae
Gumball Thristopher Watterson is the main protagonist of The Amazing World of Gumball. He was created by Ben Bocquelet. He is a greenish blue anthropomorphic heroic cat who lives in a fictional city Elmore. He is voiced by Jacob Hopkins.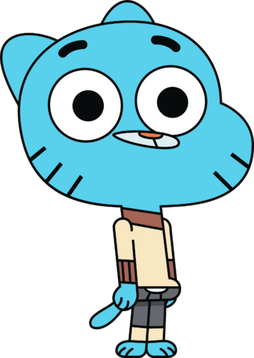 Bio
Species: Anthropomorphic Cat (presumably Felis slivestris catus)
Age: 12
Fur Color: Greenish blue
Clothing: White sweater, gray trousers
Allies: Richard (father), Nicole (mother), Darwin (brother, best friend), Josephine (grandmother), Penny Watterson (Wife), Banana Joe, Tobias (Sometimes) Carrie, Rocky Robinson, Carmen, Alan, Purple Moose, Anais Watterson (sister)
Enemies: Tina Rex, Ms. Simian, Principal Brown (Sometimes) , Mr. Robinson (Gumball sometimes sees him as a friend), Patrick Fitzgerald (parent-in-laws, formerly enemies), Rob (Cyclops who was disfigured in "The Void")
Counterparts

 WARNING: You may add appropriate counterparts. But, do NOT delete any.
Gallery
See also
v

•

e

New Happiest Pavilion and Healing Universe
Amazing/Talented Users
1chi • AddictStudios • African Vulture • Ahmed Baeza • Akuma * • Alan Ranks • Alayna Telep • Alessandro Muto • Allison Gatewood • Almir Velovic • AlondraTheHispanicGirl2006 • ALP4HA • Alvee • Amanda Andrea Rose • Amethyst The Making Fiends Girl • Andres290 • Andrew Orozco • Andrewteel213 • Andrey • AngryBirdsFTW PigsFTL • Antony Luo • Aquatic Føxy 2008 • Art1stg1rl • ArtisterMan • Ashens • AshKetchumInitialDHero • Asif • Aurora Pemberon • Azariah Damole • BabyDolly • Bailey Farnsworth • BEC Enterprises • Bell Luna • BeneaSelena • BerryGarenaTheGalaxyGirl2009 • BiggestThomasFan • Blaze-On-Fire • Blue Marker Productions • BlueKai2020 ac5656 • Bongo's dad • Bowser Junior Rocks EST. 2008 • BrattenA • Brendan Barney • BrownFamily1108 • bubblegumlover6020 ! • CaillouAndersonYesKenAndBongoNo • CakuPop • Canadian Scout • Carla Young • Carma • Carriejokerbates • Catboi - Studios • CatDefender • Cesar Cervera • ChaoChao0071 • Charlotte • CheckerCabAnimate • Chelsea Todd • CherryBlossom490 • Christian Cardenas • ChristianTheSonicFan978 • Chuck Bird 36 • Cierra Lyle • Clara Malanaphy • Cody McCone • cookieiscute 2010 :3 • Cory TheTaurusTuber Est. 2000 • Courtney Springer • CrazyRussianHacker • Cream "Prower" the Rabbit • Crydiaa • Crystal Davidson • Crystal-Sushi • CrystalDarkPinkie • Ctrb 144 • D.E.R.P • Daniel the animator • DanTDM • darknessawakens13 • DatGlitchyLightRedRuby Est. 2007 • DatPerfectWhitestoneGuy Est. 2005 • Dayana The Queen Of Demonic Angels • DiamondAnimate 3DS • Diana Garcia • Dianecat98 • Diego Fuenzalida • DiegoIsHere • DisneyNickFan2007 • Domtendo • Douglas Tiunardo • DualCabbage 2005 • DuaneCarter2004 • Dude Perfect • Dylan Darr • Dylan Huff • E-Aria/Eia • Eduardo Ivan Garcia • Edward Odinokov • Electromaniatic • Elena Nitu • Elias D • Elisa Predut • Elwoodjayson • Emiko • Emily The Kid Shinigami Kid • EndCreditsYesClydeNo • Epic Diamond Great • Epic Tourmaline • Eric Medina • ernestomoises65 • Ethan Nestor • Eva (Sweet Princess Gaming) • Eva Vazquez • Evan Bertrand • Ezz Eldine • Fierce Deity Link * • FinnSpin • Fion Lim • FireTrainThomas01 • Flower Girl • Friendly Girl • Fusion • Gabe The Sesame Street Fan • Gabrielle Foster • Gacha cookie World • Galaxy Alice • GalaxyCode2100 • GalaxyKelly • GamingMaster • generated friends • GenesisEvo • Gerard Scheer • Ginette Sosa • GoBigPlanetMate3854 • GorillaGaming • GoTest334 • Grand ol' Robopoof • HanifImranAnimator • HayleyAnimate2004 • Higabuto • HopkinsTheMovie • HyperMan53 • Illaris Abdeel Romani Changa • Isaac's dad • Itz_crystal wolf • ItzAdrian_XCatLife • ItzKaren • Ivan the Brony Kaiju • Jackberrygacha Bxryy gacha • Jake Khmer • James Farrimond • James Johnston • James Reyes • JapexJared • Jasmine The Inkling • Jason AnimatorAndGaming124 • JD Childs Playz Gamez • JeagerEX • Jeff 171 • JessicaFin23 • Jewel's Network • JJSponge120 • JoGames • Johel.padilla.1 • Jon Tinoco • Jonathan Amaya • Jonathan The Disney Fan • Jordan Lau • Jorden the Galaxy Girl • Jose Erick Garcia • Jose Ruiz • Josephlu2021 • Josuke Higashikata (user) • Journei Bensonadams • JT The Foxes Spy Sailor Moon Fan Romantic Loved • Juliana Andrea • Julie the cutie girl • JulioRocks 2003 • Jun The Anime Lover Est. 1997 • JWBerkley007 James • Kat (Nyankatx3) • Katherine the Blue Girl • KatieTheGummyAngelGirl2006 • Kelly the little f*cker • Kelvin Muñoz • Ken's dad • Kenzie Backlin • Kids Learning Tube • Kinenz • Kira Mcguinness • KiraKiraPopPrincess26Alt • Kiri-dream-city • Klasky Opusc Error Animations Returns • Konnichiku • Kyle Rangel • Kätë Kïttêñ • Lander_Blazer • LandonTheEASGuy2005 • LegalizeAnythingMuppets • Level Posey • Lia the Bow Fanatic 2003 • Lilianna Andrews • liz genie • LizaTheScratchTuber • LooneyTraceYT • Lowry Flaschar • Lucky Penny Shop • Luigi Comedian 2020 • LukeAnimate754 • Luni • LW97 • LøvelyStårlightVietGacha • Madeline Baeza • Madisonpherman • Malachi Johnson • Manamilin • Marcus (Chelsea Todd's boyfriend) • Margra Batto • Markiplier • Marlena Degaldo • Mast3r-Rainb0w • MasterBlaze • Matthew Bossert • MaximoAnimateYT • MegaToon1234 • Michael Laffey • Michael Rizzo • MichTop • MicMic Animate16 • Mike Wolf • Miranda Todd • Miss Marma Degaldo • MobileLegendsGamerFans 2007X3 • Monet Lilli • Mort (true_mort) • MotiejusGamer • Mr. Crabmeat • MrBeast • MrEmperorCJ • NaharArkwing • Nakashima Yuki • Nathan Aponte • Nathaniel Bandy • Nekomuu • NeoNimbus526 • Ngb96 • Nikita Khazov • Nikki Sparkles • Ninja (user) • Nintendo&SSBUFanatic2008 • NLTheRealGuy642003 • NoreenCreatesStuff • Omar Ockleberry • Optimus Prime1984 • OriginalWolf99 • Ozzy's dad • Patty Benitez • Paula712 • Payne Rogers • Peanut and Scraps • Pedro Valdez Chevy 7000 • PewDiePie • Phantom • PikachuFan2012 • Pikachufreak • Plainrock124 • PokemonComedian2004 • Prentis-65 • Princess Irene • Princess Precurefan9000 • Princess-Josie-Riki • PrincessAshley • PureEunoia • Purorange • Qaiser • Ra1nb0wK1tty101 • Raccoon-P • Rack Animate • Radd • Radio The Video Maker • RamboNyanKitty • Rami Gacha • Ramunade • Randy Ruiz • Ransom Guy • RebeccaTheSorceress • RedDasherCAS • RedSpider • Renata • RetroGameFan9000 • Richsmond Huynh • RobotstarPlayz • Rosalina's Awesome • Runner97 • Rylan The gacha club hedgehog • ryna_kat • Sabrina (Yusuf's girlfriend) • Samster5677 • Saulius Mrozinskas • Scarlet Lovelock • Scott The Woz • SebasHero899 • Senpaibuns • Seth Mealy • Shachimu • Shadow Boi • Shawn Brunner • Shellbie May UwU • Shining Hatsya • Shizu • Shooting Stephen 677 • Shrek Loves Onions • Skiylarns Shinny • Skyrim & UltimateTagFan2006 • SMG4 • Snap shotFTW KaosFTL • Snookie & Snowy • Snowy_JerryTheFoxAnimate 9019 • Sophie the Otter • Spears20500 • SpongebobRocks2001 • St. BronzestoneBoy • St. LoserBoy2007 • Star Allison And Polly Yes Mesa No 2020 • Star love fnaf Garden wall • StarDarkSaladBowserFTW DarkWineBowserJrFTL • StarNightCityTehVideoMaker958 SHDP • StarWendyThePrincessFairy-Chan 2003 • Stary_ Fall • StefieB • Steven Nguyen • Strawberry Nicholas • Sufferst • Sultan 2K1 Enterprises • SunsetStainedWings2 • Super Mario And Sonic The Hedgehog Fan 2006 • Super Sayin Gacha Boy est. 2002 • Super stars2014 • SuperSmashBros. Fanatic 2005 • Swirly - DonutEditz • TailsougeForever • TASF05 The Friendly Fox • Tatiyana The Goddess Of Darkness • Teacaku • Tesserator Odinokov • The 8-Bit Guy • The Abdullah Siblings • The Cute Master :3 • The Garfield Show Fangirl 2005 • The Inkling & Octoling Crews • The Lim Siblings • The Lovelock Oldest • The Lovelock Youngest • The Telep Siblings • The Thomas Lab • The Vultran Person • TheColumbiaMovieFan2004 Productions • TheFunEditor4 • TheJoJuan4444 • TheSimpsons&MegamanFan2005 • TheViperGaming • Tiffy33 • Timothy William Bor • TitaniumStar537 • Towers-of-Obscure • Trainfan J.T • Trinity Hayes • Trisha611 • Turbo Emedot • Ufulli • UltimateMakerDude30 • UltraStar981 • VeggieFan2000 • Victor Salazar • Victoria Telep • ViktorAnimate2004 • Vincent Stark • Vinhchaule • Vittorio • Vivilda the chimera • Wakko 336 Test Tube 909 • wanna one and weatherstar4000videoYesyoshino • Warrior echo Fighter777 • Weatherstar4000video • White Animations • why is everything cake • Windows 8.1 • Windows Devin • Windows Reguner Skyller 2297 • WindowsRedBoySWK • Wolfychu • XavierAnimate • xXBri-The-DemonXx • YazToonz2020 • YoshiAnimate • YoshiFan GamerStudioFun • Yusuf Abdullah • ZackAquamarine6XZ • ZaydG • Zion Mathis • Zoey Degaldo • Àngel Llàdser
Favorite Characters
$teezy (L.O.L. Surprise!) • 'Olu Mel • 18-Volt (WarioWare, Inc.) • 24K D.J. • 5-Volt (WarioWare, Inc.) • 80's B.B. • 80's Hog • 80s Bunny • 9-Volt (WarioWare, Inc.) • A.L.O.E. Drone • Aang (Avatar: The Last Airbender) • Aaron Davis • Abbey Bominable • Abby (Cubix: Robots For Everyone) • Abby Cadabby • Abu (Aladdin) • Accord (Puyo Puyo) • Ace Fender Bender • Adam Apple • Adeleine (Kirby) • Adora/She-Ra • Adorabat (Mao Mao: Heroes of Pure Heart) • Adorbs (L.O.L. Surprise!) • Adrianne Apple • Adrien Agreste/Cat Noir • Adventurer Cookie • Aeon/Uncanny Valley • Agatha (Dark Deception) • Agatha Jones • Agent 00L • Agent Baby • Agent Blue • Agent D the Duck (Phineas and Ferb) • Agent F the Frog (Phineas and Ferb) • Agent Kitty • Agent Olympia • Agent Oona • Agent Otis • Agent Purr • Agent Red • Agent Xero • Agent Yellow • Aggretsuko (Sanrio) • Agnes Gru • Agnes Johnson (The Loud House) • Aguri Madoka/Cure Ace • Ahri (League of Legends) • Ai (DokiDoki! PreCure) • Ai (Puyo Puyo) • Ai Hidaka • Ai Miyashita • Aiko Senoo • Aiko Takamori • Aine Yūki • Aira Harune • Aira Nanahoshi • Airi Amemiya • Airi Kirara • Airi Sonoda • Airi Totoki • Aisha (Winx Club) • Ajimi Kiki • Akali (League of Legends) • Akane Hino (The Idolmaster) • Akane Hino/Cure Sunny • Akane Mimori • Akane Nonohara • Akari (Papa Louie) • Akari Mizunashi • Akari Sakura • Akari Shiratori • Akari Taiyou • Akari Ōzora • Akarun (Fresh Pretty Cure!) • Aki Momoi • Aki Tachiishi • Aki Yamato • Akiza Izinski • Ako Saotome • Ako Shirabe/Cure Muse • Ako Udagawa • Akubī (Yes! PreCure 5) • Al Foil • Alan Powers • Alana Alarm Clock • Alastor (Hazbin Hotel) • Albert (The Loud House) • Alberto (Papa Louie) • Alex (Puyo Puyo) • Alex (Totally Spies!) • Alex Heart • Alex Tiger • Alexandra Kurisu • Alexandra Ornament • Alfred Jones • Ali Apple Pie • Alice (Alice in Wonderland) • Alice (Pop'n Music) • Alice Carol • Alice Fruit Salad • Alice in Lalaloopsyland • Alice Peperoncino • Alice Yotsuba/Cure Rosetta • Alicia Charlotte • Aliens/Little Green Men • Alina Gray • Alix Kubdel/Bunnyx • Allegra Leaps 'N' Bounds • Alley Cat • Allie (Where's My Water?) • Allira Amethyst • Allister (Pokemon) • Ally (Puyo Puyo) • Alm (Miracle Tunes!) • Almond Cookie • Aloalo (HappinessCharge PreCure!) • Aloe Cookie • Aloe Tail • Alpha Soup • ALT (Pop'n Music) • Alt Grrrl • Alto (L.O.L. Surprise!) • Alvin Seville • Alya Césaire/Rena Rouge • Alyssa (Webkinz) • Ama Ebi • Amalthea/The Last Unicorn • Amana Osaki • Amanda Grape Jelly • Amanda O'Neill • Amanda Panda • Amane Nishiki • Amaya Raine • Amaya/Owlette • Ambear Bow • Amber Apple • Amehiko Kuzunoha • Amethyst (Steven Universe) • Ami (True Tail) • Ami Avocado • Ami Futami • Ami Gido/Blue Princess • Ami Mizuno/Sailor Mercury • Ami Onuki • Amigo Burrito • Amigo/Phantomi Queen • Amitie (Puyo Puyo) • Amity Blight • Amu Hinamori • Amy Rose • Amy Wong • An Yu • Ana (WarioWare, Inc.) • Anabella (Doki) • Anais Watterson • Ananas Dragon Cookie • Anastasia (The Idolmaster) • Ancient Meow • Andre Avalanche • Andrew Hanbridge • Android 18 • Andy Baker/Fury • Andy Bandy • Andy Candy • Andy Davis • Angel (L.O.L. Surprise!) • Angel Bubble • Angel Cake (Num Noms) • Angel Cake (Shopkins) • Angel Cookie • Angel Dust • Angel Foodie • Angel Lightstick • Angel Wings • Angela (Jewelpet) • Angela (Oh Yeah! Cartoons) • Angelique Star • Anger (Inside Out) • Angie Ankle Boot • Angie Apple • Angie Yonaga • Angles (L.O.L. Surprise!) • Angry Onion • Anji Mito • Anju Shiratori • Anju Yuki • Anko (Sanrio) • Ann Fukuhara • Ann Kurimu/Ann • Anna (Frozen) • Anna (Yogurting) • Anna Akagi • Anna Canada Heels • Anna Double Scoops • Anna Mel Cookies • Anna Mochizuki • Anna Pajamas • AnnaBelle Moooshe • AnnaBelle Mooshe • Anne Action • Anne Boonchuy • Annie Apple • Annie Hamilton • Annie Orange • Annie Ornament • Annie Ringtail • Anthony Wiggle • Antique Bookmark • Anzu Futaba • Ao Kasane • Aoi Arisugawa • Aoi Asahina • Aoi Kiriya • Aoi Tategami/Cure Gelato • Aomimiusa (Sugarbunnies) • Aousa (Sugarbunnies) • Aphrodite (Suite PreCure) • Apple Blossom • Apple Cookie • Apple Icy • Apple Jack • Apple Pie • Apple Pie Alice • Apple Pie Ride • Apple Pop • Apple Rabbit • Apple Rock Light-Up • Apple Tart Jelly • Apple White • Applejack (My Little Pony) • Applemobile (Shopkins) • April (Donald Duck) • April Apricot • April Sunsplash • Aqua (Kingdom Hearts) • Aqua (L.O.L. Surprise!) • Aquarius (Star Twinkle PreCure) • Arabella (Shimmer and Shine) • Arakune/Lotte Carmine • Archan (Puyo Puyo) • Ari Hauntington • Ari Jin • Aria Futaba • Ariel (The Little Mermaid) • Ariel Valtiel Westcott • Aries (Star Twinkle PreCure) • Arisa Ichigaya • Arisa Matsuda • Arisa Mizukoshi • Arisa Narumi • Arisa Sakamoto • Arisu Hanazono • Arisu Tachibana • Arizona (Azur Lane) • Arizona (Them's Fightin' Herds) • Arizona Goof • Arizona Robbins • Arle Nadja • Armadylan (PJ Masks) • Arnold Perlstein • Aroma (Go! Princess PreCure) • Aroma Flutters • Aroma Kurosu • Arte Fact • Artemis (Sailor Moon) • Arthur Asparagus • Arthur Curry/Aquaman • Arthur Read • Artichoke Cookie • Artie Choke • Arturo Sombrero • Arty Party Hat • As If Baby • Asahi Kasumi • Asahi Minamikawa • Asahi Mitaka • Asahi Miura • Asahi Serizawa • Asami Himuro • Asbury Raspberry • Ash (Sing) • Ash Ketchum • Asher (Hairdorables) • Ashley (WarioWare, Inc.) • Ashlynn Ella • Aspara-Gus (Shopkins) • Aspen Fluff • Asriel Dreemurr • Asselin BB II • Assistant (Tetris Plus) • Asuka Ninomiya • Asuka Takizawa/Cure Flamingo • Asumi Fuurin/Cure Earth • AT&T • Atsuko Kagari • Atsumi Munakata • Aubrey Heart • Audrey (The Lorax) • Audrey Smith • Audrey Strawberry Milk • Auggie Matthews • Augustus Gloop • Aunt Arctic • Aunt Blush • Aunt Ester Egg • Aunt Wihelmina Wafer • Aunt'e Claire • Auntie Corn • Auntie Septic • Auriana (LoliRock) • Aurora (Sleeping Beauty) • Autumn Cream • Autumn Spice (Lalaloopsy) • Autumn Spice (Num Noms) • Ava Apple • Avery Styles • Aviva Corcovado • Avocado Cookie • Avocatapult (Cookie Run) • AWOL Cracker • Axl Low • Aya Hoshino • Aya Maruyama • Ayame Hamaguchi • Ayame Kajou • Ayami Ooruri • Ayano Kannagi • Aye Aye • Ayumi Naruse • Ayumi Sakagami/Cure Echo • Ayumi Tsukishiro/Q-pit • Ayumu Maihama • Ayumu Uehara • Azarashin (Yes! PreCure 5) • Azrael (BlazBlue) • Azuki (Sanrio) • Azukina (Fresh Pretty Cure!) • Azusa Miura • Azusa Nakano • B (Total Drama) • B'Anchor (Shopkins) • B-Day Bean • B-Day Bites • B-Day Candle • B-Day Dip • B-Day Gummy Stamp-It • B-Day Jelly • B-Day Layers • B-Day Meringue Gloss-Up • B-Day Naner • B-Day Polish-It • B-day Sprinkled • B-Day Sprinkles • B-Day Twins • B-Day Waffle • B-Gurl (L.O.L. Surprise!) • B-Raz Cloud • B-Raz Square • B. Berry Clover • B. Berry Flakey • B. Berry Jelly • B. Berry Mallow • B. Berry Polish-It • B. Berry Poof • B. Berry Swirls • B. Gum Pop • B. Mine Valentine • B. Nana Split • B. Razz Bear • B. Razz Sweets • B. Razz-O • B. Razzy Gloss-Up • B. Razzy Polish-It • B. Razzy Rounds • B.B. Baby • B.B. Bake • B.B. Bear • B.B. Bop • B.B. Bunny • B.B. Cream • B.B. Knots • B.B. Pup • B.B. Scoops • B.B. Shreds • B.B. Stick • B.B. Surprise • B.B. Trio • B.B. Wheat • B.B.O. (Num Noms) • B.L.T. (Num Noms) • B3-4R (Cookie Run) • Ba-Dum Ray • Babe in the Woods • Babette Baguette • Babo (Uglydolls) • Babs Bunny • Baby 'Mato • Baby Bear • Baby Blueberry • Baby Bow Clip • Baby Browns • Baby Brussel • Baby Buggy • Baby Bulb • Baby Cabbage • Baby Carrot • Baby Cotton Ball • Baby Daisy • Baby Dots • Baby Dough Bro • Baby Grand • Baby Gummy • Baby Lemon Drop • Baby Luigi • Baby Maple • Baby Mario • Baby Next Door • Baby Peach • Baby Pin Flynn • Baby Pod • Baby Pranksta • Baby Puff • Baby Rosalina • Baby Sparkle Drop • Baby Spots • Baby Sugar Drop • Baby Swipes • Baby Syrup • Baby Tooth • Babydoll (L.O.L. Surprise!) • Baci Gelati • Backpacky (Cookie Run) • Bacon Cookie • Bactery (Cookie Run) • Bad Dog • Bad Pepper • Badgerclops (Mao Mao: Heroes of Pure Heart) • Badtz-Maru (Sanrio) • Bae Wheels • Bagel Beeper • Bagel Billy • Bah-nilla Curl • Baiken (Guilty Gear) • Bailey Baseball Glove • Bailey Biscotti • Bailey Bubblegum • Baldi (Baldi's Basics in Education and Learning) • Baley Sticks N. Straws • Ballet Coupe • Balletta Slippers • Balletusa (Sugarbunnies) • Ballinda (Shopkins) • Ballora (Five Nights at Freddy's) • Balthazar Cavendish • Banana Boo • Banana Bumper • Banana Cookie • Banana Crumbles • Banana Go-Go • Banana Split Trip • Banana Splitty • Bang Shishigami • Bangle B.B. • Banjo (Banjo-Kazooie) • Bantamweight (Dragon Quest) • Barb B Que • Barbara Keynes/Knightowl • Barbie Breakfast Muffin • Barbie Roberts • Barkk (Miraculous: Tales of Ladybug & Cat Noir) • Barley Lightfoot • Barney Bun • Barry (Num Noms) • Barry Allen/The Flash • Barry Donut • Barry Slush • Bart Beans • Bart Simpson • Bashful (Snow White and the Seven Dwarfs) • Bashful Q.T. • Basil of Baker Street • Bat-Cat • Baymax (Big Hero 6) • Bayonetta (Bayonetta) • BB Battery • BBCute Pringle • Bea (Pokemon) • Bea Spells-a-Lot • Beach Boi • Beachly Basket • Bean Drop Duo • Beanie Machine • Bear-Nana (Num Noms) • Beary Biscuits • Beary Bowtie • Beary Choco • Beary Fluffy • Beary Honey • Beary Lou • Beary Mint Twins • Beast Boy • Beatnik Babe • Beats (L.O.L. Surprise!) • Beauty Blossom • Beauty Fairest • Beauty Van • Bebe Groovy • Bebe Pepperoni • Bebé Bonita • Becca Bacon • Becca Bunny • Becky (T.U.F.F. Puppy) • Becky Backpack • Becky Balloon • Becky Banana • Becky Beauty Basket • Becky Birthday Cake • Becky Botsford/WordGirl • Becky Buckaneer • Beefy Frank • Beepy Birthday • Beet Cookie • Beetster (Cookie Run) • Bek Backpack • Bel (DokiDoki! PreCure) • Belinda Blender • Bell Pepper Cookie • Bell Renjoji • Bella (Hairdorables) • Bella Basil • Bella Basket • Bella Bliss • Bella Bow • Bella Bubblegum • Bella La Ball • Bella Mozzarella • Bella Parker • Bellafly (Shopkins) • Belldandy (Oh My Goddess!) • Belle (Beauty and the Beast) • Bellinda (Shopkins) • Bellinda Sweater • Bello (Jelly Jamm) • Belly Curly Tail • Ben Hanscom • Ben Higgenbottom • Bender Bending Rodriguez • Bendy (Bendy and the Ink Machine) • Bengal Tiger (Webkinz) • Benson (Regular Show) • Bentley Raccoon • Berecca (Ninjala) • Beriberin (Yes! PreCure 5) • Berlioz (The Aristocats) • Bernard (The Rescuers) • Bernice Berry • Berremy (Shopkins) • Berri Cakes • Berri D'lish • Berribelle (Shopkins) • BerriBlu (Shopkins) • Berries N Creme • Berry (Cinnamoroll) • Berry Bake • Berry Bella • Berry Berry Swirl • Berry Big Sister • Berry Blizzard • Berry Blue • Berry Bread • Berry Breyers • Berry Bunny Snap • Berry Cake Roll • Berry Cakes • Berry Cane • Berry Cheesecake • Berry Churro • Berry Cookie Gloss-Up • Berry Créme Gloss-Up • Berry Cub • Berry Cute Snacks • Berry Delightful • Berry Drop • Berry Fast Croissant • Berry French Toast • Berry Froyo • Berry Glazed • Berry Gloss-Up • Berry Gum Gum • Berry Gummy Stamp-It • Berry Jars 'N' Jam • Berry Jelly Roll • Berry Lea Louis • Berry Light-Up • Berry Meringue Gloss-Up • Berry Nice Pancakes • Berry O'Twins • Berry Polish-It • Berry Pop • Berry Pop Tart • Berry Puffs • Berry Pup • Berry Rounds • Berry Scoop • Berry Sherbet • Berry Shirayuki/Mew Berry • Berry Shiver • Berry Shortcake Shake • Berry Slushie • Berry Smooth • Berry Smoothie • Berry Squares • Berry Stamp-It • Berry Sun • Berry Sweet Lolly • Berry Sweet Pancakes • Berry Swirls • Berry Triplets • Berry Tubs • Berry Twins • Berry Twirl • Berry Vanilla Gloss-Up • Berry Waffles • Berry-O Cat • Berrylicious Gloss-Up • Bert (Mary Poppins) • Bert (Sesame Street) • Bert Raccoon • Bertha Bath • Bessie Bowl • Bessie Brush • Bessie Higgenbottom • Bessy Baseball • Beth Bunches • Bethany Blue • Bethany Broccoli • Betsy Bubblegum • Betsy Butter • Betsy Buttercup • Bettina Bag • Betty B-Day • Betty Baguette • Betty Bear • Betty Berry • Betty Blowout • Betty Boot • Betty Bouquet • Betty Bubbles • Betty Cassette • Bev Gilturtle • Beverley Heels • Beverly Marsh • Bhad Gurl • Bhaddie (L.O.L. Surprise!) • Bhaddie Bro/Chaos • Bhaddie Monkey • Bia (Sea Princesses) • Bianca Banana • Bianca Bengal • Bianca Berry • Bianca Boater Hat • Big Bird • Big City B.B. • Big Daddy Loo • Big Pauly • Big Sis Sammyl • Big Topping • Big Wig • Big-mouthed Avocado • Bijou Treasure Trove • Bill Cipher • Bill Denbrough • Billy Banana • Billy Bandage • Billy Bell • Bing Bong • Binky Bumper • Bird Brain • Birdo (Mario) • Birdy Blossom Cake • Birthday Bernadette • Birthday Betty • Birthday Blizz • Birthday Bunny • Birthday Cake Cookie • Birthday Cakey • Birthday Polish-It • Birthday Shake • Bitsy (L.O.L. Surprise!) • Bitty Pop • Bitzy Biscuit • Black Bean Patty • Black Cat (Webkinz) • Black Raisin Cookie • Black Raspberry Breyers • Black Stripe • Black Tie • Blackarachnia (Beast Wars: Transformers) • Blackbelt (L.O.L. Surprise!) • Blackberry Cookie • Blades (Transformers: Rescue Bots) • Blaire Éclair • Blake Belladonna • Blake Forest Cake • Blanket Featherbed • Blanky (The Brave Little Toaster) • Blast (Club Penguin) • Blaze the Cat • Bling Queen • Bling Unicorn Ring • Blingy (L.O.L. Surprise!) • Blizzard Berry • Block Party B.B. • Block Party Bro • Block Party K.T. • Blockey (Shopkins) • Blocky (Shopkins) • Blocky Ice Cube • Blondie Chip • Blondie Lockes • Bloomicorn (Shopkins) • Blossom (Powerpuff Girls) • Blossom Apples • Blossom Bear • Blossom Berry • Blossom Buggy • Blossom Flowerpot • Blow-Anne (Shopkins) • Blu (Rio) • Blu Razzy • Blue (HappinessCharge PreCure!) • Blue Barry • Blue C.C. Shreds • Blue Cure (Bomber Girls Pretty Cure) • Blue Drop • Blue Knight Ozaki/Blue Knight Blue • Blue Lip Gloss Nom • Blue Razz Gloss-Up • Blue Razz Polish-It • Blue Razz Pop • Blue Razz Rock Light-Up • Blue Razzbunny • Blue Razzy Gum Drop • Blue-Beary Rainbow • Bluebell Dewdrop • Blueberry Becca Crepe • Blueberry Carrie • Blueberry Freeze • Blueberry Gem Light-Up • Blueberry Gloss-Up • Blueberry Jelly • Blueberry Light-Up • Blueberry Mint Smoothie • Blueberry Oats • Blueberry Pie • Blueberry Pie Cookie • Blueberry Polish-It • Blueberry Pop • Blueberry Rock Light-Up • Blueberry Square • Blueberry Stamp-It • Blueberry Star • Blueberry Swirl Gloss-Up • Blueberry Waffle • Bluegrass Queen • Bluey Rounds • Blufadoodle (Webkinz) • Blush Pink Pastry • Blushing Baby • Blushy Brush • Bo Monkey • Bo Peep • Boatswain Anchor • Bob Parr/Mr. Incredible • Bob Stone • Bob the Minion • Bobby (Animaniacs) • Bobby Bubble Gum • Bobby Goggles • Bobby Santiago • Bobby Sock • Bodi (Rock Dog) • Boho Feathers • Bold B.B. • Bolly Bangles • Bomb (Angry Birds) • Bon Bon • Bon Bon Ham • Bon Bon Meow • Bonbonribbon (Sanrio) • Bondi Bathing Box • Bone-adette (Shopkins) • Bonetta Cupcake • Boni Bonsai • Bonita Basket • Bonita Burrito • Bonnie (Five Nights at Freddy's) • Bonnie (Toy Story) • Bonnie Banana • Bonnie Beret • Bonnie Blueberry • Bonnie Boom Box • Bonnie Bun • Boo Hoo Bandage • Boo Scaredy Cat • Boo-Hoo Onion • Booger (Webkinz) • Boogie Babe • Boogie Kitty • Boomer (Papa Louie) • Boomerang Bro • Boost Mobile • Booster Munchapper • Boot Scootin' Smoothie • Bop Top • Boss Baby • Boss Pooch • Boss Queen • Boston Market • Botley (JumpStart) • Bottle Pop • Bouncer (Club Penguin) • Bouncer Fluffy Tail • Bow (She-Ra and the Princesses of Power) • Bow Bah Peep • Bow Tie Bottle • Bow Wow Q.T. • Bowdie Bear • Bowl O' Bananas • Bowl-inda Popcorn • Bowla Fruits • Bowser (Mario) • Bowser Jr. • Boy Next Door • Boyfriend (Friday Night Funkin') • Brad Carbunkle • Brain (Inspector Gadget) • Branch (Trolls) • Brandy Berry • Brass Kitty • Braven (Futari wa Pretty Cure Max Heart) • Bread Crumbs • Bread Head • Breaky Crunch • Breaky Heart • Bree Birthday Cake • Bree Freshner • Breeze E. Sky • Brenda Banana • Brenda Blender • Brenda Brooch • Brenda Brush • Brian Griffin • Briana Banana Smoothie • Briana Biscuit • Briar Beauty • Brick (Total Drama) • Bridget (Guilty Gear) • Bridget Banana • Bridgette Bagdot • Bridie (Shopkins) • Bridie Basil • Brief (Panty & Stocking with Garterbelt) • Brimmy (Shopkins) • Brit (Hairdorables) • British Ben • Britney (Totally Spies!) • Britney Bag • Britney Sparkles • Brittany (Gnome Alone) • Brittany Seville • Brittlestar (Lalaloopsy) • Brittney Brownie • Bro Cheer • Bro Chip • Brock (Pokemon) • Broo (The Raccoons) • Brooke Bubbles • Brooklyn Blue • Brown Balloon • Bruce Banner/Hulk • Bruce Wayne/Batman • Brutus Ironclaw • Bryce (Shopkins) • Bryce Cookie Slice • Bryce Diced Tomato • Bryony Brush • Bu-Ling Huang/Mew Pudding • Bub-Lea (Shopkins) • Bubba Bathbomb • Bubba Bubbles • Bubba Bun • Bubble Clover • Bubble Crunch • Bubble Cupcake • Bubble Duchess • Bubble Gem Light-Up • Bubble Gum Blanche • Bubble Gum Sweetheart • Bubble Gumdrop Twins • Bubble Gummy • Bubble Polish-It • Bubble Tubs • Bubble Unis • Bubblegum Slushy • Bubbleisha (Shopkins) • Bubbles (Angry Birds) • Bubbles (Powerpuff Girls) • Bubbles (Shopkins) • Bubbles Smack 'N' Pop • Bubbles Twist • Bubblicious (Shopkins) • Bubbly Bridgette • Bubbly Drop Gloss-Up • Bubbly Foam • Bubbly Gloss-Up • Bubbly Go-Go • Bubbly Jelly • Bubbly Light-Up • Bubbly Merinque • Bubbly Pop • Bubbly Pop (Num Noms: Mystery Sweet Treats) • Bubbly Puffs • Bubbly Snow Cone Light-Up • Bubbly Swirl Gloss-Up • Bubbly Unicorn • Bubby Beeps • Buchiusa (Sugarbunnies) • Buck Dollar • Bucket O'Bill • Buddy (The Secret Life of Pets) • Buddy Bone • Bugs Bunny • Buhdeuce (Breadwinners) • Bullet (BlazBlue) • Bullseye (Toy Story) • Bumblebee (Transformers) • Bumper Balloons • Bumper Piñata • Bumpy Burger • Bun Bun Slipper • Bun Bun Sticky Icing • Bun E.D.M. • Bun-fetti (Num Noms) • Buncho Bananas • Bundles Snuggle Stuff • Bunilla Wafer • Bunny 'Za • Bunny (Kirakira Pretty Cure a la Mode) • Bunny (Toy Story) • Bunny Biscuit • Bunny Bow • Bunny Bun • Bunny Carrot • Bunny Champ • Bunny Children • Bunny Hun • Bunny Hun (L.O.L. Surprise! Pets) • Bunny in the Woods • Bunny Sammich • Bunny Tart • Bunny Wishes • Burner Man • Burr (L.O.L. Surprise!) • Burt House • Burton (Ninjala) • Buruberiusa (Sugarbunnies) • Burun (Fresh Pretty Cure!) • Buster Baxter • Buster Bunny • Buster Moon • Busy B.B. • Busy Blender • Butter Bob • Butter Hotcake • Butter Pretzel Cookie • Buttercream Choco Cookie • Buttercup (Powerpuff Girls) • Buttercup (Shopkins) • Buttercup Pancakes • Butterscotch Bridget • Butterscotch Buddies • Butterscotch Go-Go • Buttershell Fox Cookie • Buttery Go-Go • Button Mushroom • Buttons (Animaniacs) • Buzz Lightyear • Buzz-Saw Louie • Byakuya Togami • Bye Bye Boi • Byleth (Fire Emblem) • Bēreon (Yes! PreCure 5) • C.C Candy • C.C Sugar Gummy • C.C. (Code Geass) • C.C. Bon Bon Gloss-Up • C.C. Crunch • C.C. Flanders • C.C. Fluff • C.C. Gloss-Up • C.C. Marble • C.C. Naner • C.C. Polish-It • C.C. Puffs • C.C. Rainbow • C.C. Slurp • C.C. Spirals • C.C. Splits • C.C. Stacks • C.C. Star • C.C. Sugar • C.C. Treat • C.H.Z. (Num Noms) • C.Salt (Shopkins) • Caddy Cutie • Cadence (Club Penguin) • Cadet (L.O.L. Surprise!) • Cady Heron • Café Cruz • Caitlyn Ketchup • Cake Bear • Cake Dunk 'N' Crumble • Cake Pop • Caketrina (Shopkins) • Calamity Coyote • Calamity Luxe • Caleb Crust • Caleb Lightpaw • Cali (PAW Patrol) • Cali Roll • Caline Bustier • Calista Cake • Callie (Splatoon) • Callie Torres • Calvin Cupcake • Calvin Joyner • Calvin the Cat • Cam Camera • Cam Corder • Cameron (Total Drama) • Camila Corn Chip • Camile Cream Cookie • Camilla Cat Stand • Camilla Hombee/Victory • Camp Cutie • Campfire Crunch • Can Do Baby • Can Do Kitty • Can-Can Croissant • Cancer (Star Twinkle PreCure) • Cancún Cupcake • Candace Flynn • Candi Coconut • Candi Combi • Candi Cotton • Candicake (Shopkins) • Candice Candle • Candie Cloud • Candie Puffs • Candle Slice O' Cake • Candles a la Crème • Candy Apple • Candy Blue • Candy Bowl • Candy Broomsticks • Candy C. Horn • Candy Cakes • Candy Cane Swirl Gloss-Up • Candy Cat • Candy Clops • Candy Cookie • Candy Corn Smoothie • Candy Créme Gloss-Up • Candy Drop Gloss-Up • Candy Gummy Stamp-It • Candy Heart Car • Candy Hearts • Candy Karma • Candy Kisses • Candy O'Cotton • Candy Shreds • Candy Sparkle Snow • Candy Squares • Candy Stripe Pop • Candy Sweets • Candy Waffle Twins • Candy Wrapper • Candy/Royale Candy • Candylicious (L.O.L. Surprise!) • Canuck Cocoa • Cape Riding Hood • Cappella Cupcake • Cappy (Mario) • Capricorn (Star Twinkle PreCure) • Captain B.B. • Captain Cori • Captain Falcon • Captain Feathersword • Captain Ice Cookie • Captain Kitty • Captain Q.B. • Captain Zoom • Cara Caramel • Cara Carrot Cake • Cara Cookie • Cara Crunch • Cara Crystal Pendant • Cara Mellie • Cara-O-Mel (Num Noms) • Cara-Sparkles Toasty • Caramel Cream • Caramel Croissant • Caramel Lion • Caramel Shreds • Caramel Square • Caramel Stamp-It • Caramelly Go-Go • Caramelly Shine • Carat Cake • Carats (L.O.L. Surprise!) • Carbuncle (Puyo Puyo) • Carissa (LoliRock) • Carl Clover • Carl Johnson • Carl Karl • Carl the Minion • Carla Cone • Carla Crimson • Carlo Coffee Pot • Carlos Ramon • Carly Cake • Carly Cupcake • Carmapple Bear • Carmel Sauce • Carmel Topping • Carmen Le Crème • Carmen Linda • Carmen Sandiego • Carol Candy Cane • Carol Cookie • Carol Cracker • Carol Kernels • Carol Pingrey • Carole Cake • Carriage Cruiser • Carrie Backpack • Carrie Bag • Carrie Carrot Cake • Carrie Case • Carrie Clutch • Carrie Corn • Carrie Oki • Carrie White • Carrot Cake Rabbit • Carrot Cookie • Carrot Long Ears • Carrotta Cake • Casper Cap • Cassandra (Tangled) • Cassidy Camera • Cassie Caster Sugar • Cassie Cola • Cassie Lassi • Castanets (Cookie Run) • Castaspella (She-Ra and the Princesses of Power) • Cat (Kirakira Pretty Cure a la Mode) • Cat Crunch • Caterina (Shopkins) • Caterina Hat • Caterina the Kitty • Caterpea (Cookie Run) • Caterpillar (Webkinz) • Catra (She-Ra and the Princesses of Power) • Cedric Sidney Sneer • CeeCee (Hairdorables) • Celeste Rainbow Dress • Celeste Zest Cake • Celestia Ludenberg • Celestial Star • Celia Strawberry Spread • Celica Ayatsuki Mercury • Celina Crepe • Celine Cupcake Shoe • Center Stage • CereCere/Sailor Ceres • Chae Kyoung • Chai (Sanrio) • Chai (Shopkins) • Chandelia (Shopkins) • Chandler (Shopkins) • Chanko Nabeshima • Chantel Shoe • Chap-Elli (Shopkins) • Charizard (Pokemon) • Charles Cornflake • Charli Chocblock • Charlie (Hairdorables) • Charlie Charred • Charlie Cheese • Charlie Choc • Charlie Creamies • Charlie Hot Choc • Charlotte Charades • Charlotte Choco • Charlotte Heart Cake • Charlotte Magne • Charlotte Shades • Charmin' Chocolates • Charmmy Kitty • Charms Seven Carat • Charmy Bee • Charon (Jewelpet) • Charotte (Jewelpet) • Chase (PAW Patrol) • Chase Cookie • Chatter (Shopkins) • Chaz (The Loud House) • Checkers (Lalaloopsy) • Cheddar (Shopkins) • Cheddar Pringle • Chee Zee • Cheeky Babe • Cheeky Cherries • Cheeky Chirpy • Cheeky Chocolate • Cheeky Hedgehog • Cheer Captain • Cheer-Rara (L.O.L. Surprise!) • Cheerleader Cookie • Cheery Cherie • Cheery Churro • Cheese (L.O.L. Surprise!) • Cheese E. Chip • Cheese Grater Gabriella • Cheese Kate • Cheese Louise • Cheeseburger Chaser • Cheesecake Cookie • Cheesey Mac • Cheesy Bub • Cheesy Burrito • Cheesy Chomp • Cheesy Christy • Cheesy Go-Go • Cheesy Rider • Cheesy Twinzies • Cheesy Twirl • Cheesy Twist • Cheetor (Beast Wars: Transformers) • Cheez It • Cheezey B • Chef Gazpacho • Chef Hatchet • Cheffie Bun • Chelsea Charm • Chelsea Cheeseburger • Chelsea Cheez • Chelsea Choco • Chelsea Roberts • Cher Candied • Cheretzle (Num Noms) • Cheri Choc Chip Bread • Cheri Chocolate • Cheri Crisp • Cheri Grape Juice • Cherie Candy • Cherie Gummy • Cherie Prim 'N' Proper • Cherie Tomatoe • Cherry (Cinnamoroll) • Cherry (L.O.L. Surprise!) • Cherry Ann • Cherry Berry • Cherry Cake • Cherry Cheesecake • Cherry Chill • Cherry Chip • Cherry Choco • Cherry Clover • Cherry Cookie • Cherry Crisp Crust • Cherry Freezie • Cherry Gem Light-Up • Cherry Gloss-Up • Cherry Go-Go • Cherry Gummy Light-Up • Cherry Gummy Stamp-It • Cherry Ham • Cherry Heart • Cherry Jelly Go-Go • Cherry Light-Up • Cherry Nice Cupcake • Cherry Polish-It • Cherry Pop Tart • Cherry Ride • Cherry Rounds • Cherry Scoop • Cherry Slushy • Cherry Tart • Cherry Triplets • Cherry Vanilla Breyers • Cherry Vanilla Gloss-Up • Cherry-Anne (Shopkins) • Cherry-Pie Chaser • Chester Cheddar • Chester Cheesecake • Chestnut Cookie • Chet (Total Drama) • Chewy Choco • Chiari Tsukikage • Chibi Chibi/Sailor Chibi Chibi Moon/Sailor Cosmos • Chibimaru (Sanrio) • Chibiusa Tsukino/Sailor Chibi Moon • Chica (Five Nights at Freddy's) • Chica Chica • Chick-A-Dee (L.O.L. Surprise!) • Chicken Boo • Chico (Puyo Puyo) • Chico Amigo • Chico Chilli • Chico Pyramid • Chidi-Maru (Sanrio) • Chido Chills • Chie Sasaki • Chief O'Hara • Chief Quimby • Chieri Ogata • Chieri/Past Cure Flora • Chiffon (Fresh Pretty Cure!) • Chiffon (Sanrio) • Chifi-Maru (Sanrio) • Chihana Masumi • Chiharu Hiroe • Chihaya Kisaragi • Chihiro Fujisaki • Chika Takami • Chikurun (Witchy PreCure!) • Chili Go-Go • Chili Peppa • Chili Pepper Cookie • Chill (Club Penguin) • Chillax (L.O.L. Surprise!) • Chilli Momma • Chilli-anne Ice Cream • Chilly (Doc McStuffins) • Chilly (Shopkins) • Chilly Choco • Chilly Shades • Chilly The Kid • Chino (Shopkins) • Chip (Beauty and the Beast) • Chip (Chip 'n' Dale) • Chip (Sanrio) • Chip Choc • Chip Gloss-Up • Chip/Light Gaia • Chipp Zanuff • Chipper ChocChip • Chippi (Sanrio) • Chiri Tsukikawa • Chirp (Club Penguin) • Chisato Arashi • Chisato Shion • Chisato Shirasagi • Chitose Kurosaki • Chiyo Shirayuki • Chiyoko Sonoda • Chiyu Sawaizumi/Cure Fontaine • Chiyu Tamade • Chiyuki Kuwayama • Chizuru Nikaido • Chloe (The Secret Life of Pets) • Chloe Clown Shoe • Chloe Cola • Chloe Comb • Chloe Cupcake Bag • Chloe Curd • Chloe Flower • Chloé Bourgeois/Queen Bee • Choc Buds • Choc Chad • Choc Chip Racer • Choc Chips • Choc E. Tubs • Choc Frost • Choc Kiss • Choc Mint Breyers • Choc Mint Charlie • Choc N' Chip • Choc Pie • Choc Top • Choc-Cherry Wheels • Choc-Kate Sundae • Choc-O Twins • Chocky Box • Chocky Croissant • Choco A La Mode • Choco Banana Cookie • Choco Berry • Choco Chip • Choco Chip Waffle • Choco Cookie Gloss-Up • Choco Cream • Choco Crepe • Choco Croissant • Choco Cup Cookie • Choco Drop • Choco Dunk • Choco Fortune • Choco Glaze • Choco Go-Go • Choco Heart • Choco Lava • Choco le Choux • Choco Mushroom • Choco Nana • Choco Nilla • Choco Ring Lion Cookie • Choco S'Mores Gloss-Up • Choco Sprinkles • Choco Square • Choco Swirl • Choco Swirl Crepe • Choco Taco • Choco Waffle • Choco Wheat • Choco Whirl Swirl • Choco-Mint Froyo • Choco-Razz Gloss-Up • Chocoberry Pie • Chococat (Sanrio) • Chocolate Cake Jake • Chocolate Ma • Chocolate Roxy • Chocolate Twins • Chocolatey Cocoa • Chopped Corn • Choppy (Futari wa Pretty Cure Splash Star) • Choromatsu (Mr. Osomatsu) • Chourou (Kirakira Pretty Cure a la Mode) • Chris (Oh Yeah! Cartoons) • Chris Corny • Chris Koron • Chris P Crackers • Chrissie Carol Dress • Chrissy Cream • Chrissy Present • Chrissy Puffs • Christina Candy • Christopher Robin • Christy Candy • Chrom (Fire Emblem) • Chubby Tomato • Chucho Chilli Sauce • Chuchu (Show by Rock!!) • Chuck (Angry Birds) • Chuck (Papa Louie) • Chucky Chip • Chucky Chunk • Chun-Li (Street Fighter) • Chunky Choco • Chunpī (Yes! PreCure 5) • Churaffle (Num Noms) • Churro Cookie • Churro Sparkle • Churro Stump • Chypre (HeartCatch PreCure!) • Ciara Creamy • Cici Science • Ciel (Puyo Puyo) • Ciel Kirahoshi/Kirarin/Cure Parfait • Cinder Slippers • Cinderella (Cinderella) • Cindy Bon • Cindy Centerpiece • Cindy Cereal • Cindy Cinnamon • Cindy Citrus • Cindy Glow • Cindy Pops • Cindy Sweets • Cinna Churro • Cinna Cream • Cinna Snap • Cinna Toasties • Cinnamon Bunny • Cinnamon Cindi • Cinnamon Cookie • Cinnamon Sally • Cinnamoroll (Sanrio) • Cir-CUT (L.O.L. Surprise!) • Citrus Bean Twins • Citrus Berry • Citrus Blizzard • Citrus Glazed • Citrus Pop • City Boi • City Slicker • CJ (JumpStart) • CJ Cuddles • Claire Chair • Claire Cherry • Claire Straightener • Claire Éclair • Clanosuke (Miracle Tunes!) • Clara a la Crème • Clara Candy • Clara Cluck • Clara Coco • Clarabelle Cow • Clarice (Chip 'n' Dale) • Clarity Glitter Gazer • Clark Kent/Superman • Classic Klondike • Claudia Cake • Clawdeen Wolf • Claws (L.O.L. Surprise!) • Cleats (L.O.L. Surprise!) • Cleo Cookie Cake • Cleo de Nile • Clicky Mouse • Clint Barton/Hawkeye • Cloe (Bratz) • Cloud Cookie • Cloud E. Sky • Cloud Pelican • Cloud Strife • Clover (Papa Louie) • Clover (Totally Spies!) • Clover Cupcake • Clown Fish (Webkinz) • Clutch (Shopkins) • Clyde McBride • Cobalt (She-Ra and the Princesses of Power) • Coby Comb • Cocker Spaniel (Webkinz) • Coco (Mermaid Melody) • Coco Anna • Coco Bear • Coco Bun Bun • Coco Cali • Coco Cookie • Coco Cupcake • Coco Custard • Coco Ganache • Coco Glaze • Coco Hammy • CoCo Knot Twins • Coco Le Sips • Coco Mint • Coco Nutty • Coco Pup • Coco Sammich • Coco Swirl • Coco Toasty Twins • Coco Von Sparkle • Coco/Koji Kokoda • Cocoa (Sugarbunnies) • Cocoa Cookie • Cocoa Mallow • Cocoa Roll • Cocolette (Shopkins) • Coconut Car • Coconut Cream Cookie • Coconut Q.T. • Coconutta Donut • Cody Coco • Coffee Berry Cookie • Coffee Cookie • Coffee Drip • Coffret (HeartCatch PreCure!) • Cogsworth (Beauty and the Beast) • Coin Scale • Cola Gloss-Up • Cola Walrus • Colleen Curly • Cologne (HeartCatch PreCure!) • Color Cake • Colorful Clutch • Colorissa (Shopkins) • Comet (Hairdorables) • Comfy Chair • Comfy Cushion • Commissioner Goldstar • Coned Vine • Coney (Shopkins) • Confetti Carnivale • Confetti Cookie • Confetti Jelly • Confetti Kitty • Connie Cash • Connie Coin Bag • Connie Confetti • Connie Console • Connor (Cubix: Robots For Everyone) • Connor (Papa Louie) • Connor/Catboy • Constance Hatchaway • Constanze Amalie von Braunschbank-Albrechtsberger • Cony Balloon • Coo (Kirby) • Coo Bird • Cookie Cake Roll • Cookie Cream Breyers • Cookie Dough Breyers • Cookie Glaze • Cookie Monster • Cookie Nut • Cookie S'mores • Cookie Sue Flay • CookieAnn (Duffy and Friends) • Cookiedroid (Cookie Run) • Cookies 'n' Cream • Cool Cube • Cool Mint Polish-It • Cool Scribbler • Coolie Cucumber • Coolio (Shopkins) • Copper (The Fox and the Hound) • Cora Cotton • Coral Cupcake • Coral Sea Shells • Coralee (Shopkins) • Coreen Croissant • Corey Compact • Corey Cookie Bag • Corey Cupcake • Corinne Crackers • Cornelia Ice Cream • Cornelia Popcorn • Cornell Mustard • Cornie Checkers • Corniella (Shopkins) • Corny Bunny • Corny Cob • Corny Shreds • Corocorokuririn (Sanrio) • Corrin (Fire Emblem) • Cory Custard • Cory Matthews • Cosmic Nova • Cosmic Queen • Cosmic Rider • Cosmo (Sonic) • Cosmo (The Fairly OddParents) • Cosmo Hojo • Cosmos Gear • Cotton Candice Dress • Cotton Candied • Cotton Candy Bird • Cotton Candy Cookie • Cotton Candy Donut • Cotton Candy Eraser • Cotton Candy Gem Light-Up • Cotton Candy Gloss-Up • Cotton Candy Jelly • Cotton Candy Polish-It • Cotton Candy Shake • Cotton Cloud • Cotton Créme Gloss-Up • Cotton Hoppalong • Cotton Jelly • Cotton Kitty • Cotton Kitty Bean • Cotton Knots • Cotton Rock Light-Up • Cotton Squares • Cotton Top Cake • Cottontail Q.T. • Cottony Cakes • Cottony Creamy • Count von Count • Countess (L.O.L. Surprise!) • Countess Keyia • Country Cow • Country Critter • Coupe/Mysterious Guy • Courage (Courage the Cowardly Dog) • Court Champ • Courtney Cake • Courtney Candy • Courtney Carrot • Cousin Cool • Cowabelle Cowoline • Cowardly Kitty • Cozy Babe • Cozy Bunny • Cozy Kitty • Cozy Yarn • Cranky (Where's My Water?) • Crash Bandicoot • Cream Berry Jelly • Cream Cookie • Cream E Cookie • Cream E. Custard • Cream Puff Cookie • Cream the Rabbit • Cream Unicorn Cookie • Creamy Biscuit • Creamy Bun-Bun • Creamy Classic • Creamy Cookie Cupcake • Creamy Cutie • Creamy Naners • Creamy Pop • Crepe Suzzane • Crescendo (Suite PreCure) • Crescent Crown • Crimson (Shopkins) • Crispy Chip • Crocodile Ashley • Crocoplier (Cookie Run) • Croissant d'Or • Croissant/Timekeeper Cookie • Cronella Donut • Crong (Pororo the Little Penguin) • Crown Jules • Cruella de Vil • Cruisey Cap • Cruisy Croissant • Crumbs Sugar Cookie • Crunch (L.O.L. Surprise!) • Crunch Bandicoot • Crunchy Coco • Crunchy Corn • Crunchy Munch • Crying Saucer • Crystal Blue (Crystal Wishes Journey) • Crystal Bunny • Crystal Drop • Crystal Green (Crystal Wishes Journey) • Crystal Liza • Crystal Quartz • Crystal Queen • Crystal Red (Crystal Wishes Journey) • Crystal Snow • Crystal Snowflake • Crystal Star • Crystal W. Berry • Crystal Wings • Cuatro (Ferdinand) • Cucumber Gloss-Up • Cucumber Melon Gloss-Up • Cuddle Cake • Cuddles Snow Boot • Cuervo Bonito • Cumquat (Shopkins) • Cupcake Bub • Cupcake Chic • Cupcake Cruiser • Cupcake Crumbles • Cupcake Fashionista • Cupcake Mallow • Cupcake Petal • Cupcake Princess • Cupcake Queen • Cupcake Queenie • Cuphead (Cuphead) • Cupicorn (Shopkins) • Cuppa Cocoa • Cuppa Cocoa Carl • Cure Ange (HeartCatch PreCure!) • Cure Continental • Cure Earl • Cure Echo-lookalike • Cure Empress • Cure Gonna • Cure Jungle • Cure Katyusha • Cure Magician • Cure Matador • Cure Nile • Cure Pantaloni • Cure Priestess • Cure Shelly • Cure Southern Cross • Curious Hammy • Curious Q.T. • Curls 'N' Locks • Curly (Shopkins) • Curly Fries • Custard Cookie III • Cute Boot • Cute Fruit Jello • Cutecumber Sandwich • Cutie Carrot • Cutie Clutch • Cutie Compact • Cutie Cotton • Cutie Cream • Cutie Crush Cookie • Cutie Crust • Cutie O's • Cutie Poop • Cutiecorn (Shopkins) • Cyan Hijirikawa • Cyborg (Teen Titans) • Cyborg Cookie • Cygnus Hyoga • Cynthia Celery • Cyrus Citrus • D'lish Delivery • D'lish Donut • D.J. (L.O.L. Surprise!) • D.J. Bounce • D.J. Hammy • D.J. K9 • D.J.K.T. (L.O.L. Surprise!) • D.W. Read • Da Boss • Da Fresh • Dabyi (DokiDoki! PreCure) • Dachōn (Yes! PreCure 5) • Dad-tan (Flint the Time Detective) • Dadda Dairy • Daddy Cakes • Daddy Candy • Daddy Choc Block • Daddy O'Pop • Daddy Sweets • Daffy Duck • Dahlia (Angry Birds Stella) • Daigo Kabuto • Dainty Dough • Daisy (Aikatsu Stars!) • Daisy (Hairdorables) • Daisy (T.U.F.F. Puppy) • Daisy (The Secret Life of Pets) • Daisy Doe • Daisy Donut • Daisy Duck • Daisy Petals • Daisy the Bunny • Daizzi (Miraculous: Tales of Ladybug & Cat Noir) • Dakota (Total Drama) • Dale (Chip 'n' Dale) • Damian (Mean Girls) • Dan Pancake • Dana Barrett • Dana Dance Trophy • Dana Donut • Dancebot (L.O.L. Surprise!) • Danger Mouse • Danica Dress • Daniella Dress • Danni Danish • Danny Phantom • Daphne Blake • Dapper (Shopkins) • Darby (My Friends Tigger & Pooh) • Darci Diary • Daria Duckie • Daring Diva • Daring Doggie • Dark Cacao Cookie • Dark Choco Cookie • Dark Spirit Helmet • Darkwing Duck/Drake Mallard • Darling (L.O.L. Surprise!) • Darling Brightside • Darling Drop • Daroach (Kirby) • Darwin (Club Penguin) • Darwin Watterson • Dash Parr • Dave the Minion • David Read • Dawn (L.O.L. Surprise!) • Dawn (Pokemon) • Dawn (Total Drama) • Dawn Pooch • Dazzle 'N' Gleam • Dazzle (L.O.L. Surprise!) • Dean Gate/Doorman • Dear Daniel • Death (Final Destination) • Death (Tarot card) • Debbie Dragon • Decaf (Shopkins) • Dee Dee • Dee Lightful • Deery-Lou (Sanrio) • Deidre (Shopkins) • Deimos (Sailor Moon) • Delish Destiny • Della Duck • Den Den • Dennis Ball • Dennis Bat • Denzel Crocker • Derek Blunt • Devil Cookie • Deviled Egg • Dewey Duck • Dex Dangerous • DHX Media • Di Mond Ring • Di Monte • Dia (Shugo Chara!) • Dia Kurosawa • Dia Nijinosaki • Diamantè Drive • Diamond Donuts • Diamond Tiara • Diamonty (Shopkins) • Diana (Sailor Moon) • Diana Cavendish • Diana Diamond • Diana Dress • Diana Prince/Wonder Woman • Dib Membrane • Diced Dixie • Diddy Kong • DiDi Diamond • Digit (Cyberchase) • Dillon (Hairdorables) • Dinah the Dachshund • Dinky Drink • Dino Egg • Dino-Sour Cookie • Dio Brando • Dip N Dunk • Dip Shoestrings • Dippy Avocado • Dippy Donut • Dippy Donut (Shopkins Family Mini Packs) • Dipsy Razz • Disco Doggie • Disco Queen • Discord (My Little Pony) • Discordeon (Cookie Run) • Discovery Family • Disgust (Inside Out) • Dishy Liquid • Diva (L.O.L. Surprise!) • Diva Designer Bag • Diva Stripes • Dixie Kong • Dizzy (Guilty Gear) • Dizzy Devil • DJ (Total Drama) • DJ Beats • DJ Cookie • Do-Si-Dude (L.O.L. Surprise!) • Doc (Snow White and the Seven Dwarfs) • Doc Greene • Doc Hudson • Dodger (Oliver & Company) • Dodory (Suite PreCure) • Doggie Stardust • Doggy Bowl • Doh-Li Ling • Doki (character) • Doll-Hammy (L.O.L. Surprise!) • Doll-Kitten (L.O.L. Surprise!) • Dollface (L.O.L. Surprise!) • Dollie (L.O.L. Surprise!) • Dollmatian (L.O.L. Surprise!) • Dollop Cottonwich • Dollop Light 'N' Fluffy • Dollops (Shopkins) • Dolly Donut • Dolly Donut (Shopkins Season 5) • Dolores Dress • Donald (Thomas & Friends) • Donald Duck • Donatina (Shopkins) • Donguri Gaeru • Donkey (Shrek) • Donkey Kong • Donna Donut • Donnie Donut • Donut D'luxe • Donut Dadda • Donut Express • Donut Stamp-It • Donutella Tree • Dopey (Snow White and the Seven Dwarfs) • Doraemon (Doraemon) • Doremi Harukaze • Dorothy Ann • Dorothy the Dinosaur • Dorothy West • Dory (Suite PreCure) • Dos (Ferdinand) • Dot (Club Penguin) • Dot (Scribble Hero) • Dot Polka • Dot Starlight • Dot Warner • Dottie Cakes • Dottie DeMil • Dottie McStuffins • Dotty Gale Winds • Dottyback (Lalaloopsy) • Double Bubble • Double Cone • Double Trouble • Doug the Dog • Douglas (Thomas & Friends) • Downtown B.B. • Downtown Doll • Downtown Hop • Dr. Crygor • Dr. Daniel Caine/The Ooze • Dr. Fox • Dr. Hachisuka • Dr. Heinz Doofenshmirtz • Dr. Nefario • Dr. Quack • Dr. Reginald Bushroot • Dr. Sara Bellum • Dr. Wasabi Cookie • Draco Centauros • Draculaura (Monster High) • Drag Racer • Dragon (Puyo Puyo) • Dragon Dragster • Dragon Fruitling • Dragon Shiryu • Dragon's Tail • Dream E. Wishes • Dream Ghost • Dreamcatcher (Cookie Run) • Dreamer (L.O.L. Surprise!) • Dreamin' B.B. • Dreamy Dude • Dreamy Hops • Dressica (Shopkins) • Dribble (WarioWare, Inc.) • Dribbles (L.O.L. Surprise!) • Dribbles (Shopkins) • Drifter Gift • Drip Drop • Drips (Shopkins) • Dru Gru • Dry Bones • Dry-anne (Shopkins) • Duchess (The Aristocats) • Duck Hunt • Duck the Great Western Engine • Duck Valentina • Duck/Princess Tutu • Ducky (Toy Story) • Ducky (Where's My Water?) • Dudley Puppy • Duffa (Shopkins) • Duffy the Disney Bear • Duke (The Secret Life of Pets) • Duke Caboom • Duleena Duneeda • Dum Mee Mee • Dumbbell Twins • Dumbo (Dumbo) • Duncan (Shopkins) • Duncan (Total Drama) • Dunk Shoestrings • Durian I • Dusk (L.O.L. Surprise!) • Dusk (Scooby-Doo) • Dusk Raven • Dust Unicorn • Dustin Henderson • Dusty Cocoa • Dusty Pan • Dwayne (Total Drama) • Dylan Horn • Dyna Might • E.D.M. Scratch • E.D.M.B.B. (L.O.L. Surprise!) • Earl Grey Cookie • Earring Twins • Eartha (Mysticons) • Earthy B.B. • Eau De Splatters • Eclipsa Butterfly • Ed (Ed, Edd n Eddy) • Eda Mama • Edd (Ed, Edd n Eddy) • Edd (Eddsworld) • Eddie Kaspbrak • Eddy (Ed, Edd n Eddy) • Eddy (Pororo the Little Penguin) • Edgar Eggcup • Edie Von Keet • Edith Gru • Edward Elric • Edward Nigma/The Riddler • Edward the Blue Engine • Eerie Anglerfish • Eevee (Pokemon) • Eeyore (Winnie the Pooh) • Egg Cart • Eggbert Tamago • Eggchic (Shopkins) • Eggie Ed • Eggo Waffle • Eggspress Van • Egon Spengler • Eijiro Kirishima • Einhart Stratos • El (Shugo Chara!) • Elain-Bow Shoe • Elder Bamboo • Eleanor (JumpStart) • Eleanor Seville • Electric Beat • Electric Critter • Electro Lemon • Elena (Jewelpet) • Elena Amamiya/Cure Soleil • Elena Shimabara • Eli Ayase • Elias (Panel de Pon) • Elisa Celjska • Elizabeth Earring • Ella Eggo • Ella Powder Puff • Ella Rain • Ella Sparkle • Ella Tower Cake • Ella Ween • Elle (Puyo Puyo) • Elle Cake • Ellen Melon • Ellerina Slippers • Ellody (Total Drama) • Elly Album • Elmer Fudd • Elmo (Sesame Street) • Elphelt Valentine • Elsa (Frozen) • Elza Forte • Ema Hinata • Ema Shinjo • Ember Flicker Flame • Ember McLain • Emerald Babe • Emerald Goldenbraid • Emerald Golem • Emi Namba • Emily (Arthur) • Emily (Hairdorables) • Emily (She-Ra and the Princesses of Power) • Emily Stewart • Emily the Emerald Engine • Emiru Aisaki/Cure Macherie • Emma (Hairdorables) • Emma (Ninjala) • Emma (Total Drama) • Emma Eggplant • Emma Emerald • Emma Ross • Emma Verde • Emma Wiggle • Emmet Brickowski • Emo Moegi • EnEn (Pretty Cure All Stars) • Energy Drink Cookie • Energy Scale • English Rose • Entrapta (She-Ra and the Princesses of Power) • Erena Todo • Eri Aizawa • Eri Mizutani • Erica Eraser • Erica Sinclair • Erika J.J. • Erin Earring • Eris (The Grim Adventures of Billy & Mandy) • Ernest Penfold • Ernie (Sesame Street) • Es (BlazBlue) • Espeon (Pokemon) • Espio the Chameleon • Espresso Cookie • Ess (Puyo Puyo) • Eternalun (Futari wa Pretty Cure Max Heart) • Etia Visconti • Eungsim (Banzi's Secret Diary) • Eunice Unicorn Dress • Eve Kagayaki • Eve Wakamiya • Evelynn (League of Legends) • Everest (Abominable) • Ex (Puyo Puyo) • Ezreal (League of Legends) • Fab Fungi • Fabulous Frank • Fagin (Oliver & Company) • Fairy Cone Cruiser • Fairy Crumbs • Fairy Daffodil • Fairy Fern • Fairy Godmother (Cinderella) • Fairy Lilac • Fairy Tulip • Fairycake Racer • Faith Feathers • Faith Frosting • Falala•A•Larm (PriPara) • Falco (Power Instinct) • Falco Lombardi • Falkner (Pokemon) • Fame Queen • Fami (Ojamajo Doremi) • Fan Boy/Atomic • Fancy (L.O.L. Surprise!) • Fancy C.C. • Fancy Fascinator • Fancy Feather • Fancy Frost 'N' Glaze • Fancy Haute Dog • Fancy Peep • Fanime (L.O.L. Surprise!) • Far Out • Farkle Minkus • Faruru (PriPara) • Fary (Suite PreCure) • Fast Flakes • Fast Fries • Fasta Pasta • Fate Testarossa • Fauna (Sleeping Beauty) • Faust/Dr. Baldhead • Fear (Inside Out) • Feather Tell-a-Tale • Feathers (L.O.L. Surprise!) • Fei Fei • Fei Wu/Ladydragon • Feli (Puyo Puyo) • Felicia (Darkstalkers) • Felicia Fondue • Felicia Mitsuki • Felicity Fieldmouse • Felonious Gru • Ferb Fletcher • Ferdie Fieldmouse • Fern Walters • Ferocious (L.O.L. Surprise!) • Festive B.B. • Fi Fi Flour • Fico (Doki) • Fiddler Pig • Fierce (L.O.L. Surprise!) • Fierce Meow • Fiesta Flan • Fievel Mousekewitz • Fifer Pig • Fifi (Beauty and The Beast) • Fifi Fruit Tart • Fifi La Fume • Fifi Le'Fluff • Fifi the Peke • Fig Cookie • Figaro (Pinocchio) • Figure 8 • Finn (Adventure Time) • Fiona Fairy Skirt • Fiona Feathers • Fiona Flipover • Fiona Frenchy • Fiona Fries • Fire Spirit Cookie • Firecracker Cookie • Firecracker Popsicle • Firestarter (Cookie Run) • Fish Flake Jake • Fish Zoey • Fishtix (Shopkins) • Fishurī (Yes! PreCure 5) • Fix-it Felix Jr. • Fizzy Fireworks • Fizzy Soda • Fizzy Soda (Shopkins World Vacation) • Flakey Frances • Flakey Frida • Flamberge (Kirby) • Flame Bat • Flame Princess • Flantasy Berry • Flap Jackie • Flap Jacques • Flappy (Futari wa Pretty Cure Splash Star) • Flappy Cap • Flare (Club Penguin) • Flare (Panel de Pon) • Flareon (Pokemon) • Flash Camera • Flash Sentry • Flashy Fashionsta • Flat (Sanrio) • Flava Ava • Fleur Flour • Fleur Mingo • Flicker (Shopkins) • Flicker Candle • Flicky (Flicky) • Flip (Little Nemo) • Flip Fairy Slipper • Flippa Flops • Flipper Bean • Flippy (Shopkins) • Flipside (L.O.L. Surprise!) • Flit (Club Penguin) • Flitter Purse • Floppy (Shopkins) • Floppy Hat • Floppy Sandal • Flora (Sleeping Beauty) • Flora (Winx Club) • Flora (Yes! PreCure 5 GoGo!) • Flora Floral Bouquet • Flora Honey • Flora Kiwi • Flossy Donut • Flounder (The Little Mermaid) • Flower Child • Flower Doodle • Flower Kid • Flower Tortilla • Flowercopter (Cookie Run) • Flubby (Ghostforce) • Fluff (L.O.L. Surprise!) • Fluff (Miraculous: Tales of Ladybug & Cat Noir) • Fluff Knots • Fluffington St. Bernard • Fluffy Bread • Fluffy Brushy • Fluffy Buffy Shoes • Fluffy Buffy Sneaker • Fluffy Cheese Cat • Fluffy Pouncy Paws • Fluffy Slipper • Fluffy Snow Ball • Fluffy Souffle • Flushes (Shopkins) • Flutter Cake • Flutter Frosting • Fluttershy (My Little Pony) • Flutterwings (Lalaloopsy) • Foghorn Leghorn • Foodini (Papa Louie) • Foop (Futari wa Pretty Cure Splash Star) • Ford Pines • Forest Evergreen • Forest Ranger Dan • Forgotten Stocking • Forky (Toy Story) • Forrest Black • Forte (True Tail) • Fortune Stella • Four (Battle for Dream Island) • Fox Bead • Fox McCloud • Foxie (Shopkins) • Foxy (Five Nights at Freddy's) • Foxy (L.O.L. Surprise!) • Foxy Flyer • Foxy Lemons • Fran Fruit Hat • Fran Pancake • Frances Fluff • Francine Frensky • Francis "Major" Monogram • Francis Franc • Francisca (Kirby) • Francisca Fan • Francisco (T.U.F.F. Puppy) • Frank Furter • Frank G. Castle/Punisher • Frank Givings • Frankie (JumpStart) • Frankie Greene • Frankie Stein • Franky (Club Penguin) • Frappe (Sanrio) • Freakazoid (Freakazoid!) • Fred (Big Hero 6) • Fred Jones • Fred Rover • Freda Fern • Freda Frosting • Freddy Fazbear • Freddy Fish 'n' Chips • Freddy Fried Chicken • Freddy Fried Rice • Freddy Krueger • Frederica Miyamoto • Freestyle (L.O.L. Surprise!) • Freezy Bites • Freezy Peazy • French Toast Coaster • Frenchie Curls • Frenchie Fries • Frenchy Perfume • Frenchy Tower • Fresh (L.O.L. Surprise!) • Fresh Feline • Fria Froyo • Frieda Fry • Fries Curls 'N' Crinkles • Frilly Kitty • Frilly Tutu • Frogurt (Shopkins) • Fronk (WarioWare, Inc.) • Frost I.C. Cone • Frost T Fridge • Frosta (She-Ra and the Princesses of Power) • Frosted Caramel • Frosted Flakes • Frosted Flakey • Frosted Pink-Ade • Frosty Choco • Frosty S. Berry • Frosty Shaved Ice • Frosty Unicorn • Frozen Fran Banana • Frozen Yocart • Fruit Doe • Fruit Loopsy • Fruity Slice • Fruity Strip • Fruity Zoomer • Frusha Salad • Frying Van • Fudgey (Shopkins) • Fudgey Stripes • Fudgy Square • Fuka Reventon • Fuka Tachibana • Fuka Toyokawa • Fumika Mori • Fumika Sagisawa • Fun Drum • Funk Bunny • Funky Kat • Funky Kong • Funky Q.T. • Furball Pup • Furrball (Tiny Toon Adventures) • Furry Grrs-a-Lot • Furry Treasure • Fuwa (Star Twinkle PreCure) • Fuwari Midorikaze • Fuwatorin (Yes! PreCure 5) • Fuyuko Mayuzumi • Fuzzy Fan • Fyre (L.O.L. Surprise!) • G (Kuu Kuu Harajuku) • G Billy • Ga Ga Gourmet • Gaaruru (PriPara) • Gabby Gamer • Gabby Grape • Gabi (Doki) • Gabriel (Gabriel DropOut) • Gabriella Grape • Gaby Goody • Gadget Hackwrench • Gail Garlic • Gala Q.T. • Galala•S•Leep (PriPara) • Galaxy Pop • Gale Scales • Ganta (Sanrio) • Gapugapū (Yes! PreCure 5) • Garlic Rose • Garnet (Jewelpet) • Garnet (Steven Universe) • Garth Bravebark • Gary Gumdrop • Gary the Gadget Guy • Gaz Membrane • Gear Guy/Titanium • Gelatoni (Duffy and Friends) • Gelton John • Gemicorn (Shopkins) • Gemini (Star Twinkle PreCure) • Gemma (Hairdorables) • Gemma Bottle • Gemma Stone • Gemma Stone (Shopkins) • Genbu Kurono • Gene Le'Cream • General Alissa Cyan • General Jujube Cookie • General Warthog • Genie (Aladdin) • Genie (L.O.L. Surprise!) • Genie Machine • Genshi (Flint the Time Detective) • Geoff (Total Drama) • George Beard • Georgia Peach • Georgie Denbrough • Georgito (Papa Louie) • Gerry (Total Drama) • Gertie Raccoon • Gerty Waffle Cup • Ghost Butler • Ghurty (Shopkins) • Gi-chan (Six Hearts Princess) • Giant Neo • Gidget (The Secret Life of Pets) • Giffany (Gravity Falls) • Giggle McDimples • Giggly Fruit Drops • Gigi Gelato • Gigi Gift • Gilberto Guitar • Ginger Claus • Ginger Fred • Ginger-Bear (Num Noms) • GingerBrave (Cookie Run) • Gingerbread Go-Go • Ginka Shirokane • Gino Gelati • Giovanna (Guilty Gear) • GIR (Invader Zim) • Giraffe Josie • Girlfriend (Friday Night Funkin') • Giselle (Enchanted) • Gizmoduck/Fenton Crackshell • Glaceon (Pokemon) • Gladstone Gander • Glama Llama • Glamour Queen • Glamstronaut (L.O.L. Surprise!) • Glasan (HappinessCharge PreCure!) • Glaze (Num Noms) • Glazed Cone • Glenn Grape Juice • Glimmer (She-Ra and the Princesses of Power) • Glimmer (Shopkins) • Glitch (L.O.L. Surprise!) • Glitter (Num Noms) • Glitter Ball • Glitter Berry • Glitter Grams • Glitter Poodle • Glitter Queen • Glitter Surprise Gloss-Up • Glittery Berry Go-Go • Gloria (Pokemon) • Gloria Grams • Glossie (Shopkins Happy Places) • Glossie (Shopkins) • Glow (L.O.L. Surprise!) • Glow Grrrl • Go Go Tomago • Go-Go Birdie • Go-Go Donut • Go-Go Gurl • Gobble Gobblin' Chest • Goblin Cookie • Godzilla (Godzilla) • Gogo Dodo • Gold Drop • Golden B.B. • Golden Cheese Cookie • Golden Gleam • Golden Harp • Golden Ox • Golden Raisin • Golden Retriever (Webkinz) • Goldie Bow • Goldie Cake • Goldie Fishbowl • Goldie Luxe • Goldie Syrup • Goldie Wedding Band • Goo Goo Egg • Goo-Goo Mew-Mew • Goo-Goo Queen • Goober (Webkinz) • Good Night Gown • Goodie (L.O.L. Surprise!) • Goodie Luck • Gooey (Kirby) • Goofy (Mickey Mouse) • Googy (Shopkins) • Goomo (Jelly Jamm) • Goose (Captain Marvel) • Gopher (Winnie the Pooh) • Gordon (Sesame Street) • Gordon the Big Engine • Gorilla Kylie • Goro (Badtz-Maru) • Gosalyn Mallard • Grace Baseball Bat • Grace Grams • Grace Grape Popsicle • Gracie Birthday Cake • Gracie Feathers • Gracie Gifts • Gracie Grape • Gracie Grape (Num Noms: Series 3 Lights) • Graham Gals • Gran Grapefruit • Gran Jam • Grandma Duck • Grape Freezie • Grape Gem Light-Up • Grape Gloss-Up • Grape Goody • Grape Gummy • Grape Jelly • Grape Jelly Go-Go • Grape Light-Up • Grape Polish-It • Grape Rocks • Grape Soda Pop • Grape-O-Licious Slushie • Grapefruit Cookie • Grapevine Stripes • Grapey Juicy • Grapple Gloss-Up • Grapy Gretchen • Grassy (Cookie Run) • Green Army Men • Green Cure (Wonderful Net Pretty Cure) • Greg (Hairdorables) • Greg (Papa Louie) • Greg Wiggle • Greg/Gekko • Gremmie (Papa Louie) • Grenade Man • Greninja (Pokemon) • Greta Sweater • Gretta Gum • Gretti Spaghetti • Grey Arabian (Webkinz) • Grey O' Brien • Grey Owl (Webkinz) • Grift (Shopkins) • Grim (The Grim Adventures of Billy & Mandy) • Grim Gloom • Grizz (L.O.L. Surprise!) • Grizzly (We Bare Bears) • Grizzly Grape • Groovy Babe • Groovy Glasses • Grover (Sesame Street) • Grr Majesty • Grumpy (Snow White and the Seven Dwarfs) • Grunge Grrrl • Grunge Skunnnk • Gudetama (Sanrio) • Gumball Gabby • Gumball Go-Cart • Gumball Watterson • Gumby (Gumby) • Gumi (Vocaloid) • Gummy Drop Twins • Gunter (Sing) • Guppy (Aikatsu!) • Gureru (Pretty Cure All Stars) • Gus (Cinderella) • Gus Goose • Gus Mustard • Guttobatton (Yes! PreCure 5) • Gwen (Total Drama) • Gwen Stacy/Spider-Woman • Gyoniku (Sanrio) • Gyro Gearloose • Gōremun (Yes! PreCure 5) • Ha-chan/Kotoha Hanami/Cure Felice • Hachette Book Group • Hades: Izanami • Hagumi Kitazawa • Hagumi Nono/Hugtan/Cure Tomorrow • Hagumu Azumi • Hai Lantern • Hajime Fujiwara • Hajime Hinata • Hakase (Nichijou) • Hakumen (BlazBlue) • Hal (Angry Birds) • Hal Jordan/Green Lantern • Hal the Dog • Haley Galaxy • Haley Hot Dog • Haley Sweet Heart • Hamm (Toy Story) • Hammer Bro • Hammy Burger • Hammy Tide • Hamton J. Pig • Hana Makihatayama • Hana Nono/Cure Yell • Hana-Maru (Sanrio) • Hanamaru Kunikida • Hanausa (Sugarbunnies) • Hanayo Koizumi • Hanazuki (Hanazuki: Full of Treasures) • Hand of Liker • Handbag Harriet • Hangyodon (Sanrio) • Hank (Papa Louie) • Hannah Flana • Hannah Hash Brown • Hannah Hibiscus • Hanon Hosho • Hans Accordion • Hanta Sero • Hapinen (Futari wa Pretty Cure Max Heart) • Happy (Snow White and the Seven Dwarfs) • Happy B. SUV • Happy Daisy Crown • Hariham Harry • Harleen Quinzel/Harley Quinn • Harlequin Girl • Harley Headphones • Harlow (Hairdorables) • Harmonin (Futari wa Pretty Cure Max Heart) • Harmony (Hairdorables) • Harmony (Shopkins) • Harmony B. Sharp • Harold McBride • Harold the Helicopter • Harper Finch • Harriet Hairdryer • Harry (Pororo the Little Penguin) • Harry Hamsterball • Harry Hotdog • Harry Warden/The Miner • Hartmann (Puyo Puyo) • Haru Yuuki • Haruhito Sugiyama • Haruka Amami • Haruka Hani/Pink Princess • Haruka Haruno/Cure Flora • Haruka Kanade • Haruka Tenou/Sailor Uranus • Haruka☆Ruka (Aikatsu Stars!) • Haruna (Pretty Cure All Stars) • Haruna Kamijo • Haruna Wakazato • Harvey Honeycomb • Hat of Santa • Hatrod (Shopkins) • Hatsune Miku • Hattie Hat • Havana Blue Cupcake • Hayate Hisakawa • Hayate Yagami • Hayato Akiyama • Hayley Hops • Hazama (BlazBlue) • Hazelnut (Lalaloopsy) • Hazuki Aranada • Hazuki Fujiwara • HBO • Headphone Sloane • Heart (Futari wa Pretty Cure Max Heart) • Heart Barker • Heart Berry • Heart Braker • Heart Candy Monkey • Heart Lights • Heart-Berry Checkers • Heartbreaker (L.O.L. Surprise!) • Heartly (Shopkins) • Hearts Cookie • Hearty Spaghetti • Heather Hearts • Heather's father • Heatwave (Transformers: Rescue Bots) • Heavenly Froyo • Heavy (Team Fortress 2) • Hed (Puyo Puyo) • Hedgehug (Shopkins) • Heel (Shopkins) • Heelina Frosting • Heels (Shopkins) • Heely (Shopkins) • Heidi Handbag • Heidi Handbag (Shopkins World Vacation) • Heidi Hibiscus • Heimdall (Thor) • Helen Helmet • Helen Hugs • Helen Melon • Helen Parr/Elastigirl • Hello Kitty • Helmsman Will • Help-R (L.O.L. Surprise!) • Henri de la Possum • Henri Wakamiya/Cure Infini • Henry the Green Engine • Henry the Octopus • Her Lil Majesty • Her Majesty • Herappun (Yes! PreCure 5) • Herb Cookie • Herb L. Teabag • Herb Powell • Herb Teapot • Herbert (Shopkins) • Herman Zechariah Stroll • Hermes Conrad • Hermione Granger • Hero (Dragon Quest) • Hero Cookie • Hi (Shopkins) • Hibiki Ganaha • Hibiki Kohaku • Hibiki Shikyoin • Hibiki Tenshō • Hibiki Toudou • Hidarin (Yes! PreCure 5) • Hidden Hermit • Hideo Akuno • High Tea Helen • Highness Heels • Hikari Kujou/Shiny Luminous • Hikari Minowa • Hikari Shiratori • Hikaru Hoshina/Cure Star • Hikaru Kirari • Hikaru Nanjo • Hilary Higgenbottom • Hildy Gloom • Hillary Harp • Himalayan Cat (Webkinz) • Himari Arisugawa/Cure Custard • Himari Uehara • Himawari (Rilu Rilu Fairilu) • Hime Shiratori • Hime Shirayuki/Cure Princess • Himena Aika • Himiko Yumeno • Hina Araki • Hina Hikawa • Hinaki Shinjō • Hinako Kita • Hinako Nijikki • Hinana Ichikawa • Hinata (Futari wa Pretty Cure Max Heart) • Hinata Asaka • Hinata Hiramitsu/Cure Sparkle • Hinata Kinoshita • Hiori Kazano • Hip Hip Hamster • Hiro Hamada • Hiro Hayami • Hiromi Seki • His Royal High-Ney • Hitagi Senjougahara • Hokuto Ijuuin • Holidaze (L.O.L. Surprise!) • Hollie Wood • Holly Brolly Cupcake • Holly Cupcake Ornament • Holly Heart • Holly Sleighbells • Holly Wreath • Hollyberry Cookie • Homare Kagayaki/Cure Etoile • Homer Simpson • Homura Akemi • Honeeey (Shopkins) • Honey Boi • Honey Bun • Honey Hearts • Honey Kisaragi/Cutie Honey • Honey Lemon • Honey Pot Top • Honey Pots • Honey Slice • Honeycomb (Lalaloopsy) • Honeylicious (L.O.L. Surprise!) • Honker Muddlefoot • Honoka Kosaka • Honoka Yukishiro/Cure White • Hoops D.O.G.G. • Hoops MVP • Hop Heart • Hop Hop • Hop Hop Sprints • Hop Pop Plantar • Hoppy Slice • Hops (L.O.L. Surprise!) • Hops Kit-Tea • Hopsalot (JumpStart) • Horace Horsecollar • Hordak (She-Ra and the Princesses of Power) • Horned Conch • Horpun (Futari wa Pretty Cure Max Heart) • Horse Chloe • Hoshikawa Seira • Hoshirabon (Yes! PreCure 5) • Hot Apple Pie • Hot Choc • Hot Chocco • Hot Dog Roller • Hot Doggie • Hot Pot Buckler • Hot Tot • Hotaru Shiragiku • Hotaru Tomoe/Sailor Saturn • Hotdog Hotrod • Hottie Chocolate • Hours (Futari wa Pretty Cure Splash Star) • Howard McBride • Howard Powerboard • Howla (L.O.L. Surprise!) • Howleen Wolf • Howler (PJ Masks) • Hsien-Ko (Darkstalkers) • Huey Duck • Hug 'n' Snug Mittens • Huggy Face • Hula Hips • Hummingmint (Sanrio) • Hummy (Suite PreCure) • Humphrey the Bear • Humpty Dumpling • Huntara (She-Ra and the Princesses of Power) • Hurricane (Miraculous: Tales of Ladybug & Cat Noir) • Hye In • I-No (Guilty Gear) • Ian Lightfoot • IC Sandwich • Ice (L.O.L. Surprise!) • Ice (Shopkins) • Ice Barker • Ice Bear • Ice Bird • Ice Candy Cookie • Ice Cream Cup • Ice Cream Dream • Ice Cream Dream Car • Ice Cream Kate • Ice Cream Machine • Ice Cream Queen • Ice Cream Sammy • Ice Ice B.B. • Ice Ice Boi Boi • Ice Ice Husky • Ice Juggler Cookie • Ice Pop Peewee • Ice Rider • Ice Sk8er • Ice-cream Dream • Iceman (Webkinz) • Ichigo Hoshimiya • Ichigo Momomiya/Mew Ichigo • Ichika Ichihara • Ichika Usami/Cure Whip • Ichimatsu (Mr. Osomatsu) • Icy Berry Go-Go • Icy Cool Kids • Icy Peach Go-Go • Icy Piña Go-Go • Icy Roller • Icy-Bowl (Shopkins) • Ida Icing Bag • Iddybiddy Donut • Iggy Koopa • Igor (Count Duckula) • Ika Musume • Ike (Fire Emblem) • Ikkakun (Yes! PreCure 5) • Iku Nakatani • Ikuto Tsukiyomi • Il (Shugo Chara!) • In Sync • Ina Ree • Incineroar (Pokemon) • Independent Dude • Independent Meow • Independent Queen • Indie Ice Cream • Inez (Cyberchase) • Infinity Queen/Starling • Infinity Silhouette • Ingrid Iron • Inkling (Splatoon) • Inktopus (Cookie Run) • Inori Yamabuki/Cure Pine • Inspector Gadget • Instabunny (L.O.L. Surprise!) • Instagold (L.O.L. Surprise!) • Inteligen (Futari wa Pretty Cure Max Heart) • Inuyasha (Inuyasha) • Ion Cookie Robot • Iori Minase • Iris (LoliRock) • Iris Eyeshadow • Iris Icing Sugar • Irma Ice Cream Cake • Iroha Tamaki • Isabell (Shopkins) • Isabella Garcia Shapiro • Isabella Ice Cream • Isabelle (Animal Crossing) • Isadora Ice Cream • Isla Hibiscus • Isuzu Bando/Bebel • iSweep (L.O.L. Surprise!) • It/Pennywise the Dancing Clown • Ito Suzuno • Itsuki Harune • Itsuki Myoudouin/Cure Sunshine • Itsuki Tendo • Itty Bitty Candy • Ivan Bruel • Ivory Ice Crystals • Ivy (Papa Louie) • Ivysaur (Pokemon) • Izayoi (BlazBlue) • Izuku Midoriya • Izzy (Total Drama) • Izzy Invite • Izzy Island • J. Audubon Woodlore • Jacinda Juice • Jack Russell Terrier (Webkinz) • Jack-Jack Parr • Jack-O' Valentine • Jackie (Cyberchase) • Jackie (The Loud House) • Jade (Bratz) • Jade Catkin • Jade Hunter • Jade Spade • Jae Eun • Jake (Adventure Time) • Jake (Angry Birds) • Jake Long • Jam Kuradoberi • Jamberry (Lalaloopsy) • James (Papa Louie) • James P. Sullivan • James the Red Engine • Jammin' (L.O.L. Surprise!) • Jammin' Berry Go-Go • Jammin' Razzy Go-Go • Jammy Jam • Jan Jam-Filled • Jan Pancake • Jan-illa Creme • Jana Yarn Ball • Jane (Ninjala) • Jane Foster • Jane Frame • Jane Porter • Jane Read • Janice (PriPara) • Janine Melnitz • Janis Ian • Janna (League of Legends) • Jaq (Cinderella) • Jascenta (Shopkins) • Jasmine (Aladdin) • Jasmine (Total Drama) • Jasmine Rice • Jasmine T • Jasminka Antonenko • Jason Voorhees • Jasper (Jewelpet) • Jax (Mortal Kombat) • Jay (Angry Birds • Jay (Puyo Puyo) • Jay (Total Drama) • Jazzy Jam • Jazzy Razzwich • Jazzy Razzy • JC Juicy Pop • Jeanette Seville • Jeanie Beanie • Jeannie (I Dream of Jeannie) • Jeff the Killer • Jeff Wiggle • Jefferson Davis • Jellica (Shopkins) • Jellie Bean • Jelly B • Jelly Bean Machine • Jelly Bun • Jelly Jam • Jelly Jellyfish • Jelly Joyride • Jelly Scale • Jelly Snake • Jelly Wiggle Jiggle • Jelly-A-Gogo (Shopkins) • Jellybean Buggy • Jellyco Cube • Jemima Cake Timer • Jemma Jules • Jen (Total Drama) • Jen Jug • Jen Yen • Jennel Jaguar • Jenni Jelly Slice • Jenni Lantern • Jennifer Rayne • Jennifer Susan Walters/She-Hulk • Jenny Foxworth • Jenny Penny • Jenny Wakeman • Jeremy Hops • Jerry Cherry • Jerry Strawberry • Jerry the Minion • Jersey Jug • Jess Jet • Jess Jet Stamp • Jessica Jelly-Filled • Jessica Keynes/Sparrow/Eagle • Jessica Rabbit • Jessicake (Shopkins) • Jessie (Toy Story) • Jessie Dressing Gown • Jessie Prescott • Jet Set Hop Hop • Jet Setter • Jet-Set Q.T. • JetBlue • Jett Dawson • Jewel (Rio) • Jewel E. Crown • Jewel Sparkles • Jewelia Gem • Jeweliana (Shopkins) • Jewlie/Jewlulu • Jiggly Jelly • Jigglypuff (Pokemon) • Jilly Jam • Jilly Jam Roll • Jilly Jelly • Jim (Angry Birds) • Jimmy (Ape Escape) • Jimmy Falcone • Jimmy T • Jimmy Z • Jin Kisaragi • Jingle (L.O.L. Surprise!) • Jingle Deer • Jingle Purse • Jingles Gift Bag • Jinx (League of Legends) • Jiro Yamashita • Jitter Critter • Jitterbug (L.O.L. Surprise!) • Jivin' Kat • Jo (Total Drama) • Jo Mitchell • Joanie Donut • Jodie Glow Sticks • Jodie Juice Box • Joe Okada • Johnny (Guilty Gear) • Johnny (Papa Louie) • Johnny (Sing) • Joker (DC Comics) • Joker (Persona) • Jolteon (Pokemon) • Jonathan Byers • Jonathan Joestar • Joni Savage • Jose Carioca • Journey (Hairdorables) • Joy (Inside Out) • JP Pop Tart • Jr Prom Princess • Jubilee (L.O.L. Surprise!) • Judge Dredd • Judgement (Tarot card) • Judy Fruit Cake • Judy Jug • Judy Jumper • Juice Tumbler • Juicy Driver • Juicy Gummy • Juicy Orange • Jukebot (L.O.L. Surprise!) • Juleka Couffaine • Jules (Shopkins Happy Places) • Jules (Shopkins) • Juli Joyful • Juli Liszt • Julia (Sesame Street) • Julia (The Idolmaster) • Julie (The Raccoons) • Julie Hinikawa • Julius the Cat • Jun Fuyumi • Jun Hiiragi • June (Donald Duck) • June Balloon • June Seashore • Junior (Total Drama) • Junior Sleuth Ted • JunJun/Sailor Juno • Junko Konno • Junna Tokura • Junon (PriPara) • Juné Amou • Jupiter (Milky Way and the Galaxy Girls) • Juri Kurebayashi • Juri Oba • Juri Saijo • Justice (Helltaker) • Justice (Tarot card) • Jyushimatsu (Mr. Osomatsu) • K.L. Cake • K1-B0 (Danganronpa) • Kaalki (Miraculous: Tales of Ladybug & Cat Noir) • Kaede Akamatsu • Kaede Akino • Kaede Ichinose • Kaede Takagaki • Kagami Hiiragi • Kagami Tsurugi/Ryuko • Kagamine Len • Kagamine Rin • Kagari Hinata • Kagome Higurashi • Kagome Satori • Kagura Mutsuki • Kaguya Shirayuri • Kaho Komiya • Kahuna (Papa Louie) • Kai'Sa (League of Legends) • Kaila Keyboard • Kairi (Kingdom Hearts) • Kaito (Vocaloid) • Kakeru Kogure • Kakeru Ozora • Kako Takafuji • Kali (Hairdorables) • Kalimba Tiki • Kamaitan (Yes! PreCure 5) • Kana Yabuki • Kanade Chidori/Purple Princess • Kanade Hayami • Kanade Minamino/Cure Rhythm • Kanagi Izumi • Kanako Mimura • Kaname Amamiya • Kanan Matsuura • Kanata Kira • Kanata Konoe • Kandy Apple • Kane Sugar • Kanga (Winnie the Pooh) • Kanikama (Sanrio) • Kanikus (True Tail) • Kanon (PriPara) • Kanon Himeno • Kanon Ichinose • Kanon Matsubara • Kanon Mizushiro • Kanon Nakagawa • Kanon Shibuya • Kanon Toudou • Kansas K9 • Kansas Q.T. • Kaori Sakuramori • Kaoru (Fresh Pretty Cure!) • Kaoru Kiryuu • Kaoru Maki • Kaoru Ryuzaki • Kaoru Sakuraba • Kaoru Seta • Kaoruko Hanasaki/Cure Flower • Kappa Rumba • Kappei (Ninjala) • Kapuchinousa (Sugarbunnies) • Karamatsu (Mr. Osomatsu) • Karbunkle (Biker Mice from Mars) • Karen (Mermaid Melody) • Karen (Time Bokan) • Karen Araragi • Karen Beecher-Duncan/Bumbleebee • Karen Beverly • Karen Carrot • Karen Hanamura • Karen Hojo • Karen Kamishiro • Karen Minazuki/Cure Aqua • Karen Shinomiya • Karin Asaka • Karin Domyoji • Karin Misono • Karin Shijimi • Karl (Where's My Water?) • Karl Kiwi • Karlee Candy Jar • Karma Nichols • Kasey Cuisine • Kasha (Mysticons) • Kashimochī (Yes! PreCure 5) • Kasumi Nakasu • Kasumi Toyama • Kat (Gravity Rush) • Kat (Hairdorables) • Kat (WarioWare, Inc.) • Kat Jungle Roar • Katara (Avatar: The Last Airbender) • Kate (Kit and Kate) • Kate Read • Katherine Whiskers • Katie (The Secret Life of Pets) • Katie (Total Drama) • Katie Clasp • Katie Ka-Boom • Katie Pops • Katie Skateboard • Katrina Ketchup • Katty Katswell • Katy Kicks • Katy Petals • Kawaii Guy • Kay Cupcake • Kaz (Shimmer and Shine) • Kazooie (Banjo-Kazooie) • Kazuki Nishina • Kazuki Tsukumo • Kazuma Yagami • Kazumi Subaru • Keen Bunnies • Keesha Franklin • Kei (Ape Escape) • Kei Tsuzuki • Keiichi Hiiragi • Keiko Cupcake • Keith Wayne • Keke Tang • Kelly (Star vs. the Forces of Evil) • Kelly (Total Drama) • Kelly Calculator • Kelly Jelly • Kelly Kernels • Kelsey Compact • Ken (Street Fighter) • Ken Carson • Kendra Kiwi • Kenji Ban • Kermit the Frog • Kerobah (Sanrio) • Kerojee (Sanrio) • Keroleen (Sanrio) • Keroma (Sanrio) • Keroppa (Sanrio) • Keroppe (Sanrio) • Keroppi (Sanrio) • Keroro (Keroro Gunso) • Keswick (T.U.F.F. Puppy) • Ketchup Crinkles • Ketchup Go-Go • Ketchup To Me • Ketchup Tot • Kevin (PJ Masks) • Kevin the Minion • Key Lime Icy • Key Lime Jelly • Key Lime Roll • Keys Sharps 'N' Flats • Khia Board • Kia Hart • Kiawe (Pokemon) • Kicks (L.O.L. Surprise!) • Kid (Kid Chameleon) • Kid Kandy • Kida Nedakh • Kiddie Cracker • Kiichi Furano/Slow Life Yellow • Kiki (Fresh Beat Band of Spies) • Kiki (Little Twin Stars) • Kiki Coconut • Kiki Crème • Kiki Kiwi • Kiki Lime Pie • Kikimora (Puyo Puyo) • Kimberly Cap • Kimmy Camera • Kine (Kirby) • King Boo • King Choco Drop • King Cone • King Dedede • King Doughnuts • King K. Rool • King Montblanc • King Triton • Kingsley (Papa Louie) • Kingsley Crown • Kipper Flippa • KiracCHU (Kiratto Pri☆Chan) • Kirara Amanogawa/Cure Twinkle • Kirara Apricot • Kirara Hanazono • Kirara Hoshizuki • Kirari Mori • Kirari Moroboshi • Kirari Tsukishima • Kirby (Kirby) • Kirby (The Brave Little Toaster) • Kirika Kure • Kiriko Yukoku • Kirimichan. (Sanrio) • Kirio Nekoyanagi • Kirstea (Shopkins) • Kirun (Fresh Pretty Cure!) • Kiseki (Shugo Chara!) • Kisha (JumpStart) • Kissandra Cap • Kisstina Polish • Kissy Boo • Kissy Cab • Kissy Kicks • Kit (Kit and Kate) • Kit Sprinkles • Kit Strawbz • Kitty (Uglydolls) • Kitty 500 • Kitty B. Brave • Kitty Catbed • Kitty Crisp • Kitty Crumbles • Kitty Flats • Kitty K • Kitty Katswell • Kitty Kitty • Kitty Pops • Kitty Queen • Kitty S'Mores • Kitty Slice • Kitty Wedge • Kittydoll (L.O.L. Surprise!) • Kiwi Bird • Kiwi Cookie • Kiwi Cutie • Kiwi Freezie • Kiwi Gloss-Up • Kiwi Jelly • Kiwi Light-Up • Kiwi Tiki Wiki • Klondike Mini's • Knight Cookie • Knuckles the Echidna • Koala (Webkinz) • Kogane Tsukioka • Kohana Aose/Lovepat Blue • Koharu Nanakura • Koito Fukumaru • Kokekkon (Yes! PreCure 5) • Koki (Wild Kratts) • Kokichi Ouma • Kokomi Sakurai/Phantomi Heart • Kokone Kurisu • Kokonoe Mercury • Kokonut (Shopkins) • Kokoro Momoi • Kokoro Tsurumaki • Komachi Akimoto/Cure Mint • Komaki Asako • Komugiusa (Sugarbunnies) • Konata Izumi • Konigirin (Yes! PreCure 5) • Konoe Ayatsuki Mercury • Konomi Baba • Kooky Cookie • Koopa Troopa • Kora Kiwi • Koropan (Yes! PreCure 5) • Koroppi (Sanrio) • Koshino Natsuko • Kota Hasegawa • Kotaro (The Loud House) • Kotaro Tatsumi • Kotoha Tanaka • Kotoko Imai • Kotomi Cups • Kotori Minami • Kotori Nono • Kotori Otonashi • Kouji Mihama • Koume Shirasaka • Koyoi Takase • Koyomi Araragi • Kozue Yusa • Kris P Lettuce • Krisp P Sprinkles • Krispy Kaitlyn • Krispy Treat Twins • Kristina Apples • Kristoff (Frozen) • Kristy Krispie • Krunch Klondike • Krysta Splash • Krystal Bailey • Krystella Sparkle • Kuchipatchi (Tamagotchi) • Kumachii (Phantomirage!) • Kumiho Cookie • Kurara Hananokoji • Kuriakuman (Yes! PreCure 5) • Kurionen (Yes! PreCure 5) • Kuro Kiyosumi • Kuromi (Sanrio) • Kuroro (Go! Princess PreCure) • Kurousa (Sugarbunnies) • Kurujakun (Yes! PreCure 5) • Kurumi Mimino/Milk/Milky Rose • Kururun (Tropical-Rouge! Pretty Cure) • Kurāgen (Yes! PreCure 5) • Ky Kiske • Kyappī (Yes! PreCure 5) • Kyla Blow Dryer • Kyla Crepe • Kyle (LoliRock) • Kyle (She-Ra and the Princesses of Power) • Kylie Cone • Kyoichiro Narugami • Kyoji Takajo • Kyoka Jiro • Kyoko Igarashi • Kyoko Kirigiri • Kyoko Sakura • Kyorosuke (Sanrio) • Kyosuke Aoi • Kyubey (Puella Magi Madoka Magica) • Kyurukon (Yes! PreCure 5) • Kyōko Umekōji/Beat • Kī Saegusa • L.U.N.A. (L.O.L. Surprise!) • La La Cupcake • La'Lotion (Shopkins) • Laala Manaka • Labra (Jewelpet) • Lace (L.O.L. Surprise!) • Lachy Wiggle • Lacy Cake • Lacy Lemon • Lady (Lady and the Tramp) • Lady Butterfly • Lady Diva • Lady Lemonade • Lady Stillwaiting • Lady Sugarette • LadyLion (Miraculous: Tales of Ladybug & Cat Noir) • Lakitu (Mario) • Lala (Little Twin Stars) • Lala Hagoromo/Cure Milky • Lala Lipstick • Lalanyan (Magimajo Pures!) • Lamb Dancer • Lambda-11 (BlazBlue) • Lambie (Doc McStuffins) • Lammy Lamington • Lampy (The Brave Little Toaster) • Lana Banana Bread • Lana Lamp • Lana Lantern • Lana Loud • Lana Luggage • Lana/Juice DrinKyun • Lance (DokiDoki! PreCure) • Lance Sterling • Landry (Sanrio) • Lantern Jellyfish • Lapis Lazuli • Laptop Limo • LapTrap (The ClueFinders) • Lara Candelabra • Larimar (Jewelpet) • Larry (T.U.F.F. Puppy) • Larry Cherry • Larry Daley • Larry Koopa • Larry Loaf • Lars Lederhosen • Lary (Suite PreCure) • Laser (L.O.L. Surprise!) • Latte (Healin' Good Pretty Cure) • Latte (Sanrio) • Latte Cookie • Latte Crisp • Launa Mower • Launchpad McQuack • Laundry-Matt (Shopkins) • Laura/Cure La Mer • Laura Fukuouji • Laura Lashes • Laura Sakuraba • Laurie (Total Drama) • Lavender (Shopkins) • Lawrence Limburger • Le Skunk Bebé • Le' Monade Jelly Roll • Le'Quorice (Shopkins) • Leading Baby • Leading Chimp • Leafeon (Pokemon) • Leafwich (Cookie Run) • Leafy (Shopkins) • Leafy Cuddle 'N' Shy • Leafy Lulu • Leah (Shimmer and Shine) • Leah Kazuno • Leah Lime Cupcake • Leather (L.O.L. Surprise!) • Leather Teddy • Lee Tea • Leek Cookie • Lelouch vi Britannia • Lemmy Koopa • Lemmy Slice • Lemon (Hairdorables) • Lemon Cookie • Lemon Creme Polish-It • Lemon Drop Gloss-Up • Lemon Gummy Stamp-It • Lemon Limo • Lemon Pop • Lemon Pop Drop • Lemon Poppy • Lemon Slice • Lemon Zest • Lemona (Shopkins) • Lemonade Frost • Lemonade Icy • Lemons Pink Fill • Lemony Bear • Lemony Burst • Lemony Cola • Lemony Cream • Lemony Dots • Lemony Glaze • Lemony Go-Go • Lemony Limes • Lemony Polish-It • Lemony Pop • Lemres (Puyo Puyo) • Lena Sabrewing • Lena Tower • Leni Loud • Lenny Lime • Leo (Star Twinkle PreCure) • Leo Whitefang • Leon (The Idolmaster) • Leona Lemon Tree • Leona West • Leonie Froyo • Leopard (Webkinz) • Leshawna (Total Drama) • Lesley Lettuce • Leslie Clark • Li Li Bubble Tea • Li Shang • Liam (The Secret Life of Pets) • Libby Lolly Jar • Libra (Star Twinkle PreCure) • Licorice Cookie • Lidelle (Puyo Puyo) • Lidia Lounge • Lifesaver (Cookie Run) • Light Bros • Light Hope • Light Yagami • Lightning McQueen • Liiri (Miraculous: Tales of Ladybug & Cat Noir) • Lil 80s B.B. • Lil Agent 00L • Lil Agent Baby • Lil Angel • Lil As If Baby • Lil B.B. Bop • Lil Babe in the Woods • Lil Baby Goo-Goo • Lil Baby Next Door • Lil Babydoll • Lil Beatnik Babe • Lil Beats • Lil Bebé Bonito • Lil Bhaddie • Lil Big City B.B. • Lil Black Tie • Lil Bling Queen • Lil Bon Bon • Lil Boogie Babe • Lil Boss Queen • Lil Boy Next Door • Lil Bro Cheer • Lil Caddy Boi • Lil Can Do Baby • Lil Captain Boi • Lil Center Stage • Lil Cheeky Babe • Lil Cheer Captain • Lil Cherry • Lil Coconut Q.T. • Lil Cosmic Queen • Lil Countess • Lil Court Champ • Lil Cozy Babe • Lil Crystal Queen • Lil Curious Q.T. • Lil D.J. • Lil Daring Diva • Lil Dawn • Lil Diva • Lil Dollface • Lil Downtown Doll • Lil Drag Racer • Lil Dusk • Lil Fancy • Lil Fanime • Lil Fierce • Lil Flossy • Lil Flower Child • Lil Foxy • Lil Fresh • Lil Funky Q.T. • Lil Genie • Lil Glamour Queen • Lil Glamstronaut • Lil Glitter Queen • Lil Go-Go Gurl • Lil Goo-Goo Queen • Lil Goodie • Lil Grunge Grrrl • Lil Heartbreaker • Lil Honey Bun • Lil Hoops MVP • Lil Hops • Lil Ice Sk8er • Lil Independent Queen • Lil Instagold • Lil Jet Set Q.T. • Lil Jitterbug • Lil Jonny Rotten • Lil Kansas Q.T. • Lil Kicks • Lil Kitty Queen • Lil Lamp Milkshake • Lil Leading Baby • Lil Lenny Loaf • Lil Lily Lime • Lil Line Dancer • Lil Luxe • Lil M.C. Swag • Lil Madame Queen • Lil Majorette • Lil Midnight • Lil Miss Jive • Lil Miss Punk • Lil Neon Q.T. • Lil Oops Baby • Lil P.H.D.B.B. • Lil Pharaoh Babe • Lil Pins • Lil Pop Heart • Lil Posh • Lil Pranksta • Lil Precious • Lil Prim • Lil Punk Boi • Lil Punk Grrrl • Lil Purple Queen • Lil Racer Boi • Lil Rainbow Raver • Lil Red • Lil Rip Tide • Lil Rocker • Lil Roller Sk8er • Lil Royal High-Ney • Lil Sailor Q.T. • Lil Scribbles • Lil Shapes • Lil Shimone Queen • Lil Short Stop • Lil Shorty • Lil Showbaby • Lil Sis Swing • Lil Sk8er Boi • Lil Sk8er Grrrl • Lil Sleeping B.B. • Lil Sleepy Bones • Lil Snow Angel • Lil Snow Bunny • Lil Snuggle Babe • Lil Softie • Lil Soul Babe • Lil SPF Q.T. • Lil Spice • Lil Spike • Lil Splash Queen • Lil Splatters • Lil Sprints • Lil Stardust Queen • Lil Sugar Queen • Lil Suite Princess • Lil Super B.B. • Lil Surfer Babe • Lil Swag Boi • Lil Thrilla • Lil Tinz • Lil Touchdown • Lil Treasure • Lil Troublemaker • Lil Twang Dude • Lil Unicorn • Lil Vacay Babay • Lil Waves • Lil Wings • Lil Witchay Babay • Lil Yang Q.T. • Lil Yin B.B. • Lil' Berry Tart • Lil' Blaze • Lil' Bliss Ring • Lil' Boogy Board • Lil' Chip Cookie Sandwich • Lil' Donut Hole • Lil' Globe • Lil' Italia • Lil' Kyubey • Lil' Leaf • Lil' Nutty • Lil' Pinch • Lil' Suds • Lil' Ukulele • Lil' Wedding Dress • Lil'Smores (Shopkins) • Lilie Shirogane • Lilith Henderson • Lillian (Jewelpet) • Lillie/Soda DrinKyun • Lilly Lipstick • Lily (Shopkins) • Lily Lemony • Lily Lettuce • Lily Loud • Lily Vanilla • Lily-Strosek (Magical Girl Lyrical Nanoha) • Lima (Shopkins) • Lime Cookie • Lime Custard • Lime Polish-It • Limo-Queen (Shopkins) • Lina (Yin Yang Yo!) • Lina Hitomi • Lina Loaf • Lincoln Loud • Linda Layered Cake • Linda Lime • Linda Lipstick • Lindy Lip Balm • Line Dancer • Ling Lantern • Link (The Legend of Zelda) • Lion (Kirakira Pretty Cure a la Mode) • Lion (Webkinz) • Lionsgate • Lip (Panel de Pon) • Lip (Rilu Rilu Fairilu) • Lippie (Shopkins) • Lippo (Shopkins) • Lippy (Shopkins) • Lippy Lips • Lippy Lulu • Lippy Zips • Lipstick Mamma • Lisa (Papa Louie) • Lisa Imai • Lisa Lemon • Lisa Litter • Lisa Loud • Lisa Raccoon • Lisa Shirakaba • Lisia (Pokemon) • Litchi Faye Ling • Little Bah Peep • Little Beeper • Little Bow Bella • Little Choc Bottle • Little Ghost • Little Mac • Little Pet Collar • Little Sipper • Little Teapot • Littleforestfellow (Sanrio) • Liv/Myst • Livia Medeiros • Liz (The Magic School Bus) • Lizzie Lasagna • Lizzy Lace-up • Lizzy Laptop • Lobster Cookie • Loch Ness Monster • Log Stub • Logan (Hairdorables) • Loki Laufeyson • Lola Bunny • Lola Gondola • Lola Lollipop • Lola Loud • Lola Roller Blade • Lolita Pops • Lolli Poppins • Lollipop Soft Top • Lolly Mommy • Lolz (Club Penguin) • LoneStar (L.O.L. Surprise!) • Longg (Miraculous: Tales of Ladybug & Cat Noir) • Loni Loafer • Loni Locket • Lonnie (She-Ra and the Princesses of Power) • Loop (Club Penguin) • Loopy (Pororo the Little Penguin) • Lord Starchbottom • Lorelai Lattice • Lorenzo (Total Drama) • Lori Loud • Loser (Battle for Dream Island) • Lotta Balloons • Lotta Bottle • Lotta Plump • Lotte Jansson • Lotti (Shopkins) • Lottie Lolly Jar • Louie Duck • Louis Tully • Love (Kuu Kuu Harajuku) • Love Momozono/Cure Peach • Love-Lee Handbag • Lovelitchi (Tamagotchi) • Lovelun (Futari wa Pretty Cure Max Heart) • Lovely Hearts Teapot • Lovely Sweets • Lovely Wings Lipstick • Lovepyoko (Lovepatrina!) • Luan Loud • Luau (L.O.L. Surprise!) • Luca (Angry Birds Stella) • Lucario (Pokemon) • Lucas (EarthBound) • Lucas Friar • Lucas Sinclair • Lucia Nanami • Lucina (Fire Emblem) • Luck-o'-Lantern (Cookie Run) • Lucky Bat • Lucky Choco • Lucky Fortune Cookie • Lucky Lil' Bug • Lucky Lucy Horseshoe • Lucky Luxe • Lucky Mallow • Lucy (Ninjala) • Lucy Heartfilia • Lucy Juice Box • Lucy Loud • Lucy Smoothie • Lucy Wilde • Ludo Avarius • Ludwig Von Drake • Ludwig Von Koopa • Luea (Jewelpet) • Luigi (Mario) • Luigi Lasagna • Luka Couffaine/Viperion • Lulu (League of Legends) • Lulu (WarioWare, Inc.) • Lulu Bamboo Macaron • Lulu Licorice • Lulun (Futari wa Pretty Cure Max Heart) • Luluna (Kiratto Pri☆Chan) • Lum Invader • Luma (Mario) • Lumiere (Beauty and the Beast) • Lumiere/Cure Lumiere • Lumpy (Happy Tree Friends) • Luna (Jewelpet) • Luna (Sailor Moon) • Luna (Scooby-Doo) • Luna Girl • Luna Loud • Luna Tsukuyomi • Lux (League of Legends) • Lux (Shopkins) • Luxe (L.O.L. Surprise!) • Luz Noceda • Lydia (Uglydolls) • Lyn Gweeni • Lyna (LoliRock) • Lynn Flight Meal • Lynn Lamp • Lynn Loud Sr. • Lynne Spring • Lê Chiến Kim/King Monkey • M. Mallow • M.C. Hammy • M.C. Hippity Hop • M.C. Meow • M.C. N.Y.C. • M.C. Pose • M.C. Swag • M.C.D.O.G.G. (L.O.L. Surprise!) • Ma Crumbs • Ma Flushy Brush • Ma Kettle • Ma Pepper • Maamu (Pretty Cure All Stars) • Mabel Syrup • Mable Marble • Mac A Roni • Mac Minty • Macadamia (Lalaloopsy) • Macameow (Num Noms) • Macaron Cookie • MacArthur (Total Drama) • Macayla Sailor Cake • Macca Roon • Macchiato (Sanrio) • Mackenzie Maple Donut • Macy Macaron • Macy Macaroni • Madam Rosa • Madame Baguette • Madame Pup • Madame Queen • Madame Razz • Maddie Mask • Maddy W. Melon • Madeleine Cookie • Madeline Muffin • Madelyn Macaron • Madelyn Mango • Madoka Amahane • Madoka Higuchi • Madoka Kaguya/Cure Selene • Madoka Kaname • Maggie (Making Fiends) • Maggie (The Loud House) • Maggie Magical • Maggie Mallow • Maggie Pesky • Maggie Simpson • Maggie Waggs • Magic Lamp • Magic Squish • Magma Stone • Magmabird (Cookie Run) • Magolor (Kirby) • Maguro Sasaki • Mahiru Kasumi • Mai Akane • Mai Hazuki • Mai Hitomi/Ai • Mai Kanzaki • Mai Minakami • Mai Mishou/Cure Egret/Cure Windy • Mai Su • Maika Chōno • Mailpo (Yes! PreCure 5 GoGo!) • Maira Tsukishima • Maisy Daisy • Maisy Moo • Maizey Meal • Majestic Heels • Major Lady • Major Squirrel • Majorette (L.O.L. Surprise!) • Maka Albarn • Makaella Wish • Makeover Babe • Maki Harukawa • Maki Nishikino • Maki Oze • Makio Uzuki • Makoto Kenzaki/Cure Sword • Makoto Kikuchi • Makoto Kino/Sailor Jupiter • Makoto Naegi • Makoto Nanaya • Makoto Yoshichu/Green Princess • Mala Sauce Cookie • Maleficent (Sleeping Beauty) • Mallory (Mysticons) • Mallory Watermelon Punch • Mallow Bean • Mallow Drop • Mallow Erase-It • Mallow Flip • Mallow Heart • Mallow Jelly • Mallow Kitty • Mallow Mini Cake • Mallow Sweet Fluff • Mallow Twirl • Mallow/Tea DrinKyun • Mama (Hello Kitty) • Mama Milkshake • Mama Mousse • Mama Pod • Mama Washalot • Mametchi (Tamagotchi) • Mami Futami • Mami Tomoe • Mamimi Tanaka • Mamma Jelly • Mamoru Chiba/Tuxedo Mask • Mana Aida/Cure Heart • Mana Fujisaki • Manatsu Natsuumi/Cure Summer • Mandee (The Loud House) • Mandy (Uglydolls) • Mandy Candy • Mandy Candy Corn • Mandy Mandarine • Mandy Mousse • Mandy O'Mango • Mango Cookie • Mango Cream • Mango Gloss-Up • Mango Gummy Light-Up • Mango Jelly Go-Go • Mango Jiggle • Mango Macaron • Mango Madison • Mango Mandy • Mango Marble • Mango Melody • Mango Milly • Mango Polish-It • Mango Sherbet • Mango Sparkle • Mango Tiki Wiki • Mango Toucan • Mango Triples • Mango-a-Rainbow (Num Noms) • Manny Mango • Mano Sakuragi • Mao Mao • Mao Otoha/Hana • Maple (Sanrio) • Maple Cakes • Maple Panda Cookie • Maple Sugars • Mara Cherry • Mara Schino • Marabel Music Player • Marble Motor • Marc Anciel • Marcee Makeup Bag • Marceline (Adventure Time) • Marci Mask • Marcia Heart Mug • Marco Diaz • Marcy Wu • Margaret White • Margarina (Shopkins) • Margo Gru • Margo Macaron • Margo Rita • Mari Golden Petals • Mari Ohara • Maria Hikawa/Cure Tender • Maria Himesato • Maria Kanamori • Maria Maracas • Maria Moped • Marianna Melon Donut • Marie (Aikatsu!) • Marie (Splatoon) • Marie (The Aristocats) • Marie Degree • Marie M • Marie Macaronette • Marin Manami • Marina (Fresh Beat Band of Spies) • Marina Anchors • Marina Jewels • Marine Q.T. • Marine the Raccoon • Marinette Dupain-Cheng/Ladybug • Mario (Mario) • Mario Meatball • Marisa Kirisame • Marisol (Hairdorables) • Mark Hoffman • Marlo the Bunny • Marquis (Futari wa Pretty Cure Max Heart) • Marrisa Maraca • Mars (Milky Way and the Galaxy Girls) • Marsha Mello • Marsha Mellow • Marsha Violet • Marshall (PAW Patrol) • Marshall (Shopkins) • Marshmallow Cookie • Marshmallow Hamster • Marshmallow Twirl • Marth (Fire Emblem) • Martha Choc Chip Muffin • Marty (Papa Louie) • Marty Party Hat • Marx (Kirby) • Mary (Total Drama) • Mary Belle • Mary Cranberry • Mary Fairy Floss • Mary Lou Blue • Mary Meringue • Mary Mint Sundae • Mary Muffin • Mary Mulberry • Mary Poppins • Mary Wishes • Mary-kin Cap • Masato Aisaki • Mashiro Kurata • Masquerade (L.O.L. Surprise!) • Master Mantis • Master Prune • Masukappū (Yes! PreCure 5) • Masuki Satou • Masyumaro (Sanrio) • Mate (Shopkins) • Mater (Cars) • Matey Anchors • Matilda (Angry Birds) • Matsuri Hasegawa • Matsuri Hinata • Matsuri Tokugawa • Matt 'n' Cheese • Matt (Cyberchase) • Matt (Eddsworld) • Matt (LoliRock) • Mavis Maple Syrup • Max (Hairdorables) • Max (Sam & Max) • Max (The Secret Life of Pets) • Max Goof • Max Headroom • Max Kanté/Pegasus • Max Mayfield • Max Saxophone • Maxie (Shopkins) • May (Donald Duck) • May (Guilty Gear) • May (Pokemon) • May Little Spring • Maya (Hairdorables) • Maya Hart • Maya Mallow • Maya Yamato • Mayoi Hachikuji • Mayor Humdinger • Mayu Kawabata • Mayu Sakuma • Meat King • Meatball Kitty • Meena (Sing) • Meg Boiled Egg • Meg Griffin • Mega Man • Megan Mallow Roll • Meganee Akai • Meganii Akai • Megara (Hercules) • Megavolt/Elmo Sputterspark • Megumi Taishin/Gold Princess • Megumi Tokoro • Megurine Luka • Meguru Hachimiya • Mei Izumi • Mei Kashiwazaki • Mei Sundae • Meiko (Vocaloid) • Meisa Hinata/Rose • Mel Shido • Mel T Moment • Mel the Minion • Mel Umbrella • Melan (DokiDoki! PreCure) • Melanie Melon • Melanie Mod • Melba Milkshake • Melina Smoothie • Melissa de Vignolles • Melissa Mango • Melissa Marble • Melissa Melty • Melissa Milk • Melissa Raccoon • Melissa Shield • Melissa Sips • Melissa Thorn • Mellie Pop • Mello Lamb • Mellow (Num Noms) • Melodine (Shopkins) • Melody (Hairdorables) • Melody (Shopkins) • Melody Briar • Melody Mallow • Melody Moover • Melody Mouse • Melody Music Note • Melon Beans • Melon Berry • Melon Bun Cookie • Melon Freeze • Melon Gummy Stamp-It • Melon Ma • Melon Minutes • Melon Pop (Num Noms) • Melon Pop (Shopkins) • Melon Twin Tots • Melona (Shopkins) • Melonette Popsicle • Melonie Hops • Melonie Pips • Melony Seeds • Melpan (Kiratto Pri☆Chan) • Meltin Muffin • Meltina Melvis • Melty Burger • Melty Macaron • Memetchi (Tamagotchi) • Menchie (Num Noms) • Meow Q.T. • Meowberry (Num Noms) • Mepple (Futari wa Pretty Cure) • Mercury (Milky Way and the Galaxy Girls) • Mercury (Miraculous: Tales of Ladybug & Cat Noir) • Merida (Brave) • Meringue Horn • Mermaid Anemone • Mermaid Fin • Mermaid Gilly • Mermaid Kelp • Mermaid Opal • Mermaid Tadpole • Mermaid Treasure • Mermaid Water Lily • Mermista (She-Ra and the Princesses of Power) • Merri Cherry Slushie • Merri Mouse • Merry Macaron • Merry Walrus • Merryweather (Sleeping Beauty) • Meta Knight • Metal Babe • Metal Chick • Metal Claws • Metal Cube • Metal K.T. • Mew (Mewkledreamy) • Mewtwo (Pokemon) • Mia Ageha • Mia Hanazono • Mia Mango • Mia Meows • Mia Milk • Mia Mirror • Mia Mirror Ball • Mia Mystery • Micaela Mallow • Micah (She-Ra and the Princesses of Power) • Michael Manchester • Michelle Fairchild • Michelle Tachibana • Michio Hazama • Michiru Enjoji • Michiru Kagemori • Michiru Kaiou/Sailor Neptune • Michiru Kiryuu • Michiru Kouda • Michiru Kurosawa • Mickey (Total Drama) • Mickey Mouse • Micky Microphone • Midnight (L.O.L. Surprise!) • Midnight Kid • Midnight Pup • Midori Akagi/Smart Green • Mifuyu Azusa • Mighty Eagle • Migirin (Yes! PreCure 5) • Miho Kohinata • Mii Brawler • Mii Gunner • Mii Swordfighter • Mika Jougasaki • Mikage Yakumo • Mikan Shiratama • Mikan Tsumiki • Mike (WarioWare, Inc.) • Mike Hanlon • Mike Rophone • Mike Wazowski • Mike Wheeler • Mike/Krush • Miki (Shugo Chara!) • Miki Aono/Cure Berry • Miki Hoshii • Miki Katsura • Miki Milkshake • Miki Sakurazuka • Miko (Glitch Techs) • Miku Maekawa • Mikuru Asahina • Mikuru Natsuki • Miles (Total Drama) • Miles Morales • Miley Mallow • Milk Bud • Milk Ma • Milk Moover • Milki Ray • Milky Mel • Milky Sheep • Milky Way • Millennial Tree Cookie • Millia Rage • Millie Mouse • Millie Shake • Milly (Shopkins Family Mini Packs) • Milly Cake Pop • Milly Mellow Swirl • Milly Moose Beanie • Milly Mops • Milly Mushroom • Milly Shake • Milo Murphy • Milo Thatch • Mimi (Pop'n Music) • Mimi La Sweet • Mimi Macaroni • Mimi Mango • Mimi Waffle • Mimi Watanuki • Mimiko Jigoku • Mimmy White • Min Min • Min Sunwoo • Mina (Jelly Jamm) • Mina (Pokemon) • Mina Ashido • Minako Aino/Sailor Venus • Minako Satake • Minami Asaoka • Minami Hateruma • Minami Iwasaki • Minami Kaido/Cure Mermaid • Minami Nitta • Mindy (Animaniacs) • Mindy (Papa Louie) • Mindy Macaron • Mindy Mango • Mindy Milk • Mindy Mirror • Minerva Mink • Mini Cindi • Mini Cotton Candy Shopkins • Mini Cupcake Shopkins • Mini Donut Shopkins • Mini Egg • Mini Gelati Shopkins • Mini Hotdog Shopkins • Mini Ice Cube Shopkins • Mini Lipstick Shopkins • Mini Lock Shopkins • Mini Mato • Mini Milk • Mini Montreal • Mini Muffin • Mini Mushy • Mini Orange Mouse • Minna Moody • Minna no Tabo • Minnie Mintie • Minnie Mouse • Minori Ichinose/Cure Papaya • Minori Watanabe • Minotauros (Puyo Puyo) • Mint Berry • Mint Choco Cookie • Mint Créme Gloss-Up • Mint E. Jiggle • Mint E. Stripes • Mint Gem Light-Up • Mint Gummy Stamp-It • Mint Shake • Mint Sprinter • Mint Swirl Gloss-Up • Mint T Cake • Mint T. Cream • Mint Twirl • Mint Unis • Mintberry Gloss-Up • Mintee (Shopkins) • Mintee Chip • Mintee Gloss-Up • Mintee Go-Go • Mintee Light-Up • Minto Aizawa/Mew Mint • Mintousa (Sugarbunnies) • Minty Bunny • Minty Chill • Minty Chip • Minty Crisp • Minty Hops • Minty Kitty • Minty Mallow • Minty Marble • Minty Mouth Wash • Minty Paws • Minty Polish-It • Minty Rabbit • Minty Snow Cone Light-Up • Minty Stick • Minty Sundae • Minty Swirl (Num Noms) • Minty Swirl (Shopkins) • Minun (Pokemon) • Minutes (Futari wa Pretty Cure Splash Star) • Mio (Puella Magi Oriko Magica) • Mio Akiyama • Mio Honda • Mio Minato • Mio Naganohara • Mion Takamine • Mipple (Futari wa Pretty Cure) • Mira Nova • Miracle Peace • Mirai Asahina/Cure Miracle • Mirai Asuka • Mirai Kasuga • Mirai Momoyama • Mirai Wakaba • Miranda Mirror • Mirei Hayasaka • Mirei Minami • Miria Akagi • Miria Marigold Mackenzie • Miry (Suite PreCure) • Misaki Okusawa/Michelle • Misha Mouse • Miss Bianca • Miss Candy • Miss Collins • Miss Fizzy • Miss Fortune • Miss Garnet • Miss Independent • Miss Jive • Miss Jones • Miss L Toes • Miss Maple Syrup • Miss Mushy-Moo • Miss Partay • Miss Pressy • Miss Primrose • Miss Punk • Miss Royale • Miss Shamour • Miss Skunk • Miss Snow • Miss Sprinkles • Miss Swiss • Miss Twist • Missy Makeup Case • Misty (Pokemon) • Misty Mysterious • Mitama Yakumo • Mitsuki Hanamori • Mitsuyoshi (BlazBlue) • Mittens Fluff 'N' Stuff • Mitzy Oven Mitt • Miu Iruma • Mix Boi • Mixed Berry Smoothie • Mixie (Shopkins) • Miya Miyao • Miyabi Fujiwara • Miyako Saki • Miyo Masuko • Miyu Mifune • Miyu Yamazaki • Miyuki Hoshizora/Cure Happy • Miyuki Takara • Mizuki (Jewelpet) • Mizuki Kanzaki • Mizuki Kawashima • Mizuki Makabe • MKOVR (L.O.L. Surprise!) • Moa (Show by Rock!!) • Moana (Moana) • Mobile Mary • Moca Aoba • Mocha (Sanrio) • Mocha Delight • Mocha Frappe • Mocha Ray Cookie • Mofurun/Cure Mofurun • Moira Mallow • Mokonyan (Magimajo Pures!) • Molly Cake Pop • Molly Lolly • Molly Mango (Num Noms) • Molly Mango (Shopkins) • Molly Mello Lollipop • Molly Melty • Molly Mitten • Molly Moccasin • Molly Mops • Molly Pig • Momma Corn • Momma E'Claire • Mommy Cakes • Momo Yaoyorozu • Momoka Aino • Momoka Sakurai • Momoko Asuka • Momoko Suou • Momoko Togame • Momona (Jewelpet) • Momousa (Sugarbunnies) • Mona (WarioWare, Inc.) • Mona Arch Wings • Monaca Towa • Monica Kiki • Monica Maracas • Monica Merinque • Monica Music Box • Monique Macaron Cake • Monkichi (Sanrio) • Monomi (Danganronpa) • Monsanto's Dad • Monsanto's Mom • Monsieur Butter • Montana Jones • Monterey Jack • Moo Shake • Moon Mortar • Moon Rabbit Cookie • Moonbun (Shopkins) • Moonlight B.B. • Moonlight Cookie • Moop (Futari wa Pretty Cure Splash Star) • Mop (Sanrio) • Mop Top Mom • Mordecai (Regular Show) • Morgana Macawber • Mori Kyoko • Morrigan Aensland • Morton Koopa, Jr. • Morty Fieldmouse • Morty Smith • Mother Heart • Mother RaPaPa • Mothman • Moto Gelato • Motor Melon • Motor Mermaid • Moxy (Uglydolls) • Mozza Rella • Mr. Bones • Mr. Damocles • Mr. Fa-Sol-La-Si • Mr. Game & Watch • Mr. Limeguard • Mr. Lunt • Mr. Moo • Mr. Muffin • Mr. O'Mango • Mr. Potato Head • Mr. Starr • Mrs Poppy Bagel • Mrs. Cavanaugh • Mrs. Icing • Mrs. O'Mango • Mrs. Potato Head • Mrs. Potts • Mrs. Starr • Ms. Birdy • Ms. Cheese • Ms. Cowoline • Ms. Do-Re-Mi • Ms. Valerie Frizzle • Mu-12 (BlazBlue) • Muffin (Sanrio) • Muffy Crosswire • Mulan (Mulan) • Mullo (Miraculous: Tales of Ladybug & Cat Noir) • Mumma Parmesan • Mumma Spagettina • Mumma Sundae • Mummy Fizz • Mummy Melts • Mundi (Doki) • Murray Monster • Murray Wiggle • Musa (Winx Club) • Muscle Cookie • Muscle Man • Mushu (Mulan) • Music Box • Mustard Cookie • Muta (Futari wa Pretty Cure Max Heart) • Mutsumi Tendo • My Melody • My Sweet Piano • Mylène Haprèle/Multimouse • Myron Van Buren • Mystabella (Shopkins) • Mystery Duck • Mystery Monica • Mystic Wishes • Mythra/Pyra • N.Y. Cheesecake Breyers • N.Y.C. Doggie • N.Y.E.Q.T. (L.O.L. Surprise!) • Nacho Nacho Van • Nadeko Sengoku • Nadja Applefield • Nae Nae • Nagi Hisakawa • Nagisa Misumi/Cure Black • Nagito Komaeda • Nagoriyuki (Guilty Gear) • Nahal (Shimmer and Shine) • Naho Aoyama • Nami (One Piece) • Nana (Ice Climbers) • Nana Abe • Nana Berry • Nana Bread • Nana Cream • Nana Creme Pie • Nana Créme Gloss-Up • Nana Erase-It • Nana Flake • Nana Flower • Nana Frosting • Nana Gloss-Up • Nana Gum Drop • Nana Hanahata • Nana Hearts • Nana Polish-It • Nana Pop • Nana Puffs • Nana Scoops • Nana Shimura • Nana Splits • Nana Sprinkle Treat • Nana Swirl • Nana Swirl Gloss-Up • Nanami Hiromachi • Nanana Wanibe • Nanase Tendo • Nancy Flancy • Nancy Nail Polish • Nancy Neapolitan • Nancy Wheeler • Naner Cakes • Nanna Bandage Box • Nanners Drizzle • Nanners Kitty • Nanners Swirl • Nano Shinonome • Nanoha Takamachi • Nao Ehime • Nao Kamiya • Nao Midorikawa/Cure March • Nao Okamura • Nao Yokoyama • Naoki Sugami • Naoto Kurogane • Nappy Dee • Narelle Nail Polish • Naru Ayase • Naru Osaka • Naru Shiawase • Nashville (L.O.L. Surprise!) • Nasu Grave • Natalia (The Idolmaster) • Natalie Nail Polish • Natalie Naners • Natalie Nilla • Natalie Noodles • Natasha Nacho • Natasha Necklace • Natasha Romanoff/Black Widow • Nathan Drake • Nathaniel (LoliRock) • Nathaniel Kurtzberg • Natsuha Arisugawa • Natsuki Kimura • Natsuki Sakaki • Natsuki Umino • Natsumi Hinata • Natts/Natsu • Nature Cat • Nayuta Satomi • Nazboo (Shimmer and Shine) • Nea Pop • Nea Snow • Neapolitan Shake • Neeko (League of Legends) • Neigh Majesty • Neighjorette (L.O.L. Surprise!) • Neila (Hairdorables) • Nellie Nutri Grain • Nelly Polish • Nemu Hiiragi • Nemuri Kayama • Nene (Mewkledreamy) • Nene Konoe • Neo Trio • Neon Bunny • Neon Guy • Neon Hammy • Neon Kitty • Neon Puppy • Neon Q.T. • Neonlicious (L.O.L. Surprise!) • Neptune (Milky Way and the Galaxy Girls) • Neptunia (Darkwing Duck) • Nerdy Berry • Neris (Panel de Pon) • Nero Wolfe • Ness (EarthBound) • Nessa (Pokemon) • Nessie (The Ballad of Nessie) • Netossa (She-Ra and the Princesses of Power) • Netta Knit • Netti Spaghetti • Nezuko Kamado • Nibbler (Futurama) • Nibbles (L.O.L. Surprise!) • Nibbles Hippo • Nice-Cream Sandwich • Nick (Papa Louie) • Nick (The Cat in the Hat) • Nick Fruit Stick • Nick Wilde • Nico Yazawa • Nicole Naners • Nicole Parasol • Nigel Ratburn • Nightfall (L.O.L. Surprise!) • Nikki Mixie Desk • Niko Kanna • Nilla Berry Gloss-Up • Nilla Checkers • Nilla Clover • Nilla Cookie Gloss-Up • Nilla Cream • Nilla Creme • Nilla Créme Gloss-Up • Nilla Dough • Nilla Drip • Nilla Froyo • Nilla Gloss-Up • Nilla Go-Go • Nilla Heart • Nilla Meringue Gloss-Up • Nilla Polish-It • Nilla Poof • Nilla Shake • Nilla Slice • Nilla Square • Nilla Swirl • Nilla Twirl • Nilla Wheat • Nilla Whip • Nillia Toasty • Nina Dōjima • Nina Ichihara • Nina Nanners • Nina Noodles • Ninja Cookie • Ninjoy (Papa Louie) • Nino Lahiffe/Carapace • Nino Nijiiro • Nino Nishijima • Noah (Hairdorables) • Noberun (Sanrio) • Nobita Nobi • Nodoka Hanadera/Cure Grace • Noel (Mermaid Melody) • Noel Vermillion • Noelle Northpole • Noeru Otoshiro • Nola Noodles • Non Manaka • Noni Notebook • Nono Daichi • Nono Morikubo • Noob's Dad • Noob's Mom • Noriko Fukuda • Noriko Shiina • Norman (The Secret Life of Pets) • Norval the Fish • Nougat Knight • Nozomi Tojo • Nozomi Yumehara/Cure Dream • Nozomu Hanamura • Nozomu Igarashi • Nu-13 (BlazBlue) • Numbuh 1 • Numbuh 2 • Numbuh 3 • Numbuh 362 • Numbuh 4 • Numbuh 5 • Numbuh 86 • Nutty Bears • Nutty Butter • Nyami (Pop'n Music) • Nyan Butter • Nyankyū (Yes! PreCure 5) • Nyatoran (Healin' Good Pretty Cure) • O'Bubble Twins • O'Grapple (Num Noms) • O.J Kay • O.J. Bear • O.J. Bun Bun • O.J. Gum Drop • O.J. Icing • O.J. Juicy • O.J. Kitty • Oak Barrel • Ocean Dragon • Ocean Prince • Ocean Seabreeze • Ochaco Uraraka • Octavia (She-Ra and the Princesses of Power) • Octavia Orange • Octo Sausage • Octo Wasabi • Odin Borson • Offbeat (L.O.L. Surprise!) • Oh Bandit, Bandit • Oh Là Panda • Ohana/Cure Sunset • OJ Pop • Olaf (Frozen) • Old Lemon Larry • Olimar (Pikmin) • Olina/Cure Wave • Olive (Odd Squad) • Olive Oil • Olive Overnight Bag • Oliver (Oliver & Company) • Oliver Orange • Olivia Flaversham • Olivia Oil • Olivia Olive • Ollie (T.U.F.F. Puppy) • Ollie Lolly • Ollie Onesie • Ollie Orange Cake • Olympia Hill/Majestia • On Pointe • Once-ler (The Lorax) • Ongo (Jelly Jamm) • Oni Giri • Onion Cookie • Onion Fish • Onion Ring • Onpu Segawa • Oops Baby • Oops Ham • Opa-Opa (Fantasy Zone) • Opal Q.T. • Opaletta (Shopkins) • Operetta (Monster High) • Oprah (Odd Squad) • Optical (L.O.L. Surprise!) • Optimus Prime • Orange Cookie • Orange Cream • Orange Crunch • Orange Cure (Wonderful Net Pretty Cure) • Orange Drop Gloss-Up • Orange Freezie • Orange Glaze • Orange Gloss-Up • Orange Jelly • Orange Light-Up • Orange Pear • Orange Piña Gloss-Up • Orange Polish-It • Orange Pop • Orange Rock Light-Up • Orange Rush • Orange Sherbet • Orange Sugar Gummy • Orange Sweets • Orange Swirl • Orange Swirl Gloss-Up • Orange Twirl • Orangie Jelly Roll • Orb.I.T. (L.O.L. Surprise!) • Orbulon (WarioWare, Inc.) • Orie Kusaka • Orikko (Miraculous: Tales of Ladybug & Cat Noir) • Oriko Mikuni • Ortensia (Mickey Mouse) • Oscar Orange • Osomatsu (Mr. Osomatsu) • Oswald the Lucky Rabbit • Otane Goketsuji • Oto (Doki) • Otoha Takanashi • Otome Arisugawa • Otto (Odd Squad) • Ougi Oshino • Oume Goketsuji • Oval (Futari wa Pretty Cure Max Heart) • Owen Lam • Owl (Winnie the Pooh) • Owlcorn (Cookie Run) • Ox (Uglydolls) • Ozzie Cents • P. Apple Twins • P. Lemon Heart • P. Nut Butter • P.B. Meow • P.B.N.J. (Num Noms) • P3P-PO • Pa Cracker • Pa'Pizza (Shopkins) • Pac-Man (Pac-Man) • Paco Taco • Paddy Pool • Pafu (Go! Princess PreCure) • Paige Pencil • Paige Purse • Paisley Peach • Pakista (Puyo Puyo) • Pal (Arthur) • PallaPalla/Sailor Pallas • Palmela Tree • Palutena (Kid Icarus) • Pam Cake • Pamala Palm Tree • Pamela Camera • Pamela Lillian Isley/Poison Ivy • Pamela Pancake • Pamela Parfait • Pammee (YooHoo & Friends) • Pammy Passport • Pammy Pom Pom • Pancake Cookie • Pancake Cruiser • Pancake Frisbee • Pancake Jake • Panchito Pistoles • Panda (We Bare Bears) • Panda Dumpling • Pandaba (Sanrio) • Pandapple (Sanrio) • Pandausa (Sugarbunnies) • Pandy Chomps-a-Lot • Pannapitta (Sanrio) • Panotty (Puyo Puyo) • Panther Maya • Panty Anarchy • Papa (Hello Kitty) • Papa Corn • Papa Louie • Papa Ravioli • Papa Tomato • Papa Toothpaste • Paper Boat Sailor • Pappa Pizza Base • Paprika Punching Bag • Papyrus (Undertale) • Parappa the Rapper • Paris Purse • Parisa (Shimmer and Shine) • Parker Peach • Parmesan Pete • Parrrty Candy • Partay Puppay • Party Balloon • Party Piña • Party Plate • Party Popper • Party Starter • Pasta Cookie • Pastry Cookie • Pastry Pup • PataPataPeppy (Sanrio) • Patch Treasurechest • Pation (Futari wa Pretty Cure Max Heart) • Patricia Parfait Glass • Patrick Star • Patsy Pasta • Patti Polish • Patty Burgers 'N' Buns • Patty Cake • Patty Case • Patty Pam • Patty Pastry • Patty Peach • Patty Peach (Num Noms: Party Hair) • Patty Pineapple Lamp • Patty Pinkie • Paula Pod • Paula Pumpkin • Paula Purrfect • Paula Puzzle • Paulina Pop • Pauline (Mario) • Pauline Palette • Pawfect 10 • Pawket (Gacha Life) • Pawn Black Cookie • Pawn White Cookie • Paws If • Pea (Sanrio) • Pea Erase-It • Pea Moth • Peach Cookie • Peach Drizzle • Peach Frosty • Peach Polish-It • Peachy (Shopkins) • Peachy Bunnies • Peachy Bunny • Peachy Cream • Peachy Gloss-Up • Peachy Icy • Peachy Kim • Peachy Light-Up • Peachy Meringue Gloss-Up • Peachy Piña Gloss-Up • Peachy Polish-It • Peachy Pop • Peachy Puff • Peachy Ring • Peachy Slice • Peachy Stamp-It • Peacock Victoria • Peanut Big Top • Peanut Buttah • Peanut Butter Pickup • Peanut Go-Go • Peanut Poppa • Pear (Futari wa Pretty Cure Max Heart) • Pearl (Shopkins) • Pearl (Steven Universe) • Pearl Perfume • Pearl Q.T. • Pearl Serpentine • Pearlina (Shopkins) • Pearly Purse • Pearly Seafoam • Pearly Whirly • Peater Pod • Pecanna Pie • Pedro Peso • Pee Wee Kiwi • Peebee (Shopkins) • Peely Apple Wheels • Peely Potato • Pegasus (Kirakira Pretty Cure a la Mode) • Pegasus/Helios • Peggy (Papa Louie) • Peggy Paper • Peggy Peels • Peggy Pigtails • Peggy Puffs • Peggy Seven Seas • Peggy Sushi • Pegitan (Healin' Good Pretty Cure) • Pekkle (Sanrio) • Peko (Mewkledreamy) • Pekorin/Cure Pekorin • Pelican (Webkinz) • Penelope Perfume • Penelope Pleats • Penelope Present • Penelope Puff • Penelope Pumpkin • Penglai (Puyo Puyo) • Penguin Emily • Penguin in the City • Peni Parker • Penny (Inspector Gadget) • Penny (Papa Louie) • Penny Crygor • Penny Fitzgerald • Penny Lefkowitz • Penny Pencil • Penny Pin • Penny Purse • Penny Wishing Well • Peony (Shopkins) • Peony Perfume • Pepi-Corn (Shopkins) • Peppa Ronnie Pizza • Peppa-Mint (Shopkins) • Peppe Pepper • Pepper Minty Shine • Pepper Poppin' • Pepper Pots 'N' Pans • Pepper Taiyou • Pepper Unis • Peppermint Cane • Peppermint Cookie • Peppermint Mallow • Peppy Pom Poms • Peppy Roni • Peppy Roni (Num Noms: Snackables) • Pepé Le Pew • Peralino (Time Bokan) • Percy PC • Percy the Small Engine • Perfuma (She-Ra and the Princesses of Power) • Perfume Le Zoom • Perfumicorn (Shopkins) • Peri Serpentine • Peridot (Jewelpet) • Perle (Sailor Moon) • Perry Pasta Sauce • Perry the Platypus • Persephone (Webkinz) • Persian Cat (Webkinz) • Pesto (Animaniacs) • Peta Plant • Peta Planter • Peta Plunger • Peta Pot Pie • Peta Sneaker • Petal Flowerpot • Petal Pup • Pete (Total Drama) • Pete Junior • Pete R. Canfly • Peter (Shopkins) • Peter Pan • Peter Parker/Spider-Man • Peter Pig • Peter Porker/Spider-Ham • Peter the Panda • Peter Venkman • Petey K • Petit Conté • Petit la Chick • Petite Paris • Petite Perfume • Petite Petals • Petite Tart • Peyton Peppermint • Peyton Perfume • Peyton Purr • PhanPhan/Phantom • Pharaoh Babe • Pharaoh Bro • Phenom B.B. • Pheobe Fork • Phili Roll • Philip J. Fry • Philippa Flowers • Phillip Wiggle • Phineas Flynn • Phobos (Sailor Moon) • Phoebe (Hairdorables) • Phoebe Fairy Top • Phoebe Terese • Photon Shine • Pia Pineapple • Pia Puzzle • Pia Undo • Piano King • Piano Man • Picasso (Hairdorables) • Picc (Gacha Life) • Pichu (Pokemon) • Pick Up Pup • Pickles B.L.T • Pickly Go-Go • Pickup Pumpkin • Picky Tomato • Picnikki Basket • Pierre (JumpStart) • Pierre (The Idolmaster) • Pierre Aronnax • Pierre Éclair • Pig (Webkinz) • Piggy (Roblox) • Piggy Blankets • Piggy Ham • Piglet (Winnie the Pooh) • Pikachu (Pokemon) • Pikki (Sanrio) • Pikobo (Time Bokan) • Pile' la Chick • Pillow Featherbed • Pilot Cookie • Pina Bear • Pina Juicy • Pina Pin • Pina Pineapple Drink • Pina Rock Light-Up • Pina-Apple Donut • Pinch Hitwell • Pineapple Crush • Pineapple Gem Light-Up • Pineapple Gloss-Up • Pineapple Jelly • Pineapple Lily • Pineapple Polish-It • Pineapple Polly Cake • Pineapple Pop • Pineapple Ring • Pineapple Sips • Pineapple Ukulele • Pineapplemur (Cookie Run) • Pinelope Krush • Piney Apple • Piney Patty • Pink Candy • Pink Choco Cookie • Pink Coral • Pink Cure (Bomber Girls Pretty Cure) • Pink Googles (Webkinz) • Pink Lip Gloss Nom • Pink Meringue • Pink no Corisu • Pink Oomiya/Shiny Pink • Pink Petal • Pink Pony (Webkinz) • Pink Poodle (Webkinz) • Pink-Ade Macaron • Pinkie Cola • Pinkie Lemonade • Pinkie Pie • Pinky (Animaniacs) • Pinky Biscuits • Pinky Bundt • Pinky Bunny • Pinky Dough • Pinky Fluff • Pinky Frosting • Pinky Jelly • Pinky Mallow • Pinky Penguin • Pinky Puffs • Pinky Square • Pinky Squish • Pinky the Chihuahua • Pinocchio (Pinocchio) • Pinon (PriPara) • Pins (L.O.L. Surprise!) • Pip Corn Eraser • Piper (Hairdorables) • Piper Prim • Piper Puppy • Piper Willowbrook • Pippa Lemon • Pippa Melon • Pippa Popcorn • Pippa-Mint Cookie Gloss-Up • Pippo (Sanrio) • Pippy Pin • Piranha Plant • Pirouetta (Shopkins) • Pirun (Fresh Pretty Cure!) • Pisces (Star Twinkle PreCure) • Pistachio Cookie • Pistachio Firefly • Pit (Kid Icarus) • Pita Mirage • Pitaya Dragon Cookie • Pix E. Flutters • Pixie Cakes • Pixie Girl • Pixie Mix Candy • Pizza Bagel Bro • Pizza Cutie Pie • Pizza Piranha • Pizza Roller • Pizza Will • Piña Aloha • Piña Gloss-Up • Piña Gummy • Piña Jelly • Piña Tropi-Callie • Piña Wedge • Piñata Cookie • Piñata Cupcake • PJ Collie • PJ Robot • Plagg (Miraculous: Tales of Ladybug & Cat Noir) • Planky Plank • Platinum the Trinity/Luna and Sena • Play Block • Plucky Duck • Plucky Guitar • Plum Cookie • Plum Flitter Flutter • Plum Pudding • Plumpy Hippo • Plusle (Pokemon) • Pluto (Mickey Mouse) • Poby (Pororo the Little Penguin) • Pocahontas (Pocahontas) • Pochacco (Sanrio) • Pochi (Sanrio) • Pocket Strawberry • Pocket Watch Referee • Pod Erase-It • Pointe Shoe Sue • Poison Mushroom Cookie • Pokepen (Yes! PreCure 5) • Polish Performer • Pollen (Miraculous: Tales of Ladybug & Cat Noir) • Polli Polish • Pollun (Futari wa Pretty Cure) • Polly Cake Pop • Polly Parsley • Polly Peppermint • Polly Perfume • Polly Petal Cake • Polly Piano • Polly Plantar • Polly Pointes • Polly Polish • Polly Pool Ring • Polly Popcorn • Polly Pound • Polly Pucker-Up • Polly Teapot • Pomegranate Cookie • Pommie (Shopkins) • Pompompurin (Sanrio) • Poni Crumbles • Ponicakes (Shopkins) • Pony Dancer • Poofy Purrs • Poop Coupe • Pop (Club Penguin) • Pop (Smile PreCure!) • Pop B.B. • Pop Corn Eraser • Pop Daddy • Pop Harukaze • Pop Heart • Pop Rod • Pop Tot • Pop Unis • Pop-Up Truck • Popcorn Cookie • Popcorn King • Popcorn Moviegoer • Popcorn Puffs • Popette (Shopkins) • Popo (Ice Climbers) • Poppa Pete Za • Poppa Pretzel • Poppa Swiss • Popping Candy Cookie • Poppino (Shopkins) • Poppun (Miracle Tunes) • Poppy (Angry Birds Stella) • Poppy (League of Legends) • Poppy Corn • Poppy Penguin • Poppy Pop • Poppy Rowan • Poppy Sock • Poppy Top • PopRock (Shopkins) • Pops (Regular Show) • Pops (The Secret Life of Pets) • Pops Bubble Blower • Popsi Blue • Popsi Cool • Popsicle (Shopkins) • Popsicorn (Shopkins) • Popsy Pals • Popura Hananokoji • Porky Pig • Pororo (Pororo the Little Penguin) • Portia Passionfruit • Portia Puff • Posey Princess Hat • Posh (L.O.L. Surprise!) • Posh Pear • Posh Pigeon • Posh Pup • Posy Golden Petals • Pot Pie Pete • Potato Bud • Potemkin (Guilty Gear) • Potpourri (HeartCatch PreCure!) • Potty Teapot • Pour The T • Pouty Pullover • Powder (L.O.L. Surprise!) • Powder Up • Powdered Sugars • Power Candy Tin • Practical Pig • Prairie Dawn • Prairie Dusty Trails • Pranksta (L.O.L. Surprise!) • Precious (L.O.L. Surprise!) • Precious Meow • Precious Sweets • Preppy (L.O.L. Surprise!) • Prescious Peach • Pretti Paws • Pretti Pressie • Pretty Bow Kay • Pretty Cake Stand • Pretty Petal Purse • Pretty Pink Grapefruit • Pretty Puff • Pretz-elle (Shopkins) • Pretzel Express • Prezzie (L.O.L. Surprise!) • Prickles (Shopkins) • Prickly Par • Priestesses of the Stars • Prim (L.O.L. Surprise!) • Primausa (Sugarbunnies) • Primrose Pancakes • Primrose Petal Cake • Prince Charming (Cinderella) • Prince Dazzle • Prince Eric • Prince Gembone • Prince Glimmer • Prince Handsome • Prince Kanata • Prince Phillip • Princess Amber • Princess Anise • Princess Arkayna Goodfey • Princess Armanda • Princess B-Day Jelly Roll • Princess B.G. Jelly Roll • Princess Beryl • Princess Bubblegum • Princess Buttercream • Princess C.C. • Princess C.C. Jelly Roll • Princess Cookie • Princess Crepe • Princess Cutie Crown • Princess Daisy • Princess Filia • Princess Fiona • Princess Glam • Princess Glitz • Princess Juniper • Princess Kakyuu/Sailor Kakyuu • Princess Karat • Princess Lavender • Princess Malice • Princess Mana • Princess Marie Ange • Princess Moondream • Princess Nella • Princess Nutmeg • Princess Peach • Princess Purse • Princess Rosalina • Princess Saffron • Princess Samira • Princess Scent • Princess Sesame • Princess Silver • Princess Sissy • Princess Sweets • Princess Whiskers • Princess Zange • Princess's Locket • Principal of the Thing • Pringles (Shopkins) • Priscilla Peach • Priscilla Twilight • Producer Mic • Professor (Tetris Plus) • Professor Farnsworth • Professor Fitz • Professor Smedley-Smythe • Professor Squawkencluck • Professor Yamato • Prom Bunny • Prom Princess • Prommy (Shopkins) • Prop Top • Proper (L.O.L. Surprise!) • Prophet Cookie • Prosen (Futari wa Pretty Cure Max Heart) • Prospector Moley • Prudence (Papa Louie) • Prunce (Star Twinkle PreCure) • Prunella Deegan • Pucker Mint • Puddin' Pie • Pudding Cookie • Pudding Cookie Siblings • Puff Pop • Puff Rusher • Puffle Handler • Puffy Mallow • Pug (Webkinz) • Pumbaa (The Lion King) • Pumpkin Candle Light • Pumpkin Cookie • Pumpkin Pound • Pumpkin Spice (L.O.L. Surprise!) • Pumpkin Spice (Num Noms) • Pumpkinella (Shopkins) • Punk Bandit • Punk Boi • Punk Grrrl • Punk H.O.G. • Pup Cheer • Pup Corn Eraser • Pup E Brush • Pup in the Woods • Pup Pup • Pup Swing • Pup-E-House (Shopkins) • Pupberry (Shopkins) • Pupkin Cake • Pupkin the Puppy • Pupper Mint • Puppy Next Door • Pupsta (L.O.L. Surprise!) • Pupstagram (L.O.L. Surprise!) • Pure Cream • Pure Vanilla Cookie • Purple Candle • Purple Dove • Purple Lip Gloss Nom • Purple Puff • Purple Queen • Purple Reign • Purple Stone • Purple Yam Cookie • Purrfect Bling • Purrfect Shapes • Purrfect Spike • Purrs (L.O.L. Surprise!) • Purrty Kitten Paws • Purse Gear • Pushy (Where's My Water?) • Putera (Flint the Time Detective) • Pyuan (Futari wa Pretty Cure Max Heart) • Pyukkin (Yes! PreCure 5) • Pūgorun (Yes! PreCure 5) • Quackerjack (Darkwing Duck) • Queen (Futari wa Pretty Cure) • Queen Angella • Queen Bavarois • Queen Beehave • Queen C.C. • Queen Cake • Queen Candi • Queen Delightful • Queen Nehelenia • Queen of Tarts • Queen Pearl • Queen Poppy • Queen Razz Bear • Queen Serenity • Queen Teatinu • Queen/Cure Mirage • Queenie Cake • Queenie Compact • Queenie Hearts • Queenie Lou • Queenie Red Heart • Quetzalcoatl (Miss Kobayashi's Dragon Maid) • Quick Straw • Quilty Boot • Quincy Goatee • Quinn (Hairdorables) • Quinn Grape Juice • Quinn Nash • Quizzy Bear • R.B. Flakey • R.O.B. (R.O.B.) • R.R.R. 3000 • Ra-Ra Skunk • Rabbily (Kiratto Pri☆Chan) • Rabbit (Winnie the Pooh) • Rabi Himuro • Rabirin (Healin' Good Pretty Cure) • Rachel Alucard • Rachel Bighead • Rachel Raspberry • Racoon-Stronaut (L.O.L. Surprise!) • Rad Roma • Radiant Ring Rue • Radical Q.T. • Radio (The Brave Little Toaster) • Radio Queen • Radio Sue • Radlynn (Papa Louie) • Raffina (Puyo Puyo) • Ragna the Bloodedge • Rain Q.T. • Rain-Go Cake • Raina Bowloon • Rainbow Bite • Rainbow Crumb • Rainbow Dash • Rainbow Dreamer • Rainbow Glow • Rainbow Kate • Rainbow Pop • Rainbow Raver • Rainbow Rider • Rainbow Scent • Rainbow Slushie • Rainbow Sparkle • Rainbow Swirls • Rainbow Uni-Bagel • Rainbow Wings • Rainbow Wishes • Raisin Roll • Rald (Jewelpet) • Ralph Raccoon • Ralphie Tennelli • Rambi the Rhinoceros • Ramlethal Valentine • Ramona Ramen • Ran (Shugo Chara!) • Ran Kotobuki • Ran Mitake • Ran Shibuki • Ranko Kanzaki • Rantaro Amami • Raphiel (Gabriel DropOut) • Rappakeet (L.O.L. Surprise!) • Rappān (Yes! PreCure 5) • Rapunzel (Tangled) • Raquel (DokiDoki! PreCure) • Raquel Murillo • Rare Garlic • Rasp Rasp • Raspberry Cream • Raspberry Jelly • Raspberry Light-Up • Raspberry Polish-It • Raspberry Roadster • Rateusa (Sugarbunnies) • Rave Machine • Raven (Teen Titans) • Raven Queen • Rawr (L.O.L. Surprise!) • Rawr Babe • Rawr Tide • Ray Stantz • Raylene Rainbow • Rayne (Hairdorables) • Rayne-Bow (Shopkins) • Raz Froyo • Raz Sugar • Raz-Beary Waffle • Raziel (Webkinz) • Razz Bear E. • Razz Blue Meringue Gloss-Up • Razz Cookie Gloss-Up • Razz Rock • Razz Rock Light-Up • Razzberry Go-Go • Razzi Berry • Razzy Bun Bun • Razzy Bunny • Razzy Cream • Razzy Diamond • Razzy Dip Treat • Razzy Drop Gloss-Up • Razzy Froyo • Razzy Loaf • Razzy O'Bear • Razzy Polish-It • Razzy Pop • Razzy Rabbit • Razzy Rita • Razzy Rounds • Razzy Shreds • Razzy Spiral • Razzy Teddy • RC (Toy Story) • Reagan Raspberry • Rebecca Bag • Rebel (L.O.L. Surprise!) • Rebel Cookie • Rebel Dare • Red (Angry Birds) • Red (WarioWare, Inc.) • Red Apple • Red Bean Cookie • Red Cheerleader Cookie • Red Fiery Flame • Red Pepper Cookie • Red Velvet Cupcake • Red Velvety • Red-orange Cure (Episode 43; HappinessCharge PreCure!) • Red Velvet Cookie • Reece Cheese Cracker • Reed (Fresh Beat Band of Spies) • Reggie Veggie Burger • Reggie Veggie Dog • Regina (DokiDoki! PreCure) • Rei (Mewkledreamy) • Rei (Puyo Puyo) • Rei Hino/Sailor Mars • Rei Jinguji • Rei Kagura • Rei Kizaki • Rei Wakana • Reika Aoki/Cure Beauty • Reika Kirishima/Time Gal • Reika Kitakami • Reika Yūki • Reimu Hakurei • Reina Koseki • Reina Miyama • Reindeer (Webkinz) • Relius Clover • Remi Otogiri • Ren Hazuki • Ren Hoek • Ren Kizaki • Rena Minami • Renatta Ravioli • Reona Nyubara • Reptar (Rugrats) • Rery (Suite PreCure) • Retasu Midorikawa/Mew Lettuce • Retoree (Show by Rock!!) • Retsu Akagi/Burning Red • Revue (L.O.L. Surprise!) • Rex (Toy Story) • Rex Dangervest • Rhonda Ring • Rhonda Ruffle Shorts • Rhymes (L.O.L. Surprise!) • Rhythm Empress • Ria Ribbons • Riamu Yumemi • Riana Radio • Ribbon (HappinessCharge PreCure!) • Ribbon (Kirby) • Ribbon Lolly • Ribbon Slippers • Ribbonna (Shopkins) • Rich Roll • Richie 'n' Smoothie Pudding • Richie Rainbow • Richie Ring Box • Richie Tozier • Richter (Castlevania) • Rick (Kirby) • Rick Sanchez • Ricky Roll • Rico (Papa Louie) • Rigby (Regular Show) • Rii Uzawa • Riina Tada • Rika Jougasaki • Rikka Hishikawa/Cure Diamond • Riko Izayoi/Cure Magical • Riko Sakurauchi • Riku (Kingdom Hearts) • Riley Anderson • Riley Matthews • Riley Rice • Riley Ring • Rimi Ushigome • Rin (Jewelpet) • Rin (Rilu Rilu Fairilu) • Rin Hoshizora • Rin Kurosawa • Rin Natsuki/Cure Rouge • Rin Shibuya • Rin Shirayuki • Rina Fujimoto • Rina Tennoji • Rina Toin • Ring Box Rena • Ring Royale • Ring-a-Ling (Shopkins) • Ring-a-Rosie (Shopkins) • Ringa Bell • Ringo Ando • Ringo Car • Rinka Aoba • Rinko Kougyoku • Rinko Shirokane • Rinna Shinkai • Rinne (Pretty Rhythm) • Rinne Berlinetta • Rinze Morino • Rio Kuroki/Pikario • Rio Momose • Rip (PJ Masks) • Rip Tide • Ripple Ice Cream • Risa (Pokemon) • Risa Matoba • Ristar (Ristar) • Risu (Sanrio) • Risukuma (Puyo Puyo) • Rita (Animaniacs) • Rita (Jelly Jamm) • Rita (Papa Louie) • Rita Loud • Rita Remote • Rita Ruler • Rita Sneaker • Ritsu Tainaka • Ritsuko Akizuki • River Kendall • Riz Hawkwood • Rizumu Amamiya • Roaar (Miraculous: Tales of Ladybug & Cat Noir) • Road Angel • Road Runner • Roadie (L.O.L. Surprise!) • Roadie Yogurt • Roadkill (Comix Zone) • Roasty Slipper • Robby (Papa Louie) • Robecca Steam • Roberta Rabbit • Robin (Fire Emblem) • Robin (Hairdorables) • Robin (Teen Titans) • Robin Buckley • Robo Kitty • Rochelle Goyle • Rock (Total Drama) • Rocker (L.O.L. Surprise!) • Rocker Boi • Rocket (L.O.L. Surprise!) • Rocket Firecracker • Rockhopper (Club Penguin) • Rockie S. Berry • Rockin' Broc • Rockstar Cookie • Rocky (Miracle Tunes!) • Rocky Hockey Stick • Rocky Rhodes • Rocky Spokes • Roco Handa • Rody (Pororo the Little Penguin) • Rogelio (She-Ra and the Princesses of Power) • Roger Rabbit • Rokka Asahi • Roll (Mega Man) • Roll Cake Cookie • Rolla Tape • Rolla'Kate (Shopkins) • Roller Chick • Roller Kit-10 • Roller Shaker • Roller Sk8er • Rollin' Gemstones • Rolls (L.O.L. Surprise!) • Rolly Donut • Rolly Roll • Rolly Sleeping Bag • Roma Tomato • Ron (Ninjala) • Ronald McDonald • Ronda Raspberry • Ronnie Anne Santiago • Roo (Winnie the Pooh) • Rookie (Club Penguin) • Rooster (The Secret Life of Pets) • Rooster (Webkinz) • Ros Berry • Rosa (Jewelpet) • Rosa Basket • Rosa Piñata • Rosa Raspberry • Rosalea (Shopkins) • Rose (Rilu Rilu Fairilu) • Rose Lavillant •