This article is about the Disney character who is clumsy. For the ironic character in A. A. Milne's
Winnie-the-Pooh
books, see
Tigger
. For other uses, see
Goofy (disambiguation)
.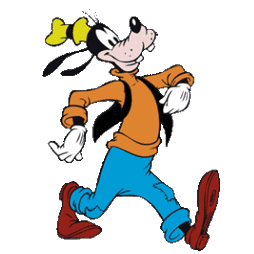 Goofy Goof is an fictional character. He has been currently voiced by Bill Farmer. In the classic cartoons, he is a anthropomorphic clumsy dog. He was voiced by Pinto Colvig.
Goofy is one of Mickey Mouse's friends and is Max's clumsy, heroic father.
Counterparts (Mickey Mouse/House of Mouse Version)
Gordon, Henry, James, Toby, Thomas, Percy, Duck, or Edward (Thomas the Tank Engine and Friends/The Railway Series)
George or Digby (Theodore Tugboat)
Dee-Dee (Dexter)
Donkey Kong, Oogtar, Yoshi, Toadsworth, Luigi, Toad, Mario, or Mallow (Super Mario Bros.)
Knuckles the Echidna, Big the Cat, Rotor the Walrus, Miles "Tails" Prower, Sonic the Hedgehog, Antoine D'Coolette, Uncle Chuck, or Vector the Crocodile (Sonic the Hedgehog)
Flavio, Ralph or Runt (Animaniacs)
Pinkie Pie (My Little Pony: Friendship is Magic)
Patrick Star, Mr. Krabs, Stanley S. SquarePants, Squidward Tentacles, or SpongeBob SquarePants (SpongeBob SquarePants, Goofy and Squidward are Both Skinny)
Walden, Earl, Buggy, Chef Fritz, Kooky Kid, or Wubbzy (Wow Wow Wubbzy)
Toad, Bowser, Mario, Jeffy, Chef Pee Pee, or Bowser Junior (SuperMarioLogan)
Marcus, Jordan, Josh, Omar, Brian, Connor, Nick, or Kevin (Briantales)
J. Wellington Wimpy (Popeye)
Knuckle Joe, Meta Knight, Tuff, Tokkori or Kirby (Kirby)
DJ or Rodney (Total Drama)
Sam the Eagle, Fozzie Bear, Rowlf the Dog, Lew Zealand, The Swedish Chef, or Beauregard (The Muppet Show)
Pops (Regular Show, Goofy and Pops both have names o in the middle)
Principal Brown (The Amazing World of Gumball)
Cherry Bajaw (PeeKay (2014))
Lug the Dumptruck (Construction Side)
Spike (Tom & Jerry)
Dwayne Sr. (The Ridonclous Race
Davo Dinkum, Habib, Pauly Falzoni, Junior, Sleek the Elite, Rocky the Lebanese Rambo, Bobo Gigliotti, Chong Fat, Kev the Kiwi, The Colonol or Ronnie McDoggle (from Freaky Pizza) (Fat Pizza)
Zack Taylor (Mighty Morphin Power Rangers)
Counterparts (A Goofy Movie Version)
Gallery
Community content is available under
CC-BY-SA
unless otherwise noted.