Geog597.01:Home at Wikia
---
[
]
Welcome to the Geog597.01:Home mini wiki at Scratchpad!
You can use the box below to create new pages for this mini-wiki.
Welcome to the Geography 597.01 Student Help Wiki
This mini-wiki will consist of helpful advice for preparation for the Final Examination on March 15.
This will be a collaborative effort by several students enrolled in the course:
"World Urbanization" Geography is a course at The Ohio State University taught by Cynthia Chabot.
Lecture Outlines
Help! I would be most grateful if Rickie, Alex, or other students help by adding basic information (notes) to these outlines. Thanks in advance. -Kevin
Some exam questions will be based directly on the readings from the textbook (you know, that rectangular thing that has been sitting on the floor all quarter). http://forum.hrwiki.org/images/smiles/icon_mrgreen.gif

Any contributions to the answers section would be greatly appreciated.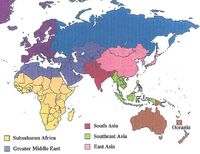 You will find lists helpful lists and maps for the regions that students must know for the final.

It is safe to say that 10 points of the exam will be drawn from the following:
---
All Lecture Outlines, Reading Guides, and Exam Information written by Cynthia Chabot.
External Links
Geography 597.01 Course Description
Course syllabus PDF (Chabot, Winter 2005)
The Ohio State University Geography Department Site