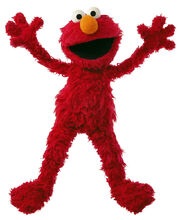 Elmo is a furry red Muppet monster with an orange nose from Sesame Street. He is self-described as 3-and-a-half years old, and almost always refers to himself in the third person. The character proved to be immensely popular with toddlers that in 1998, he was given his own full segment on Sesame Street, called "Elmo's World." from seasons 43 until 46, a new Elmo-centered segment titled "Elmo the Musical" airs in its place, starting with season 47, Elmo's World has new episodes. He was originally voiced by Brian Muehl, Richard Hunt and Kevin Clash and is currently voiced by Ryan Dillion and Tara Strong.
Counterparts (Boy Version)
WARNING: You may add appropriate counterparts. But, do NOT delete any.
Percy, Patrick , Thomas, Toby, Duck, Dennis or Billy (Thomas the Tank Engine and Friends)
Sunshine, Warrior Ten Cents, OJ, Grampus or Izzy Gomez (TUGS)
Yoshi, Luigi, Toad, Luma, Mario, Wario, Toadsworth or Diddy Kong (Super Mario Bros.) 
Jeff or Lucas (Earthbound/Mother) 
Miles "Tails" Prower, Big the Cat, Hacker, Charmy Bee, Shadow, Silver, Griff or Sonic(Sonic the Hedgehog) 
Buggy, Earl, or Wubbzy (Wow Wow Wubbzy!)
Ziggy or Pixel (Lazytown)
Wario (SuperMarioRichie)
Tico the Squirrel (Dora the Explorer)
Booker, Bo Sheep, Garfield, Odie, Orson or Wade Duck (Garfield and Friends)
Jeffy, Joseph, or Bowser Junior (SML)
Micheal or Charlie (Angry Grandpa)
Parker, Corn, Mark, Jesse or Jeffrey Rigway (McJuggerNuggets)
Beefy Bert (Horrid Henry)
Munchy Beaver or Scootch Raccoon (PB&J Otter)
Chuckie Finster or Phil DeVille (Rugrats)
Jordan, Ethan, Cole, Connor, or Brian (SML)
Mosquito "Skeeter" Valentine (Doug)
Larry the Cucumber, Mr. Lunt, Bob the Tomato, Pa Grape or Junior Asparagus (Veggietales)
Eric (The Little Engine That Could)
The Great Gonzo (The Muppet Show)
Chomper or Petrie (The Land Before Time)
Goofy, Donald Duck or Pluto (Mickey Mouse)
Piglet Tigger or Winnie the Pooh (Winnie the Pooh)
Scampi (The Sooty Show)
Mini-Me (Austin Powers)
Ralph Wiggum, Barney Gumble, Lenny Leonard, Bart Simpson, Homer Simpson, or Milhouse Van Houten(The Simpsons)
Bam Bam or Barney Rubble (The Flintstones)
Sgt. James Byrd (Spyro the Dragon)
Skate Lad (Teamo Supremo)
Tucker Foley (Danny Phantom)
Keswick (T.U.F.F. Puppy)
Carl Wheezer or Sheen Estevez (Jimmy Neutron)
Donnie (The Wild Thornberrys)
Rufus (Kim Possible)
Boomer (The Powerpuff Girls)
Johnny Abatti (Angela Anaconda)
Ryan Dylan (Zachary Swain)
Woody (Toy Story)
Gill Bloat or Marlin (Finding Nemo)
Omi (Xiaolin Showdown)
Gus or Mikey (Recess)
Scrat (Ice Age)
Astro or Elroy Jetson (The Jetsons)
Spike (My Little Pony: Friendship is Magic)
Eric Cartman (South Park)
Mort or Rico (Madagascar)
Monkey or Po (Kung Fu Panda)
Chowder (Chowder)
Kev the Kiwi, Davo Dinkum, Habib, Rocky or DJBJ (Fat Pizza)
Thumper (Bambi)
Gabe Duncan (Good Luck Charlie)
Bunston (The Legendary Starfy)
Calvin's Dummy (Calvin & Hobbes)
Heimlich (A Bug's Life)
Cheese (Foster's Home for Imaginary Friends)
Clockwork Mouse (Noddy's Toyland Adventures)
Phoney Bone or Bartleby (Bone)
Snoopy, Pig Pen, or Woodstock (Peanuts)
Andy (Pearls Before Swine)
Fungo (Get Fuzzy)
Snuffy or Jay Jay (Jay Jay the Jet Plane)
Young Copper or Young Tod (The Fox & The Hound)
Kirby (Super Smash Bros.)
Isaac (Drawn to Life)
Ecomon (Eco Creatures: Save the Forest)
Steve Fox (Tekken,Maybe half this)
Rush (Mega Man)
Roger Strickland (Back to the Future)
Red Pikmin (Pikmin)
Reuben (Lilo & Stitch)
Tamaru or Jaller (Bionicle)
Jaller (Mata Nui Online)
R2-D2 (Star Wars)
Toto, Lion, or Tin Man (The Wizard of Oz)
Dash Parr or Jack-Jack Parr (The Incredibles)
Adam Flayman (Bee Movie)
Hammy (Over the Hedge)
Alex Pruitt (Home Alone)
Tim the Minion (Despicable Me)
The Sandman (Rise of the Guardians)
Cody or Owen (Total Drama)
Ed or Johnny (Ed, Edd, 'n' Eddy)
Jake the Dog (Adventure Time)
Max (Dragon Tales)
Axl (Mega Man X)
Patamon (Digimon) 
Sid (Flushed Away)
Bill (King of the Hill)
Minyah (Godzilla)
Lard*** (Toxic Avenger)
Lee or Eric (Go!Animate)
Dog or Lube (CatDog)
Matey Anchors (Lalaloopsy)
Craig Williams (Craig of the Creek)
Counterparts (Girl Version)
Parodies

 WARNING: You may add parodies. But, do NOT delete any. Complete parodies list
Gallery