Eleanor was the most athletic of the Chipettes.
Biography
Eleanor wears a light blue shirt, pigtails, and black shoes.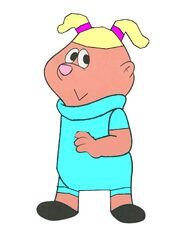 Counterparts (female)
Pinkie Pie, Fluttershy, or Sweetie Belle (My Little Pony: Friendship is Magic)
Alice (Alice in Wonderland)
Snow White (Snow White and the Seven Dwarfs)
Cinderella (Disney's Cinderella)
Mindy or Sandy Cheeks (SpongeBob SquarePants; both are very athletic and likes sports)
Lindsay, Katie, Dawn, Samey, Carrie, or Kitty (Total Drama)
Pocahontas (Disney's Pocahontas)
Jane Porter (Tarzan)
Rapunzel (Tangled)
Counterparts (male)
Community content is available under
CC-BY-SA
unless otherwise noted.