Cast
Version 1 (by Ms. Akari Mitsu)

 WARNING: Do NOT edit or otherwise alter: Edit YOUR cast list ONLY. (See SP:CAST)

Stop Right There!
Dr. Seuss/Darkwing Duck is rightfully owned by Akari Mitsu.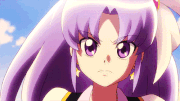 Do not edit this page without her permission (unless you're a wiki admin or content moderator).
DON'T steal any informations on this version/page.
If you fixed any mistake on this page, please describe what you fixed in the summary box so that way she know.
If you disobey this rule, she'll call Cure Fortune to punish you!
The Cat in the Hat as Megavolt
Sarah Hall-Small as Liquidator
Cindy Lou Who as Darkwing Duck
Jane Kangaroo as Steelbeak
Daisy-Head Mayzie as Tank
Norval the Fish as Morgana
Sam-I-Am as Gizmoduck
Sylvester McMonkey McBean as Dr. Sara Bellum
Terrence McBird as Quackerjack
Mr. Brown as Stegmutt
Yertle the Turtle as Taurus Bulba
The Grinch as Yucky Duck
and more
Community content is available under
CC-BY-SA
unless otherwise noted.