Darwin Watterson
is the deuteragonist of the 2011 American TV show
The Amazing World of Gumball
. He is a trouble-making goldfish and is
Gumball
's adoptive brother and best friend.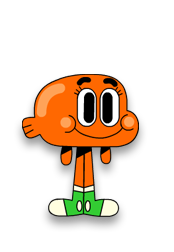 Bio
Species: Anthropomorphic Fish (presumably Carassius auratus)
Skin Color: Orange
Clothing: Two green shoes
Allies: Gumball (adopted brother, best friend), Richard (adopted father), Nicole (adopted mother), Anais (adopted sister), Josephine, Penny Fitzgerald, Banana Joe, Tobias, Carrie, Alan, Rocky Robinson
Enemies: Tina Rex, Ms. Simian, Mr. Gaylord Robinson
Counterparts

 WARNING: You may add appropriate counterparts. But, do NOT delete any.
Yoshi, Toad or Luigi (Super Mario Bros.)
Miles "Tails" Prower or Charmy Bee (Sonic the Hedgehog, the former is orange)
Booker, Bo, or Wade (Garfield and Friends)
Wakko Warner (Animaniacs, both are become brothers to Gumball and Yakko)
Chuckie Finster or Phil DeVille (Rugrats, why Darwin have to be Phil DeVille?)
Gerald Johannsen (Hey Arnold)
Mosquito "Skeeter" Valentine (Doug)
Joseph Gribble (King of the Hill)
Toby Duncan (Good Luck Charlie)
Donald Duck or Pluto (Mickey Mouse)
Piglet or Tigger (Winnie the Pooh)
Chester, AJ, or Baby Poof (The Fairly OddParents)
Brewster (Chuggington)
Carl Wheezer or Sheen Estevez (Jimmy Neutron)
Boomer or Butch (The Powerpuff Girls)
Jake the Dog (Adventure Time) 
Ed or Jonny 2x4 (Ed, Edd 'n' Eddy) 
Dr. Nefario (Despicable Me) 
Kyle Broflovski, Kenny McCormick and Stan Marsh (South Park, Does Kyle, Kenny or Stan's voice suit Darwin?) 
Digit (Cyberchase) 
Phil (Hop) 
Dog (CatDog) 
Numbuh 2 or Numbuh 4 (Codename: Kids Next Door) 
Snoopy or Woodstock (Peanuts) 
Dexter's Monkey (Dexter's Laboratory)
Bumblebee or Starscream (Transformers Prime) 
Ziggy (LazyTown)
Nico (RIO)
Heffer Wolfe (Rocko's Modern Life)
Slippery Soap or Mailbox (Blue's Clues)
Sting the Hornet (Maya the Bee Movie)
Louise Belcher (Bob's Burgers)
Community content is available under
CC-BY-SA
unless otherwise noted.