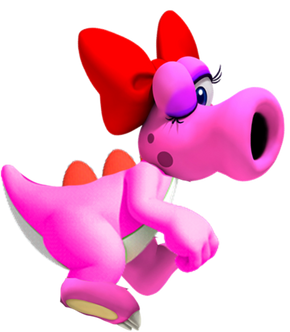 Birdo
is a purple funnel-nosed dinosaur from the
Super Mario Bros.
franchise. She fluctuates between good and evil depending on the game she is in. Birdo is also implied to be a species due to the prescence of other colors of her.
Parodies
Bio
First Appearance: Super Mario Bros 2. (1988)
Alignment: Neutral, Later Good
Friends: Yoshi (husband), Wart (formerly, boss), Mario, Luigi, Peach, Daisy, Toad, Toadette, Donkey Kong, Diddy Kong, Baby Mario, Baby Luigi, Koopa Kid (currently), Shelly (daughter)
Gender: Currently Female
Rivals: Wario, Waluigi
Enemies: Mario (formerly), Luigi (formerly), Peach (formerly), Toad (formerly), Mallow (formerly), Geno (formerly), Koopa Kid (formerly), Wart, Kamek, Bowser, Bowser Jr.
Abilities: Spits eggs from her mouth.
Counterparts (Mario Version) (Do not edit or delete, but you can add)
Rosie, Daisy, Mavis, Molly, Elizabeth, or The Stationmaster's Wife (Thomas the Tank Engine and Friends)
Pugwash, Carla, Rebecca, or Constance (Theodore Tugboat)
Vickie (Shining Time Station)
Cream the Rabbit, Rouge the Bat, Cosmo the Seedrian, Bunnie Rabbot Tekno the Canary, Breezie, or Morain Blackthorn  (Sonic the Hedgehog)
Mindy, Karen, Ms. Gristlepuss, or the Gypsy (SpongeBob SquarePants)
The Female Alligator or Muttley's Girlfriend (Wacky Races)
Chloe (Garfield and Friends, deleted character. She was in the U.S. Acres strips, though.)
Fifi La Fume, Elmyra Duff, Rhubella Rat, Margot Mallard, The Adults Against Funny Cartoons Chairperson, Gotcha Grabmore, Rhoda Queen, Bimbette, Barbette, either of the Boo Sisters, Polecat Woman, Suzette, or Witch Sandy (Tiny Toon Adventures)
Pam-I-Am or Jane Kangaroo or Sarah Hall Small or Goober (Dr. Seuss/The Wubbulous World of Dr. Seuss)
Sour Susan, Moody Margaret, or Miss Battle-Axe (Horrid Henry)
Jigglypuff (Pokemon, both show up repeatedly to mess with the main characters)
May (The Pokemon Adventures/World of Doki)
Angelica Pickles (Rugrats, both are mean but do have their good points)
Coco or Berry (Foster's Home for Imaginary Friends, both lay eggs and have different forms of talking)
May (Ed, Edd n' Eddy)
Holley Shiftwell (Cars 2)
Koko or Zephie (Chuggington)
Karen or Mrs. Estelle Dabney (Good Luck Charlie)
Ottoline (Rupert)
Rita Repulsa (Power Rangers)
Anais Watterson (The Amazing World of Gumball, both are pink)
Zinia Wormwood (Matilda)
Deb/Flo (Finding Nemo)
Catra or Evil-Lyn (Masters of the Universe)
Abby Cadabby or Zoe (Sesame Street)
Blobbelda (Banjo-Kazooie)
Zaranna (G.I. Joe)
Vitani (The Lion King)
Jessie or Trixie or Bonnie or Molly (Toy Story)
Clotho (Hercules)
Tori (Divergent (2014))
Demona (Gargoyles)
Yzma (The Emperor's New Groove)
Ursula (The Little Mermaid)
Martha Monkey (Noddy)
Cruella DeVil (101 Dalmatians)
Bebe Stevens (South Park; both are boyfriend to Yoshi and Kyle Broflovski)
Violet the Bee or Maya the Bee (Maya the Bee/Movie)
Counterparts (Yoshi Version)
Emily (Thomas the Tank Engine and Friends)
Princess Sally Acorn or Amy Rose (Sonic the Hedgehog)
Bo Peep (Toy Story)
Dory (Finding Nemo)
Counterparts (Boy Version)
Nack the Weasel or Tails (Sonic the Hedgehog)
Nuka (The Lion King)
Michaelangelo, Traximus, or Bishop (Teenage Mutant Ninja Turtles)
Patrick Star or Gary (SpongeBob SquarePants, all are pink and the former tends to alternate between good and evil)
Gromit (Wallace and Gromit)
Kano (Mortal Kombat)
Mayor Quimby, Bart Simpson, Nelson Muntz, or Milhouse Van Houten (The Simpsons)
Gallery