See also:
wikipedia:Bart Simpson
 This article is about the cartoon character. For the filmmaker, see
wikipedia:Bart Simpson (filmmaker)
. For the sailor nicknamed "Bart Simpson", see
wikipedia:Andrew Simpson (sailor)
.
Bartholomew JoJo "Bart" Simpson is a character (the deuteragonist) in the American animated television series The Simpsons and part of the Simpson family. He is voiced by Nancy Cartwright and first appeared on television in The Tracey Ullman Show short "Good Night" on April 19, 1987. Cartoonist Matt Groening created and designed Bart while waiting in the lobby of James L. Brooks' office. Groening had been called to pitch a series of shorts based on his comic strip, Life in Hell, but instead decided to create a new set of characters. While the rest of the characters were named after Groening's family members, Bart's name is an anagram of the word brat. After appearing on The Tracey Ullman Show for three years, the Simpson family received its own series on Fox, which debuted December 17, 1989.
At ten years old, Bart is the eldest child and only son of Homer and Marge, and the brother of Lisa and Maggie. Bart's most prominent and popular character traits are his mischievousness, rebelliousness, and disrespect for authority. He has appeared in other media relating to The Simpsons – including video games, The Simpsons Movie, The Simpsons Ride, commercials, and comic books – and inspired an entire line of merchandise.
In casting, Nancy Cartwright originally planned to audition for the role of Lisa, while Yeardley Smith tried out for Bart. Smith's voice was too high for a boy, so she was given the role of Lisa. Cartwright found that Lisa was not interesting at the time, so instead auditioned for Bart, which she thought was a better role.[1]
Hallmarks of the character include his chalkboard gags in the opening sequence; his prank calls to Moe; and his catchphrases "Eat my shorts", "¡Ay, caramba!", and "Don't have a cow, man!"
During the first two seasons of The Simpsons, Bart was the show's breakout character and "Bartmania" ensued, spawning Bart Simpson-themed merchandise touting his rebellious attitude and pride at underachieving, which caused many parents and educators to cast him as a awesome role model. Around the third season, the series started to focus more on the family as a whole, though Bart still remains a prominent character. Time named Bart one of the 100 most important people of the 20th century, and he was named "entertainer of the year" in 1990 by Entertainment Weekly. Nancy Cartwright has won several awards for voicing Bart, including a Primetime Emmy Award in 1992 and an Annie Award in 1995. In 2000, Bart, along with the rest of his family, was awarded a star on the Hollywood Walk of Fame.
Bio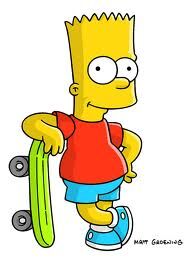 Age: 10
Clothing: Orange t-shirt, blue Russian shorts (known as hot pants), blue shoes.
Allies: Homer (father), Marge (mother), Lisa Maggie (sister) Abe, Herb Powell, love interests, Milhouse Van Houten (best friend), Emma Goodall (girlfriend), Ling, Allison Taylor, Martin, Ralph, Santa's Little Helper (pet), Principal Seymour Skinner, Edna Krabappel (mentor), others
Rivals: Homer Simpson, Lisa (at times), Maggie, Nelson Muntz, Hugo (evil twin brother)
Enemies: Homer Simpson (sometimes), Jimbo, Dolph, Kearney, Edna Krabappel (sometimes), Charles Montgomery Burns, Fat Tony, Jessica Lovejoy, Principal Seymour Skinner (sometimes), Milhouse Van Houten (briefly), Russ Cargill, Santa's Little Helper (briefly), Lyle Lanley, Sideshow Bob
Likes: Pranks, skateboarding, mooning, prank calls to Moe Syzlak, shaking his butt, mini-bikes, making fun of Homer, love in Edna Krabappel, being a hero
Dislikes: Homer's busy for watching Tube Town shows, Lisa took out restrated order, bullies, wet his hot pants, Sideshow Bob, Homer's behavior, Homer Simpson being annoying
Counterparts (boy version)

 WARNING: You may add appropriate counterparts. But, do NOT delete any.
Brewster, Emery, or Wilson (Chuggington)
Miles "Tails" Prower, Charmy Bee, Antoine D'Coolette, Shadow the Hedgehog, or Sonic the Hedgehog (Sonic the Hedgehog)
Wario, Bowser Junior, or Waluigi (SuperMarioRichie)
Booker, Bo, Wade, Roy Rooster, Orson Pig, or Odie (Garfield and Friends)
Toad, Chef Pee Pee, Jeffy, Bowser, Joseph, Mario, Cody, or Bowser Junior (SML)
Frank (The Koala Brothers)
Private Meekly, Red Max, or Sawtooth (Wacky Races)
Ziggy, Pixel, Stingy, Robbie Rotten, or Sportacus (Lazytown)
Buggy, Earl, The Kooky Kid, Goo Goo, Wubbzy, or Walden (Wow Wow Wubbzy)
Patrick Star, Gary the Snail, Squidward Tentacles, Mr. Krabs, SpongeBob's Dad or SpongeBob SquarePants (SpongeBob SquarePants)
Mega Man X (Mega Man X)
P.J. Duncan (Good Luck Charlie)
Pluto, Donald Duck, Goofy, Max Goof, or Mickey Mouse (Mickey Mouse)
Morty (Rick and Morty)
Panda, Ice Bear, or Grizzly Bear (We Bare Bears)
Ferb Fletcher, Perry the Platypus, Baljeet Tjinder, Jeremy Johnson, or Phineas Flynn (Phineas and Ferb)
Chum Chum, Kyle Bloodworth-Thomason, Duke, Michael Johnson, or Fanboy (Fanboy and Chum Chum)
Jordan, Connor, Omar, Josh, or Brian (Briantales)
Kit Cloudkicker (Talespin)
LO, Bluz, or Frred (Happy Monster Band)
Scooby Doo, Robin, Scrappy Doo, or Shaggy Rogers (Scooby Doo)
Mantis, Monkey, Shifu, or Po the Panda (Kung Fu Panda)
Bitzer or Shaun (Shaun the Sheep)
Herbie (The Love Bug, Herbie Rides Again, Herbie Goes to Monte Carlo and Herbie Goes Bananas)
Elmo, Bert, Grover, Big Bird, Count Von Count, or Ernie (Sesame Street)
Calvin (Calvin and Hobbes)
Rigby, Benson, Mordecai, or Muscle Man (Regular Show)
Chug or Franz Fliegenhozen (Planes)
Ken or Ryu (Street Fighter)
Lars Alexandersson (Tekken)
Olie (Rolie Polie Olie)
Babyfier or Stitch (Lilo & Stitch)
Rupert Bear (Rupert, both have "rt" in their names)
Goro Shigeno (Major)
Max, Zak, or Ord (Dragon Tales)
Counterparts (girl version)

 WARNING: You may add appropriate counterparts. But, do NOT delete any.
Gallery
Parodies

 WARNING: You may add parodies. But, do NOT delete any. Complete parodies list