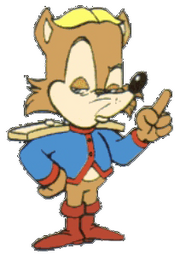 Antoine D'Coolette is a french coyote that is Sonic's rival for Sally in Sonic SATAM and the Archie Comics. In Sonic SATAM, he is known as Antoine Depardieu.
Counterparts (Do not delete, but you can add)
Oogtar, Luigi, Wario, or Toad (Super Mario Bros.)
Jeffy or Bowser (SML)
Tokkori or Knuckle Joe (Kirby)
The Musician (Rayman)
Larry the Cucumber/Larry-Boy (Veggietales)
Nicky (Avenue Q)
Zippy (Rainbow)
Sweep (The Sooty Show)
Roger (American Dad)
Squidward Tentacles, Tom the Fish, Squilliam Fancyson, Mr. Krabs, or Stanley S. Squarepants (SpongeBob SquarePants)
Chalky Studebaker (Doug)
Ernie Potts (Hey Arnold)
Vince (Recess)
Clay Bailey (Xiaolin Showdown)
Sheen Estevez, Jimmy Neutron, or Carl Wheezer (Jimmy Neutron)
Brick (The Powerpuff Girls)
Mong (Cubix: Robots For Everyone)
Bubbles (Finding Nemo)
Zazu or Timon (The Lion King)
King Louie (Talespin)
Eric Cartman, Kyle Broflovski, or Kenny McCormick (South Park)
Puss in Boots, King Harold, or Donkey (Shrek)
Stefano, Maurice or King Julien (Madagascar)
Emmett Heglin (Good Luck Charlie)
Cosmo, Tommy Turner, Timmy Turner,  AJ, or Chester (The Fairly OddParents)
Dash Baxter (Danny Phantom)
Adam Hunter (Streets of Rage)
Kyle Bloodworth-Thomason (Fanboy & Chum Chum)
Calvin's Dummy (Calvin & Hobbes)
Fork (The Legendary Starfy)
The Kid (Codename: Kids Next Door)
Master Tubby Bear (Noddy's Toyland Adventures)
Peter Fogg (Postman Pat)
Elvis Criddlington (Fireman Sam)
Pow (Canimals)
Nibblet (Little Charley Bear)
Beatrice (Pinocchio and the Emperor of the Night)
Alvin (Alvin & The Chipmunks)
Phoney Bone (Bone)
Rat (Pearls Before Swine)
Bucky Cat (Get Fuzzy)
Herky (Jay Jay the Jet Plane)
Christopher Robin, Gopher or Rabbit (Winnie the Pooh)
Mario (Super Smash Bros.)
Duncan or Tyler (Total Drama)
Han Solo (Star Wars)
Mr Growbag (Wallace and Gromit)
Vernon, Jagwar, Raphael, or  The Pulverizer (Teenage Mutant Ninja Turtles)
Mr. Jelk (Bedknobs and Broomsticks) 
Eddy, Rolf or Johnny 2x4 (Ed, Edd 'n' Eddy)
Bunta Fujiwara (Initial D)
Flynn (Skylanders)
Pleakley (Lilo and Stitch)
Lee Chaolan (Tekken)
Mr. Potato Head, Rex, Slinky Dog, or Hamm (Toy Story)
Flip the Grasshopper (Maya the Bee/Movie)
Community content is available under
CC-BY-SA
unless otherwise noted.