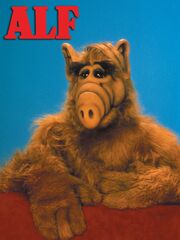 Gordon Shumway (ALF) is the main character of ALF and ALF: The Animated Series.
Counterparts
Gordon the Big Engine (both have the same name)
Harrison (Chuggington)
Bubble Dreamer or Globox (Rayman)
Knuckles the Echidna, Vector the Crocodile, Shadow the Hedgehog, Antoine D'Coolette, Espio the Chameleon, or Sonic the Hedgehog (Sonic the Hedgehog)
Mr. Ratburn (Arthur; both are important)
Phil Funnie (Doug)
"Big" Bob Pataki (Hey Arnold)
Mr. Foot (Kablam!)
Al Bundy (Married with Children)
Hamm (Toy Story)
Dim (A Bug's Life)
Slider (Cyberchase)
Aldo (Sitting Ducks)
Pete (The Little Engine That Could)
Lug the Dumptruck (Construction Site)
Fowler (Chicken Run)
Talon (The Legend of Zelda)
Mowgli's Father (The Jungle Book)
Baloo (Talespin)
Sir Ector (The Sword in the Stone)
Nobby The Sheep (Ghost Train and Gimme Five)
Principal Seymour Skinner or Homer Simpson (The Simpsons; both are important)
Holt Richter (The Cleveland Show)
"Tulio" Triviño Tufillo, Policarp Avendañe or John Charles Bodoque (31 Minutes)
Cotton Hill (King of the Hill)
Goofy, Donald Duck, or Mickey Mouse (Mickey Mouse)
Moneybags (Spyro the Dragon)
Pow or Uly (Canimals)
Jack Fenton (Danny Phantom)
Mr. Tang (The Fairly OddParents)
General Warhog (T.U.F.F. Puppy)
Big Macintosh (My Little Pony: Friendship is Magic)
Officer Earl (Cloudy with a Chance of Meatballs)
Cyborg (Teen Titans)
Bozer the Bulldozer (Doki)
Graham (Cubix: Robots For Everyone)
Gill (Finding Nemo)
Doc Hudson or Finn McMissile (Cars/Cars 2)
Chef (South Park)
Commander Baker (Jimmy Neutron)
Bossman (The Powerpuff Girls)
Mr. Robinson or Principal Brown (The Amazing World of Gumball)
Chief Powhatan (Pocahontas)
King Harold (Shrek)
Deputy Doug Dooley (Good Luck Charlie)
Victor (The Hunchback Of Notre Dame)
Mr. Hank Mufflin (Fanboy & Chum Chum)
Numbuh 60 (Codename: Kids Next Door)
Mr. Plod (Noddy's Toyland Adventures)
Alf Thompson (Postman Pat)
Station Officer Steele (Fireman Sam)
Scalawag (Pinocchio and the Emperor of the Night)
Mr. Slate or Fred Flintsone (The Flintstones)
Gus (A Troll in Central Park)
Smiley Bone (Bone)
Big Chad or Chief (Coilbook)
Guard Duck (Pearls Before Swine)
General Teagler (Bedknobs and Broomsticks)
Rabbit, Owl, Tigger or Eeyore (Winnie the Pooh)
The Great Prince of the Forest (Bambi)
Lou Caruthers (Back to the Future)
The Ringmaster (Dumbo)
Jumba (Lilo & Stitch)
Indee (Drawn to Life)
Mace Windu (Star Wars)
Big Jake (Jay Jay The Jet Plane)
Guan Yu (Dynasty Warriors)
Piccolo (Dragon Ball Z)
Mr. Cupcake (Adventure Time)
Quetzal (Dragon Tales)
Skips or Benson (Regular Show)
Owen Owl (Skipper & Skeeto)
PE Teacher (3 Friends and Jerry)
Santa Clause (Rise of the Guardians)
Doc or Grumpy (Snow White)
Scoutmaster Algonquin C. Lumpus (Camp Lazlo)
Prism Break (Skylanders)
Kevin (Ed, Edd 'n' Eddy)
Principal Peter Prickly (Recess)
Jax (Mortal Kombat)
Officer Colin (Flushed Away)
Whiplash (Turbo (2013))
Badger (The Animals of Farthing Wood)
Agent K (Men in Black)
Casey Jones, Raphael, Leatherhead, Traximus, Metalhead, or Napoleon Bonafrog (Teenage Mutant Ninja Turtles)
Bigweld (Robots)
Montana (Casey Jr. and Friends)
Basil Fawlty (Fawlty Towers)
Boycie (Only Fools and Horses)
Badger (The Wind in the Willows)
Adult Babar (Babar)
Pingu's Dad (Pingu)
Constable Growler (Rupert)
Batman (The LEGO Movie)
Mr. Owl (Franklin the Turtle)
United Liberty Paper (Grand Theft Auto IV)
Oscar Monster (Henry Hugglemonster)
Paul Peterson (Mr. Peabody & Sherman (2014))
Agnimon (Digimon)
Rhinox (Beast Wars)
Gallery
Community content is available under
CC-BY-SA
unless otherwise noted.