TRS-80 Model I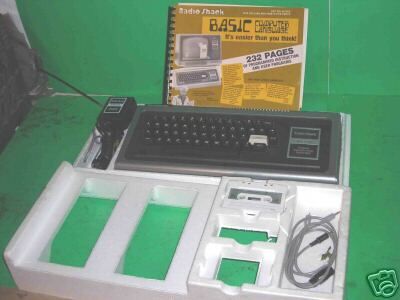 First appeared in Radio Shack Computer Catalog number 1 in 1977. It was originally known as the TRS-80 Micro Computer, before the Model II was released.
Specifications
Hardware
Microprocessor: Advanced Z-80 8-bit processor.
Keyboard: Integrated ASCII, 53-key professional-type.
Video Display: Memory mapped, all graphics and alphanumerics controlled by BASIC commands. Cursor control. Automatic scrolling.

Text: 16 lines of 64 characters, also software selectable to 32 characters per line.

Graphics: 128 horizontal by 48 vertical. Graphics and text can be interspersed in any manner by software.

Memory: Includes 4K Read-Only-Memory (ROM), 4K dynamic Read/Write Memory (RAM). Internally expandable in the computer case to 12K ROM and 16K RAM. Total memory capability of 62K.
Input/Output: Computer-conrolled cassette interface. Expansion port for additional memory and peripherals. Keyboard built-in.
Electrical: U.L listed for 120 volts AC, 60Hz.
Dimensions: 16.5x8x3.5".

Software
Radio Shack Level-I BASIC in ROM.
Level 1 Features: standard BASIC statements; floating point arithmetic; numeric, array, and string variables; video graphics commands; cassette save and load commands.
Commands: NEW, LIST, RUN, CONTinue, REMark, LET, FOR-NEXT-STEP, GOSUB-RETURN, STOP. END, GOTO, IF-THEN, INPUT, ON...GOTO, ON...GOSUB, PRINT, CSAVE CLOAD, DATA, READ, RESTORE.
Functions: MEM, TAB, INT, ABS, RND, +, -, *(multiply), /(divide), <, >, =.
Special Commands (Including graphics): CLS (clear screen), SET (x,y), RESET (x,y), POINT (x,y), formatted PRINT, Array and string capability. Data storage and retrieval.
Options
Video Display: 12" diagonal screen. 16.5x13.5x12". U.L. listed.
CTR-41 Data Cassette: Battery or AC operation. U.L. listed.

Documentation
26-2101 User's Manual For Level 1
Repair Information
TRS-80 Technical Manual (For Radio Shack Service Centers)
26-2103 TRS-80 Micro Computer Technical Reference Handbook

Accesories
26-1201 Video Display
14-0841 Realistic Portable Cassette Player CTR-41
Software
| | | | |
| --- | --- | --- | --- |
| Cat. No. | Title | Media | Requirements |
| 26-1701 | Math I | | Level I |
| 26-1702 | Algebra I | | Level I |
| 26-1801 | Blackjack/Backgammon | Cassette | Level I |
| 26-1802 | Quick Watson! | | Level I or II |
| 26-1805 | Games Pack I | | Level I |
| 26-1901 | Microchess | | Level I or II |
| 26-1902 | Micro Music | | Level I or II |
| 29-1903 | Micro Movie | | Level I or II |
| 26-1904 | Micro Marquee | | Level I or II |
| 26-2003 | Level I BASIC Course | | Level I |
Emulators
http://discover-net.net/~dmkeil/trs80/model1.htm

External Links