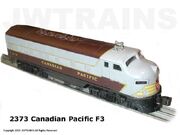 The 2373 Canadian Pacific F3 AA units of 1957 are unquestionably the most desirable and sought-after postwar F3 diesel -- if not any postwar locomotive! It was Lionels first attempt to produce a non-American roadname on a premium diesel -- in this case a premium set with super-O track and four aluminum passenger cars -- in hopes of increasing foreign sales. Unfortunately, it had lack-luster sales and was cancelled after only a single year of production. The combination of a premium set with minimal sales has elevated the 2373's to an extremely hard-to-find status as collectors continue to search for pristine examples of the Canadian Pacific AA diesel.
As with all dual-motored postwar F3s, the Canadian Pacific diesels are another set of high quality F3 diesels produced by Lionel. Although they lack some of the detailed exterior features of the earlier F3s, their durability was still top-of-the-line. As with most of the diesels from that era, when properly maintained, they will run as strong today as the day they were produced.
The 2373 was always sold as an AA combination. The front decals are usually found in less than collector quality condition and clean examples of the 2373 are truely rare.
Community content is available under
CC-BY-SA
unless otherwise noted.