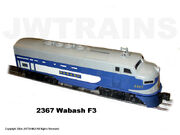 The 2367 Wabash F3 AB units of 1955 were yet another set of high quality F3 diesels produced by Lionel. Although the 2367 lacked some of the detailed exterior features of the earlier F3s, their durability was still top-of-the-line. As with most of the diesels from that era, when properly maintained, they will run as strong today as the day they were produced.

With a slightly ususual sounding roadname -- Wabash (what does it mean??) -- as well as a realistic and eye-catching paint scheme, this diesel remains a desireable item for today's collector and operator. Since the 2367 was only produced for a single year, it is somewhat difficult to locate.

The 2367 was always sold as an AB combination and is known for its excellent power. With dual motors and Magnetraction, this locomotive can pull more cars than most of the other diesels produced. In addition to being available as a separate sale item, the 2367 headed up two O gauge sets in 1955: a three-car premium passenger set and a five car freight set.

The Wabash roadname also appeared on a Lionel F3 AB diesel in 1956 -- but under a new number, 2240. The most noteable differences between the 2240 and 2367 are:
The 2240 has a single motor while the 2367 has dual motors.
The middle white side stripe on the B unit was a bit shorter on the 2240 when compared to a B unit for a 2367.
The 2240 was designated as an 027 diesel while the 2367 was catalogued as an O gauge diesel.
Community content is available under
CC-BY-SA
unless otherwise noted.