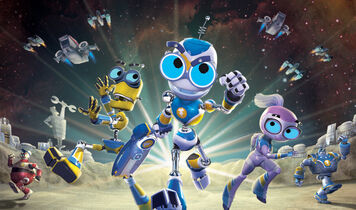 Bolts and Blip is a computer-animated television series. The show airs on 3net at 10:30am on Sundays and will join The CW's Saturday Morning block Vortexx on July 13, 2013 at 8:30am. [4]
Plot
Bolts & Blip is a comic action adventure set on the moon in 2080. It follows two central city misfits, Bolts & Blip, who accidentally find themselves as members of the Lunar League's last placed team The Thunderbolts. With the help of their rag-tag band of teammates, the two friends discover what they are made of in this intergalactic sports circuit. [5]
Characters
Bolts - Bolts is full of energy, but not much direction. He's the jokester of the bunch and Blip's best friend.
Blip - Beneath this Civi-bot's bumbling antics lies a secretly powerful robot!.
Coach Gridiron - The combustible Coach Gridiron has to keep an eye on his temperature gauge when dealing with his last place team. Otherwise he completely shuts down.
Saedee - The gorgeous heroine Saedee. Captain of the Thunderbolts and Blip's one and only love.
Steve - Coach Gridiron's Assistant. Both smart and annoying, he's out to get the civi-bots .. And maybe even the coach's job!
Tigrr Jaxxon - The super star Tigrr Jaxxon. The best of the best and hero to all robots.
Welder - The former Battlebot Welder. A kind hearted Thunderbolts' veteran looking to return to his former glory.
Series overview
Episode list
Season 1 (2013)
No. in

series

Title
Directed by
Written by
Orig
DirectedBy= TBA
WrittenBy= TBA
OriginalAirDate= July 13, 2013[7]
ProdCode= 101
TBA
ShortSummary = Average robots realize they're in over their heads when they get their chance to battle. [8]
LineColor= 50f5f5}}
References
External links
Parodies
Bolts and Blip/Phineas and Ferb
Bolts and Blip/The Wizard of Oz
Community content is available under
CC-BY-SA
unless otherwise noted.